Chris Cornell, who helped reignite hard rock in the 1990s with Soundgarden, dies at 52
Chris Cornell, an icon of the '90s hard-rock grunge movement and the anchor of Soundgarden and Audioslave, was never quiet about his need to perform.
The artist's death at age 52 was reported early Thursday after a Wednesday night Soundgarden concert in Detroit.

For the record:
9:03 p.m. Oct. 3, 2022An earlier edition of this post misidentified the song with which Soundgarden was planning to close its set Wednesday in Detroit as "Behind the Wheel." The final song on the group's set list was "Beyond the Wheel."
The Wayne County medical examiner's office has ruled Cornell's death a suicide by hanging, said the department's director of communications James Martinez.
Cornell had said he would have led a much quieter life if not for the stage.
"If I didn't do what I do, I think for the most part I would have very few friends and be a shut-in most of the time," he told The Times in 1991. "It's sort of a battle between that person and then the guy that wants to just let it all out in front of 2,000 people and rant and scream and say anything he wants."
Soundgarden vocalist/guitarist Chris Cornell performs at Lollapalooza in Irvine Meadows on Aug. 4, 1996.
(Al Schaben / Los Angeles Times)
Chris Cornell, former lead singer of the band Soundgarden, launching his solo career at the Henry Fonda Theatre in Hollywood on Sept. 21, 1999.
(Lawrence K. Ho / Los Angeles Times)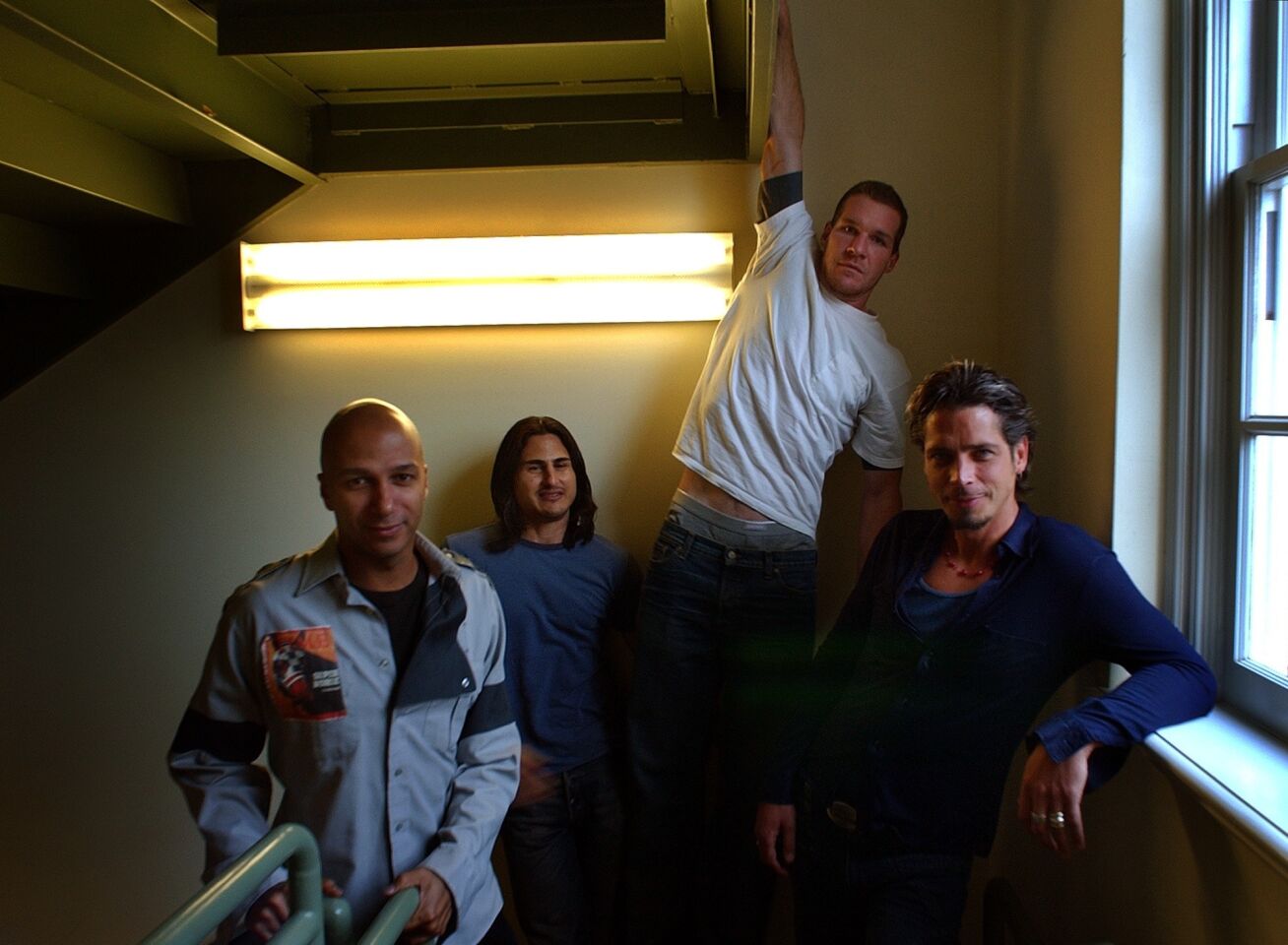 Audioslave at the Casa del Mar Hotel in Santa Monica on Oct. 22, 2002. From left, Tom Morello, Brad Wilk, Tim Commerford and Chris Cornell.
(Richard Hartog / Los Angeles Times)
Audioslave's Chris Cornell sings as guitarist Tom Morello plays at the Lollapalooza concert in Irvine on Aug 16, 2003.
(Lori Shepler / Los Angeles Times)
Chris Cornell of Audioslave performs at the Hollywood Palladium, March 17, 2003.
(Ken Hively / Los Angeles Times)
Audioslave's Chris Cornell performs on the Miles Davis Hall stage during the 39th Montreux Jazz Festival in Montreux, Switzerland, on July 5, 2005.
(Sandro Campardo / EPA)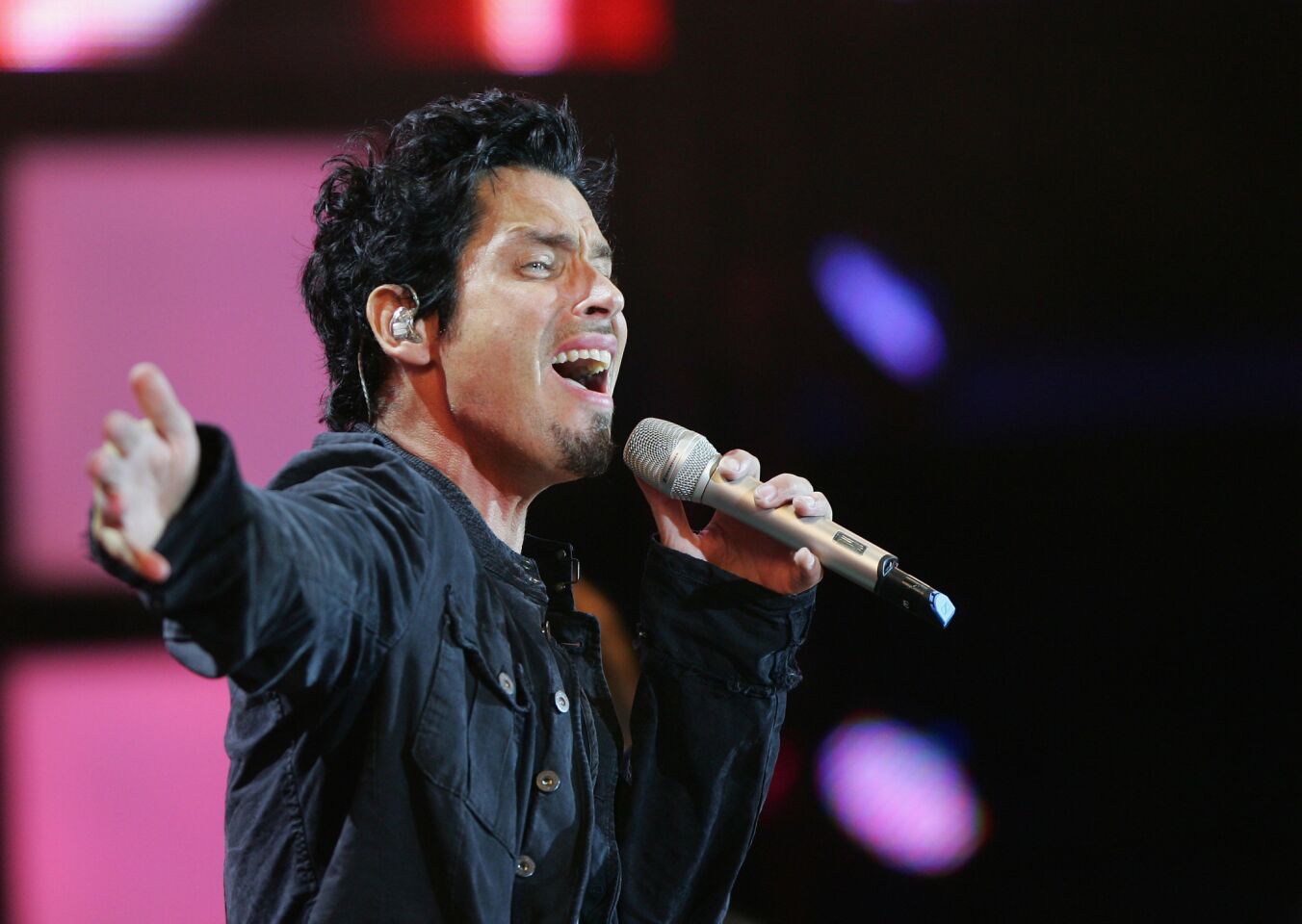 Chris Cornell performs on stage at the Hamburg Live Earth concert in Hamburg, Germany, on July 7, 2007.
(Andreas Rentz / Getty Images)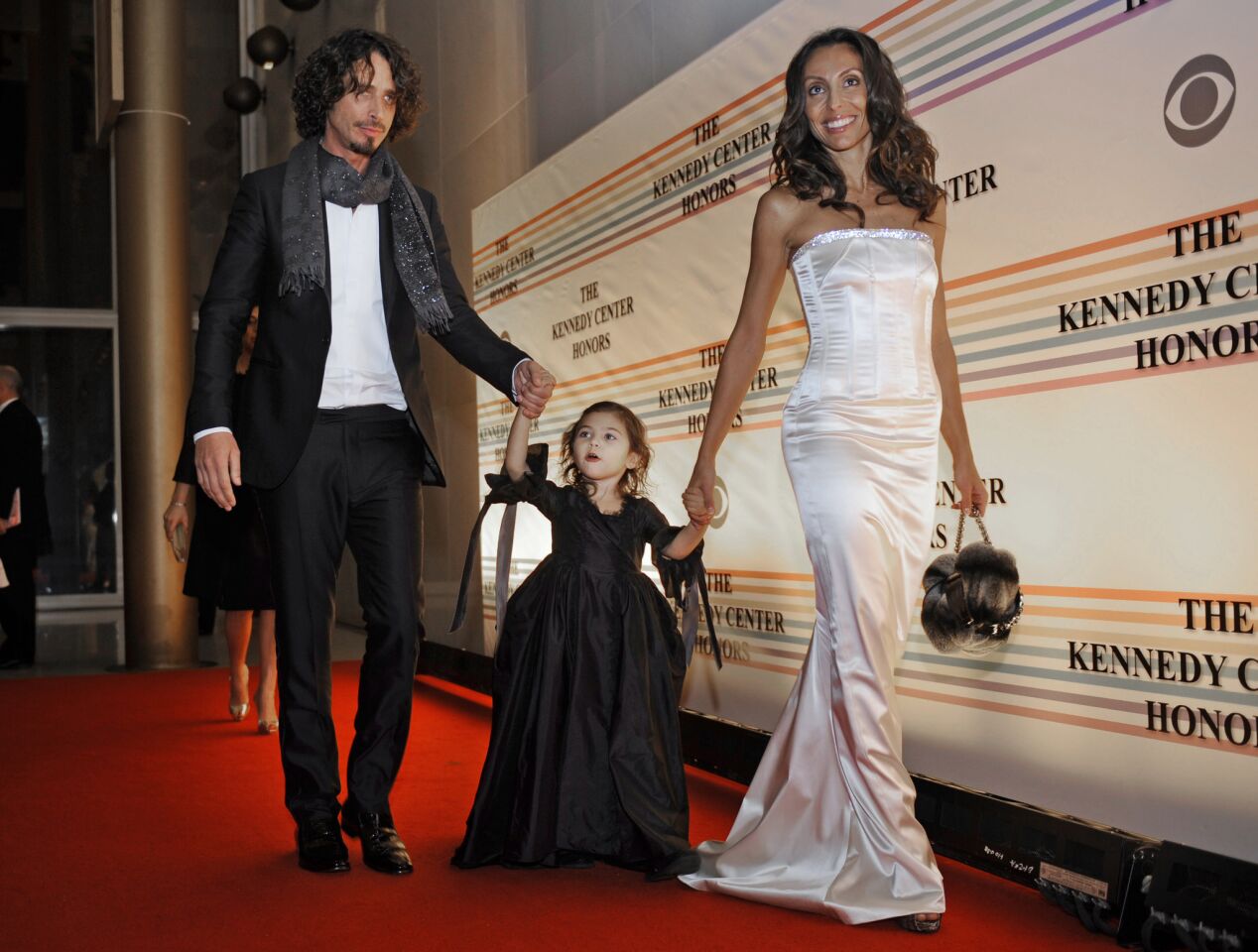 Chris Cornell arrives with his daughter Toni and wife, Vicky Karayiannis, for the Kennedy Center Honors in Washington, D.C., on Dec. 7, 2008.
(Jacquelyn Martin / Associated Press)
Chris Cornell speaks to the media as he arrives at the MusiCares Person of the Year tribute honoring Neil Diamond in Los Angeles on Feb. 6, 2009.
(Chris Pizzello / Associated Press)
Chris Cornell of Soundgarden performs during the Lollapalooza music festival at Grant Park in Chicago on Aug. 8, 2010.
(Nam Y. Huh / Associated Press)
Musician/actor Chris Cornell arrives at the premiere of "Machine Gun Preacher" at the Toronto International Film Festival on Sept. 11, 2011
(Jason Merritt / Getty Images)
From left, Kim Thayil, Chris Cornell and Ben Shepherd of Soundgarden perform at an intimate show in celebration of their new album "King Animal" at Irving Plaza on Nov. 13, 2012, in New York City.
(Taylor Hill / Getty Images)
Soundgarden members, from left, Ben Shepherd, Chris Cornell, Matt Cameron and Kim Thayil in Seattle on Oct. 29, 2012.
(Kevin P. Casey / For The Times)
Chris Cornell of Soundgarden performs at the Lollapalooza Brazil on April 6, 2014, in Sao Paulo, Brazil.
(Buda Mendes / Getty Images)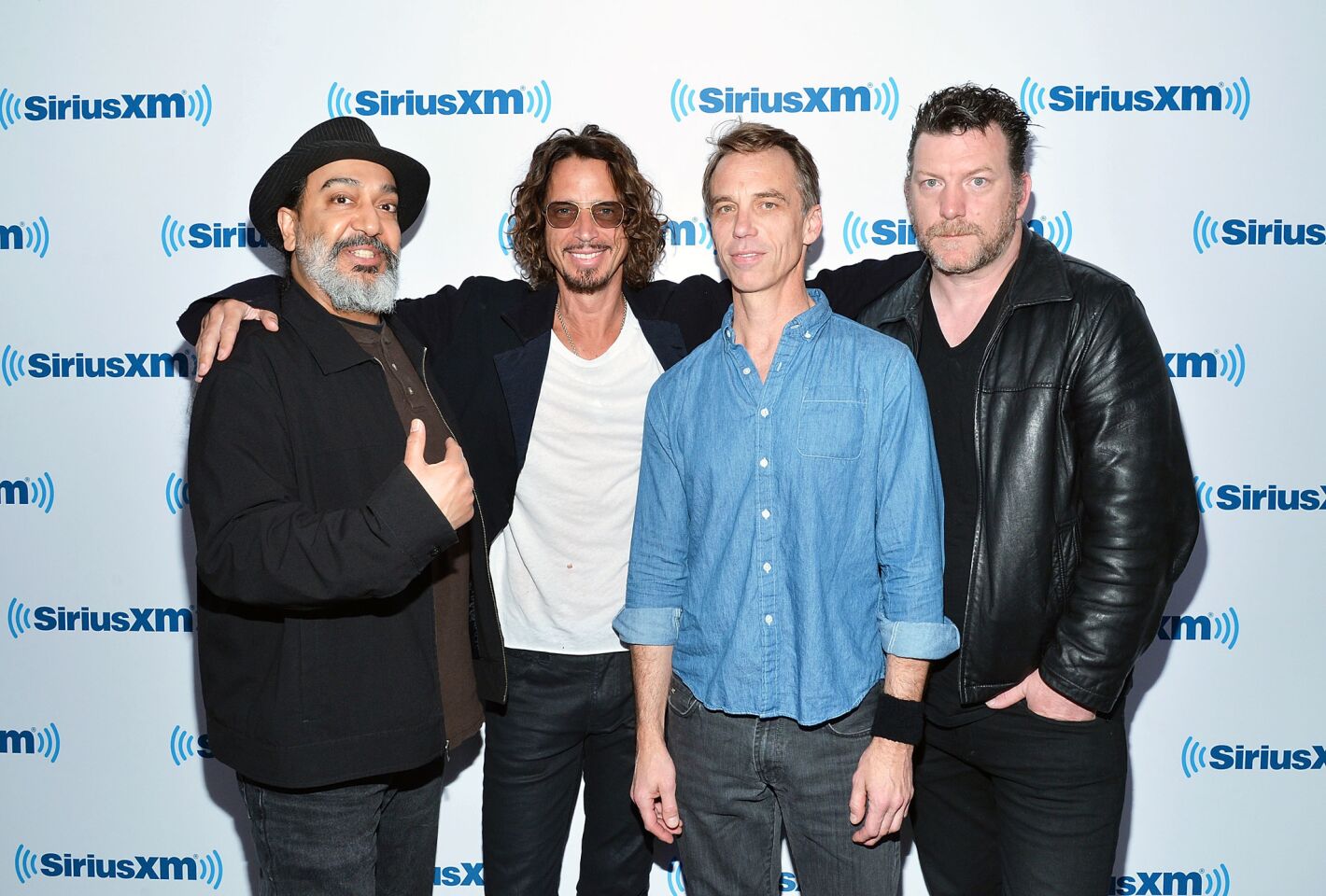 From left, Kim Thayil, Chris Cornell, Matt Cameron and Ben Shepherd of Soundgarden on June 2, 2014, in New York City.
(Slaven Vlasic / Getty Images)
Chris Cornell photographed at the Beverly Hilton Hotel on July 31, 2015.
(Ricardo DeAratanha / Los Angeles Times)
Chris Cornell joined by his wife Vicky Karayiannis and their children Christopher, left, and Toni at New York premiere of "The Promise" on April 18, 2017.
(Nicholas Hunt / Getty Images)
Over the following decades, those few thousand fans would become millions as Soundgarden, with Cornell, became one of the most commercially successful rock bands of a generation. Among the band's biggest hits were "Rusty Cage," "Jesus Christ Pose," "Spoonman" and "Black Hole Sun."
In a statement to The Times, Cornell's publicist, Brian Bumbery, wrote that Cornell's wife and family "were shocked to learn of his sudden and unexpected passing."
Sgt. Adam Madera of the Detroit Police Department confirmed that police received a call from the MGM Grand Detroit hotel early Thursday and at 4:05 a.m. discovered Cornell's body on the floor of his hotel room.
Soundgarden, which reunited in 2010, was in the middle of a tour that had taken the band to the Fox Theatre in Detroit. It performed a set that included "Blow Up the Outside World," "Spoonman," "Outshined" and other fan favorites.
The band's set list suggested the gig was to conclude with an encore of "Beyond the Wheel," according to a photo published by CNN.
However, the band's last song was a cover of "In My Time of Dying," an old blues song recorded by Blind Willie Johnson, Bob Dylan, Led Zeppelin and others. Its opening lines are: "In my time of dying, want nobody to mourn / All I want for you to do is take my body home."
Cornell was born Christopher John Boyle on July 20, 1964, in Seattle, the second-youngest of six children of Ed Boyle, a pharmacist, and Karen Boyle, an accountant.
He and his siblings adopted his mother's maiden name, Cornell, for their surname after their parents divorced when he was a teenager.
During his adolescence he experimented with drugs and exhibited anti-authoritarian behavior including theft, once having stolen a collection of Beatles records.
He has said his mother saved his life when she bought him a snare drum, the instrument he adopted in beginning his path to become a rock musician.
He dropped out of high school at age 15, in part because he wanted to help his mother support the family. He later earned his GED.
With friends Kim Thayil, Matt Cameron and Hiro Yamamoto (who left early on and was replaced by Ben Shepherd), he formed Soundgarden in the mid-'80s.
After first releasing music on the indie Seattle labels Sub Pop and SST, the band signed to A&M Records and issued its major-label debut album, "Louder Than Love," in 1989.
The group's 1991 follow-up, "Badmotorfinger," gave the band its first platinum-selling album, although it peaked at only No. 39 on the Billboard 200 albums chart.
But with "Superunknown" in 1994, Soundgarden shot to the top of that chart with an album that went on to sell more than 5 million copies, according to the Recording Industry Assn. of America.
"Other Seattle bands, from Pearl Jam to Alice in Chains to Nirvana, have gotten more headlines," Richard Cromelin wrote for The Times in 1996 on the release of the band's "Down on the Upside" album, "but it's Soundgarden that's the most enduring, stalwart presence in a music scene whose sound and outlook have come to define the restless heart of '90s American rock."
Like many other young musicians, Cornell struggled with drug and alcohol abuse, a contributing factor to Soundgarden's demise in 1997. "Near the end of Soundgarden, I started to unravel a lot more than I had previously," he told the Mirror in the U.K. in 2012.
"It's something that would have happened even if Soundgarden had stayed together," he said. "It was a long, slow slide and then a long, slow recovery, but there was self-discovery too. For me it was mostly alcohol — from my late teens until my late 30s."
After Soundgarden split, Cornell demonstrated his versatility, first by forming Audioslave with Rage Against the Machine members Tom Morello, Tim Commerford and Brad Wilk.
"I came out of rehab and immediately went on tour with Audioslave, sold millions of records and was playing in front of crowds of 10,000 or 20,000," he recalled. "It's not what most people go through.
"Most of the time, coming out of rehab, people have a destroyed life [and] struggle to just work again and get a job," he said. "I sort of had an identity sitting there waiting to be embraced. I was very lucky I was able to see that and not take it for granted. It helped me climb out of the mire. I saw how hard it could be."
He also began performing shows in a solo acoustic format.
He has said one of his career highlights as a songwriter occurred when country titan Johnny Cash recorded "Rusty Cage" for his 1996 late-career album "Unchained," with producer Rick Rubin.
Beyond the thrill of hearing his song sung by one of the 20th century's most influential musicians, Cornell said it resulted in a new level of respect for his lyric-writing.
"You can't always make out the words I sing with Soundgarden," he told the Hartford Courant last year while in the midst of another solo acoustic outing. "When Johnny Cash covered 'Rusty Cage,' it was the first time I received compliments for my lyrics."
In that song, Cornell wrote of raging against a constricting feeling of desperation: "It's gonna be too dark to sleep again / Cutting my teeth on bars and rusty chains / I'm gonna break my rusty cage."
He found his own new perspective on the often overlooked power in words of familiar songs when he decided to reinterpret one of the biggest hits of the 1980s.
When I covered 'Billie Jean' by Michael Jackson, it was going to be a joke. I couldn't do it in the form it was originally recorded in, so I slowed it down."
— Chris Cornell
"When I covered 'Billie Jean' by Michael Jackson, it was going to be a joke. I couldn't do it in the form it was originally recorded in, so I slowed it down," he said in the same Courant interview. "When I did that, it wasn't funny anymore. I discovered how incredible the song is. It's an amazing story, brilliant lyrics. When you break out the acoustic guitar, the words are the focal point unless you're the Jimi Hendrix of the acoustic guitar. So the words have to have meaning."
Cornell channeled feelings of alienation and disillusionment with social institutions and coupled them with a yearning for signs of a path toward a release or redemption.
"Stuttering, cold and damp / Steal the warm wind tired friend / Times are gone for honest men … / In my shoes, a walking sleep / And my youth I pray to keep / Heaven send hell away," he sang in "Black Hole Sun."
Musically, Soundgarden, like some of its Seattle-incubated peers, sought to wed the raw urgency of punk music to the expansive intensity of hard rock, a sound quickly labeled "grunge," a term that often rankled those to whom it was applied.
Critically acclaimed Americana musician Jason Isbell noted in a tweet on Thursday: "All the people who made it were right: 'grunge' was a stupid word for it. It was rock music, and we needed it real damn bad."
On Twitter, Instagram and other social media outlets, peers and colleagues poured forth with reactions.
Led Zeppelin guitarist Jimmy Page wrote, "RIP Chris Cornell Incredibly Talented Incredibly Young Incredibly Missed."
"SO SO stunned to hear about Chris Cornell! Such a terrible and sad loss! Thinking of his family tonight! RIP," wrote guitarist Dave Navarro of Jane's Addiction.
Guitarist Slash of Guns N' Roses tweeted: "Shocked & saddened by the news of Chris Cornell's passing. RIP."
Neil Portnow, president and chief executive of the Recording Academy, issued a statement that read, in part: "Chris Cornell was one of the influential originators of the 1990s Seattle grunge scene. A two-time Grammy Award winner, Chris' dynamic stage presence and impressive vocal range made him a true rock-and-roll icon."
Morello, his former Audioslave bandmate, posted the following statement on his Instagram account: "I love you, brother. Thank you for your friendship and your humor and your intellect and your singular and unmatched talent. It was a great honor to know you as a friend and as a band mate.
"I am devastated and deeply saddened that you are gone dear friend but your unbridled rock power, delicate haunting melodies and the memory of your smile are with us forever," Morello continued. "Your beautiful voice and beautiful self will always be in my heart. God bless you and your family."
Times staff writer Randall Roberts contributed to this report.
Twitter: @RandyLewis2
ALSO:
Grunge icon Chris Cornell's death ruled a suicide
Chris Cornell contributed some of his best work to movies such as 'Singles' and 'Casino Royale'
With Chris Cornell's death, a generation lost its Robert Plant
From the archives: Read a 1991 Times interview with Chris Cornell on the making of Soundgarden's 'Badmotorfinger'
---
UPDATES:
11:30 a.m.: This article was updated with a reported cause of death, additional details on Cornell's career, and tributes by his musical peers.
3:45 p.m.: The article was updated with more background on Cornell's career as well as the official ruling on Cornell's death from the Wayne County medical examiner's office.
This article was originally published at 10:20 a.m.
---
Your essential guide to the arts in L.A.
Get Carolina A. Miranda's weekly newsletter for what's happening, plus openings, critics' picks and more.
You may occasionally receive promotional content from the Los Angeles Times.