Takeo Uesugi dies at 75; landscape architect restored Huntington Library's Japanese Garden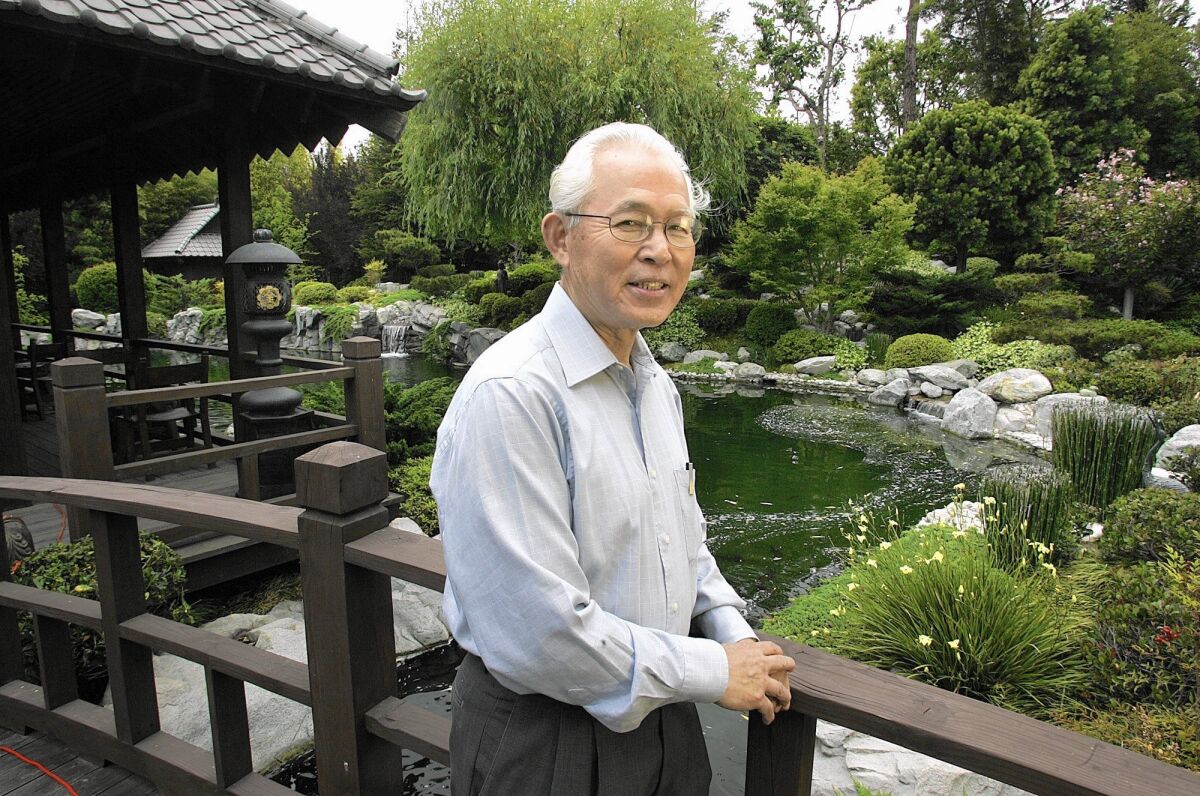 Takeo Uesugi, a landscape architect who melded the principles of traditional Japanese gardens to the modernism of postwar California, where he carried on his ancestral legacy as a 14th-generation Japanese gardener, died Jan. 26 at his West Covina home after a long battle with cancer. He was 75.
His son, Keiji Uesugi, a 15th-generation gardener who worked with his father at the family's West Covina landscape architecture firm, confirmed his father's death.
As a designer, Uesugi created serene landscapes that adapted the elements of a Japanese garden — rock, plants and water — to the climate and lifestyle of Southern California.
NEWSLETTER: Get essential California headlines delivered daily >>
Among his most significant projects are the restoration of the Japanese Garden at the Huntington Library, Art Collections and Botanical Gardens in San Marino, Pine Wind Garden at the Torrance Cultural Arts Center and the Japanese Friendship Garden in San Diego's Balboa Park.
He also designed the James Irvine Japanese Garden, a triangular oasis next to the Japanese American Cultural and Community Center in Little Tokyo, tucked below the street and partly shrouded from the urban din by redwood and magnolia. He intended its tumbling stream and waterfall, which spills onto rugged boulders, to symbolize the arrival of immigrants from Japan, and the difficulties they faced.
The stream, lined by rocks from Mt. Baldy, splits at an island — representing the travails of the next generation, the Nisei, during World War II when scores of U.S. residents of Japanese origin who were not serving in the military were ordered into internment camps. The water flows into a calm grove of bamboo, a resilient plant meant to signify a hopeful future.
"Then the water disappears and a dry stream conceptually runs out to the urban street," Uesugi told The Times in 1995. "It's the dream to become part of the American community."
His designs were gentle and meandering, with bursts of azalea, drooping willows, arching bridges and steppingstones placed asymmetrically to capture the dynamic balance of nature.
"It's very important that when people come into the garden, they feel peace, serenity, tranquillity," he told The Times.
Uesugi was a professor at Cal Poly Pomona and longtime head minister of the Tenrikyo church, a Shinto-derived sect that originated in Japan.
From his religious devotion, Uesugi made environmental sustainability a priority long before it was en vogue, his son Keiji said.
"The Japanese garden design principles are really the springboard," Keiji said. "Equally important was being a mindful steward and a responsible designer of nature."
Takeo Uesugi was born in Osaka, Japan, on March 25, 1940, the youngest of five children of Seichi and Kiku Uesugi, both Tenrikyo head ministers.
His early life was shaped by World War II and its aftermath. Food was scarce, and as a child, Uesugi was often ill and weak, according to his son Koji Uesugi.
His mother died when he was 11. His father was occupied with his ministerial duties, and Uesugi's older brothers and sister helped raise him.
In 1962, Uesugi completed his undergraduate studies at Osaka Prefecture University. At Kyoto University's forestry department, he pursued graduate studies and became a 14th-generation uekiya, or Japanese garden craftsman.
But he was drawn to the clean, innovative aesthetics of Modernism and Western designers. He left Japan in 1965 and enrolled at UC Berkeley, studying under the dean of West Coast landscape architects, Garrett Eckbo.
MORE: Get our best stories in your Facebook feed >>
In 1967, he completed graduate studies at Berkeley and secured a formative internship in the New York offices of M. Paul Friedberg, the well-known landscape architect.
A designer of public parks and playgrounds across New York City, Friedberg was at the time honing novel theories of design that prioritized how people, particularly children, engaged with a space.
Uesugi returned to Japan in late 1967 and managed the landscape design of the Japan Pavilion for the Japan World Exposition of 1970. He also began teaching at Kyoto University, where he met and married his wife, Hiroko, in 1969.
He returned to Southern California to teach in the landscape architecture department at Cal Poly Pomona. He designed projects for private homes, public gardens and corporate clients, mostly in California.
After Uesugi retired from full-time teaching in 2000, his son Keiji took over one of his classes and later joined his father's firm, TUA Inc.
Besides his wife, Uesugi is survived by his children, Keiji of Covina, Koji of Chino Hills and Mari Helenihi of Vancouver, Wash., and seven grandchildren. He's also survived by two brothers, Michihiro and Munetoshi Uesugi, both in Osaka.
Twitter: @MattHjourno
MORE OBITUARIES
Daniel Gerson, screenwriter on 'Big Hero 6' and 'Monsters, Inc.,' dies at 49
Charles Garabedian dies at 92; California artist's colorful paintings belied dark themes
John Tishman dies at 90; New York developer whose firm shaped L.A. skyline
Must-read stories from the L.A. Times
Get the day's top news with our Today's Headlines newsletter, sent every weekday morning.
You may occasionally receive promotional content from the Los Angeles Times.