Tex Winter, innovator of the triangle offense and a former Lakers assistant, dies at 96
Tex Winter, the innovator of the "triangle" offense used by teams that won 10 of the last 19 National Basketball Assn. championships, died Wednesday. He was 96.
Kansas State University, where he coached from 1953-68, announced that he died in Manhattan, Kan.
Winter spent nine seasons with the Lakers as an assistant coach and consultant, and proudly claimed to have earned a basketball-related paycheck for 63 years of his life.
After compiling a resume filled primarily with college basketball, he joined the NBA's Chicago Bulls in 1985 as an assistant coach and began a decades-long partnership with head coach Phil Jackson, who guided the Bulls to six championships while employing a passing, team-oriented offense that Winter didn't invent but sharpened to perfection.
Winter came to the Lakers when Jackson was hired to coach them in 1999, where his offense again led to more NBA trophies as the foundation of four championships, including one in 2009.
"On behalf of the entire Lakers organization, I'd like to express our sadness at the passing of Tex Winter," said Jeanie Buss, the Lakers CEO and controlling owner. "Tex helped lead the team to four NBA Championships and was a mentor to many of our coaches and players. In addition to his numerous contributions to the game of basketball, Tex was a wonderful man and he will be dearly missed. Our thoughts and prayers go out to the Winter family."
Winter's offense was based on a share-the-ball philosophy that didn't always sit well with modern, stats-minded athletes.
In fact, Bulls superstar Michael Jordan initially ridiculed the system and Kobe Bryant said in 2001 that "the triangle does win championships in June ... but, December, January, it's boring as hell."
Chicago Bulls' assistant coach Tex Winter stands in front of a diagram of his "triangle" offense in 1997.
(Michael Conroy / Associated Press)
Tex Winter
(Photo by Juan Ocampo/NBAE via Getty Images)
Lakers assistant coach Tex Winter provides advice from the bench on May 12, 2000, during a Western Conference semifinal game against Phoenix.
(Matt York / Associated Press)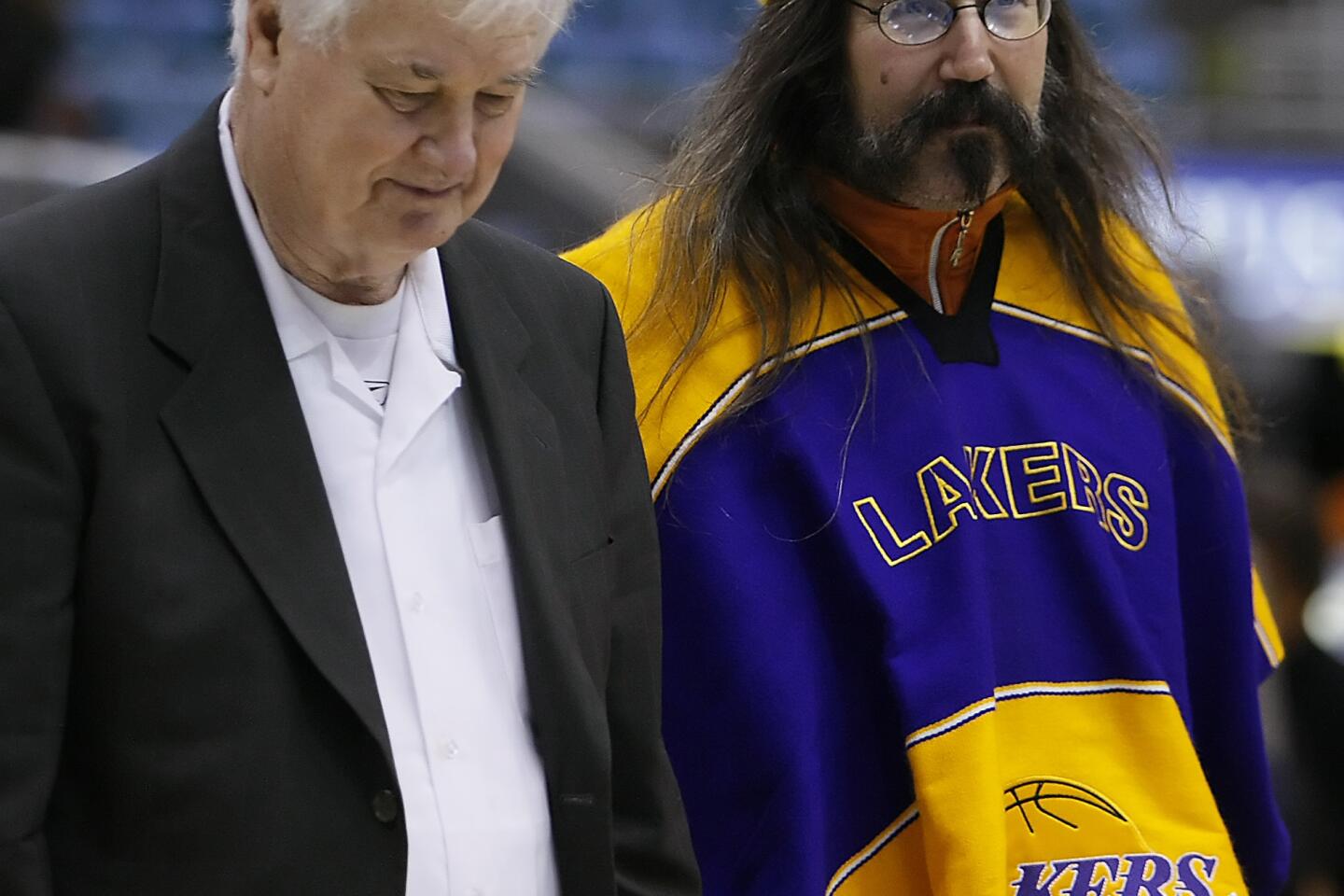 Lakers consultant Tex Winter and Los Angeles radio personality Vic Jacobs chat in 2008.
(Robert Gauthier / Los Angeles Times)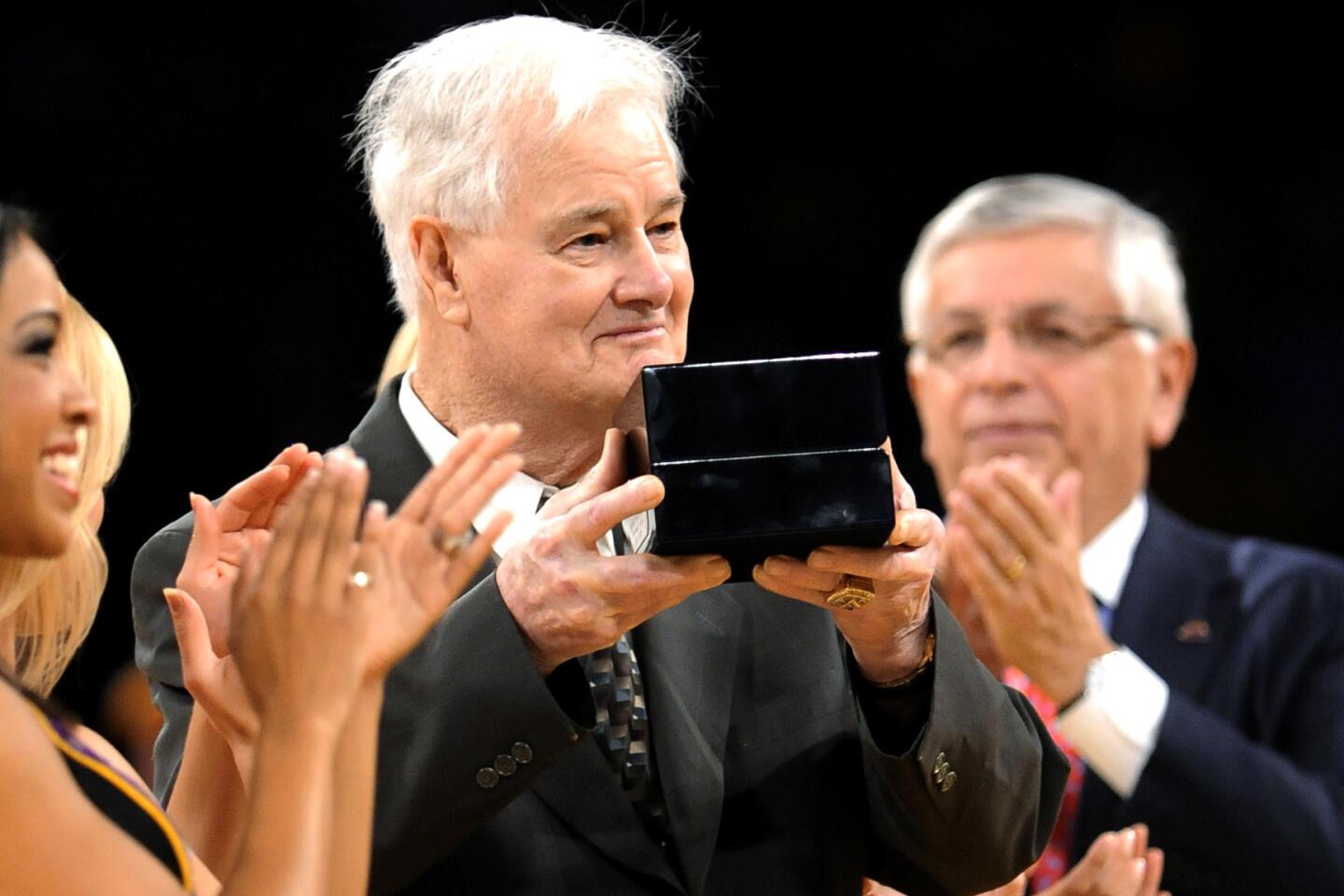 Lakers assistant coach Tex Winter receives his 2009 NBA championship ring during a ceremony at Staples Center on Oct. 27, 2009.
(Gus Ruelas / Associated Press)
Tex Winter was inducted into the Naismith Memorial Basketball Hall of Fame in 2011.
(Andrew D. Bernstein / Getty)
A few years later, though, Bryant defended the triangle, perhaps with a touch of revisionist history.
"I've said it a million times before and I'll say it again: I've never had a problem with the triangle," he said. "I actually love it. It's a great offense. It's predicated on ball movement, on spacing, on penetration."
Winter wrote a 320-page book on the intricacies of the offense, called the triangle because it overloads one side of the basketball court with a triangle formation of players. It emphasizes crisp passing and often gives a player an open shot after the defense lapses.
Winter gained a reputation as a basketball whiz, a professor with a clipboard, and once starred in an IBM commercial in which he charged an outrageous consulting fee after giving a quick lesson on the triangle offense to a team of former NBA stars.
Morice Fredrick Winter was born Feb. 25, 1922, in Wellington, Texas. His father died during Winter's preteen years, so Winter's mother moved the family to Huntington Park to live with Tex's older sister. (In his new state, he quickly earned the nickname "Tex" because of his twang.)
Winter was an accomplished pole vaulter and, despite being several inches below 6 feet tall, enjoyed playing basketball while at Huntington Park High School.
He briefly attended Compton College before heading to Oregon State University in 1943 on a track scholarship. He left college in order to learn to fly fighter planes, but World War II ended without his seeing action in combat.
Winter then enrolled at USC, where he played basketball alongside future Lakers coach Bill Sharman and learned the triangle under USC coach Sam Barry.
Winter took his first coaching job as an assistant with Kansas State and eventually became the Wildcats' head coach from 1954-68. He still holds a school record with a .691 winning percentage. He suffered a stroke in April 2009 while attending a reunion for the Wildcats' team that went to the college basketball Final Four in 1958.
Winter also coached college basketball at Northwestern, Marquette, Washington, Long Beach State and Louisiana State, and in the NBA for the Houston Rockets.
"I'm getting too old," he told The Times in April 2009 of continuing to coach. "I would feel a whole lot better about it if I didn't have these shingles. It's really taken me downhill. The thing I don't want to become is too much of a distraction if my health doesn't hold up."
Jackson never thought of Winter as a distraction. In fact, the Lakers' coach lobbied numerous times for Winter to be inducted into the Naismith Memorial Basketball Hall of Fame. Winter was finally inducted in 2011.
Winter was known for telling the truth — regardless of time, place and size of the athlete staring at him — and for having a sharp tongue that even criticized such basketball luminaries as Bryant and Shaquille O'Neal.
Winter once said that O'Neal was "not the least bit interested [in learning], but he could be so much better."
Winter, however, also had a sense of humor. He answered quickly when asked jokingly if his basketball career stretched back to hanging up the peach basket in the sport's first game.
"No," he said. "But I was the guy that held the ladder."
Winter is survived by his wife, Nancy; three sons, Russell, Chris and Brian; and two grandsons.
Sign up for Essential California for the L.A. Times biggest news, features and recommendations in your inbox six days a week.
You may occasionally receive promotional content from the Los Angeles Times.