Laguna Beach to lose its two nurseries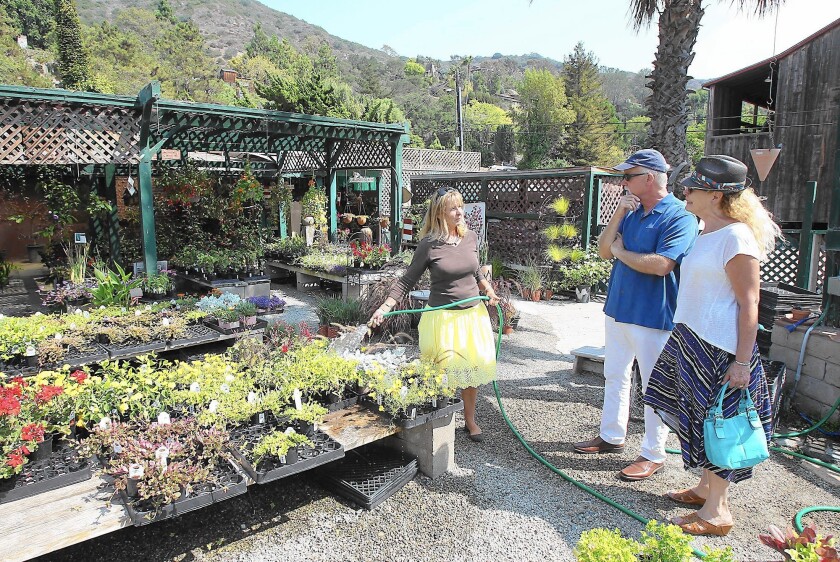 In the next four months, two of Laguna Beach's treasured businesses will shut their doors, leaving the city's green thumbs without a nursery.
Several reasons contributed to their demise: the drought, changing consumer tastes, the toughening economics for independent nurseries and, of course, rising property costs.
Ruben Flores, owner of Laguna Nursery on South Coast Highway and a member of the city's View Restoration Committee, said he will not renew a lease that expires at month's end, and Kevin and Jocelyne Naughton, owners of Laguna Gardens Nursery on Raquel Road south of the city's dog park, will close their business Dec. 31.
Flores said the store he has owned for eight years is no longer making a profit. The Naughtons said they decided about a year ago to close at the end of 2015, after 30 years, to travel and pursue other interests.
Kevin Naughton is a surfer and author whose second book, "Search for the Perfect Wave," is due out in December.
The decisions did not come easy.
For Flores, the nursery became a kind of showcase for the artistic pieces from 27 countries that he had for sale, such as paintings and decorative ceramic heads.
Some of the pieces are hundreds of years old, including an 18th century rectangular stone sink from Houdan, France. On a recent morning, a few Ruby Glow passion flowers opened to reveal their red-tinged leaves.
He said he wanted to create "the most extravagant nursery in California," but his vision did not have the desired affect.
"People were treating the nursery more like a museum than a store," Flores said. "It became a destination for extravagance. People were not purchasing."
The drought and the resulting water restrictions didn't help, he said.
"That was the nail in the coffin," Flores said. "We can't water, so people are not buying plants."
Naughton agreed with Flores that the drought is causing people to think twice about purchases, but he said the Laguna Gardens Nursery wasn't suffering from dwindling sales.
The Naughtons' decision is more about changing their lifestyle than about money. But they said closing the shop is bittersweet. The couple have seen changes in the nursery business and the city during their time on Raquel Road.
Thirty years ago, customers wanted palm trees but in the last decade desired plants native to the Mediterranean and South America, Naughton said. For the last 11 years, the owners have carried only organic soils and fertilizers.
Beyond the shop, Naughton and Jocelyne made their home at their business. They lived in a house at the back of the property when they opened the nursery.
They have endured two major floods and the 1993 fire that ravaged the city, destroying more than 400 homes.
Customers of both nurseries have expressed sorrow at the news of the imminent closings.
John Bernard and his wife, Lynne, stopped by Laguna Gardens Nursery one afternoon this week. They have been visiting the nursery for five years, and Naughton landscaped their backyard.
"It's so eclectic," John Bernard said of the nursery's offerings while eyeing a variegated yellow petunia. "It's a countercultural nursery with a canyon vibe to it."
Flores printed a Facebook post from Silia Hatzi, who said she cried upon learning that Laguna Nursery's days were numbered.
"You created not just a place to buy beauty, but an oasis of style, culture and worldly treasures," Hatzi wrote. "I've learned more about design every time I visit than from reading any book I own. I am so, so sorry that we who live here have failed you, Ruben, by not having done what was needed to make your haven a permanent sanctuary for our town."
Takashi "Pete" Kawaratani opened Laguna Nursery in 1948 and owned it for 51 years, son Steve Kawaratani wrote in an email.
"I am saddened to hear that Ruben is closing Laguna Nursery," Steve Kawaratani said. "It was a bittersweet decision to shutter 'Pete's Place,' the original Laguna Nursery, 16 years ago after 51 years as a community treasure."
After Pete's Place closed, Rogers Gardens operated the nursery for a time under the name Haster Grove, and Flores opened in 2007 near the height of the recession.
"Truth is, if I could figure out a way to make it profitable, I would prefer to stay," said Flores, who can now devote more time to Visionscape Inc., the award-winning landscape design company he founded 27 years ago.
Flores' decision not to renew the lease surprised landlord and Laguna Beach resident Charlie Kinstler, who bought the property from the Kawaratani family 15 years ago.
"I did not think [the property] would have anything but a nursery," Kinstler said. "I contacted a couple of nurseries that thought might be a good fit," but nothing materialized.
Portland, Ore.-based Poler Outdoor Stuff, an outdoor sports apparel and equipment retailer, will move into the South Coast Highway space. Company President Chris Noyes is from Laguna Beach, Kinstler said.
Naughton said he has fielded a couple of inquiries about moving onto the Laguna Canyon property but has not received any formal offers.
Flores' profitability issues make sense to Monica Salembier, a plant science expert at Cal Poly Pomona. She said it costs more to run a nursery than in previous years.
For example, she said, to comply with environmental protection rules, nursery owners must now add infrastructure to capture water runoff before it enters storm drains.
"There are strict rules," Salembier said. "Not that they aren't needed. It is difficult to transition to."
She also pointed out that with the more expensive property in Laguna, conducting business can become more difficult.
Twitter: @AldertonBryce
Bryce Alderton writes for Times Community News.
---
The stories shaping California
Get up to speed with our Essential California newsletter, sent six days a week.
You may occasionally receive promotional content from the Los Angeles Times.