Unlikely bond forms between O.C. jail escapee and his hostage
Cab driver Long Ma has formed an unusual relationship with former captor Bac Duong, one of the three jail escapees.
The cab driver mumbled as he moved toward the jail visitor's cubicle in worn sneakers, breathing heavily after sucking down too many cigarettes in the early morning chill.
Last month, three fugitives who escaped from an Orange County jail kidnapped the driver, Long Ma. Now, the 71-year-old waited to see one of the men, the one who abducted Ma and later helped save his life, a man with a rap sheet that includes charges of attempted murder, robbery, burglary, carjacking and domestic violence.
"I do not forget my debt," said Ma.
Bac Duong was dressed in an orange jumpsuit, his left arm handcuffed to his side. He rose to his feet and bowed. A thick glass partition separated the men as they picked up scratched up phones. Duong called Ma "Bo Long," or Daddy Long.
"My son, as long as I am still here, I will rescue you like you rescued me," Ma promised.
Two lonely men, the cabbie and the prisoner, wept.
Cab driver Long Ma spends many days alone with his thoughts in his small rented room in Garden Grove.
(Mark Boster / Los Angeles Times)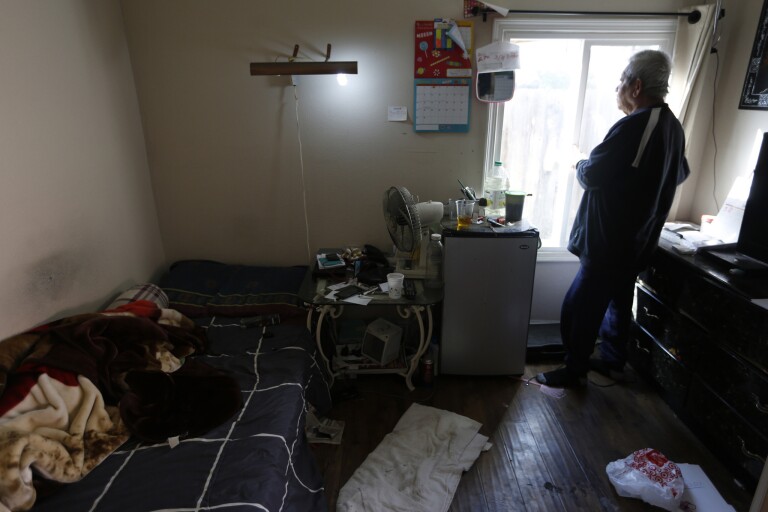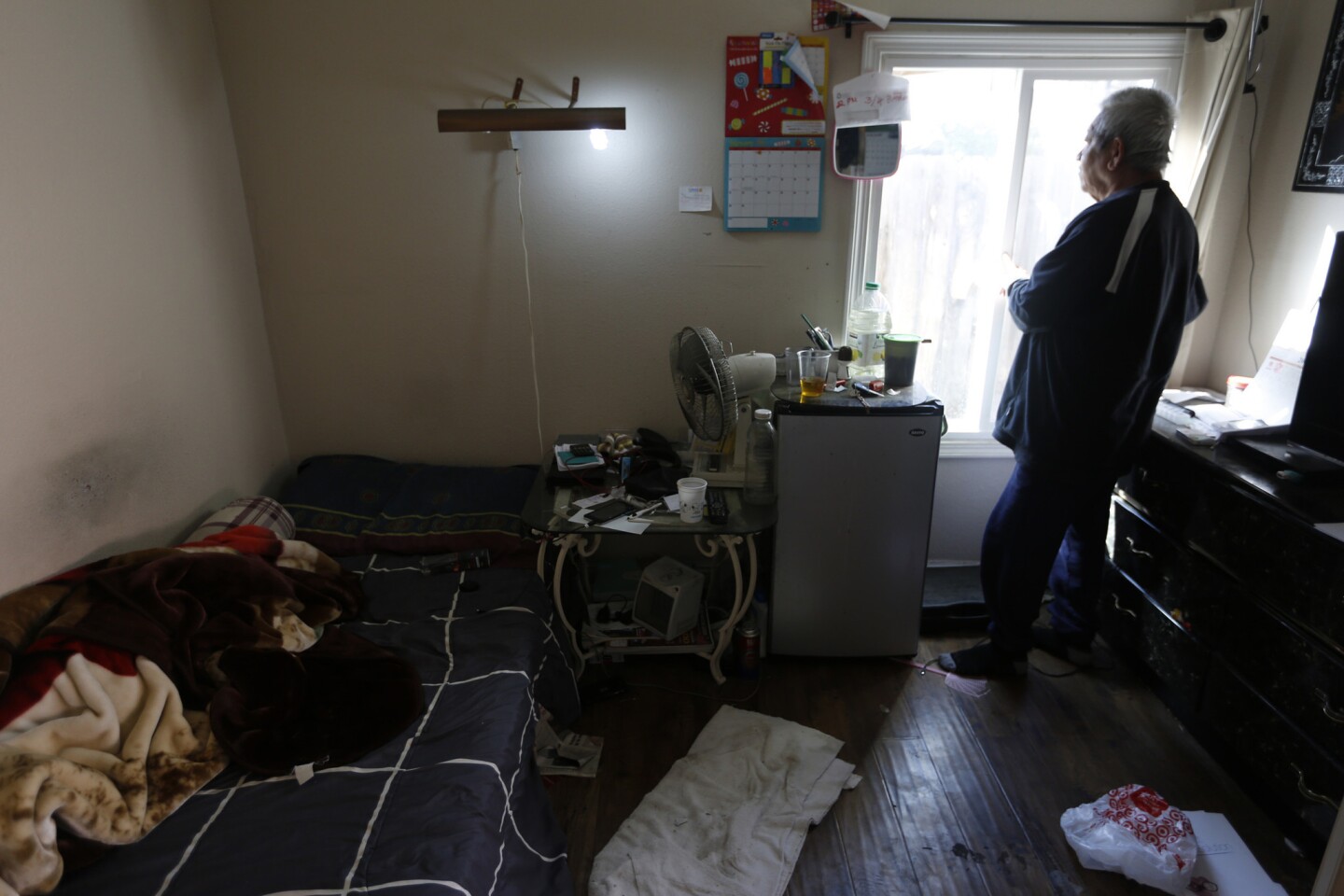 Cab driver Long Ma spends most days alone in his rented room in Garden Grove. Ma has formed an unusual relationship with his former captor Bac Duong, one of the three jail escapees.
(Mark Boster / Los Angeles Times)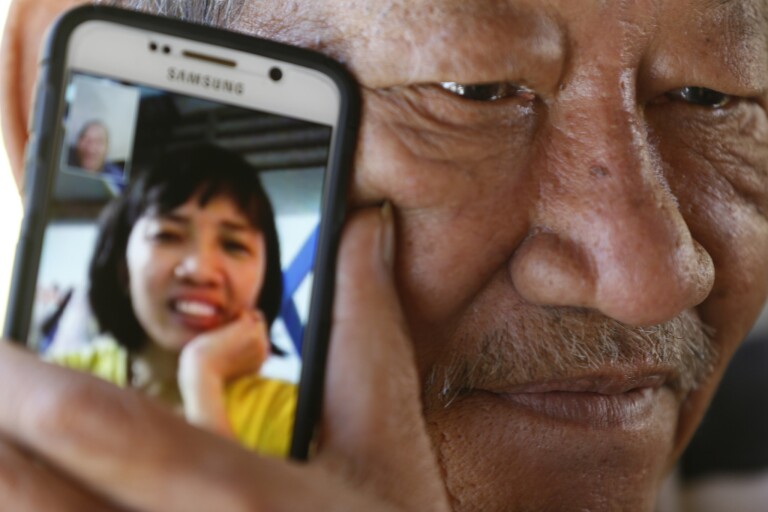 Cab driver Long Ma holds a smartphone photo of the woman he is engaged to in Vietnam.
(Mark Boster / Los Angeles Times)
Cab driver Long Ma stands in the doorway of his rented room in Garden Grove, with his outdoor cook stove next to him.
(Mark Boster / Los Angeles Times)
Cab driver Long Ma stands next to his car, with the Orange County Sheriff's Department crime scene seals still fixed to the door.
(Mark Boster / Los Angeles Times)
Cabdriver Long Ma drove around in his car several weeks after three escaped inmates from Orange County held him at gunpoint.
(Mark Boster / Los Angeles Times)
Cab driver Long Ma spends some of his days gardening in the backyard of the Garden Grove home where he rents a room.
(Mark Boster / Los Angeles Times)
Cab driver Long Ma is raising apples in the backyard of the room he is renting in Garden Grove.
(Mark Boster / Los Angeles Times)
The first time Ma visited Duong, 43, at the Central Men's Jail in Santa Ana, the prisoner asked if Bo Long would swing by one of the bookstores in Little Saigon to get him Buddhist prayer books.
The next day, Sunday, Ma carted two bags back to the jail, stuffed with $97 worth of volumes filled with stories on suffering and sacrifice and enlightenment. A guard told him he wouldn't be able to leave the paperbacks. Ma made arrangements to have them mailed to Duong and, before passing through a metal detector, he deposited $100 into a prison spending account.
"I don't have much. But with what I have, I will do my best to support him," Ma said. "I cannot accept him as my son and then abandon him."
See more of our top stories on Facebook >>
Ma lives in a tiny room in a boarding house in Garden Grove. He's one of 10 brothers and sisters. Every one of them — a dentist, an engineer, a pharmacist and other professionals — is successful. "All of them except me," Ma said.
He is divorced and has not spoken to his four children in years. "I do not like depending on them," Ma said, adding that he has no idea whether they heard about his abduction, though the manhunt for the escapees and his kidnapping dominated the news.
The search for Duong, Hossein Nayeri and Jonathan Tieu played big in the Vietnamese-language media because two of the fugitives, Duong and Tieu, were Vietnamese immigrants. The whole ordeal turned Ma into a kind of celebrity in Orange County's Little Saigon and after it was over, during the Lunar New Year, strangers streamed up to him and offered to buy him a meal and asked to take selfies with him.
But the fame was a mirage. Most days, he struggles to find passengers as he drives around in a steel gray Honda Civic with the tell-tale remains of police crime tape stuck to its side. At night, he returns to his cramped quarters, where he pays $400 a month for a room with no bathroom access at night.
Ma gardens, planting apples, grapefruit and tulips in his landlord's yard. He cooks simple food — caramelized pork, ramen — and avoids restaurants to save money.
"I am a man who cannot afford expensive things. I don't need them. I just want to live peacefully," he said.
Read the latest Essential California newsletter >>
Duong, a Vietnamese national, is divorced. He has two grown sons who live in San Diego but says he keeps his distance, not wanting to bring "shame" into their lives.
In 1998, an immigration judge ordered him deported, but Duong launched several appeals, which were exhausted in 2003. But the Vietnamese government rarely accepts deportees from the U.S. and refused to take him. In 2008, Vietnam signed an agreement with the U.S. to admit deportees, but only those who had arrived in the U.S. after July 12, 1995. After he was charged with attempted murder last year in the shooting of a 52-year-old man, immigration officials filed the paperwork to detain Duong.
After busting out of jail the night of Jan. 22 by rappelling down the roof, Duong, Tieu and Nayeri flagged down a cab in Garden Grove. Ma, who had responded to a call to the location, was at the wheel. For the next week he was the three men's captive, chain-smoking with them in motels and sleeping beside them. He listened as they argued about whether to kill him.
My son, as long as I am still here, I will rescue you like you rescued me
— Long Ma
Ma said that once, Nayeri punched Duong in the face during an argument. Duong later told him Nayeri wanted to shoot him. Salvatore Ciulla, a lawyer representing Nayeri, did not respond to calls.
Nayeri was the leader of the group, Ma said. He was facing charges in connection with a 2012 attack on a marijuana dispensary owner who was abducted from a Newport Beach home, taken to the desert and tortured.
From the beginning, Duong called Ma "Uncle," brought him things to eat and cigarettes to pass the time. They were staying in a motel in Northern California when Ma said that Duong, afraid that the cab driver would be harmed, decided to drive him back to Southern California. On a Thursday morning, Ma said Nayeri and Tieu left to have the windows of a stolen van tinted. Duong persuaded Nayeri to leave his gun behind, the cab driver said. Then, with the other two fugitives gone, Duong left with Ma in the taxi.
"I knew I had to get the gun away from him," Duong said, adding from behind the thick glass that "I wanted to rescue [Ma]. I wanted to do the right thing."
Hurting the cab driver, Duong now says, was a line he would not cross. Duong said he respected Ma for the calm that he showed while he was a hostage.
Abby Tyler, an attorney representing Duong, declined to comment on her client's actions.
"Never in my head could I have imagined we would end up being of the same mind," Ma said of Duong. "Even though he held a gun to my chest and threatened my life … he must have been under a lot of pressure. He made wrong decisions until he saw the truth."
FULL COVERAGE: Three inmates escape from Orange County jail
On the road back to Orange County, Duong told Ma that he knew "what I did was wrong" and that he wanted to return to the right path.
Ma said he went with Duong to the office of an attorney in Westminster to arrange his surrender on Jan. 28, but the secretary asked the pair to leave. Then they drove to Auto Electric Rebuilders in Santa Ana, where a bedraggled-looking Duong asked a friend to call 911 to summon authorities.
The two other fugitives were captured a day later in San Francisco.
Duong, Nayeri and Tieu are scheduled to be arraigned on March 4.
Before exchanging goodbyes at the jail, Duong reminded Bo Long to take good care. Ma mentioned that he had booked a trip to Vietnam in early March to visit his fiancee, whom he refers to as his wife. He smiled like a schoolboy when talk turned to the long hours they spend chatting on the phone daily.
"My wife sends her best wishes and her thanks," he told Duong, who wiped his wet cheeks once again. "She hopes to say that to you in person one day."
Ma replaced the phone in its cradle. Duong gestured toward the doorway with his free hand, as politely as if he were showing a guest the way out. Ma stood up slowly, took one more look at the crying man behind the glass, and walked out.
Twitter: @newsterrier
Hoy: Léa esta historia en español
MORE ON THE ESCAPE:
Photos from inside jail show how inmates made dramatic escape
Her pink Taser, poisoned hamburger patties and an iPhone: the story of a wife who lured an Orange County fugitive out of Iran
'I'm a nice guy': O.C. jail escapee asserts innocence in jailhouse interview
---
The stories shaping California
Get up to speed with our Essential California newsletter, sent six days a week.
You may occasionally receive promotional content from the Los Angeles Times.