Marshall Tuck concedes to Tom Torlakson in state schools chief race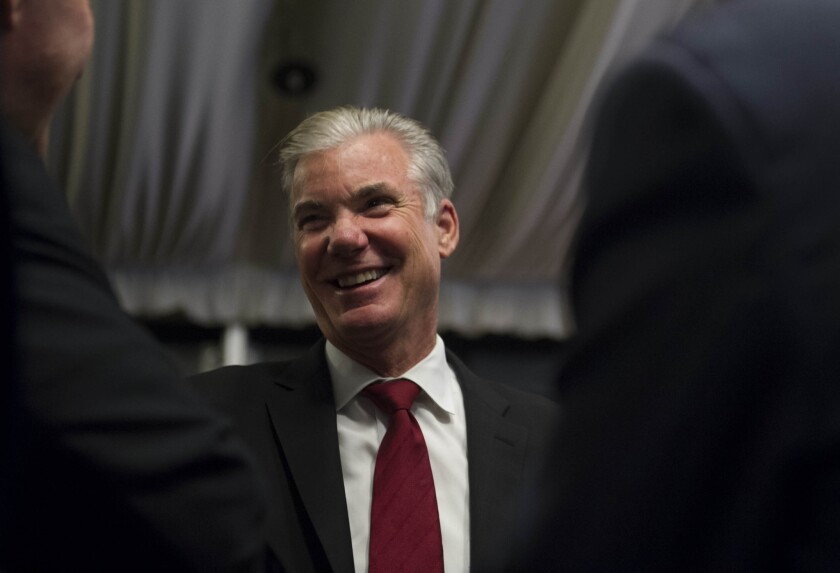 Challenger Marshall Tuck conceded Wednesday morning to incumbent Tom Torlakson in the contest for California superintendent of public instruction, a race that became the most expensive on the state ballot.
With 100% of precincts reporting at least partial returns, Torlakson had 52% compared with Tuck's 48%. Torlakson had 2,266,425 votes, which gave him a lead of 181,489 over his challenger, a fellow Democrat.
"Sixteen months ago we set out on this journey to do one thing: put children first and ensure that every child has equal access to a quality education," Tuck said in a statement. "And despite yesterday's loss, I couldn't be prouder of the unique coalition of parents, community leaders, teachers, Democrats, Republicans and independents we built along the way. Together we proved that in California there is a growing call for change."
Besides this coalition, Tuck also benefited from a deep well of financial support from wealthy donors and advocacy groups funded by such contributors. They effectively leveled a financial playing field dominated in the past by Torlakson's primary supporters -- the state's teacher unions.
Supporters of both candidates had more than $10 million to spend, bringing unprecedented attention to a down-ballot contest and to an office with little direct authority over education policy or the state's school districts.
Torlakson's statement, released shortly after midnight, fell just short of claiming victory, although signs pointed in that direction.
"We knew it wouldn't be easy," Torlakson said. "They were strong, but we were stronger. They were tough, but we were tougher. After all, we're teachers -- we did our homework.
"I congratulate my opponent for running a strong campaign," Torlakson added. "And while I disagree with him in many respects -- I believe he truly wants California's children to succeed -- and I wish him well."
In his remarks, Tuck called attention to "2.5 million children in California public schools who can't read and write at grade level." He added: "Those children are counting on all of us to take every action necessary to give them a better education and a chance at a better future."
Torlakson defended the work of teachers, who he said were under siege and who welcomed any assistance in helping students.
"If you truly care about our schools, our children and their futures -- wonderful. Join us," he said. "We're right down the street -- at a school in your neighborhood. We want your help. We need your help."
After they advanced from June's primary, the battle between Torlakson and Tuck quickly became a proxy contest between backers of competing visions of how to improve public schools.
Both sides flooded television and radio with campaign ads in recent weeks. Polls showed the race too close to call, with undecided voters virtually matching the supporters for each candidate.
Generally speaking, the backers of Torlakson, 65, favor providing more resources to schools, while also making sure this aid is used more effectively. They see data from standardized tests as a tool to guide instruction rather than to evaluate teachers.
The supporters of Tuck, 41, typically want to counter the influence of teacher unions and favor using student test scores as a major factor in determining teachers pay and job security.
Twitter: @howardblume
---
For reporting and exclusive analysis from bureau chief John Myers, get our California Politics newsletter.
You may occasionally receive promotional content from the Los Angeles Times.