Brulte, Dhillon to seek reelection as state GOP leaders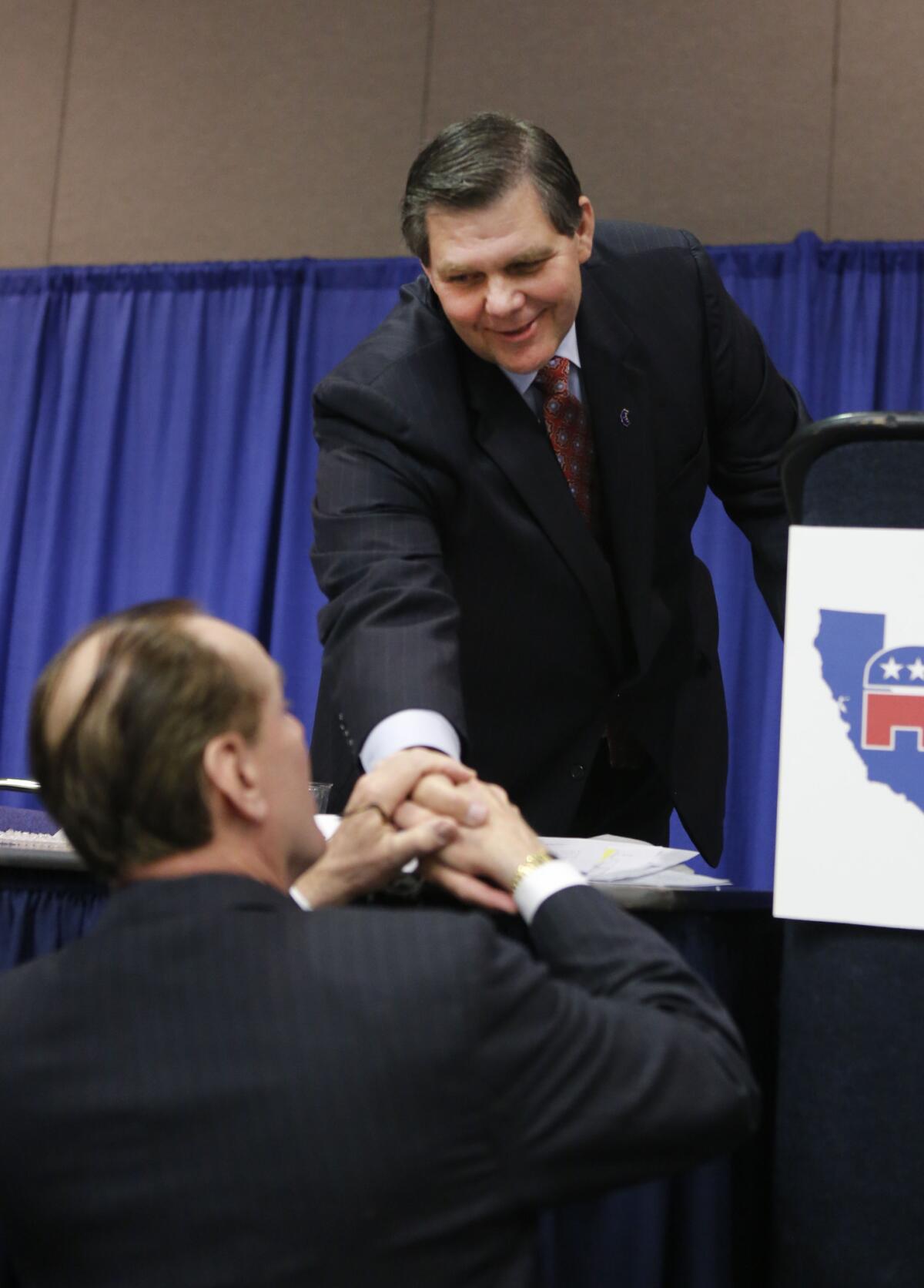 California GOP chairman Jim Brulte, widely credited with reviving the state Republican party's fortunes, announced Monday that he would seek reelection to the post.
Brulte highlighted the party's recent victories -- notably blocking Democrats from having super-majorities in the state Senate and Assembly -- as he announced he would seek another two-year term in a letter to the state GOP's Board of Directors.
"We can build upon our successes this year," he wrote. "Working together we showed what our party could achieve. We need to build upon that success ... because our state, our counties and our cities are too important to leave to those who do not share our philosophy."
Vice chairman Harmeet Dhillon, who has served as the public face of the state party, said she would also seek reelection.
"What an honor it has been to serve this party, articulate conservative principles, walk precincts, represent our party in the media, and voter by voter help persuade the electorate that we are here to stay and that we are here to serve and to help turn this state around," she wrote on Facebook.
The election will take place March 1 at the party's spring convention in Sacramento, but neither is likely to face any serious challengers.
The pair were elected in 2013 and came in at a time the state party was drowning in debt and demoralized. The party remains deeply troubled – its share of the state's voter registration is at a historic low and it has failed to elect a candidate statewide since 2006.
But Brulte is credited with making some strides during his tenure. The former state legislative leader used his deep Rolodex and connections to wipe out the party's debt. And he focused on rebuilding the party at the local level and using its limited resources in targeted races.
These moves resulted in some successes at the ballot box, such as the election of a Republican mayor in San Diego earlier this year. In November, in addition to denying Democrats super-majorities, Republicans gained legislative seats for the first time in 12 years and defeated incumbent Democratic members of the Legislature for the first time in two decades.
Follow @LATSeema for political news.
Sign up for Essential California for news, features and recommendations from the L.A. Times and beyond in your inbox six days a week.
You may occasionally receive promotional content from the Los Angeles Times.