Gov. Jerry Brown seeks to focus attention on reserve-fund proposal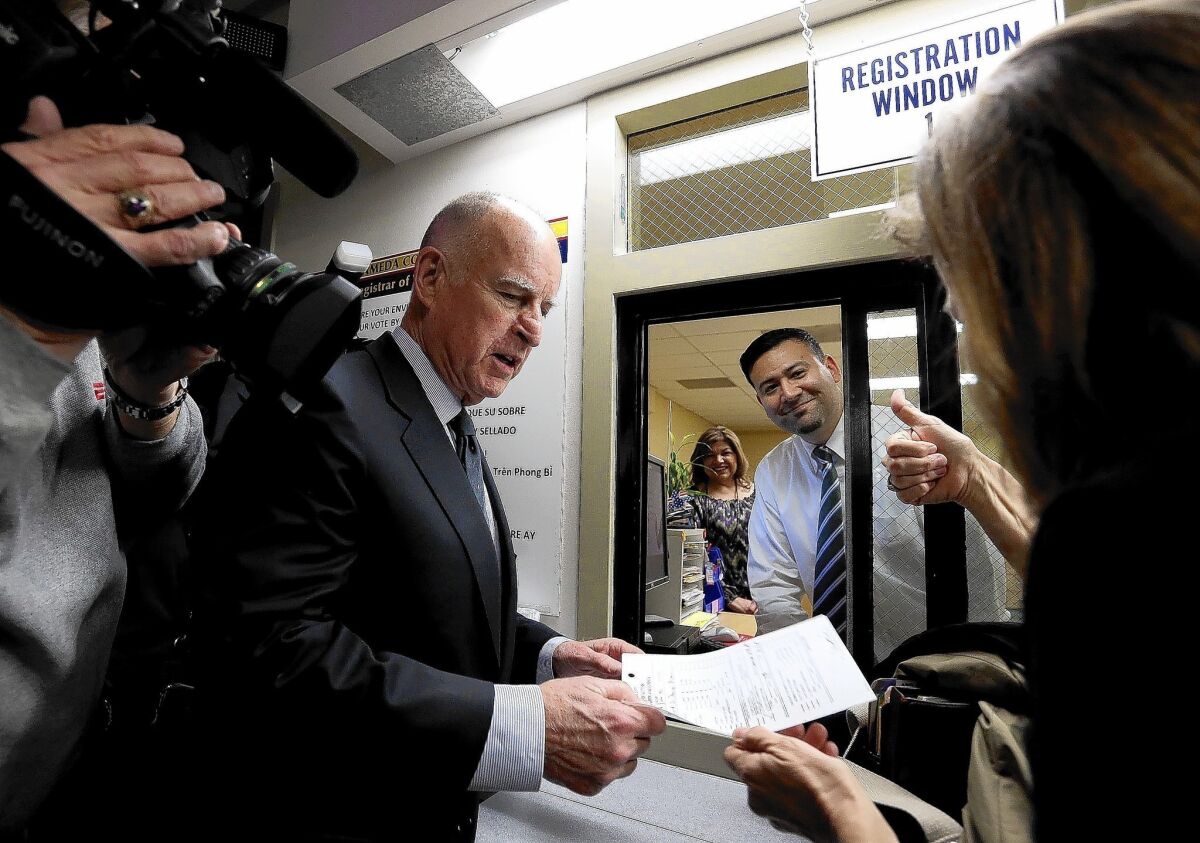 SACRAMENTO -- By calling a special session of the Legislature for later this month, Gov. Jerry Brown is hoping to focus attention on a key part of his budget proposal, the creation of a new reserve fund.
In many ways, Brown's action on Wednesday is a technicality. His proposal was already on the table, and lawmakers are already in session and can address the topic of a new fund concurrently with other business.
Even though Brown can ask lawmakers to concentrate on his proposal, there's no guarantee they'll act.
A key benefit of calling a special session, which Brown scheduled for April 24, is shining a spotlight on the governor's preferred subject, said Jack Pitney, a political science professor at Claremont McKenna College.
"It's an effort to focus the Legislature's attention on a particular topic," he said. "It's also a way to get public attention on an issue the governor is concerned about."
As Brown seeks reelection this year, urging new steps to safeguard the state's finances can also help his campaign pitch, Pitney said.
"It reinforces his message that he's the experienced adult in the room that wants the state to stay in the black," he said.
It remains to be seen whether Brown's special session helps him overcome political hurdles to placing his proposal on the November ballot. Three Democratic state senators -- Leland Yee of San Francisco, Ron Calderon of Montebello and Roderick Wright of Inglewood -- have been suspended amid separate criminal investigations, costing Brown's party its two-thirds majority in the Legislature's upper house.
That means the governor needs Republican support in the Senate, a rare occasion during the last few years as Democrats have dominated the Capitol.
Jack Citrin, director of the Institute of Governmental Studies at UC Berkeley, said Brown has been riding high politically and is trying to seize the moment to push through his proposal. However, Citrin said, Brown risks a political black eye if it doesn't work out.
"If the Republicans unite against this, it doesn't get through," he said. "[Brown] must feel reasonably confident he will get support."
A special session was held last year to debate implementation of President Obama's federal healthcare law. The result was legislation expanding California's healthcare program for the poor, largely through the use of federal tax dollars.
Assembly Speaker John A. Pérez (D-Los Angeles) issued a statement calling Brown's special session a "welcome and helpful development."
"We need to establish a solid system for saving money in good years, so that we can better weather the bad year," he said.
ALSO:Jerry Brown ready to commit to a rainy-day fund
California may go forward without a financial reserve
Jerry Brown is said to support ballot measure for rainy day fund
Twitter: @chrismegerian
---
Life is stressful. Our weekly mental wellness newsletter can help.
You may occasionally receive promotional content from the Los Angeles Times.