State drought relief package falls short, conservation advocates say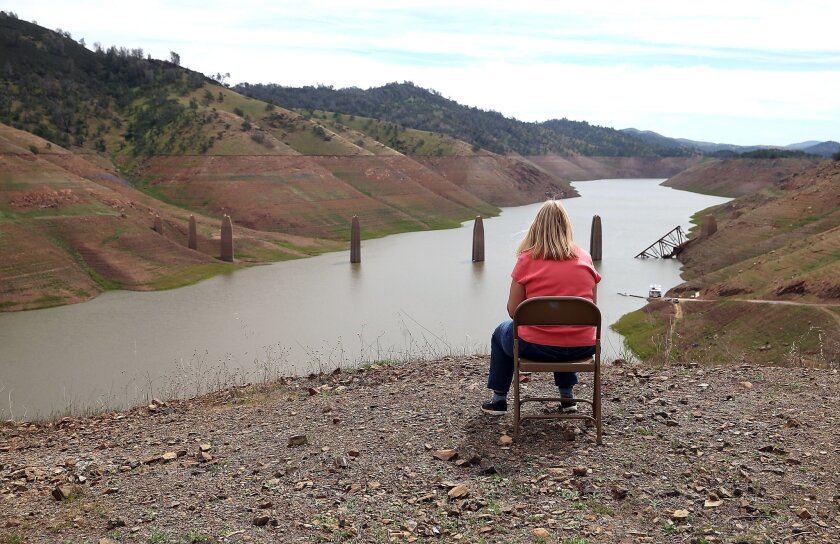 Reporting from Sacramento —
Not only will the $1-billion spending plan approved by lawmakers Thursday provide little immediate relief to drought-stricken Californians, state leaders are missing an opportunity to take more decisive action to restrict water use, conservation advocates said.
"Until we have statewide mandatory restrictions ... we're not going to see the kind of cutbacks the governor has called for," said Conner Everts of the Environmental Water Caucus, which promotes sustainable water management.
Brown set a goal of a 20% reduction in water use, but Californians reduced consumption by just 8.8% in January.
Lester Snow, executive director of the California Water Foundation, said mandatory, statewide restrictions could be difficult to implement because water conditions are different around the state. However, he expects the conversation could change if rain doesn't arrive soon.
"As the drought deepens, there will be more of a call to do that, that we're all in this together," said Snow, a former state secretary for natural resources.
The spending plan approved Thursday, which now goes to Gov. Jerry Brown for his signature, includes $127.8 million for immediate environmental protections and to provide food and water to drought-stricken communities. That's a tiny fraction when compared to $660 million for flood control projects and $272.7 million for other infrastructure upgrades.
Little of the funding is new, and almost all of it was included in previous bond measures or budget proposals.
The legislation is similar to a $687-million measure enacted last year, which was mostly geared toward long-term initiatives like capturing and recycling storm water. Only one-third has been spent so far.
"It's clear that not enough has been done," said Elijah Zarlin, a campaign manager for CREDO, a San Francisco activist group. "What we're seeing from the state is minimal half-measures, like restaurants shouldn't serve water unless you ask for it. It really only cracks the surface."
Advocates say money could be better spent ripping out old appliances and replacing them with more efficient toilets or washing machines. Or communities around the state could replicate a successful Los Angeles program that pays residents to rip up their water-guzzling lawns.
The State Water Resources Control Board recently urged urban water agencies to limit the amount of water that residents use for their yards. It's a step most large cities in Southern California have already taken, although state regulators aren't sure how well conservation measures have been enforced around the state.
The water board is expected to consider new measures in the spring. So far, Brown has been hesitant about promoting mandatory water restrictions.
"It's a judgment call," he said last week. "But I've been asking that same question myself."
---
The perils of parenting through a pandemic
What's going on with school? What do kids need? Get 8 to 3, a newsletter dedicated to the questions that keep California families up at night.
You may occasionally receive promotional content from the Los Angeles Times.