California Sen. Rod Wright's perjury, voter fraud trial goes to jury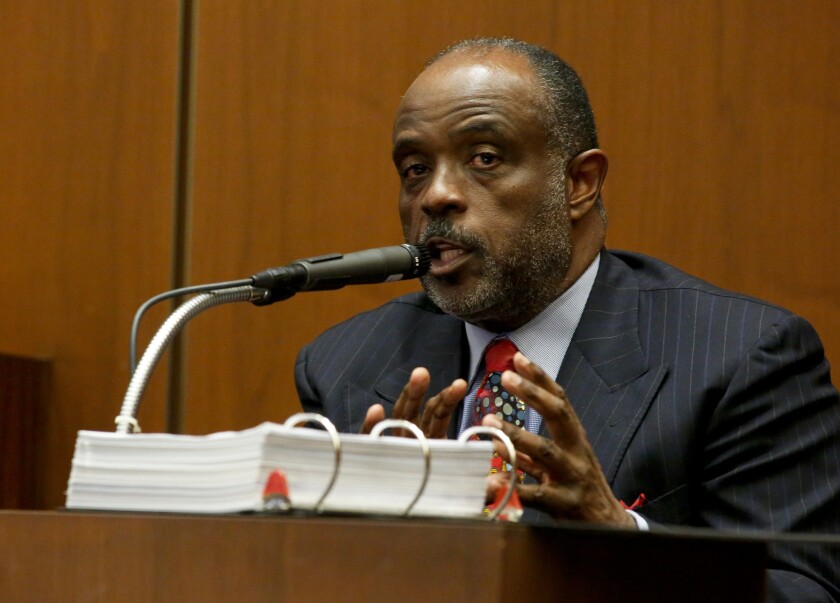 More than three years after state Sen. Roderick D. Wright's indictment on perjury and voter fraud charges, the Inglewood Democrat's case went to the jury on Friday.
The trial began with opening arguments on Jan. 8 before Los Angeles County Superior Court Judge Kathleen Kennedy and grew heated at times as attorneys sparred over evidence and witnesses before the three-man, nine-woman jury and three alternates.
Wright was charged with two counts of perjury, one count of filing a false declaration of candidacy and five counts of fraudulent voting. Prosecutors allege that Wright in 2007 had tried to make it appear that he had moved into an Inglewood property he owned so that he could run in what was then the 25th Senate District. But his true home or "domicile" was at a single-family home in Baldwin Hills, outside the district he sought to represent, they say.
Wright, who faces up to eight years and four months in state prison if convicted on all counts, has pleaded not guilty and told jurors he thought he was doing what the law required for him to establish a "domicile." As it pertains to the law, a domicile is a fixed place of residence -- a home, in lay terms -- to which a person intends to return after an absence.
The second-term senator and former assemblyman testified that he had arranged with his unofficial stepmother, Wanda Sanders, to share a three-bedroom house he rented to her at the back of his Inglewood apartment building. He said he moved some things in and sometimes spent the night there. But witnesses, including Sanders, could not recall seeing him or his car at the house in the late evenings.
Defense attorney Winston Kevin McKesson said the law was "murky" and unclear and called prosecuting Wright a waste of taxpayer money. He repeatedly called members of the district attorney's public integrity division "liars" who conducted a "sloppy investigation" and were unfamiliar with the law when they executed search warrants on the Inglewood and Baldwin Hills properties in December 2009 and proceeded to prosecute Wright. He was indicted by a county grand jury in September 2010.
McKesson called Wright a "dedicated public servant" and a "compassionate man" who did not evict a tenant who was behind on his rent. He referred to Wright's long career in politics and made references to various commendations that Wright had received from constituents and interest groups over the years.
But Deputy Dist. Atty. Michele Gilmer told jurors the laws "are not murky and they are not unclear." She said McKesson's focus on Wright's political career and on his home office at the Baldwin Hills house were smoke screens meant to distract the jury from the real issue -- whether Wright had sought to deceive when he claimed the Inglewood property as his "domicile" and voted in elections meant for residents of the district.
"It's all a show but it ain't evidence," Gilmer said of the emphasis on Wright's career and interests and the supporters who sat in on the trial.
Deputy Dist. Atty. Bjorn Dodd called Wright's Inglewood arrangement "a Hollywood prop."
"He knew he had to create the appearance that he was living in the district," Dodd said.
ALSO:
State controller overstepped power on budget, appeals court rules
Brown asks federal judges for more time to reduce prison crowding
Campaign pays state $300,000, a fraction of 'dark money' received
Twitter: @jeanmerl
---
For reporting and exclusive analysis from bureau chief John Myers, get our California Politics newsletter.
You may occasionally receive promotional content from the Los Angeles Times.