Senate leader De Leon stumbles through apologies in Central Valley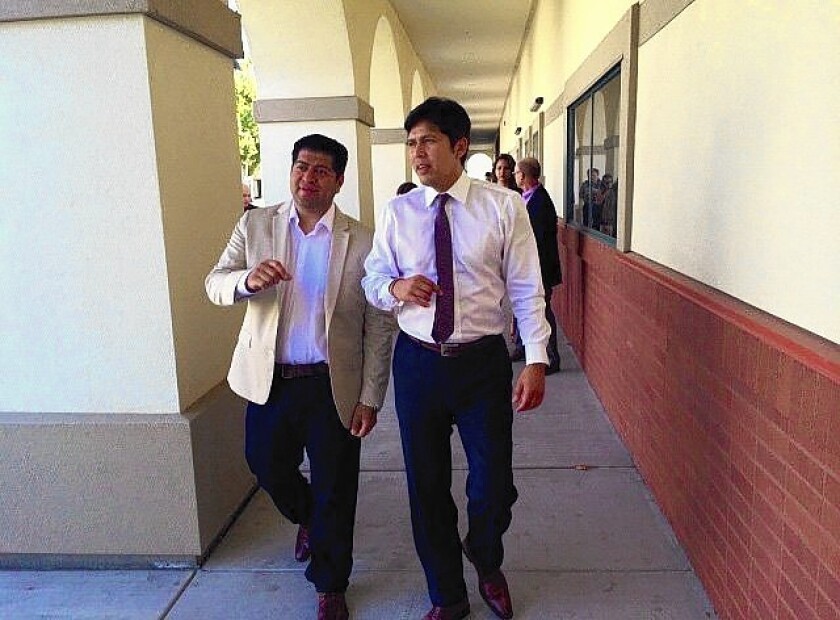 FRESNO —
It was as predictable as ice cream with pie: A politician had made a gaffe and was now going to make nice with the offended region.
But even the pie went wrong when the new leader of the California Senate, Kevin de León, visited the Central Valley this week.
"It was clear this was supposed to be a 'veni, vidi ... mea culpa — I came, I saw, I apologized,'" said John Ellis, a political reporter with the Fresno Bee. "But it really didn't work out that way."
The dust-up began last month when De León was discussing high-speed rail with Los Angeles Times columnist George Skelton, and he described the Central Valley as a place where "no one lives out there in the tumbleweeds."
In a region where a sense of being slighted by Sacramento has historical underpinnings, the comment provoked outraged editorials and social media snark.
Then on Tuesday, at the end of his tour of local high schools, De León clarified his remarks for KVPR, the Central Valley's public radio station: "I literally meant in between Fresno and Bakersfield," he said in recorded comments.
"And just like that, he threw Visalia, Hanford, Tulare under the bus," Ellis said. "It was like, 'Oh, I didn't mean Fresno — just everything south of Fresno.'"
On Wednesday, KVPR director of program content Joe Moore dedicated the song "Tumbling Tumbleweeds," by the late Clovis singer Ken Curtis, to De León.
"I think it was a moment of candor, not malice," Moore said. "But beneath the admitted comedy is truth. People whip up the I-5 or Highway 99 and they think they know the Central Valley. But it's a very difficult place to understand.
"They see the openness, the remoteness — and, yes, the tumbleweeds — and they don't understand the high technology that goes into growing food in an area that would otherwise be a vast savanna. They know nothing about the lives being lived in 'the middle of nowhere.'"
The interstate is one of the historic sore points: built on the far outskirts, connecting the state but bypassing the Central Valley's main cities, in an era when rural California had little pull with the state's power structure.
Today, the Central Valley, or more specifically the San Joaquin Valley — from Stockton to Bakersfield — is very much on Sacramento's mind.
"Our state's most overlooked region has emerged as the center of every single major debate about California's future. As we fight over high-speed rail and water and prisons and fracking and unemployment, we are really debating the future of the San Joaquin," Joe Mathews recently wrote in an essay for the nonprofit Zócalo Public Square.
It's one of the state's fastest-growing regions, yet in many ways retains a rural culture that sets it apart.
On the school tour, De León mentioned Fresno's three high schools — it has seven. He went to a Fresno Bee editorial meeting and chatted in high spirits for 11/2 hours. De León brought a "humble pie" as an offering. It was peach — in a pastry box — in the land of stone fruit during high homemade-pie season.
"I don't know I've ever bought a peach pie," said Mike Naylor, a third-generation peach farmer in Dinuba, south of Fresno. "And in July. We're in the best of the best peaches. But he's from L.A.; he couldn't have known that a peach pie right now has to make you feel like you died and went to heaven."
A spokesman for De León said he was tied up in back-to-back meetings Wednesday and unavailable for comment. But during his day in Fresno, aides passed out media packets touting legislative victories of interest to the area: funding for retrofitting schools, cleaning the air and public parks.
"He seemed to think the day went well, and maybe it did," said Ellis, the local political observer. "He was good-natured, he didn't make excuses and he was hysterical. I don't know if he meant to be funny, but he was funny to us."
Twitter: @DianaMarcum
---
For reporting and exclusive analysis from bureau chief John Myers, get our California Politics newsletter.
You may occasionally receive promotional content from the Los Angeles Times.