California Republican voters' support for Bush and Trump wavers after debate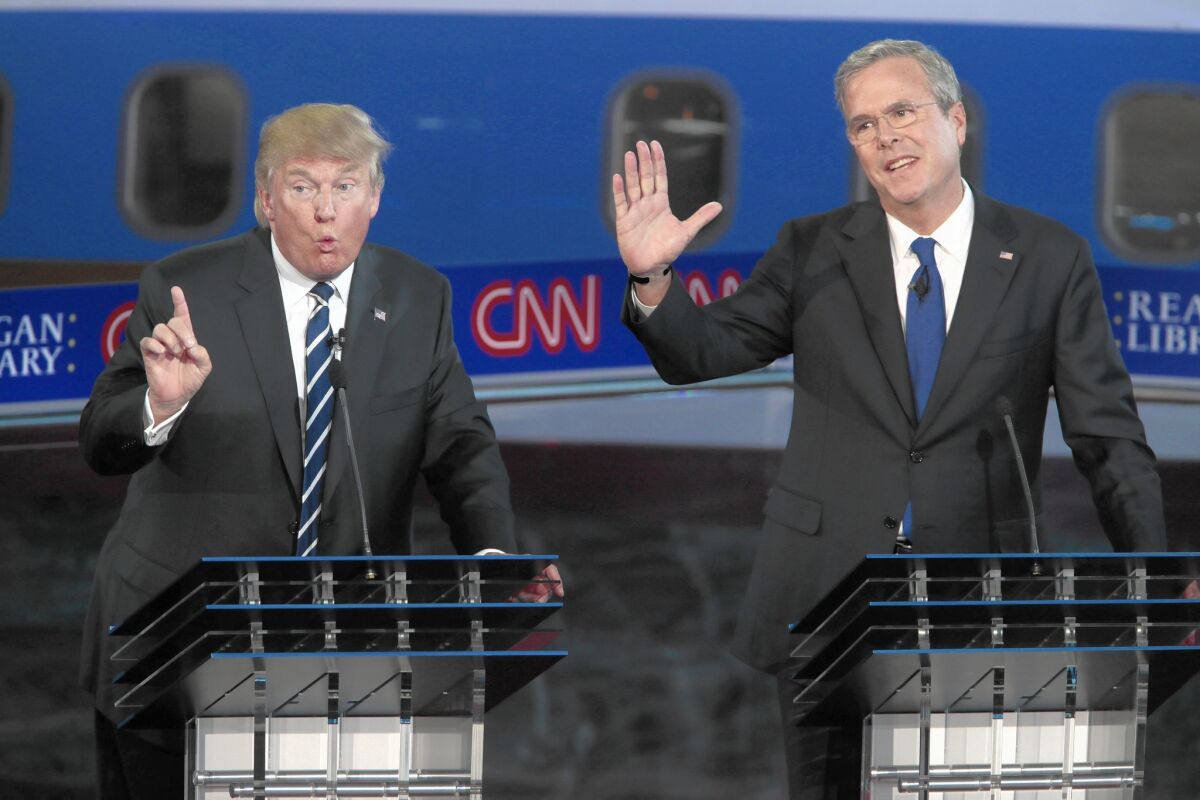 To retired insurance agent John O. Green of La Mesa, Jeb Bush comes off as a son who reluctantly joins the family business for lack of anything better to do.
"Quite honestly, I don't think he really wants it that bad," Green said of the former Florida governor and presidential candidate. "It's like he's just going through the motions."
The second Republican presidential debate Wednesday offered Bush a chance to start gaining voter support to match his overwhelming lead in raising money. But detailed interviews with a dozen California Republicans who watched the CNN debate suggest that Bush made no progress.
Those voters, who participated in a recent USC Dornsife/Los Angeles Times poll, confirmed a widely expected spike in support for Carly Fiorina after a forceful performance by the former Hewlett-Packard chief executive.
The conversations also uncovered signs of emerging doubts about front-runner Donald Trump, even among his supporters.
Bush did not impress the debate watchers, and some questioned his ideological purity.
"If it was between him and a Democrat, I would abstain," said Craig Taylor, 53, an Indio high school teacher.
Taylor prefers Sen. Ted Cruz of Texas, whom he sees as tougher than Bush on illegal immigration, an opinion reinforced by the debate. "We need to have a culture of following the law," Taylor said.
Voter fatigue with Bush's family poses a serious obstacle in his quest for the nomination.
"This preordained notion irritates me to no end," said forensic scientist Greg Laskowski of Bakersfield, who sees "the Washington elite" as rallying behind the son and brother of former presidents. "That's not what we are as Americans. We don't elect dynasties."
Laskowski prefers Ohio Gov. John Kasich, saying the shortcomings of former Gov. Arnold Schwarzenegger serve as a warning of how misguided it would be to elect Trump, Fiorina, retired neurosurgeon Ben Carson — or anyone else with no government track record. "You need some experience in the system," he said.
Bush has made government experience a centerpiece of his campaign but has failed to set himself apart from rivals who have also held public office.
His demeanor led several voters to echo Trump's allegation that Bush lacks energy.
"I'm tired of the Bushes, and I don't think Jeb has the oomph to get us there," said Carson supporter Corky Frye of Murrieta, a retired customer service representative.
Bush has embraced his lineage of late. Campaigning Friday in Michigan, he told a Republican crowd that he knew how to improve America's ties with other nations "because, yes, I am a Bush. I happened to see two really good presidents develop relationships with other countries."
In last week's debate, he defended his brother, former President George W. Bush, by declaring that he "kept us safe."
For Fiorina, the CNN debate has proved a boon. Green, 72, said her command of the stage showed she could "annihilate" Hillary Rodham Clinton in a debate. He was left torn between Fiorina and Sen. Marco Rubio of Florida.
"She was just so awesome," he said. "Her mind is so quick, so facile. And she has facts. Boom. Boom. Boom."
Fiorina's sudden rise to the top ranks of the crowded field has drawn attention to her tumultuous leadership of Hewlett-Packard. The company's board fired her. Trump has said HP was a "disaster" on Fiorina's watch.
Fiorina supporter Chris Elliott, 75, a florist who lives near Yucaipa, was unmoved, saying that women sometimes get "rolled over" in corporate settings. "I don't have any uncomfortable feelings about her getting kicked out at HP," Elliott said.
The California Republicans were less pleased with Trump. Park Cockerill, 75, a retired teacher who lives in La Crescenta, backed the New York real estate tycoon before the debate, but changed his mind after watching Trump quarrel with multiple rivals.
"I don't like the name calling," Cockerill said, though he was thankful that Trump forced immigration to the top of the campaign agenda.
Cockerill switched to Rubio; he was impressed by his grasp on foreign policy. "He was right on the money," Cockerill said. "When you're going to commit U.S. forces, you don't do it in a small way. You do it to win."
Rene Marcoux, 49, a U.S. Naval Sea Cadet Corps commander who lives in Westminster, remains a Trump supporter, but the billionaire's skim-the-surface responses on foreign affairs questions left her uneasy.
"I'd like to see a little more depth to him," she said. "He's entertaining, but if he's going to really go for it, he needs to step up and start producing."
Others were unwavering. Walt Ahrens, 70, a retired gardener who lives in the Sierra Nevada foothills, sees Trump as a "nasty person" and "egotist," but agrees with his tough talk on illegal immigration.
"He's a nut case," Ahrens said. "I understand that. But sometimes we need nut cases."
Public opinion typically fluctuates dramatically in presidential nominating contests. Events like the CNN debate, which drew a record 23 million viewers, can be key turning points, but it takes a week or two for polls to reflect clear shifts in direction.
While impressions of the Republicans who watched the debate are anecdotal, Bush's lackluster reception was clear in nearly every one of the dozen interviews.
Bush and his super political action committees have amassed $120 million — far more than any of his opponents have collected. But his failure to connect with a large share of Republican voters has become an enduring challenge.
Joanne Garcia, 51, who lives in Highland in San Bernardino County and does the books for her husband's business, thinks Bush would make a good president. But she'd prefer that one of Bush's opponents — her current pick is Sen. Lindsey Graham of South Carolina — win the nomination, for fear that the country will refuse to elect another Bush.
"I just don't feel like he's going to make it," she said.
The stories shaping California
Get up to speed with our Essential California newsletter, sent six days a week.
You may occasionally receive promotional content from the Los Angeles Times.