South L.A. center provides one-stop assistance for people facing homelessness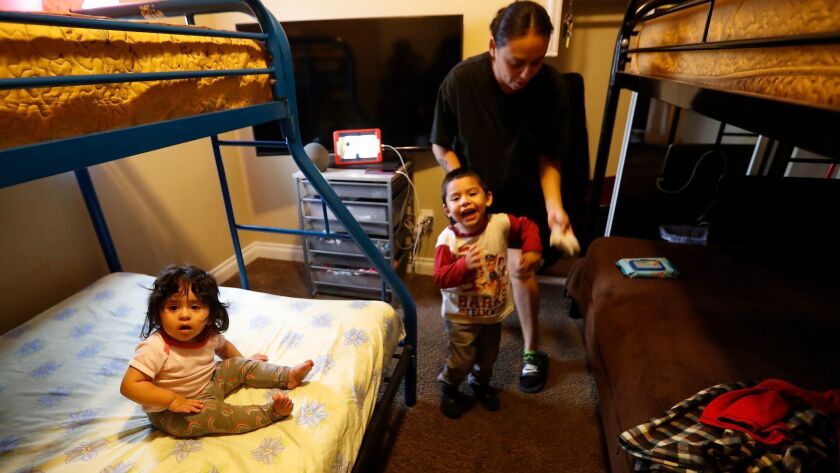 Lashea Singleton and her 14-year-old daughter, Monica, suddenly found themselves homeless in August.
Singleton, 37, had been living at her sister's apartment but said she moved out after they had an argument.
Through word of mouth, she found herself at a facility in South Los Angeles that provides services to homeless families or those on the verge of homelessness.
The center, which opened in July, is in a former Weber bakery on South Broadway, and serves residents in South Los Angeles, Compton and Lynwood.
It is operated by the nonprofit Hopics, which stands for Homeless Outreach Program Integrated Care System. It is one of eight such facilities, known as family solution centers, operated by nonprofits across L.A. County and receiving funds from Measure H, the county sales tax increase approved in March.
Elected officials visited the center Wednesday to mark its grand opening and to tout it as an example of the benefits of Measure H, which provides funds to combat homelessness.
Much of the Hopics center's $9-million annual budget comes from the county, including about $6 million from Measure H.
The center provides one-stop access to employees of nonprofits and government agencies.
It offers child care, mental health counseling, substance abuse treatment, housing assistance and other services for homeless families or those on the verge of homelessness, said Hopics director Veronica Lewis.
Employees said the Measure H funds will allow them to provide more families with rent subsidies, crisis housing payments and security deposits.
The funds will also be used for services the nonprofit hasn't been able to afford in recent years, such as transportation, said Hopics associate director Cristina Nieto.
"This is the most money to combat homelessness that has come to this community since my eight years working in the field," she said.
About 1,685 families in South Los Angeles are homeless, according to the homeless services authority.
County Supervisor Mark Ridley-Thomas said the new center is an example of Measure H helping those in need.
"We have an obligation to deliver on our promise … that we are serious about ending homelessness in our county," he said at Wednesday's event. "And we are on a good start. It is going well and we expect for it to scale up and do more."
But as soaring rents force some families to spend more than half of their income on rent, Nieto said she worries that the new stream of county tax revenue still won't be enough to keep families permanently off the streets.
"We can help families secure housing for 12 months, but after that some struggle to keep up with payments since their incomes don't increase," she said.
In December, Singleton — an Uber driver and tax preparer — was able to save $3,500 with the help of her case manager for a down payment on an apartment in Hawthorne.
She and her daughter are among 3,155 families who have walked through the doors seeking help since the center opened, Lewis said.
"I didn't feel judged when I came here," Singleton said.
With the help of the new center, Singleton was able to secure an apartment in four months.
But for others, the wait can be longer, Nieto said.
"The goal is to get people into housing in 30 days," she said. "But now some people are waiting six to nine months."
Follow me on Twitter @melissaetehad
---
The stories shaping California
Get up to speed with our Essential California newsletter, sent six days a week.
You may occasionally receive promotional content from the Los Angeles Times.