Senate leader offers alternative to UC tuition hike proposal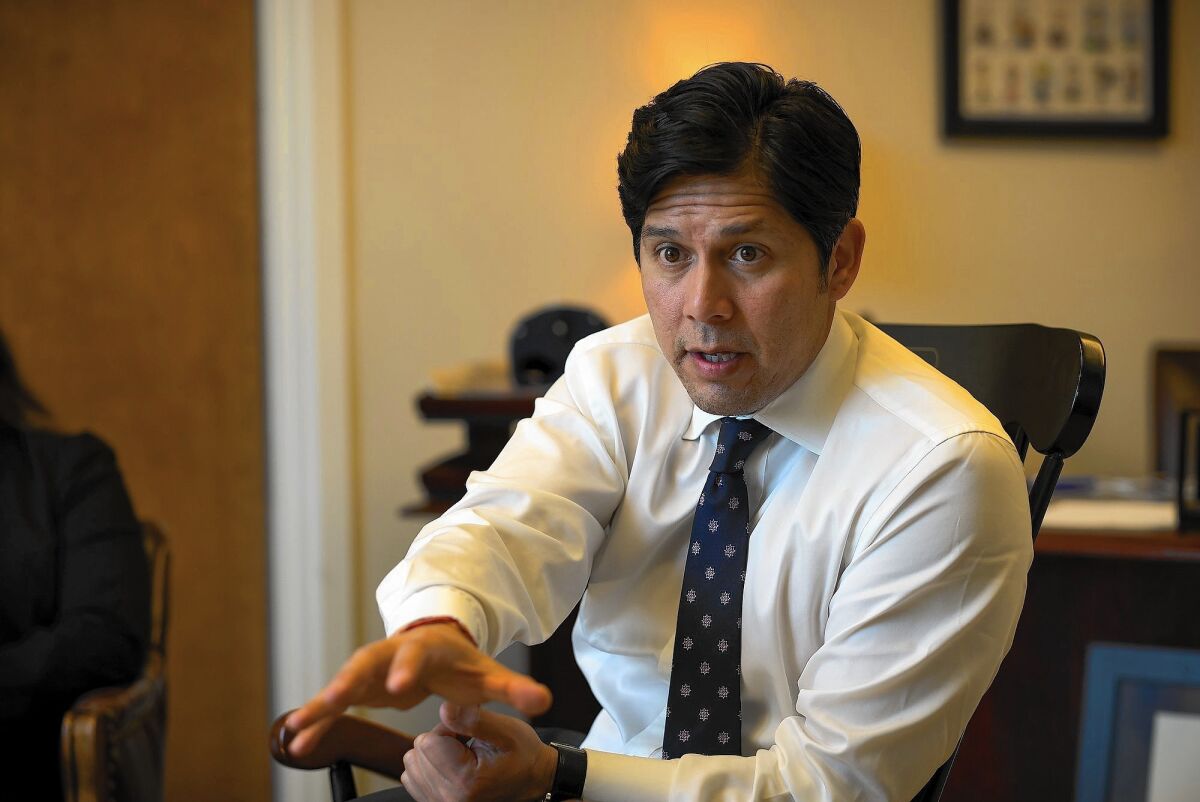 Reporting from SACRAMENTO —
Concerned that a surge in out-of-state students at the University of California may put residents at a disadvantage, Senate leader Kevin de León (D-Los Angeles) on Thursday called for UC administrators to significantly boost tuition for nonresidents.
In his first major policy proposal since taking over as Senate president pro tem last month, De León said he worried that some Californians are unable to afford or get into the UC system because of an increase in students from elsewhere, including foreign countries.
De León called for the change in a letter and phone call Thursday to UC President Janet Napolitano, asking her to consider following public universities in other states such as Virginia, where out-of-state tuition is 17% more than what California charges, or about $4,000 more a year.
"California's university system is one of the premier higher education systems in the world, and we should require that non-resident students pay a premium to attend it," De León wrote to Napolitano. "The revenue generated from these fees can be used to increase affordability and access for more Californians."
Out-of-state students currently pay about $23,000 annually on top of the in-state tuition of $12,192. More than half of UC students have grants or other financial aid with which to pay tuition.
Napolitano has already proposed a plan that could raise total tuition for out-of-staters to $36,828 next year and $44,766 by 2019-20. Basic tuition and the nonresident surcharge would rise as much as 5% a year.
The Times recently reported that the percentage of freshmen on UC campuses who are from outside the state has risen from 6% in 2009 to an unprecedented 20% this year. Out-of-state students make up 30.1% of freshmen at UCLA, up from 7.5% a decade ago.
But De León's proposal will be a tough sell, at least in the immediate future.
Gov. Jerry Brown has said that increases in state funding for the UC system are contingent on tuition remaining steady through the 2016-17 budget year.
"We've made our position clear: that whether it's in-state or out-of-state, tuition needs to remain level for four years, at the level it was in 2011-2012," said H.D. Palmer, a spokesman for the governor's Department of Finance.
Steve Montiel, a spokesman for the UC system, declined to comment on De León's proposal because he had not seen it.
"What was looked at was different rates of increase for out-of-state students, and what was settled on is what is being presented to the regents," Montiel said.
De León opposes a 5% tuition hike for in-state students and sees a larger increase for nonresidents as one alternative.
His proposal drew interest from Jefferson Kuoch-Seng, president of the UC Student Assn.
"It has always been the belief of UCSA that California's higher education system serves Californians first and foremost," he said. "We believe that priority should be given to eligible students in California who have worked to pursue a degree in their home state."
But, he said, there "should and always will be room at the table for scholars from around the country and the world. We would like to see the UC move beyond what is clearly a broken model."
In an interview, De León said the UC system has become too dependent on out-of-state students to keep its budget afloat.
The University of California is semi-autonomous, so the Legislature cannot impose fee increases. But lawmakers and the governor control state funding for the system, which is set at $3 billion this year, so their suggestions can carry weight.
De León told Napolitano that the UC system should become as aggressive in recruiting disadvantaged California students as it is in recruiting wealthy students from elsewhere.
DeLeón expressed concern that the situation "has come at the cost of the well-deserving California students."
UC administrators say expanded freshmen classes mean California students are not losing out. Napolitano has said that if her tuition plan is implemented, it could bring in an additional 5,000 resident students.
Still, protests from students unable to get into the university of their choice has administrators reviewing whether out-of-state enrollment should be capped.
In arguing for extra tuition for out-of-state students, De León said they are benefiting from decades of taxpayer investment in the UC system.
"They are not paying for all the building that taxpayers of California paid for during the last 40 years," he said.
In addition, he said, California's economy suffers: "Many foreign students take their California degrees back to their home countries. They become entrepreneurs that develop products that they sell back to us."
patrick.mcgreevy@latimes.com
Twitter: @mcgreevy99
Times staff writer Larry Gordon in Los Angeles contributed to this report
---
Life is stressful. Our weekly mental wellness newsletter can help.
You may occasionally receive promotional content from the Los Angeles Times.