City: Hepatitis-focused street cleaning to start next week
What is causing an outbreak that has infected 181 people and killed four?
Sanitary street washing will commence next week in downtown San Diego and will continue every other week to combat the city's deadly hepatitis A outbreak, Mayor Kevin Faulconer's office said Friday.
The city responded to a letter sent by the county last Thursday, asking the city to move forward with a list of specific sanitation actions designed to help control the spread of the disease which has killed 15 people and hospitalized nearly 300, many of them homeless and living on streets without adequate access to restrooms or showers.
The county gave the city five business days to respond with a plan for remedying what it called a "fecally contaminated environment" downtown. The county will soon expand its efforts to other cities in the region, where the outbreak has now produced nearly 400 confirmed cases.
The county moved forward last weekend with its own contractor who installed 40 hand-washing stations in areas where the homeless often gather. There are plans, according to the city's letter, to add more stations next week.
In addition to regularly pressure-washing dirty city right-of-ways with chlorinated water, the county also asked the city to "immediately expand access to public restrooms and wash stations within the city limits that are adjacent to at-risk populations."
The mayor's office provided no additional information on public restroom access except a three-page list of existing facilities, some of which are open 24 hours a day.
Meanwhile, additional San Diego police escorts will be provided for the county's mobile vaccination teams and expanded vaccination clinics will be opened at public libraries
It was not clear Friday evening whether the county considered the city's response adequate. County communications director Michael Workman said in a brief email that document was "being reviewed and evaluated."
While the region's two largest governmental bodies now appear to be working closely together on hand washing, and street and sidewalk spraying, those efforts only treat the symptoms of the underlying problem, said Anne Rios, director of Think Dignity, a service and advocacy group that provides mobile showers and other services for the homeless in six locations countywide.
"Unless they're going to power wash them every day, this isn't going to solve the problem," she said.
And while the city may indeed have many public bathrooms, she noted, those closest to the places where the largest numbers of homeless pitch their tents tend to be overwhelmed by the number of people using them and short of sanitary supplies.
"We are continually hearing from people on the streets that the restrooms they can actually access are usually not maintained," Rios said.
An experiment with stand-alone public toilets called Portland Loos fizzled despite a half-million-dollar city investment after a significant increase in crime around the facilities. More recently, there was public outcry over the closure of public restrooms at Fault Line Park in the East Village. The city recently said that the restrooms would be reopened.
There have also been requests for the city to provide additional sanitation sources, such as portable toilets or showers, to decrease the amount of human waste that ends up on city streets. Craig Gustafson, the mayor's communications director, said in an email that there will be "more to announce next week" on that topic.
On Wednesday, the city released a request for information to local contractors, asking them to respond if they think they can meet the county's specific cleaning requirements right down to the concentration of bleach that must be used and covering storm drains to prevent runoff into local waterways.
According to the mayor's office, a contract will be executed with the selected company as early as Friday. In its letter, the city said that a recent declaration of a local health emergency by the county provided an important tool for moving forward with the street-washing project. The action, the letter states, allows the city to hire a company without going through a formal bidding process "which can take upwards of 30 days" to complete.
Cleaning crews would follow a map of downtown San Diego separated into three zones which would each be cleaning "sidewalks, streets and gutters" once every other week to remove "all feces, blood and bodily fluids."
The map schedules zones for cleaning on Mondays, Wednesdays and Fridays, but that schedule, Gustafson said, does not necessarily mean that efforts will begin this coming Monday. Depending on which contractor is selected, it may be necessary to start later in the week.
The county also requested that crews conduct weekly "spot maintenance" in areas that become contaminated in-between scheduled bi-weekly cleanings. Spot cleaning, said Gustafson in an email, is included in the contract which will have an "indefinite" duration.
On Now
Video: Why aren't Americans getting flu shots?
0:37
On Now
Video: Leaders urge public to help extinguish hepatitis outbreak
On Now
San Diego starts cleansing sidewalks, streets to combat hepatitis A
On Now
Video: Scripps to shutter its hospice service
On Now
Video: Scripps La Jolla hospitals nab top local spot in annual hospital rankings
On Now
Video: Does a parent's Alzheimer's doom their children?
On Now
Video: Vaccine can prevent human papillomavirus, which can cause cancer
0:31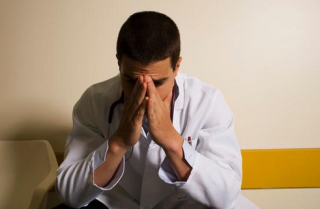 On Now
23 local doctors have already faced state discipline in 2017
0:48
On Now
On Now
Kids can add years to your life
paul.sisson@sduniontribune.com
(619) 293-1850
Twitter: @paulsisson
---
UPDATES:
Update: The city clarified that cleaning is to start next week.
---
Get breaking news, investigations, analysis and more signature journalism from the Los Angeles Times in your inbox.
You may occasionally receive promotional content from the Los Angeles Times.