Tijuana's huge sewage spill has U.S. officials crying foul
A massive sewage spill in Tijuana that polluted beaches in San Diego County this month may have been no accident, according to state and local officials.
In a preliminary estimate, officials said about 143 million gallons of raw sewage spewed into the Tijuana River during a period of more than two weeks that ended Thursday. While cross-border sewage spills of a few million gallons are routine for the region, this is one of the largest such events in the past two decades, according to water-quality experts in San Diego.
People from Tijuana to as far north as Coronado have been complaining of foul odors for weeks, prompting lawmakers in San Diego County to contact federal regulators as well as agencies in Mexico.
The U.S. regulators said their Mexican counterparts have given little explanation. Mexican officials also haven't responded to requests for comment for this story since Monday.
"This was like a tsunami," said Imperial Beach Mayor Serge Dedina, who said he tried to get answers from officials on both sides of the border for more than a week with no response.
"What's worse is it looks to me like this was deliberate," he added. "It saves (the Mexican agencies) a lot of money in pumping costs, and ultimately, they can get away with it and do it all the time, just on a much smaller scale."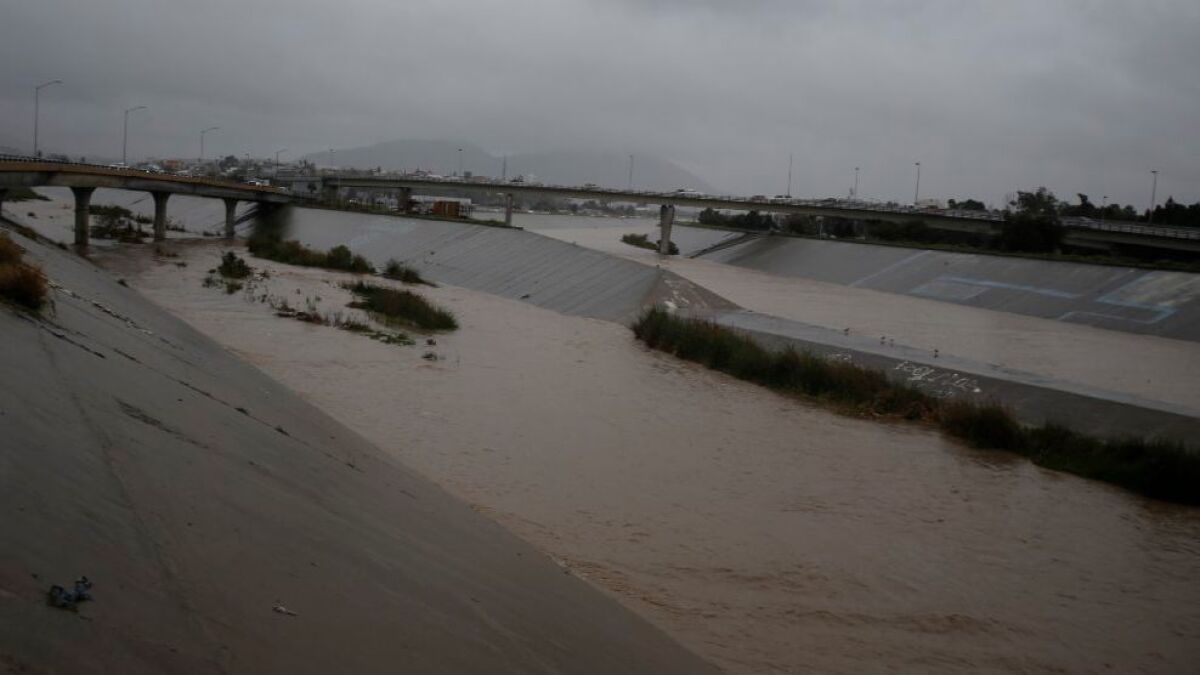 The toxic discharge is estimated to have happened from Feb. 6 through Thursday, while repairs were made to a major sewer pipe near the confluence of Mexico's Alamar and Tijuana rivers, according to the U.S. side of the International Boundary and Water Commission. Baja California's State Public Service Commission maintains the sewer-system infrastructure in that area.
"They basically said it was a bypass of raw sewage into the Tijuana River during the rehabilitation of a large sewer pipeline in Tijuana," said Lori Kuczmanski, spokeswoman for the U.S. side of the commission, which oversees international water treaties with Mexico, among other things.
The commission announced the spill on Friday. Before that day, officials in Mexico had not responded to multiple inquiries about the incident, according to local, regional and federal regulators in the United States. By Tuesday, U.S. officials said their Mexican counterparts still offered only scant details of the situation.
They also said Mexico didn't give them advance notice of the sewer-pipe repair project.
"Was the spill intentional? Well, yeah," said Dave Gibson, executive officer of the San Diego Regional Water Quality Control Board. "It appears they were working on the pipeline. I don't believe that it was a question of it failing.
"At least a notification would be a good neighborly thing to do, to let us know what was coming down the river before it got here so we could alert the public," he added.
A similar project in the United States would include efforts to prevent sewage from flowing downstream by using booms and then pumping the diverted sewage back into the wastewater system, Gibson said.
Depending on how much of the approximately 143 million gallons of sewage has been flushed out to sea by recent storms, toxic materials may persist along the region's beaches into the spring and summer, according to the water quality board. For much of the past month, South Bay beaches had been closed because of run-off pollution generated by rainfall.
While federal officials said the spill has ended, people in Imperial Beach are continuing to report strong odors.
On Tuesday, San Diego County's Department of Environmental Health expanded an existing beach closure because of sewage contamination in the Tijuana Slough National Wildlife Refuge and Imperial Beach. The closure now includes the Silver Strand and Coronado. Officials said warning signs will remain along the shorelines of those sites until bacteria-level tests find the ocean is safe for recreational use.
The Tijuana River is a notoriously polluted waterway that flows from Mexico into the U.S., emptying into the Pacific Ocean. For years, South County beaches have been labeled as among the nation's most polluted because of contamination that flows from the river, which is fed by creeks and ravines often littered with garbage and sewage from homes lacking adequate plumbing.
Governments on both sides of the border have spent billions in taxpayer dollars to clean up sewage and other contamination in the river; their efforts include construction of several wastewater treatment plants in Tijuana.
Those steps have made a significant difference, according to the water quality board. In the 1980s and 1990s, as much as 14 million gallons of sewage a day routinely flowed in the river into San Diego County, the agency said.
Twitter: @jemersmith
Phone: (619) 293-2234
Email: joshua.smith@sduniontribune.com
The stories shaping California
Get up to speed with our Essential California newsletter, sent six days a week.
You may occasionally receive promotional content from the Los Angeles Times.