Editorial: Republican senators go nuclear with missive to Iran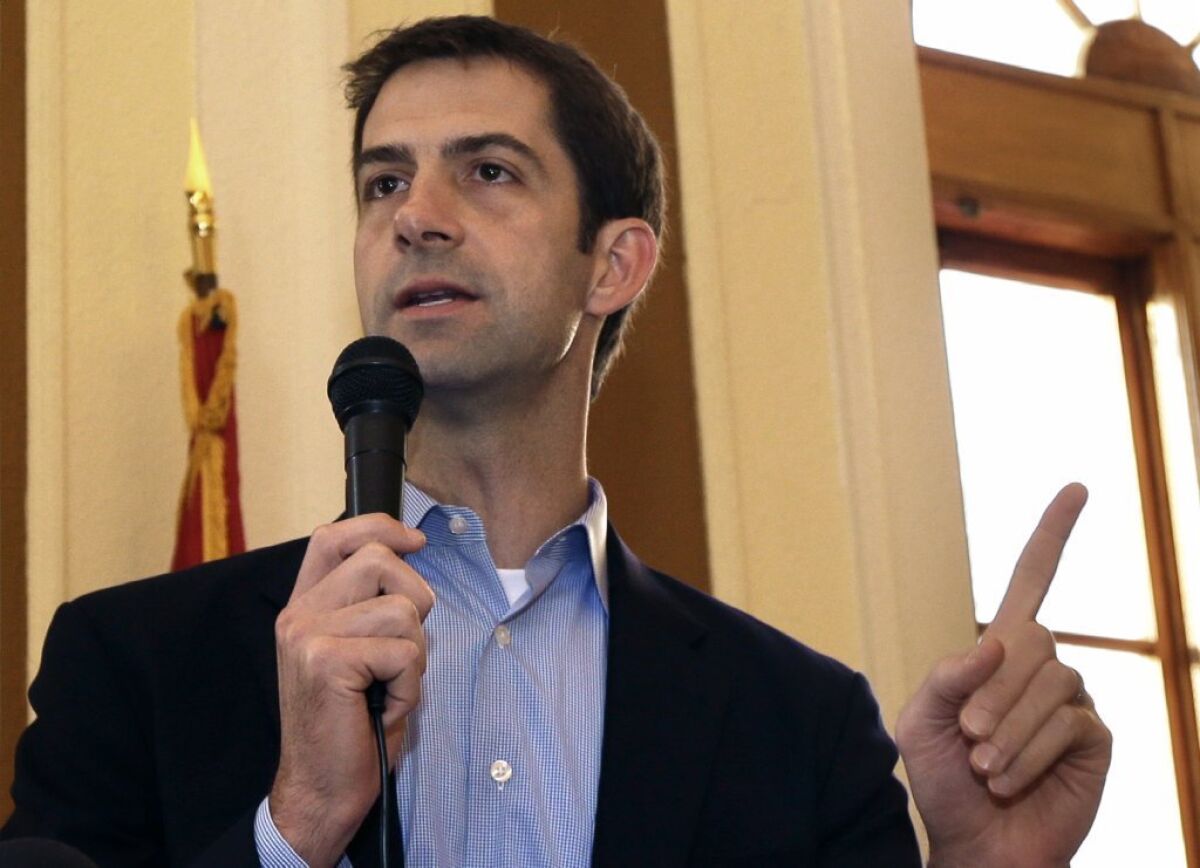 It's hardly news that many Republicans in Congress are determined to oppose any agreement between Iran and six world powers on the future of that country's nuclear program. That was evident last week when Republicans greeted Israeli Prime Minister Benjamin Netanyahu, an opponent of any foreseeable deal, as a conquering hero.
But this week, when they wrote an open letter to the "leaders of the Islamic Republic of Iran" warning in effect that any deal negotiated by the Obama administration might not be adhered to by subsequent presidents if it were not approved by Congress, 47 Republican senators moved beyond principled opposition to outright interference.
The letter, drafted by freshman Sen. Tom Cotton of Arkansas, begins with the insulting observation that "you may not fully understand our constitutional system" and then says that, unless an agreement were approved by Congress, the signers would regard it as "nothing more than an agreement between President Obama and Ayatollah Khamenei" that could be revoked by a future president "with a stroke of a pen."
The senators' explanation leaves something to be desired. It rightly notes that "Congress plays a significant role" in approving agreements reached by the president, but it vastly understates the importance (and longevity) of "executive agreements" concluded by presidents without congressional approval. And while it's true that that Congress or a future president might be able to scuttle an agreement — for example, by reimposing sanctions on Iran — an understanding reached during the Obama administration would otherwise be binding on Obama's successors.
But what is most objectionable about the senators' letter is neither its condescending tone nor its legal analysis. It's the fact that the letter injects the senators into ongoing international negotiations that are properly the prerogative of the executive branch — with the obvious intention of subverting those negotiations. Not only does this intervention put the senators on the same side as Iranian hard-liners who are opposed to a deal — a point made Monday by Obama — but it will make it easier for Iran to blame the U.S. if the talks fail to produce an agreement.
In the past, individual members of Congress have criticized foreign policies being pursued by the president and even met with foreign leaders the president sought to isolate. But this letter is an exponentially more offensive encroachment on presidential authority.
If an agreement is reached and the terms aren't to Congress' liking, members will have opportunities to express their concern and to seek to undo it. But negotiating with foreign nations is the president's job. The Republican senators' meddling in that responsibility is outrageous.
Follow the Opinion section on Twitter @latimesopinion and Facebook
---
Must-read stories from the L.A. Times
Get the day's top news with our Today's Headlines newsletter, sent every weekday morning.
You may occasionally receive promotional content from the Los Angeles Times.