State Department will ban U.S. citizens from traveling to North Korea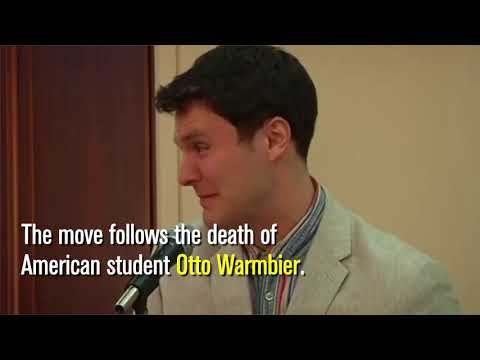 The move follows the death of American student Otto Warmbier. (July 21, 2017)
Reporting from Washington —
The State Department said Friday it will prohibit U.S. citizens from traveling to North Korea starting late next month, citing the risk of arrest and imprisonment by the authoritarian regime in Pyongyang.
The decision by Secretary of State Rex Tillerson bars use of U.S. passports "to travel in, through, or to North Korea," spokeswoman Heather Nauert said in a statement.
The move follows the still-unexplained death of Otto F. Warmbier, a University of Virginia student who was arrested in Pyongyang in January 2016 and sentenced to 15 years in prison with hard labor for stealing a propaganda poster from his hotel.
After nearly 18 months in prison, Warmbier was released on medical grounds last month. He was flown in a coma to his home in Cincinnati, where he died six days later.
The State Department long has warned Americans not to visit North Korea, as it does for conflict zones and other countries with governments seen as hostile — but did not forbid it outright. It thus will become the only country off-limits to U.S. passport holders.
Hundreds of Americans visit North Korea each year on tour groups that specialize in travel to the reclusive country, many citing the allure of a mysterious, little-known part of northeast Asia. Some aid workers, journalists and academics also travel there.
More than a dozen Americans have been arrested and detained in North Korea since 2009. At least three Korean Americans are still held there, including an accounting teacher who was arrested at the Pyongyang airport in April and charged with unspecified criminal acts.
Tillerson decided to ban U.S. travel to North Korea "due to mounting concerns over the serious risk of arrest and long-term detention" there, Nauert said.
"The safety and security of U.S. citizens overseas is one of our highest priorities," she added.
The restriction will be published next week in the Federal Register and take effect 30 days later. Exceptions can be made on a case-by-case basis for some humanitarian travel, Nauert said.
The action comes as President Trump grapples to find a strategy to pressure North Korea to rein in its robust nuclear weapons and ballistic missile tests in a period of rising tensions.
In April, Trump personally sought the help of Chinese President Xi Jinping to influence North Korean leader Kim Jong Un, but that strategy has largely failed to produce results.
Since then, the administration has added new sanctions on people or companies, including some in China, that do business in or with North Korea.
Earlier this month, North Korea tested a missile that flew a trajectory that U.S. experts said indicated an ability for the first time to cross the Pacific and potentially threaten the United States.
U.S. officials say the country has yet to build a nuclear weapon small enough to fit atop a missile and survive re-entry into the atmosphere, but that is probably a matter of time.
Warmbier's family say they have not received a satisfactory explanation of what led to his death.
North Korean authorities said Warmbier contracted botulism shortly after he was imprisoned, was given a sleeping pill and never woke up. U.S. doctors did not find that version plausible.
Warmbier's travel agency was Young Pioneer Tours, which advertised with the slogan, "Budget tours to destinations your mother wants you to stay away from."
Pioneer Tours said it on its website Friday that the ban is likely to take effect around Aug. 27. After that, "any U.S. national that travels to North Korea will have their passport invalidated by their government."
For more on international affairs, follow @TracyKWilkinson on Twitter
Sign up for Essential California for news, features and recommendations from the L.A. Times and beyond in your inbox six days a week.
You may occasionally receive promotional content from the Los Angeles Times.