Pentagon sends reinforcements to remote Syria base after Russia threatens attack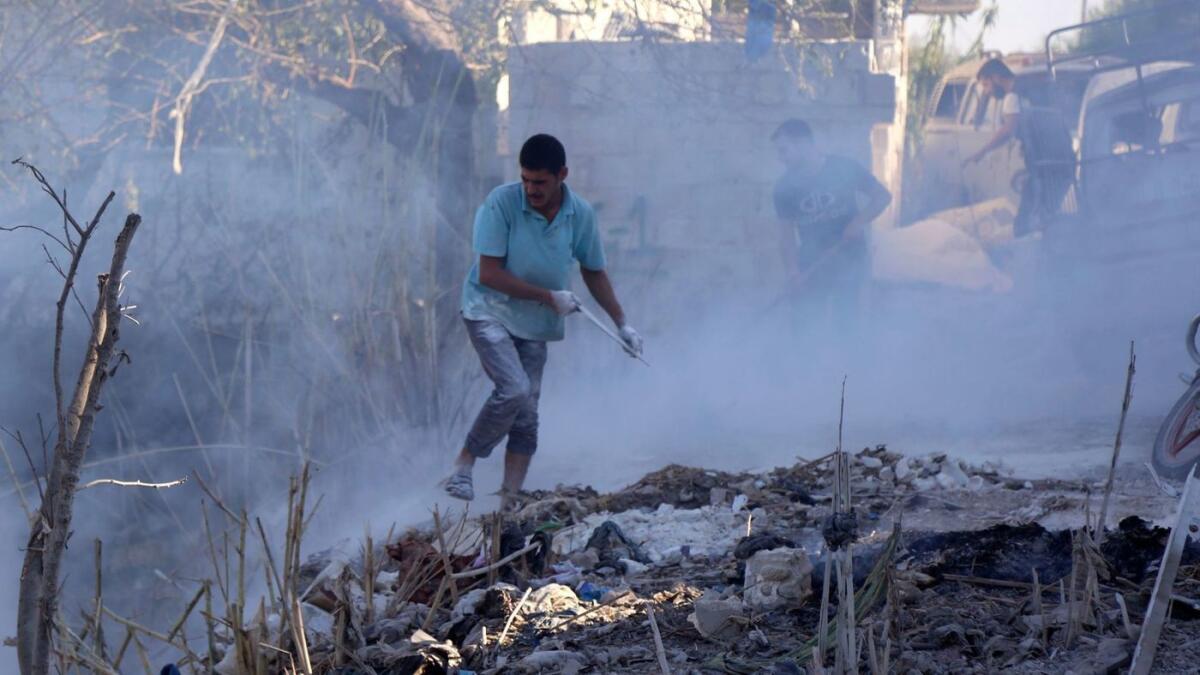 Reporting from Washington —
More than 100 U.S. Marines were sent as reinforcements to a remote coalition outpost in southern Syria on Friday after Russia threatened to attack militants in the area, the Pentagon said.
The troops were flown by helicopter to the base at Tanf — a small town near Syria's borders with Iraq and Jordan. The base is used by U.S. special forces to train Syrian fighters who are confronting Islamic State militants.
Moscow has sent messages to the U.S. in recent days, warning that Russian military and Syrian government units were planning an attack on what they refer to as terrorists near Tanf, U.S. officials said.
The Russian threats may be a way of testing U.S. resolve to keep troops in Syria now that President Bashar Assad's forces, backed by Russian troops and warplanes, have succeeded in defeating rebels everywhere except Idlib province and areas of eastern Syria controlled by the U.S. and its allies.
U.S. military officials bluntly warned Russian and Syria not to go forward with an attack within a 35-mile-wide security zone that the U.S. maintains around Tanf, a key strategic outpost.
"The United States does not seek to fight the Russians, the government of Syria or any groups that may be providing support to Syria in the Syrian civil war," said Lt. Col. Earl Brown, a spokesman for U.S. Central Command. "However, the United States will not hesitate to use necessary and proportionate force to defend U.S., coalition or partner forces."
Russia is Assad's top international backer; its support, including aircraft, special forces and mercenaries, enabled his military to reverse the course of his country's seven-year civil war, which has killed hundreds of thousands of people and displaced millions.
Successive Russian-backed campaigns over the last two years have seen the government retake every major opposition bastion, offering fighters who refused to lay down their arms safe passage to Idlib.
Central Command said the troops sent to Tanf would conduct a multiday exercise using live ammunition.
"Our forces will demonstrate the capability to deploy rapidly, assault a target with integrated air and ground forces and conduct rapid exfiltration," said Capt. William Urban, the chief Central Command spokesman.
U.S. officials who work on the Syria issue have said in recent days that the administration is now resolved to stay in Syria longer than President Trump previously indicated, to finish the fight against Islamic State but also to see the withdrawal of Iranian fighters.
Previously, Trump said he wanted American troops out of Syria as soon as possible, and has redirected millions of dollars meant to help rebuild Syria to other projects.
Russian warplanes have been carrying out intense airstrikes in Syria's northwest, pounding rebel-held areas in Idlib province and surrounding regions that have become the last sanctuary for the opposition.
Russian military officials first informed the U.S. on Sept. 1 through a special communication channel "that they intended to enter the At Tanf deconfliction zone to pursue terrorists," Brown said.
That was followed by a letter sent Thursday to Lt. Gen. Paul E. Funk II, the commander of U.S. forces in Syria, warning that Russia planned to carry out "precision strikes" near Tanf against Islamic State fighters, a warning that prompted Funk to speed up plans to dispatch additional troops to the base.
"The U.S. does not require any assistance in our efforts to destroy [Islamic State] in the At Tanf deconflicition zone, and we advised the Russians to remain clear," Brown said.
Pentagon officials said that Russia's threat to carry out precision strikes suggested it might be contemplating use of airstrikes, missiles, long-range artillery or bombardment from Russian naval vessels in the Mediterranean against Tanf.
Such an attack might prompt the U.S. to respond with punishing reprisals using similar weapons, especially if a Russian attack caused casualties to the U.S. or its allies, officials said.
Moscow has previously agreed not to enter the zone around Tanf, Brown said. "We expect the Russians to abide by this agreement."
Administration officials are at least giving lip service to the need for a stronger diplomatic push, in part because of the competing agendas of numerous factions fighting in the region.
On Friday, for example, the presidents of Iran, Russia and Turkey, all of whom have fighters in Syria, held a summit in Tehran to plot their next moves. But Turkey's Recep Tayyip Erdogan, Russia's Vladimir Putin and Iran's Hassan Rouhani failed to agree on a cease-fire, apparently dooming any effort to slow an Assad assault on Idlib and the probably devastating toll it would take on several million civilians who live in the area.
Turkey, which has largely backed opposition forces, sought the cease-fire. Putin rejected it, claiming that the possible fate of civilians was being used as a "pretext" to ease pressure on what he called terrorists.
Also Friday, at the United Nations, the Syrian ambassador, Bashar Jaafari, declared his government was determined to move on rebel-held Idlib to wipe out what he called factions associated with "terrorist groups."
"The situation is as it is now in Idlib because the countries sponsoring terrorism do not want to distinguish between terrorists and armed opposition," he said, a likely allusion to U.S.-backed Kurdish forces or Syrian rebels whom the Assad government accuses of being affiliated with Al Qaeda.
"In case the armed terrorist groups refuse to lay down weapons, refuse to leave Syrian territory to go back to where they came from, the Syrian government is prepared," Jaafari said.
Russian jets began an intense barrage on Idlib province and surrounding regions earlier this week, hours after Trump warned on Twitter that Assad "must not recklessly attack Idlib Province." U.S. officials have warned that the use of chemical weapons by Assad's forces against the enclave would result in U.S. reprisals.
An attack in February by Russian mercenaries on another U.S. base in eastern Syria was repulsed by U.S. airstrikes and artillery barrages, resulting in dozens of Russian casualties. The Russian government denied any role in the attack.
david.cloud@latimes.com | Twitter: @davidcloudLAT
tracy.wilkinson@latimes.com | Twitter: @TracyKWilkinson
Sign up for Essential California for the L.A. Times biggest news, features and recommendations in your inbox six days a week.
You may occasionally receive promotional content from the Los Angeles Times.