New U.S. ambassador to Germany irks politicians at home and abroad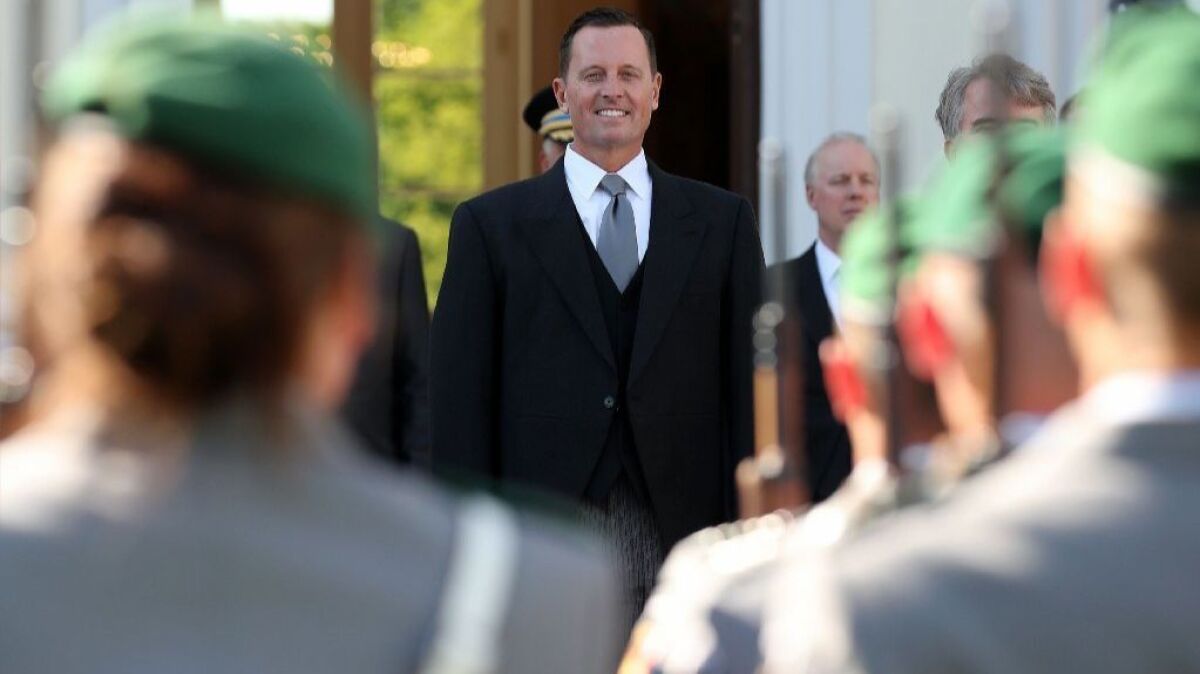 Reporting from Washington —
For the second time in barely a week, a U.S. ambassador has managed to anger lawmakers in his assigned country as well as in Washington with political statements critics called inappropriate.
Richard Grenell, who was confirmed last month as U.S. ambassador to Germany, sparked the latest spat when he told an interviewer that he hoped to "empower" conservative political forces throughout Europe.
He also praised visiting Austrian Chancellor Sebastian Kurz, who rules with Austria's far-right Freedom Party, as a "rock star" and met with him. It is unusual for a U.S. ambassador to entertain the leader of a country where he is not posted.
Grenell's comments sparked anger in Berlin and in Washington.
Sen. Jeanne Shaheen (D-N.H.), a member of the Senate Foreign Relations Committee, said it was as unacceptable for a U.S. ambassador to attempt to interfere in another country's political affairs as it would be for a foreign power to meddle here.
"An ambassador's most critical responsibility is to advance our national interests by developing relationships and trust with their host country," she said. If Grenell won't refrain from political statements, she said, the administration should recall him.
Grenell, 51, later tweeted that his comments had been misinterpreted.
Grenell was a frequent commentator on Fox News and a longtime spokesman for U.S. ambassadors at the United Nations, including John Bolton, currently Trump's national security advisor.
Several German politicians demanded Grenell be expelled. Relations between Washington and Berlin already are strained because of tensions between Chancellor Angela Merkel and Trump.
Last month, David Friedman, the U.S. ambassador to Israel and one of Trump's former bankruptcy lawyers, infuriated Democrats in Washington when he claimed Republicans were a better friend to Israel than Democrats.
Heather Nauert, the State Department spokeswoman, on Tuesday defended what she called the envoys' "right to express opinions."
"We think more voices should be heard, not fewer," she told a press briefing.
She refused to be drawn into whether it was appropriate for a diplomat to make partisan statements.
For more on international affairs, follow @TracyKWilkinson on Twitter
---
Must-read stories from the L.A. Times
Get the day's top news with our Today's Headlines newsletter, sent every weekday morning.
You may occasionally receive promotional content from the Los Angeles Times.