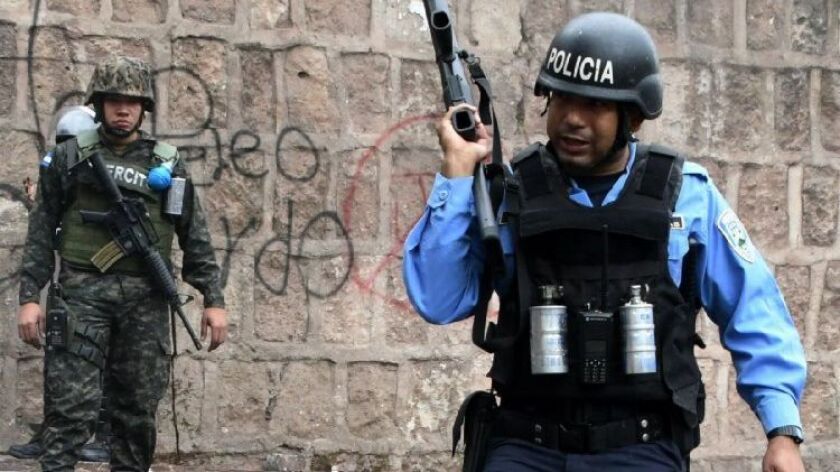 Reporting from Washington —
The Trump administration signaled support Wednesday for the incumbent president in Honduras in his much-disputed reelection bid, backing a longtime U.S. ally in Central America.
After initially saying it was awaiting a report by the Organization of American States, which monitored the election, the Trump administration has decided to disregard that group's call for a new election because of widespread irregularities in the Nov. 26 vote.
Instead, Washington has sided with the Honduran Supreme Election Tribunal and decided to recognize conservative President Juan Orlando Hernandez over his rival, Salvador Nasralla, whose coalition includes Honduran leftists.
The Trump administration had given tentative support to Hernandez on Monday but noted that under Honduran law the tribunal's ruling opened a five-day period for people to register objections. On Wednesday, a senior State Department official said U.S. diplomats had seen no "credible evidence" to dispute Hernandez's victory.
"We have not seen anything …. that alters the final result," said the official, who briefed reporters on condition of anonymity to discuss internal assessments.
The official said the Honduran election tribunal gave Hernandez a margin of victory of 1.6 percentage points, and the U.S. will make a final determination after the five-day period ends Friday.
Mexico echoed the United States and congratulated Hernandez, who has been an ally of Washington and especially of the Trump administration.
Initial returns had put Nasralla, a well-known TV host, ahead of Hernandez. Then the election tribunal, which is in charge of counting votes and is led by Hernandez allies, went silent for more than 24 hours. When it began releasing results again, Nasralla's lead had dropped sharply and Hernandez soon moved into the lead.
Street protests erupted after the election and again this week after the tribunal declared Hernandez the winner. At least 14 people have been killed.
An analysis commissioned by the OAS and conducted by Irfan Nooruddin, a professor at Georgetown University, said the differences in vote patterns before and after the tribunal's 24-hour silence are "too large to be generated by chance and are not easily explicable, raising doubts as to the veracity of the overall result."
It was the first time a president in Honduras was allowed to run for reelection. Hernandez, who had stacked the courts with supporters, engineered a change in the Constitution to make his run possible. In 2009, when then-President Manuel Zelaya attempted the same move, he was ousted in a military coup.
Sen. Ben Cardin of Maryland, the ranking Democrat on the Foreign Relations Committee, called for a new election, saying in a statement that "widespread irregularities" documented by the OAS raised "further doubts about the legitimacy" of the vote and represented an "alarming indication' about the "fragility" of democracy in Honduras.
Staff writer Kate Linthicum contributed from Mexico City.
For more on international affairs, follow @TracyKWilkinson on Twitter
---