Naturalists scour border to draw attention to habitat, not migrant crisis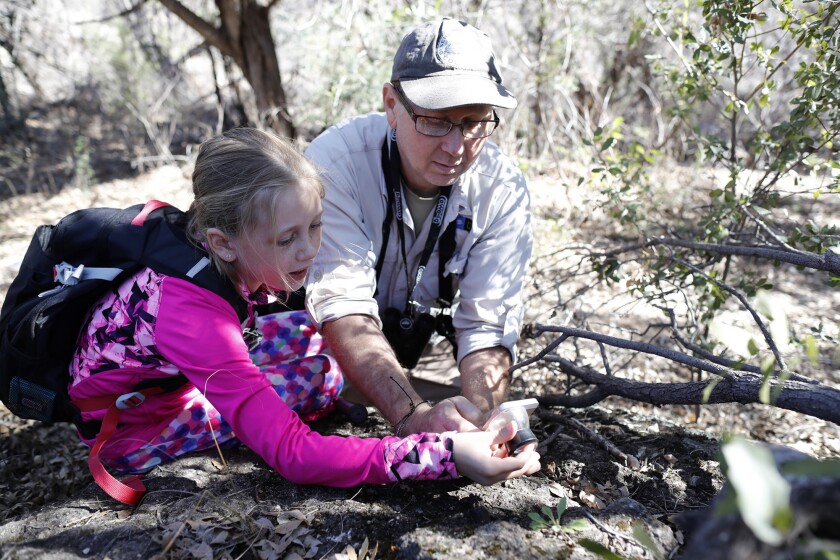 Reporting from Sycamore Canyon, Ariz. —
More than a dozen naturalists came to this remote canyon last weekend to hunt for animals and plants of all kinds: tree frogs, prickly pear cacti, side-blotched lizards, snapdragon vines and the elusive elegant trogon bird.
Taylor Edwards started the morning hike with a wish only a herpetologist could make: "Hope we'll find some rattlesnakes."
From San Diego County to Texas' Rio Grande Valley, the citizen-scientists deployed to 20 border-area sites for the second annual Border BioBlitz, a two-day volunteer effort to record as many species of flora and fauna as possible along roughly one-kilometer stretches on each side of the U.S.-Mexico line. Last year, working at about half as many sites, volunteers recorded 868 species. This year, they hoped to find more to highlight the region's value as a unique habitat instead of a national security crisis.
Volunteers at Sycamore Canyon downloaded the free iNaturalist app to their cellphones, snapped photos and either identified what they saw or left it to other volunteers who would later scan their findings online.
Volunteers downloaded the free iNaturalist app to their cellphones, snapped photos and either identified what they saw or left it to other volunteers who would later scan their findings online. Video by Brian van der Brug / Los Angeles Times
Before they had even left the trail parking lot that Sunday, a volunteer photographed a red bird as it darted from the canopy of a massive oak — a vermilion flycatcher. A few steps down the grassy trail, another volunteer spotted Sisymbrium irio, also known as London rocket greens, and took a photo.
"Is anyone getting these grasses?" shouted organizer Julia Rowe, an invasive species research specialist at Tucson's Arizona-Sonora Desert Museum.
They photographed several stands of the grass, including one Rowe identified as hairy grama, a name that made Edwards' 10-year-old daughter, Amira, laugh.
The government has secret dossiers on border journalists, lawyers and activists »
It was still chilly enough for the volunteers to wear fleeces as they followed the trail along a small creek that burbled in the shade of the canyon's craggy walls. The trailhead was 30 miles west of Nogales, about 10 miles north of the border and far from the nearest ranger station. At times, the only sounds came from the creek, the breeze rustling the oaks and the chirps of the yellow warbler and cactus wren, Arizona's state bird.
Each species identified through telltale evidence was recorded: ringtail tracks; a Coues deer's leg bone, coyote scat and a canyon wren peep-peeping behind the scaly trunk of an alligator juniper.
Red-headed quail with black and white speckles leaped from the brush too quickly to be identified or photographed. But volunteers had time to pause and examine thistle, verbena and desert spoon or sotol (the key ingredient in the Mexican drink of the same name).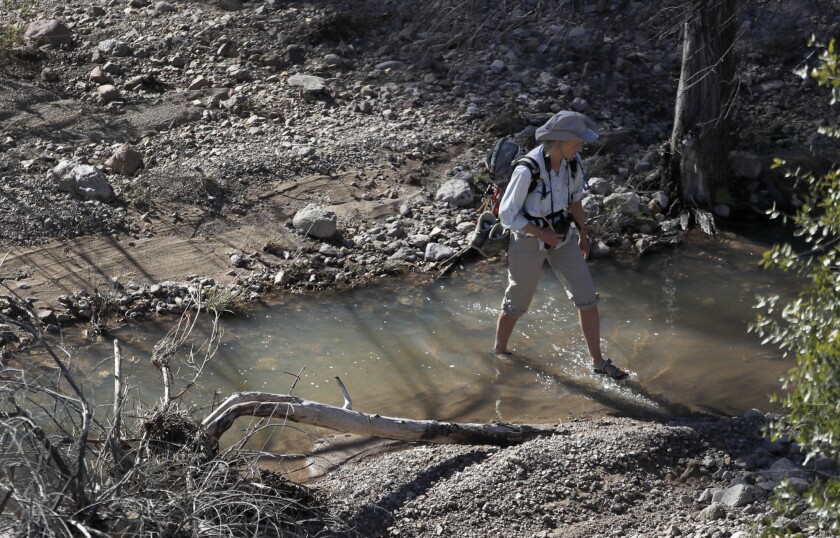 As the day warmed, the volunteers shed their fleeces, rolled up their pants and waded across the creek to examine crevices thick with ferns and musky-smelling moss. They lifted binoculars to spy a red-tailed hawk soaring overhead in the cloudless sky. They listened for the elegant trogon's dog-like call but only heard a bird they were unable to identify that sounded, as one volunteer put it, "like a rotary telephone."
They ventured farther into the wilderness and noticed identifiers they didn't record — most likely of migrants.
"Here's a backpack. No one else leaves their packs," said Julie Kiker, 63, a retired special education teacher.
The crumpled bag had a camouflage pattern. They would see two more backpacks before the hike was over, as well as abandoned clothing, unopened containers of tuna and mayonnaise labeled in Spanish.
Should activists aid migrants in the desert, or leave their fate to the Border Patrol? »
Many of the volunteers were accustomed to seeing migrants during past border research trips. Edwards, 49, an associate staff scientist at the University of Arizona, surveys for snakes at night. He said he has encountered Border Patrol and Drug Enforcement Administration agents during his surveys, as well as migrants.
"I run into migrants and I give them water without question," Edwards said.
Edwards is planning to study the impact of increased border security on academic field research. His daughter said her biggest fear was not migrants or snakes, but wasps, which hovered by the creek.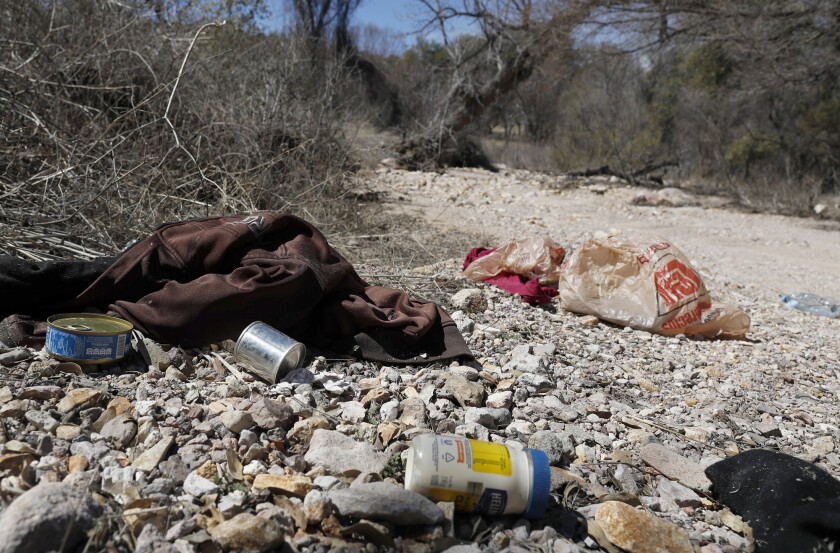 Unlike other stretches of Arizona, especially near border crossings, there were no armed Border Patrol agents in the canyon, no National Guard or active duty troops, no razor wire, bright lights, security towers or fencing.
"I feel safer here than where there's a wall," said Anthony Mendoza, a researcher at the University of Arizona herbarium.
By hike's end, the group had not seen any Border Patrol agents, smugglers or migrants. But they had cataloged more than 55 species, including a bullfrog tadpole, a tarantula hawk wasp, a canyon tree frog, a pipevine swallowtail butterfly and a bridled titmouse. The elegant trogon remained elusive.
Border-wide, 1,004 volunteers participating in the event had reported spotting 2,156 species by Sunday evening.
Carianne Campbell, 44, a restoration biologist who participated in the Sycamore Canyon hike, said she feels safe even if she's hiking alone. She wishes more people explored the border wilderness.
"It is beautiful. It is special. It is unique. It is irreplaceable, a treasure," she said.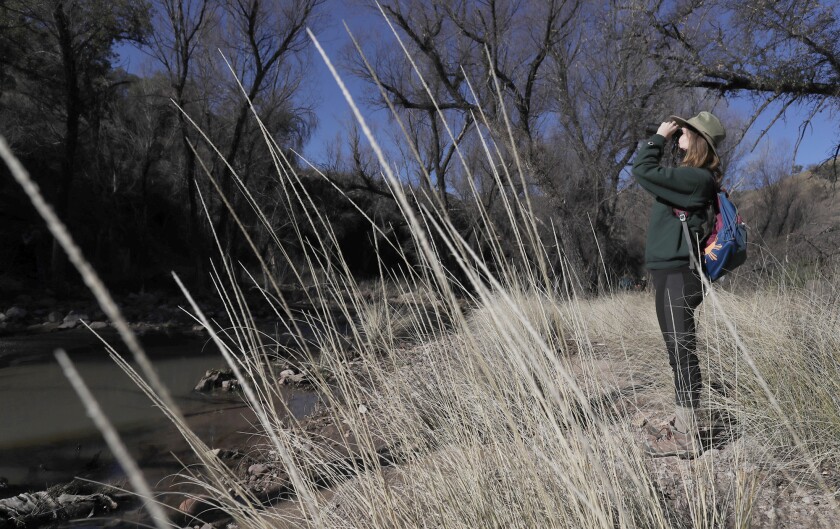 ---
Must-read stories from the L.A. Times
Get all the day's most vital news with our Today's Headlines newsletter, sent every weekday morning.
You may occasionally receive promotional content from the Los Angeles Times.