3 arrested in Atlanta fire that collapsed highway overpass
Reporting from Atlanta —
Three people have been arrested in connection with the raging fire that collapsed a portion of Interstate 85 a few miles north of downtown Atlanta, crippling a major traffic artery in a city already known for dreadful rush-hour congestion.
Deputy Insurance Commissioner Jay Florence said Friday evening that Basil Eleby faces a charge of criminal damage to property, and Sophia Bruner and Barry Thomas each were charged with criminal trespassing.
"We believe they were together when the fire was set and Eleby is the one who set the fire," Florence told the Atlanta Journal-Constitution.
Update: Suspect charged with arson in fire that destroyed interstate overpass in Atlanta »
Florence would not discuss how the fire was started or why, saying those details would be released as the investigation progresses.
The fire broke out Thursday afternoon in an area used to store state-owned construction materials and equipment, sending flames and smoke high into the air.
Dozens of firefighters battling the roaring blaze beneath the roadway moved safely out of harm's way amid telltale signs the roadway was breaking apart from the intense heat.
"They heard the cracking of the concrete," Atlanta Fire Chief Joel Baker said. "They could see concrete was flying all over the place toward firefighters."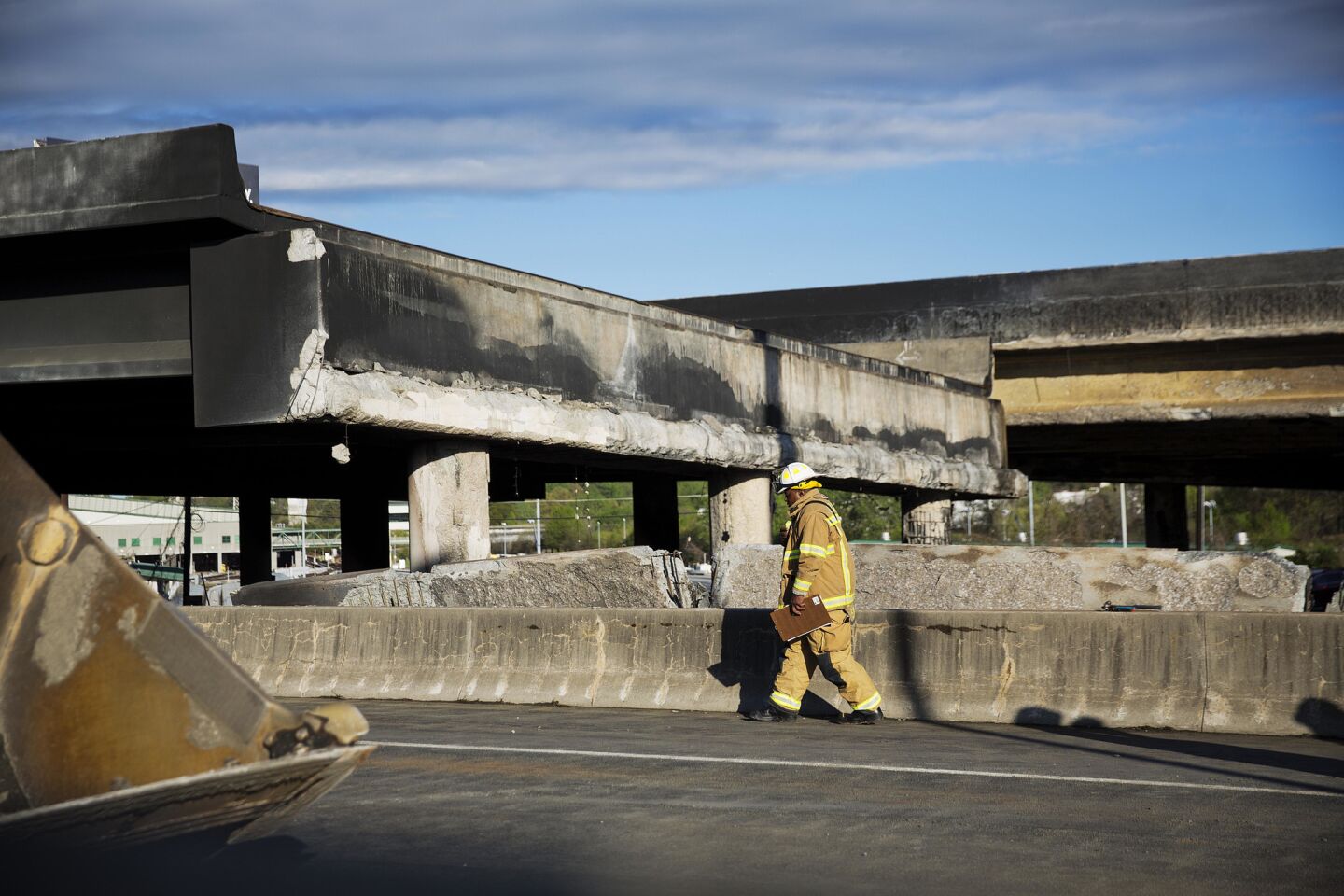 A firefighter checks out the collapsed I-85 overpass in Atlanta.
(David Goldman / AP)
Pedestrians try to cross detoured traffic as Piedmont Avenue is closed after an I-85 overpass collapsed in Atlanta.
(David Goldman / AP)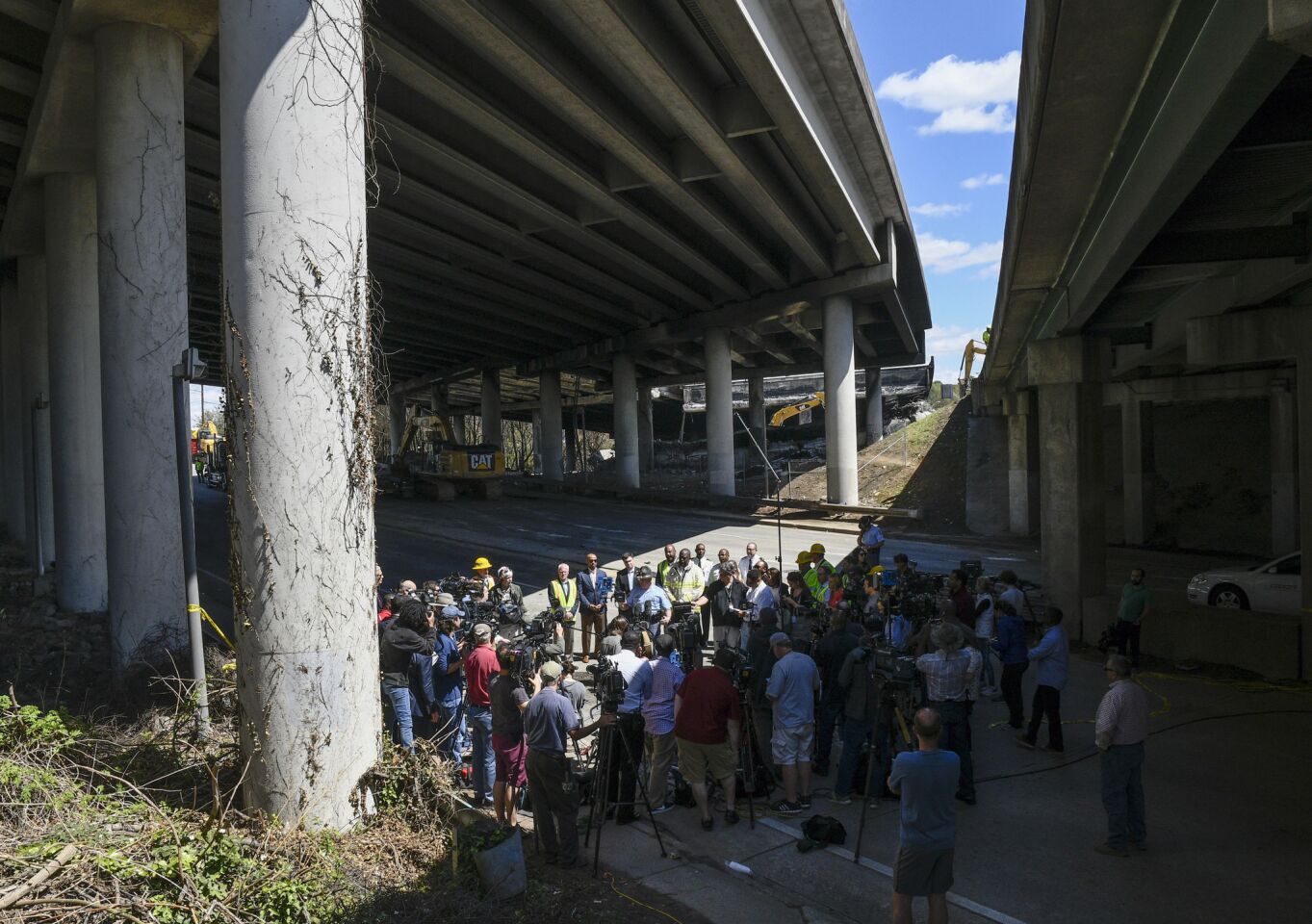 Reporters gather on a blocked street beneath I-85 in Atlanta a day after the fire.
(John Amis / EPA)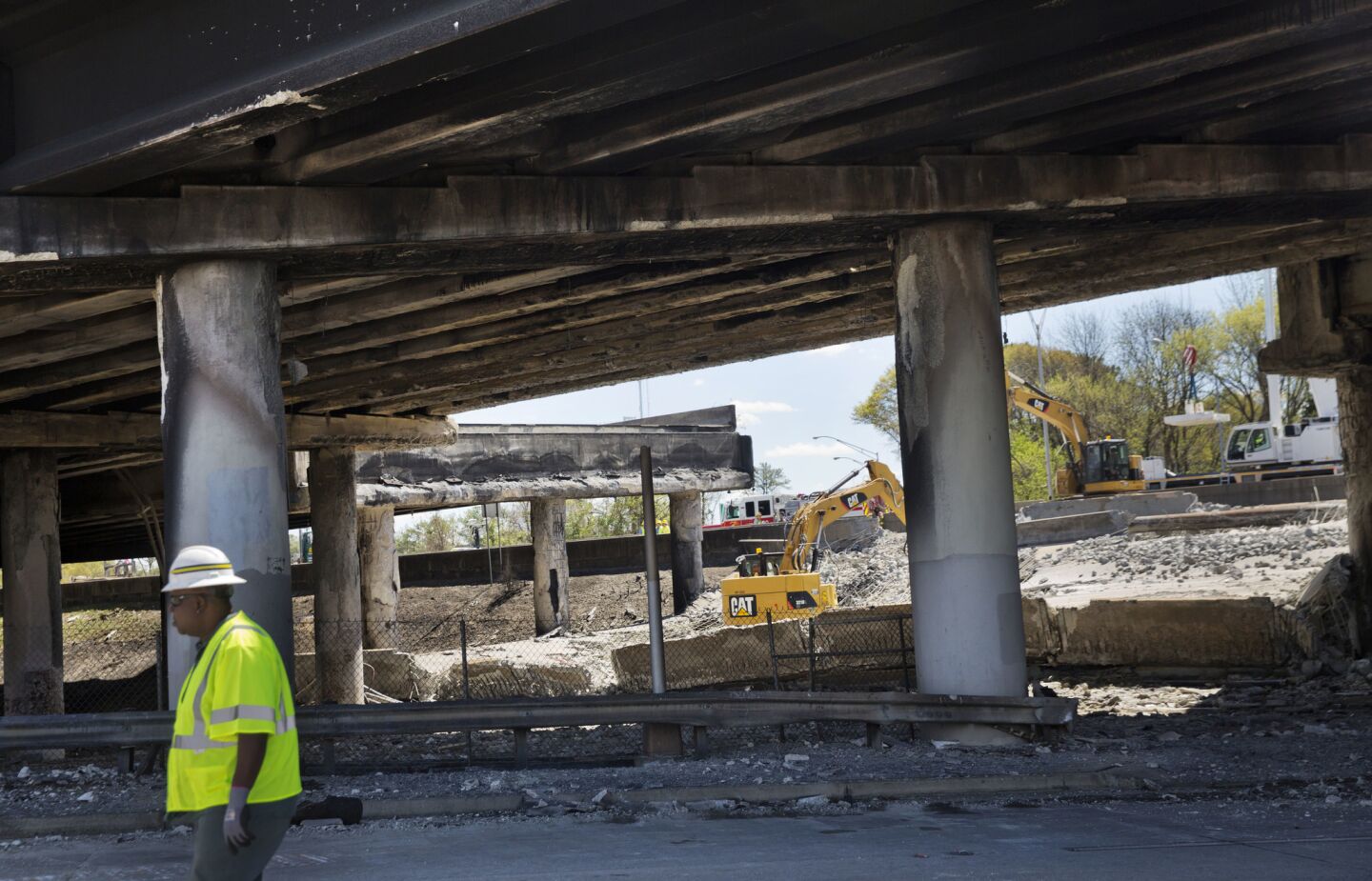 Construction crews work on the collapsed overpass a day after the fire.
(David Goldman / AP)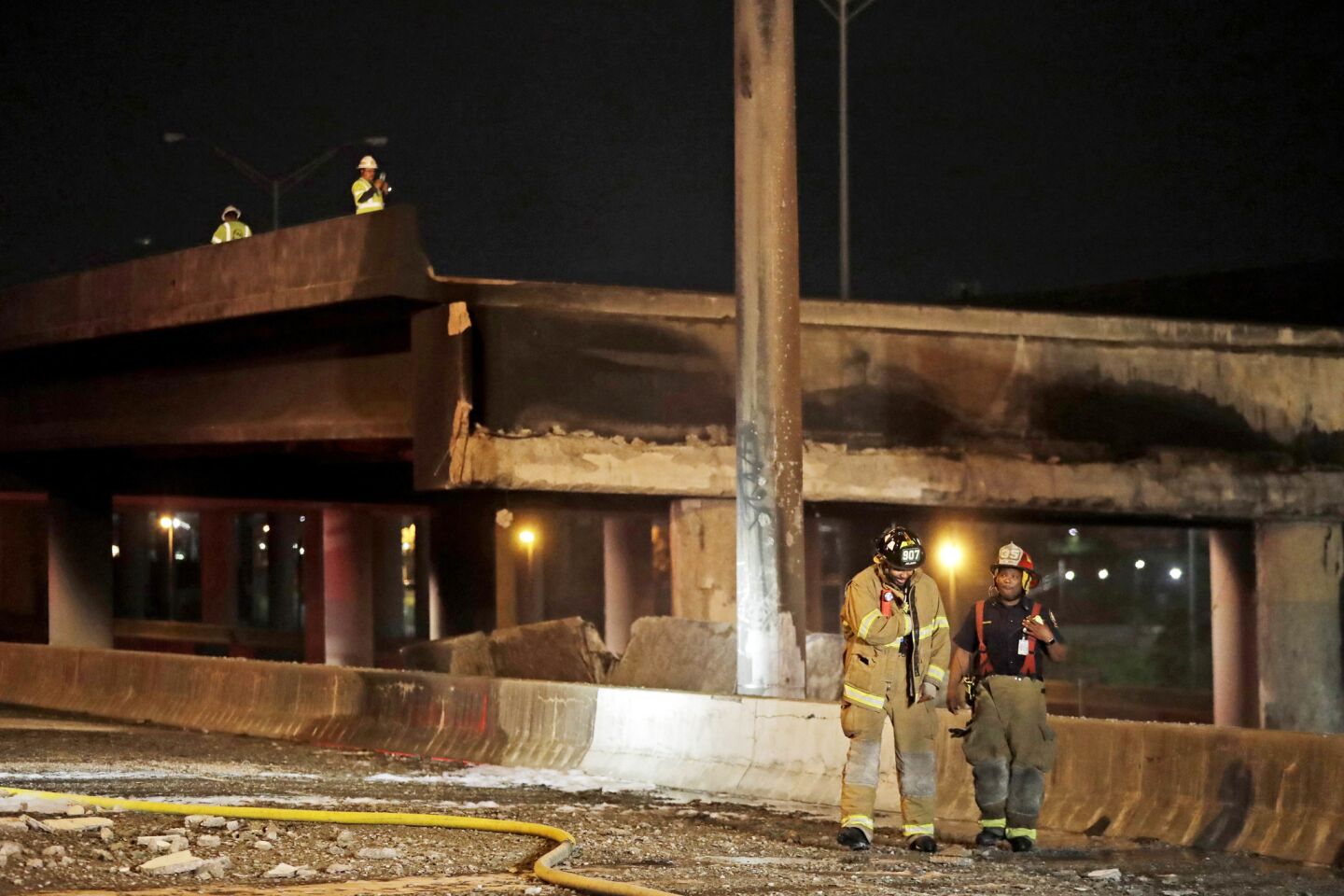 Firefighters survey the collapsed section of an I-85 overpass in Atlanta.
(David Goldman / AP)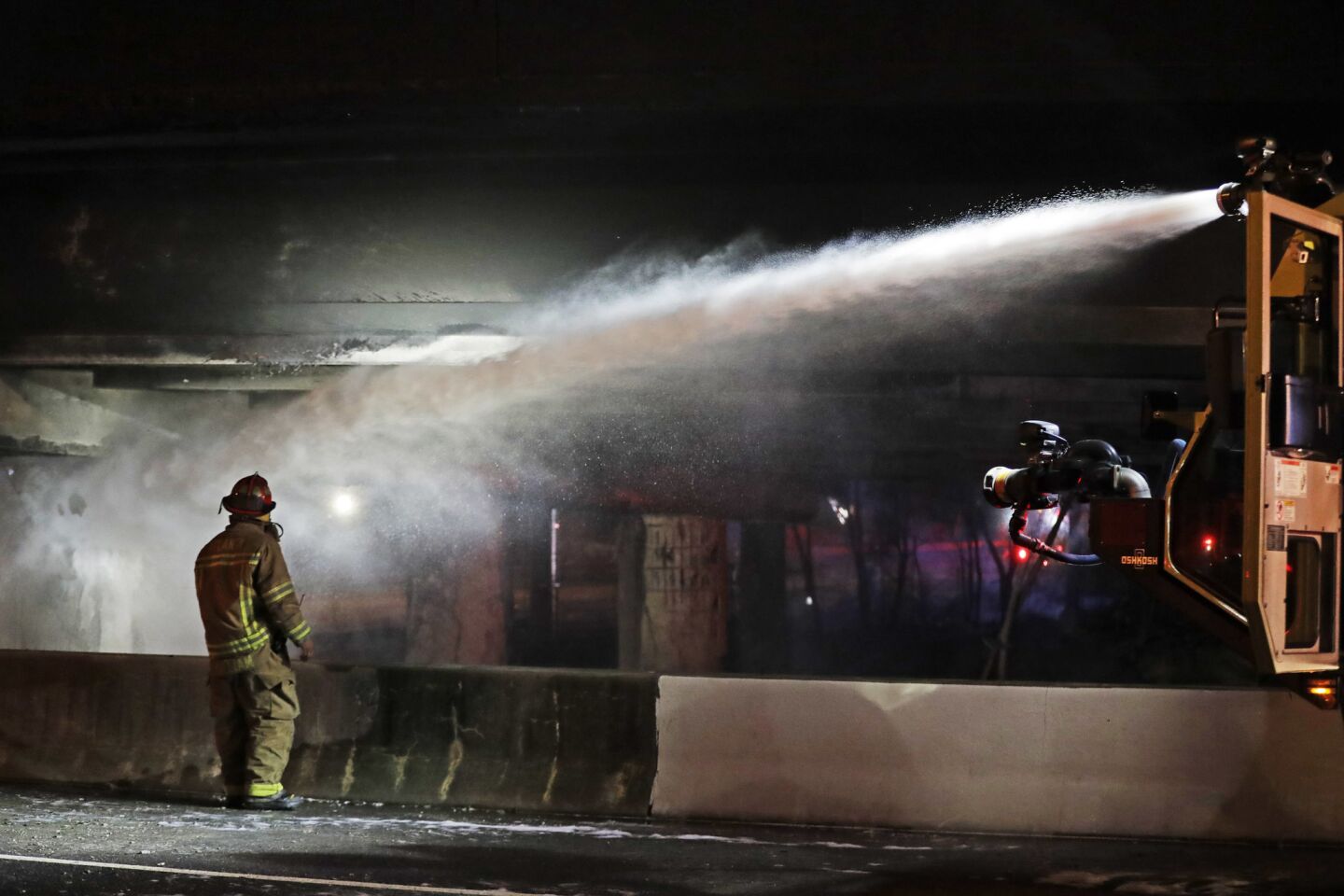 An Atlanta firefighter surveys the I-85 overpass section that collapsed because of a fire.
(David Goldman / AP)
Police vehicles head north on Interstate 85 in Atlanta as traffic flows south in the northbound lane after a fire collapsed part of the freeway.
(John Amis / EPA)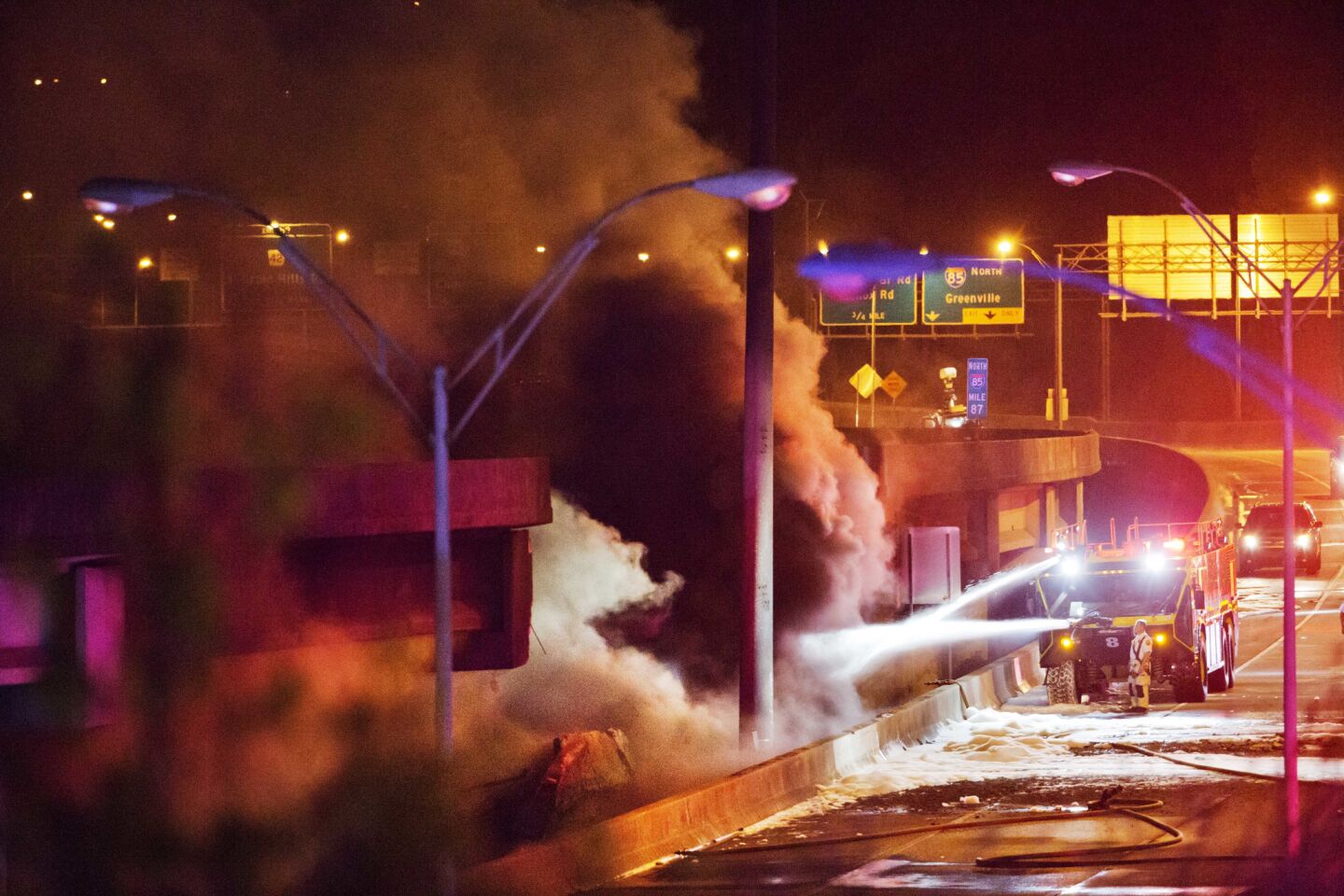 Smoke billows from a collapsed overpass on Interstate 85 in Atlanta.
(David Goldman / AP)
Firefighters shut down the roadway before it fell and retreated safely without injury.
Experts in structural engineering said fires on highways and bridges rarely burn long enough or hot enough to cause a complete collapse — but it has happened. Intense heat can compromise even steel-reinforced concrete, said Lauren Stewart, director of the Structural Engineering and Materials Laboratory at Georgia Tech in Atlanta.
"With fires, especially fires that burn for long periods and with high heat, you can see structures, anything from buildings to bridges, can have their material properties degrade," Stewart said.
It's happened before. In 1996, a fire in a big pile of tires beneath I-95 in Philadelphia left a span too weak to handle cars, forcing authorities to shut down four miles of the busy East Coast route for repairs.
Andy Herrmann, a retired partner with the New York-based engineering firm Hardesty & Hanover, said there have also been a few instances of gasoline trucks crashing and causing intense heat that damaged overpasses.
Herrmann said concrete will undergo severe cracking at about 1,500 degrees and start disintegrating at higher temperatures. Building roads to withstand such heat would be prohibitively expensive, he said.
"We have limited dollars for maintaining our bridges," Herrmann said. "This is such a rare thing to occur."
The highway collapse in Atlanta forced commuters Friday to find different routes to work or to use mass transit. Things won't be back to normal for months, said Russell McMurry, commissioner of the Georgia Department of Transportation.
McMurry told a news conference Friday that 350 feet of highway will need to be replaced in both directions on I-85, which carries about 400,000 cars a day through Atlanta and is one of the South's most important north-south routes. He said repairs will take "at least several months."
Traffic was bumper to bumper Friday on streets near the closed stretch of highway. Amelia Ford picked a new route to drive to work and said it took her 45 minutes to travel three miles from her Atlanta home to the nearest open onramp to the interstate.
McMurry said his department stored coils of plastic conduit, used in fiber optic networks, beneath the span but insisted that they were noncombustible.
U.S. Transportation Secretary Elaine Chao promptly released $10 million for the initial repair work, and the Federal Highway Administration promised more in emergency repair funds. Officials gave no estimate of how much the job would cost.
Built in 1953 and renovated in 1985, the collapsed span scored a sufficiency rating of 94.6 out of 100 in its last inspection in 2015, said Natalie Dale, a spokeswoman for the Georgia DOT.
ALSO
Michigan will spend $87 million to replace Flint's water lines
Decades-old war over Yucca Mountain nuclear dump resumes under Trump budget plan
Strongest winds in five years lash Las Vegas, toppling trucks and wrecking a casino sign
---
Must-read stories from the L.A. Times
Get the day's top news with our Today's Headlines newsletter, sent every weekday morning.
You may occasionally receive promotional content from the Los Angeles Times.