Stephen Bannon found inspiration in ancient thinkers, Ronald Reagan and Nazi propaganda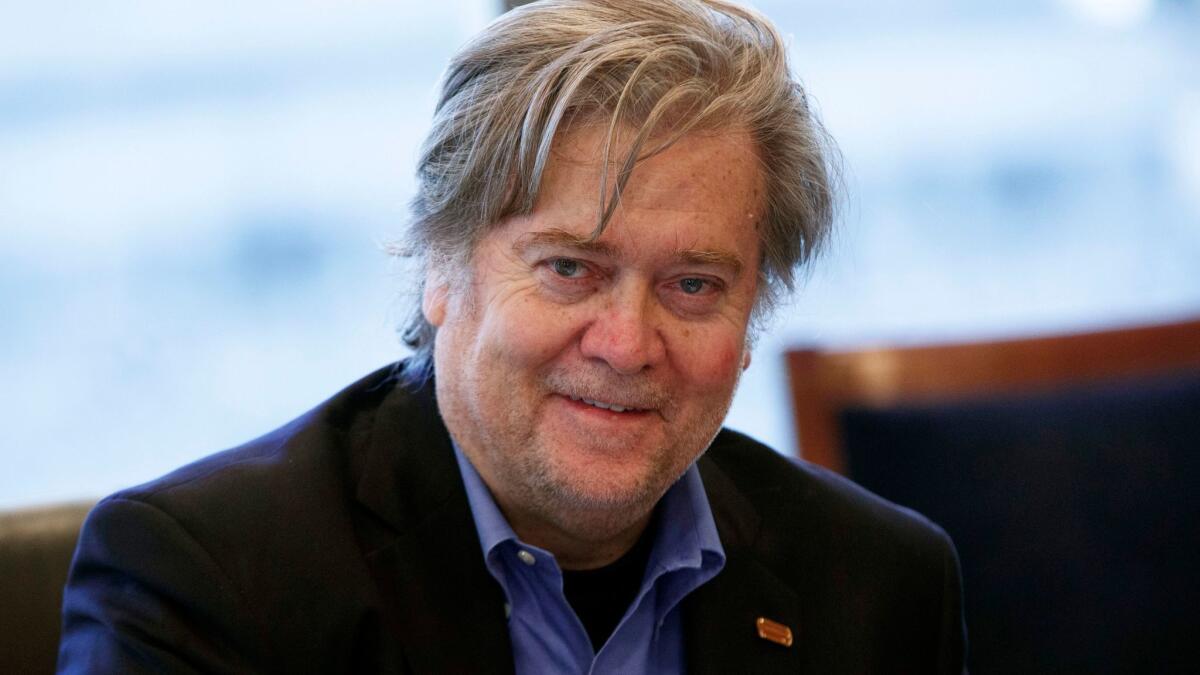 In the 1990s, long before Stephen K. Bannon became the chairman of Breitbart News and one of Donald Trump's top advisors, he was just another guy in Beverly Hills who liked Shakespeare and wanted to make movies.
The Navy veteran and former Goldman Sachs investment banker was a feverish reader who kept books neatly stacked on the floor of his condo that couldn't fit on his shelves. Bannon had the tastes of a liberal arts major, sampling ideas from ancient civilizations all over the world. He liked Sun Tzu's "Art of War" and the Bhagavad Gita, the Hindu holy book, according to his former longtime writing partner, Julia Jones.
"Before 9/11, he was different," said Jones, a liberal who fondly remembered discussing philosophy with Bannon. "He talked about Plato and Socrates all the time." At one point the pair developed a proposal for a TV show to feature philosophers from a wide range of traditions, including non-European mystics and shamans.
But Bannon, who kept a photo of Ronald Reagan over his desk, started down a more hard-line path of conservative thought after the 2001 terrorist attacks, according to those who knew him during his time in Hollywood.
"He went further into a world of absolutes — black and white, good versus evil," Jones said. "He was so open to such a world of great thinkers. I don't know how that same person could have chosen such a narrow path."
Today, Bannon represents a new ideological force inside the Republican Party, an antiestablishment activist and businessman propelled from the fringes of the GOP to its very center — seen by his critics as the proverbial barbarian who has breached the gates.
Bannon is Trump's choice for chief White House strategist, a self-professed nationalist with a vision of reshaping America's policies on immigration, trade and the economy, but whose agenda and influence on the president-elect are little understood by the public.
A survey of Bannon's intellectual influences over the years reveals a voracious reader willing to expose himself to a range of international thinkers, but who holds hard-line, us-versus-them views on immigration and Islam; a Roman Catholic who thinks of the world in terms of epic battles between good and evil, who has been driven toward action by the Sept. 11 attacks and the 2008 financial crisis; a veteran of the Cold War and of Wall Street who believes America's military should be strong and its capitalism more tender; and a Harvard-educated agitator comfortable in the backrooms of the elite, who has studied propaganda to achieve his goal of swaying the masses.
He went further into a world of absolutes – black and white, good versus evil.
— Bannon's former writing partner, Julia Jones
Many left-leaning critics have protested his selection as senior White House advisor and have accused him of being a closet white supremacist and anti-Semite. (Bannon, who did not respond to interview requests submitted to the Trump transition team, has denied such assertions.)
Bannon has repeatedly stated his long-term goal: shatter the political establishment, including the conservative one, and create an unorthodox "center-right" populist movement based on nationalism and a more humane form of capitalism. He seems to have found his vehicle for those goals in Trump, whose campaign Bannon joined in August.
Bannon has cultivated an archvillain image, recently declaring, "Darkness is good," and praising Dick Cheney, Darth Vader and Satan as emblems of power. (One "Saturday Night Live" actor played Bannon by wearing a Grim Reaper costume.) Bannon's remarks succeeded in further enraging his liberal critics, who see him as the master enabler of a demagogue.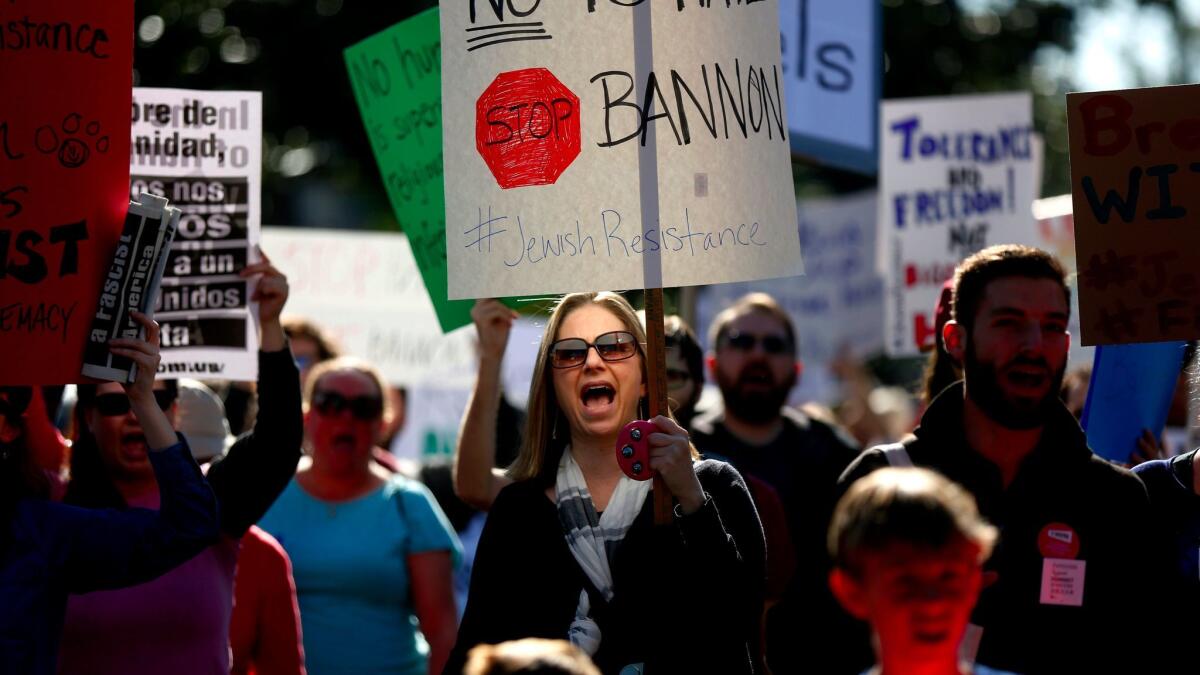 In the past, Bannon has repeatedly expressed his affinity for the technique of Nazi propaganda filmmaker Leni Riefenstahl, whose work in the 1930s glamorized the rise of Adolf Hitler. "One time we were in the office, and he said, 'I want to be the Leni Riefenstahl of George Bush,' and I was horrified,'" Jones said. (Jones said Bannon later amended his remark to say he wanted to be the Riefenstahl of the GOP.)
The filmmaker Tim Watkins, who approached Bannon around 2000 to create a documentary about Reagan, said Bannon introduced him to Riefenstahl's work, which many film students also study.
"I didn't like it," Watkins said of the content of Riefenstahl's work, "but you had to look at it as the art it was and how it influenced the nation and the world."
The ensuing documentary co-directed by Bannon and Watkins, "In the Face of Evil," released in 2004, uses similar dramatic imagery, and praises Reagan as "a radical, with extreme views" on government, while referring to America's fascist and communist adversaries simply as "the beast."
The film also offers a clue as to why Bannon seemed so at home in liberal Hollywood, where he would go on to create additional conservative documentaries. A narrator praises the Hollywood of the 1930s as "the most powerful crucible on Earth," a "brutally efficient industrial process" run by Jewish refugees with "ruthlessness and uncompromising patriotism" that reinforced the values of Western civilization with stories of "order versus chaos, good versus evil."
Hollywood, in other words, was an ideological weapon. "That was mostly his writing and mostly him," said Jones, who was credited as a co-writer with Bannon on the film, and who said Bannon also admired the technique of liberal political filmmaker Michael Moore. (Both men share a fascination with populist messages and a disdain for business suits.)
The Reagan documentary drew the attention of conservative provocateur Andrew Breitbart, who later called Bannon the Riefenstahl of the tea party movement. The pair fell into each other's orbits.
Bannon cited the 2008 financial crisis as another turning point that drove him deeper into conservative politics, like the Sept. 11 attacks and his military service during the Cold War.
The 'alt-right' splinters as supporters and critics agree it was white supremacy all along »
"I come from a blue-collar, Irish Catholic, pro-Kennedy, pro-union family of Democrats," Bannon, who was born in Virginia, told Bloomberg Businessweek last year. "I wasn't political until I got into the service and saw how badly Jimmy Carter [messed] things up. I became a huge Reagan admirer. Still am. But what turned me against the whole establishment was coming back from running companies in Asia in 2008 and seeing that Bush had [messed] up as badly as Carter. The whole country was a disaster."
Breitbart's death in 2012 led to Bannon's installation as chairman of Breitbart News, a rabble-rousing conservative news site.
At Breitbart, an editor, Joel Pollak, recalled seeing a "staggering collection of books" at Bannon's desk, mostly about history, including some first editions.
"We shared an interest in 'The Private Life of Chairman Mao' by Dr. Li Zhisui," Pollak said in an email. "The most recent book I discussed with him was [Timothy] Snyder's new history of the Holocaust, 'Black Earth,' which argues that the Soviet destruction of its Eastern European neighbors eventually facilitated Hitler's Final Solution by creating a stateless, amoral environment."
At Breitbart, Bannon dived into the populist realm of right-wing radio and hosted a SiriusXM show, where the Harvard Business School graduate occasionally flashed unorthodox reading habits. During one January program, he likened global migration to a "Camp of the Saints," the title of a 1973 French novel about immigration that the Southern Poverty Law Center has called "a racist fantasy about an invasion of France and the white Western world by a fleet of starving, dark-skinned refugees."
The problem America faces, Bannon said in a 2014 speech at the Vatican, is "a crisis both of our church, a crisis of our faith, a crisis of the West, a crisis of capitalism," and he outlined his belief that the West was in an existential struggle against "jihadist Islamic fascism."
In the same speech, Bannon criticized free-market capitalism as "a capitalism that really looks to make people commodities" and called for an "enlightened capitalism" that is "really distributed among a middle class." (In 2013, Pope Francis criticized capitalism for treating people as "consumer goods to be used and then discarded." Francis does not share Bannon's views on Islam.)
Bannon's moderator for the speech, Benjamin Harnwell of the Institute for Human Dignity, a Christian think tank, said that Bannon's Catholicism had clearly influenced his views on capitalism.
"I think recognition of the imago Dei — that man is made in the image and likeness of God — runs all the way through Steve Bannon's thought in a sincere way," Harnwell said in an email.
Under Bannon's stewardship, Breitbart News has been criticized for running racist content and has attracted a following among white supremacists, some of whom see Bannon's nationalist views as a milder form of their own beliefs. But many of Bannon's associates have said they can't recall him saying anything explicitly racist.
"In all the years I knew him, he never talked about any eugenic or racial superiority," said Jones. "He never even talked about a person's race or their religion."
Since joining Trump's victorious campaign, Bannon has scarcely spoken at all publicly, and has moved out of the role of bashing the establishment to become one of its most powerful representatives.
"Eight months ago, everybody could tell you Steve Bannon was one of the most opinionated people on Earth," said Watkins. "But now you wouldn't know Steve's opinion about dinner."
Follow me on Twitter: @mattdpearce
ALSO
Trump brings Koch network's green-energy foes from the fringe to the center of power
A Pearl Harbor survivor spent decades trying to forget it. Then one man got him talking
At defense forum, Trump's promises on spending draw praise, but other questions linger
Sign up for Essential California for the L.A. Times biggest news, features and recommendations in your inbox six days a week.
You may occasionally receive promotional content from the Los Angeles Times.