A potato-chip-shaped hole in ex-Detroiters' hearts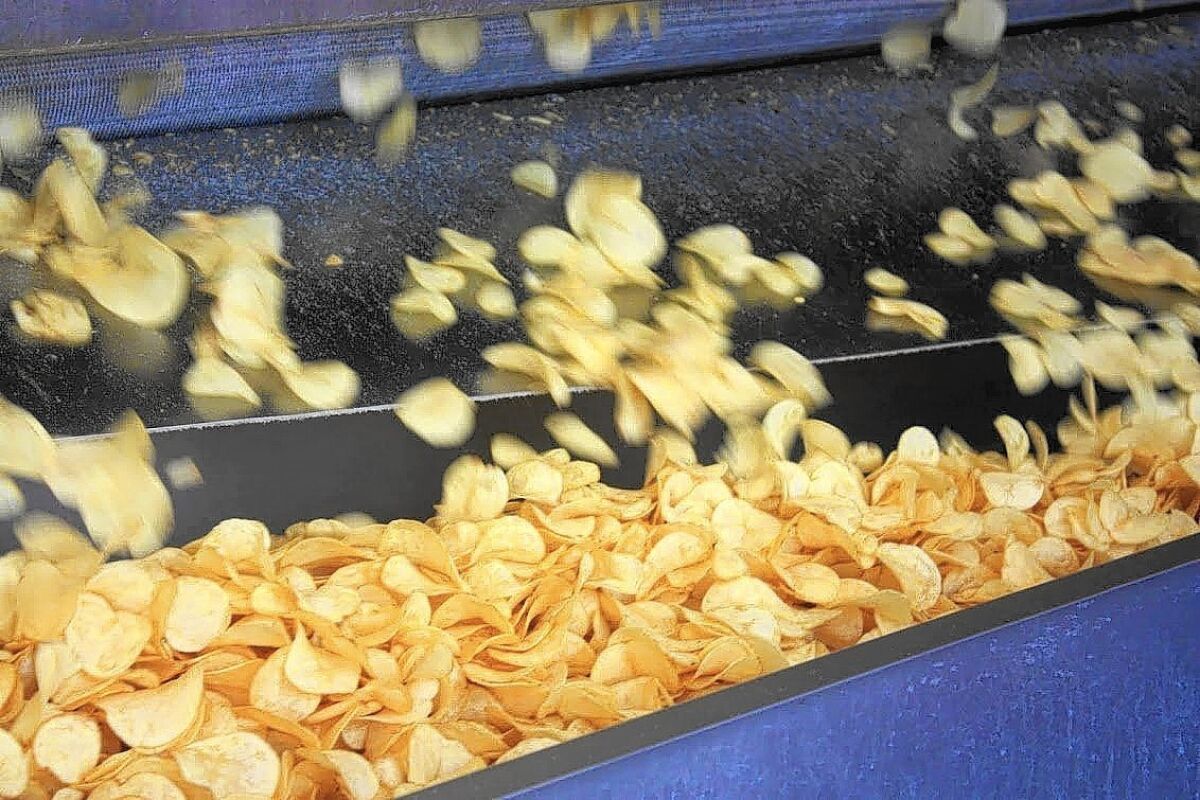 Reporting from Detroit —
Like many former autoworkers, when Jim Mattson retired, he left the state where he'd spent his life and headed west.
But there was something he missed about Michigan from his RV park in Arizona.
Not the Detroit winters, certainly, nor the abysmal Detroit Lions. Not even the view of Lake St. Clair from the shores of east Detroit.
No, Jim Mattson missed his Detroit potato chips.
"I can't put them down," said Mattson, 61, an avid motorcyclist who retired from General Motors and now goes online to order the chips in bulk from an 84-year-old company back home. "They don't taste greasy; it's just a thick potato chip that tastes like a potato."
Detroit used to make things that were exported around the world, and not just cars. At one point, the city was home to 22 potato chip manufacturers.
But just as the Detroit auto industry declined, so did the chip business. The only chip maker left is Better Made, which was incorporated in 1930 and sits in a factory amid the crumbling buildings and blighted streets of what was once an Italian neighborhood.
"When you're in a city that has GM and Ford, you can't exactly say we're as well-known as that," said Mark Winkelman, the company's president. "But we really are an icon in this city."
Detroit might be known for its cars and as the home of Motown. But its third claim to fame? Potato chip consumption capital of the country. Detroiters consume an average of 7 pounds of chips a year; the rest of the country eats 4 pounds.
The loyalty of the Detroit diaspora to one potato chip brand may seem surprising to outsiders, but it makes perfect sense to Sam Cipriano, whose father founded Better Made.
Cipriano said people can taste Michigan in the chips: the Michigan-grown potatoes the company uses 10 months out of the year, the Detroit water, the Michigan-made salt.
"We're just a regional company, but everybody that grew up in Detroit grew up with us," he said.
In fact, the company is doing better than ever, Cipriano said, even though the only stores carrying the brand are in Michigan. Better Made frequently hears of people buying up whole shelves of the chips and shipping them to family members. The company also started offering Web sales a decade or so ago.
"When we started in the Internet, we were trying to help people in Michigan send chips to Arizona, Florida, California," Cipriano said. "But then people in Florida were ordering them to send to other people in Florida, so we could tell there was demand."
Like many onetime Michigan residents, Elizabeth Spisich and her husband, James, left the state for better career opportunities. Once they settled in Virginia, though, her husband kept talking about how much he missed Better Made chips — the hot barbecue variety.
Every time they visited Detroit, "he would buy bags to take back with us," Spisich said.
Then one year, when the couple weren't able to return home for Christmas because they were about to have their first child, Spisich's mother sent James a huge box of snack-sized bags of the chips. He loved it. Since then, chips by mail have been a frequent gift for the couple.
"It's like the connection to home — it's something we couldn't get where we were living for seven years," Elizabeth said.
To be sure, Better Made chips aren't the only foods craved by Rust Belt diaspora. The Goldbely company just launched nationwide delivery of another iconic Detroit foodstuff: pizza from a company called Buddy's.
Goldbely already sells Hoosier Sugar Cream Pie from Indiana and kringles from a Danish bakery in Wisconsin. Imo's Pizza, a St. Louis institution, started shipping its pizzas around the country after demand from former St. Louis residents kept growing.
Some people want to leave their Rust Belt hometowns as soon as they can. But once they leave, they start to feel pride about where they're from, said Jim Russell, a geographer who studies diasporas and writes a blog called Burgh Diaspora about the exodus from Pittsburgh.
"There's a discovery of hometown pride, or jingoism, that gets cultivated," he said. "People thought the Rust Belt had no culture, and then it goes from a point of shame to a point of pride."
Few places have a bigger diaspora than Detroit, which has lost 60% of its population since 1950.
And with Better Made appearing in people's pantries around the country, it's not always Detroiters hankering for the chips. Celebrity chef Rachael Ray named the company's salt-and-vinegar chips the best in the nation in 2007.
Desmond Burdine moved to Detroit eight years ago to drive a bus for Dollar Rent a Car at the airport. Once he tasted the chips, he was hooked. He now sends them to relatives in New York, Texas and Ohio.
"I said, 'Hey, try these,' and they just fell in love with them," he said. "I go to Wal-Mart, I buy whatever's on the shelf."
---
Must-read stories from the L.A. Times
Get the day's top news with our Today's Headlines newsletter, sent every weekday morning.
You may occasionally receive promotional content from the Los Angeles Times.