Black Americans grapple with unease in wake of Charleston shooting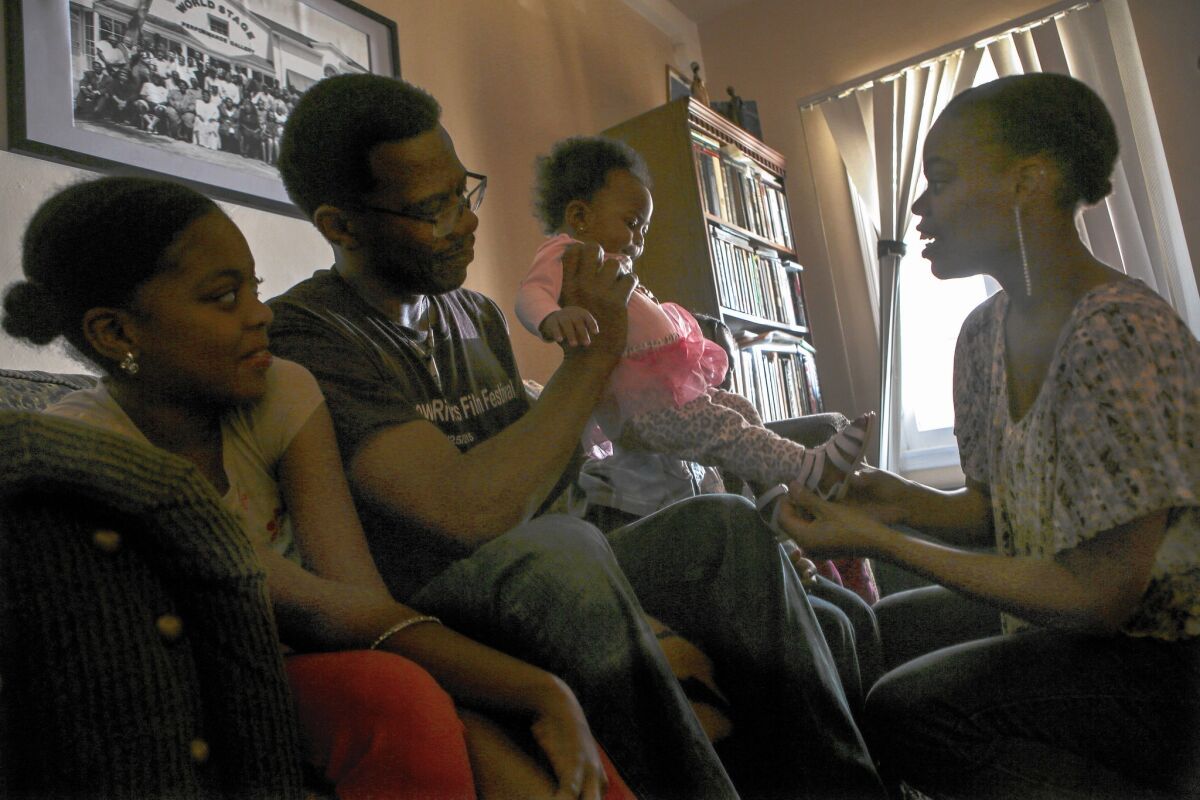 As he tugged open the plywood door to his newsstand Saturday morning, Charles Tone turned to one of his customers with a question.
"How can they forgive him?" said Tone, 66. "Man, I don't even know if it can be genuine."
The newsstand at the corner of Manchester and Vermont — the heart of a historically black neighborhood in South Los Angeles — often hums with conversation about politics and sports.
Nationwide on Saturday, people were talking about the massacre of nine black churchgoers, allegedly by a white man, in Charleston, S.C. But among African Americans the subject felt more urgently personal, stirring fear, anger and unease as well as debate about what it means to be black in America.
Some feel a sense of siege amid the succession of racially charged incidents — including the fatal shootings of Trayvon Martin, Michael Brown and Walter Scott, all unarmed black males — that preceded the church killings.
Some, like Tone, found it hard to grasp how victims' families said they could forgive Dylann Roof, the man charged in the Charleston shootings, for so cold-blooded a crime.
"Everyone wants to pray and not take action," Harrison Thomas, 64, a newsstand regular, told Tone.
"Yeah, man, but what is action?" Tone said. "What is it?"
A few feet away, barber Rickardo Paris stood inside the Just Your Style Beauty and Barber Shop, where the television flashed images of the story — prayer circles, talking politicians.
"To be honest, none of this is shocking to me," said Paris, 34. "It's not like all of a sudden black people are being wronged." (According to the FBI's most recent statistics, blacks in 2013 were targeted in hate crimes more than all other races combined.)
Nearby in Watts, Dominique Walker, 26, sat in her car outside a housing project waiting to pick up her son, who was visiting family.
For days, she said, her social media feeds have been flooded by news of the shooting. It happened more than 2,000 miles away, on the opposite coast, in an Old South city vastly different from her own.
But the waitress from Hawthorne said the killings had inflamed her anxieties about violence.
"I keep thinking, is this the week I'm going to lose someone close to me? My brothers, my uncles. I worry for all the men I know. Now, it turns out I gotta worry about church, too," Walker said.
As she spoke she wrapped her arms around herself. "This is just no way to live," she said.
Torrence Brannon-Reese, 54, who lives in Leimert Park, said that soon after he heard about the shooting, he sat his grandchildren, ages 11, 8 and 5, in front of the television to watch the news. He told them about the Birmingham church bombing of 1963, about Emmett Till and other cases, hoping that the past would help them understand the present.
"I tell them straight," Brannon-Reese said. "I don't want them going out into the world like it's Disneyland. The real world is full of contrasts. It's love and hate; it's black and white."
Across the country in South Carolina, Kenyatta Grimmage, 33, assistant director of admissions at the College of Charleston, said he resented conservative politicians who call the shooting an attack on Christians.
"He didn't have a hate of Christianity," Grimmage said, referring to the gunman at nearby Emanuel AME Church. "He hated African Americans."
Grimmage objected to the depiction of the assailant as a "lone wolf," saying he was part of a larger agenda propagated by "a group … that won't let racism die," a group particularly furious that America has a black president.
"This set us back 40, 50 years," Grimmage said of the shootings. "Race relations are going out the window."
Grimmage has three children, two girls ages 5 and 3, and a 2-year-old son. He said he is already frightened for his son. "He can be misinterpreted. All anybody has to say is, 'I feel threatened.' Look at Trayvon Martin."
Grimmage knows some of his white friends — people he's known since high school — are worried he might see them as racists. He said he doesn't. But when he returned to work after the shooting, he felt his trust in nonblacks had frayed.
"It made me question relationships I have with Caucasian people. What do they really expect of me?" he said. "Would they truly have my back?"
He said his 5-year-old daughter isn't old enough to understand death, but she knows what a shooting is, and has trouble fathoming how someone could do it in church.
"She loves church, and she was trying to make the connection. Church and shooting don't go together," he said. "She just asks more questions, and I have to figure out how to answer in a PG way."
In Atlanta, Angela Smith, an African American artist who works nights as a driver for Uber, said she was not entirely shocked by the Charleston shooting. She grew up in South Carolina, she said, where her mother and grandmother took pains to remind her of the region's racial history, including separate water fountains and lynchings.
"You don't go from being sold and traded for skin tone to being an elite class in one or two centuries," she said.
Smith, 36, said she had closely followed the Charleston story on the news on her car radio. Yet when she picked up an older white couple from Atlanta's Hartsfield-Jackson International Airport, she felt the need to turn the radio off as she ferried them out to the northern suburbs.
"I didn't want to make them feel uncomfortable," she said. "They were chatting me up famously, but still, things are very tense."
Smith does not believe race relations are worse than a decade ago, but she rejects the idea that the Charleston shooting is an isolated event. She said she envies those who are able to believe that.
For the most part, Smith said, incidents like the shooting have not changed how she interacts with anyone. "I'm not staying at home. I can't control that wacko element out there," she said. "I don't want to have a chip on my shoulder about it. Either I let it roll off, or I join the Black Panthers. Or maybe there's a middle ground."
Back in California, Darren Parker, a civil rights leader, said he thinks anti-black hate crimes are fueled by fear of demographic change, and the upward mobility of African Americans. Parker lives in Lancaster, where the black population has exploded in recent decades, from just a few hundred people in 1970 to 20% in 2010.
"People start to ask the question, 'Why us?' And they're asking, 'What do we have to do before we're considered one and the same with everyone else?'" Parker said. "It's painful on several different levels in our community, and this mass shooting is triggering all these emotions."
Parker grew up in the Jordan Downs housing project in Watts. He came to Lancaster, in the Antelope Valley, in the 1980s, amid a huge influx of black people seeking affordable homes.
For years after he moved there, he said, sheriff's deputies pulled him over so many times they knew his name. He said he had to prove he was just a member of the community.
Slowly, things have changed, but he said there has always been this sense that black people have to prove themselves.
But many "have a deep-rooted faith in the hope that things will be different," he said. "There are a lot of African Americans saying we just have one more river to cross."
esmeralda.bermudez@latimes.com
molly.hennessy-fiske@latimes.com
Lee and Bermudez reported from Los Angeles and Hennessy-Fiske from Charleston. Times staff writers Christopher Goffard and Hailey Branson-Potts in Los Angeles and special correspondent Jenny Jarvie in Atlanta contributed to this report.
---
Must-read stories from the L.A. Times
Get the day's top news with our Today's Headlines newsletter, sent every weekday morning.
You may occasionally receive promotional content from the Los Angeles Times.