Illegal border crossings by Central American families increase again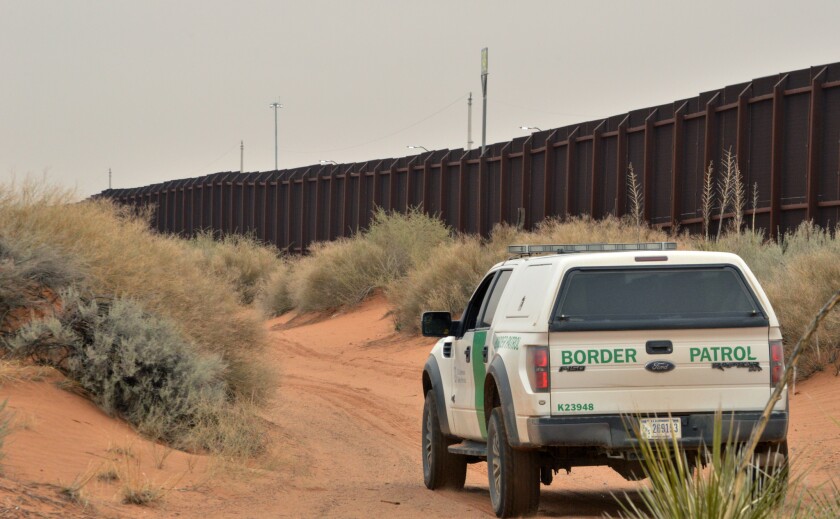 Arrests of migrants who illegally crossed the Southwest border jumped 23% in the past year, according to Homeland Security figures released Monday.
The increase, after declining for a year, could provide grist for the presidential campaign and Donald Trump's harsh criticism of immigration policy and border security.
Border Patrol agents and other U.S. authorities apprehended 408,870 people on or near the border — including 137,366 children and their families, mostly from Central America — in the just-ended 2016 fiscal year.
That's up from 331,333 people the previous year, but down from 2014 and 2013.
Apprehensions of children and families peaked in 2014, when total apprehensions reached nearly 480,000 people, creating a crisis that overwhelmed Border Patrol stations, detention facilities and federal health workers.
Most of those apprehended in the past year came from Honduras, El Salvador and Guatemala, countries struggling with drug-related violence and extreme poverty.
Net migration from Mexico has remained below zero for several years, according to U.S. and Mexico census data, with more people returning home to Mexico than entering the U.S. illegally each year.
Apprehensions of Central Americans outnumbered Mexicans last year for the second time. The records also show far fewer single adults are trying to cross the border.
The latest figures instead show a surge in families, apparently a result of a deliberate strategy aimed at avoiding detention. Nearly 78,000 families were apprehended, a record.
U.S. detention facilities for families here illegally often are full so the families frequently are given a mandatory court date and released to stay with relatives and friends inside the U.S.
As a result, smugglers recently have urged migrants to bring their children to reduce the likelihood of being detained before being deported, according to senior Border Patrol officials who spoke on the condition of anonymity to describe internal assessments.
At the height of the 2014 crisis, when Border Patrol agents in Texas' Rio Grande Valley were swamped by families and children from Central America, the agents had few options.
Immigration and Customs Enforcement had a detention facility in Pennsylvania with only about 80 beds for families. Since then, two family detention centers have opened in Texas, able to hold up to 3,700 parents and children together.
The total still isn't enough for the tens of thousands of families that are apprehended.
The Obama administration has responded, in part, with programs aimed at helping El Salvador, Honduras and Guatemala battle rampant crime and poverty. Congress last year approved $750 million in aid for those governments.
The Obama administration now allows migrants from those three countries who seek U.S. protection as refugees to file their asylum applications and undergo screening and interviews while still at home, to help them avoid the treacherous journey north through Mexico.
"Unaccompanied children and families have presented new challenges in our immigration system," Homeland Security Secretary Jeh Johnson said in a statement.
In an apparent swipe at Trump's vow to build a wall along the border, Johnson added, "Walls alone cannot prevent illegal immigration. Ultimately, the solution is long-term investment in Central America to address the underlying push factors in the region."
Follow me @ByBrianBennett on Twitter
To read the article in Spanish, click here
ALSO
When it comes to gun laws, Nevada could be edging closer to California
3 plead not guilty in death of Olympic sprinter Tyson Gay's teen daughter
How an act of political violence in North Carolina led to something rare — a bipartisan response
---
Must-read stories from the L.A. Times
Get all the day's most vital news with our Today's Headlines newsletter, sent every weekday morning.
You may occasionally receive promotional content from the Los Angeles Times.