Trump administration waives environmental laws to build border wall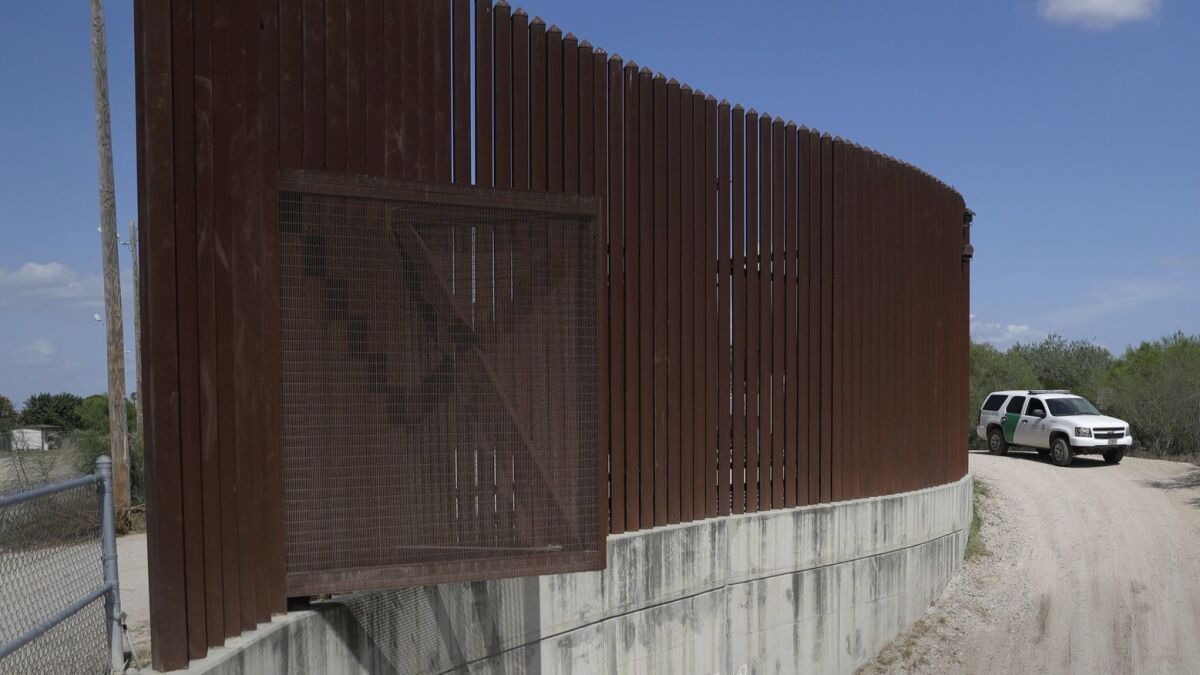 Reporting from Houston, Texas —
With construction of what President Trump calls the first 40 miles of new border wall already underway across the nation's southern boundary, federal officials have announced this week they're waiving nearly 30 environmental laws in Texas to expedite additional building in the interest of homeland security.
Opponents called the waivers "catastrophic."
"Waiving laws meant to protect border residents and ecosystems shows the Trump administration's contempt for the rule of law," said Scott Nicol, co-chairman of the Sierra Club's Borderlands Team.
Environmental groups anticipated the waivers, and are expected to sue to block them in federal court as they have before – so far, unsuccessfully -- citing irreparable damage to local wildlife refuges, home to hundreds of migrating birds and butterflies, and several endangered species.
The Trump administration had already issued waivers of the the Clean Air, Water and Endangered Species acts, among others, to make way for portions of the wall now under construction in California and New Mexico.
The latest waivers concern stretches of planned border wall and gates in Texas' Rio Grande Valley, the most heavily trafficked illegal border crossing in the country, where 137,000 immigrants were caught last fiscal year, the Department of Homeland Security noted in an announcement. Officials have said they plan to begin building 25 miles of border barriers there in February.
The waivers came as House Majority Leader Kevin McCarthy (R-Bakersfield) planned to introduce legislation this week to fully fund the $23-billion border wall, a proposal condemned by congressional Democrats including Rio Grande Valley Rep. Vicente Gonzalez, who called it wasteful spending on an "archaic, ineffective solution" to border security.
In waiving environmental protections in Texas, authorities cited the Illegal Immigration Reform and Immigrant Responsibility Act of 1996 allowing construction of barriers that "deter illegal crossings in areas of high illegal entry into the United States."
In California and New Mexico, officials had invoked the Real ID Act of 2005, passed after the 9/11 terrorist attacks, which includes a provision allowing them to waive regulations to build border barriers without congressional oversight. Legal experts said the reasoning under both laws is similar.
The waivers are not unprecedented: In 2008, the Bush administration issued five waivers under the Real ID Act to allow construction — over the objections of environmental groups — of more than 250 miles of fence along the border in California, Arizona, New Mexico and Texas.
But the Texas waivers are especially worrisome, environmental groups say, because they allow for imminent construction of about 17 miles of border barrier and gates passing through Bentsen State Park, the National Butterfly Center and near the Santa Ana National Wildlife Refuge.
"It will truly be catastrophic to Rio Grande Valley communities" resulting in "ecological devastation," said Laiken Jordahl, borderlands campaigner for the Tucson-based Center for Biological Diversity, which posted a map of areas impacted by the waivers.
The Rio Grande Valley's Santa Ana refuge was initially due to be walled off, but after local protests, congressional lawmakers exempted it. In announcing the waivers in the federal register Wednesday, Homeland Security officials reiterated that they would not be building in the Santa Ana refuge and insisted the agency "remains committed to environmental stewardship."
But Jordahl dismissed the agency's claim to environmental responsibility.
"There's only 5% of native habitat left in the Rio Grande Valley, and most of that's right by the river. They're proposing to cut right through that. The gravity of this waiver cannot be overstated," he said.
Jordahl said that the wall will be built with a 150-foot enforcement zone that must be cleared, eliminating valuable habitat for birds and other wildlife. The new border barrier would particularly harm endangered aplomado falcons, jaguarundi and ocelots, Jordahl said, which need to be able to traverse the border to breed and maintain genetic diversity.
"If we put this wall up, any chances of their recovery we can kiss goodbye," he said.
His group sued the Trump administration in February over waivers for border wall construction at the Santa Teresa Port of Entry in New Mexico, with oral arguments scheduled for Dec. 18 in Washington, D.C. The group is also appealing a California federal judge's ruling in March throwing out a separate federal lawsuit filed along with California Atty. Gen. Xavier Becerra and other environmental groups over waivers to build border barriers in San Diego and Calexico.
Opponents have two months to file a lawsuit challenging the Texas waivers. But even if they sue, they're unlikely to halt construction. After the center sued to block the California and New Mexico waivers, Homeland Security still broke ground.
Marianna Trevino Wright, executive director of the National Butterfly Center, sued the Trump administration to stop the new Texas border wall in August. While a federal judge may throw out portions of the lawsuit addressing the wall's environmental impacts, because of the waivers, she still plans to contend critics have grounds to fight the wall based on civil and land rights.
"Our community is going to take an enormous hit from this wasteful public works project, which is a fleecing of America," Trevino Wright said. "This is being shoved down our throats."
molly.hennessy-fiske@latimes.com
Must-read stories from the L.A. Times
Get the day's top news with our Today's Headlines newsletter, sent every weekday morning.
You may occasionally receive promotional content from the Los Angeles Times.