Navy's newest guided-missile destroyer commissioned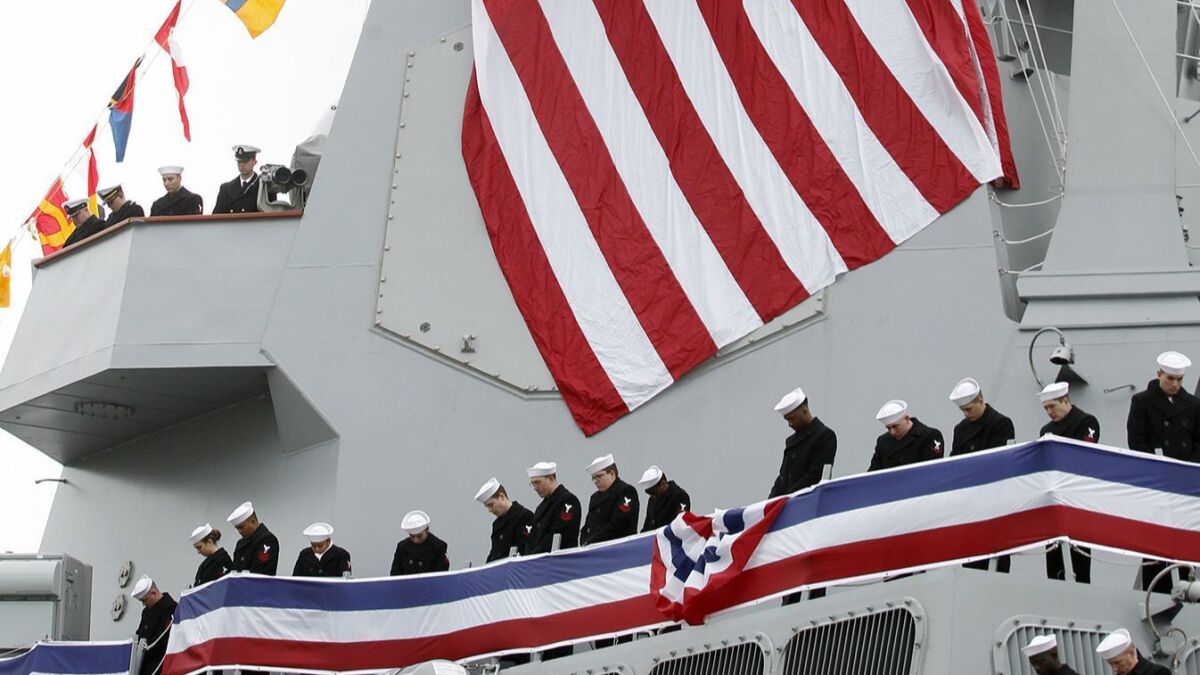 Reporting from Boston —
The U.S. Navy on Saturday commissioned its newest guided-missile destroyer, named for a naval pilot from Massachusetts who received the Medal of Honor for his actions during the Korean War.
Much of the commissioning ceremony for the Thomas Hudner, held in Boston, paid tribute to the late Fall River native and longtime Concord resident. President Truman awarded Hudner the Medal of Honor for crash-landing his plane to try to save the life of Ensign Jesse Brown, who was trapped behind enemy lines during the Battle of Chosin Reservoir in December 1950.
Brown, America's first black naval aviator, had been shot down and could not get out of his plane, which had caught on fire. Hudner intentionally crash-landed in freezing temperatures, packed the burning plane's fuselage with snow using his bare hands to keep the flames away from Brown, and tried unsuccessfully to pull his squadron-mate free.
Navy Cmdr. Brett Litchfield said at Saturday's ceremony that the destroyer's crew will strive to exemplify Hudner's selfless devotion to his shipmate.
"In that same spirit, this ship will sail the oceans, often alone. It will stand vigilant against those who would threaten democracy and freedom," he said. "This crew is honored to serve on a ship that bears his name."
Hudner, who died in November 2017 at 93, was on hand for the christening ceremony that April for the massive Arleigh Burke-class destroyer at Bath Iron Works in Maine.
On Saturday, Hudner's widow, Georgea, and Barbara Miller, wife of retired Vice Adm. Michael Miller, had the honors of ordering the crew to "man our ship and bring her to life." Within seconds, the crew members rushed aboard, taking their positions along the decks of the ship as the Navy's march song, "Anchors Aweigh," was performed.
The destroyer's home port will be at Naval Station Mayport in Florida. The Navy says the ship is capable of engaging in air, surface and subsurface battles simultaneously. It also has integrated air and missile defense capabilities.
---
Must-read stories from the L.A. Times
Get the day's top news with our Today's Headlines newsletter, sent every weekday morning.
You may occasionally receive promotional content from the Los Angeles Times.