Obama to pick Sen. Max Baucus as ambassador to China, officials say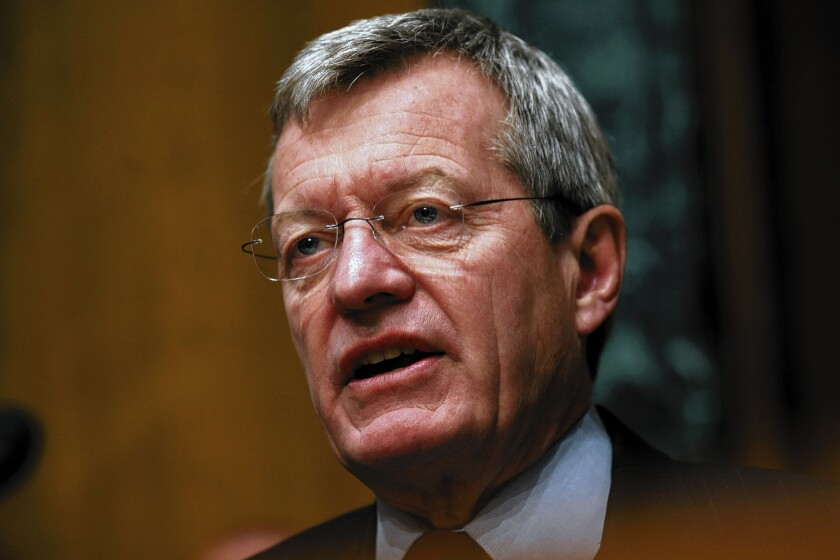 WASHINGTON — President Obama intends to nominate Montana Sen. Max Baucus as his next ambassador to China, officials said, a move that may bolster the Democratic Party's chances of holding the Senate seat in 2014 and signal that the tax reform effort led by the veteran lawmaker has stalled.
Baucus, 72, would succeed Gary Locke, a former Washington governor and U.S. Commerce secretary, in the key diplomatic post. The Obama administration, which has tried to shift its diplomatic attention to Asia, has carefully cultivated relationships with Beijing and particularly the nation's new president, Xi Jinping.
The news of the anticipated nomination was confirmed by Senate aides Wednesday, but White House officials declined to comment. Baucus would not discuss the report as he returned to his office from the Senate floor.
As chairman of the Senate Finance Committee, Baucus has played a pivotal role in some of Obama's most significant initiatives, foremost among them passage of his signature healthcare overhaul in 2010.
TIMELINE: The year in politics
Baucus has been a major actor in the budget disputes between the administration and the Republican-led House. He also has labored to develop a comprehensive tax reform proposal. Prospects for passing it next year, an election year that is sure to be contentious, were always uncertain.
At times, the six-term senator has chafed his own party, particularly on tax and Medicare legislation during President George W. Bush's administration. His comment in April that he feared that the rollout of the Affordable Care Act might be a "train wreck" quickly became a standard refrain in Republican attacks on Obamacare.
Baucus also voted against legislation to expand background checks for gun buyers, a major initiative that Democrats failed to pass this year. The move irked party leaders, since he announced a week later that he was not running for reelection.
First elected to the Senate in 1978, Baucus has lost political standing at home as his Capitol clout has grown. Democrats' chances of holding the seat were even at best in what portends to be a difficult political environment for the party following the flawed Obamacare rollout.
His exit, however, could allow Democratic Gov. Steve Bullock to appoint his lieutenant governor and the party's likely standard-bearer, John Walsh, to fill the seat. Such a move would give the little-known politician the advantage of incumbency in the race against the Republican nominee. Freshman Rep. Steve Daines, Montana's only House member, is considered the leading GOP candidate.
Baucus' departure also sets into motion a series of changes in key Senate committees that could prove favorable to the Democrats' hopes of retaining their Senate majority. Louisiana Sen. Mary L. Landrieu, who is considered one of the most vulnerable Democrats facing reelection next year, could ascend to the chairmanship of the Energy Committee, allowing her to tout that role in a state heavily dependent on the oil industry.
PHOTOS: The year in national news
The Republican Senate campaign committee ridiculed Baucus' expected nomination as the "Big Sky Buy-Off."
Baucus, whose nomination requires Senate confirmation, would arrive in Beijing at a challenging time, with nationalist sentiment swelling in China. The two countries have been at odds over intelligence-gathering issues and U.S. support for China's neighbors in disputes over contested islands. Tensions are also acute over the economic rivalry between the countries at a time when China is struggling to maintain its growth rate.
Douglas Paal, a China specialist and former U.S. official, said Baucus would bring knowledge of the economic issues, commitment to improving the trade relationship and important contacts in Congress.
"He's tried to keep our trade relationship moving forward and productive," said Paal, now with the Carnegie Endowment for International Peace.
Baucus has visited China eight times and frequently hosted Chinese officials in Washington and Montana. Many of them, including Xi, are now in powerful senior positions.
Paal said Baucus' views on security were probably less formed. Those issues, however, are generally handled more out of the White House than the embassy, he noted.
He speculated that the White House may want to install someone with established political stature in Beijing after the other top post in East Asia, the ambassador to Japan, was filled by an Obama fundraiser and Asia neophyte, Caroline Kennedy.
Baucus' departure adds to the loss of decades of experience for Democrats in the Senate. Baucus is the party's second in seniority only to Patrick J. Leahy of Vermont. Veteran colleagues Tom Harkin of Iowa, Tim Johnson of South Dakota, Carl Levin of Michigan and John D. Rockefeller IV of West Virginia are all leaving at the end of their terms rather than seek reelection next year.
Twitter: @mikememoli

Kathleen Hennessey and Lisa Mascaro in the Washington bureau contributed to this report.
---
Must-read stories from the L.A. Times
Get all the day's most vital news with our Today's Headlines newsletter, sent every weekday morning.
You may occasionally receive promotional content from the Los Angeles Times.