Here's why the plunk, plunk, plunk of old coin slot machines is dying in Vegas
For the last fiscal year, coins have accounted for less than 3% of the $50.5-billion slot machine drop, according to the Nevada Gaming Control Board. Just a handful of properties on the Strip have machines that take or dole out coins now, among them
Reporting from Las Vegas —
Look at her, just sitting there with a brightly-lit face beckoning with the promise of good times and better fortune. They call her Little Momma. She's been here for decades, and her appetite has remained insatiable.
Twyla McFarland doesn't care about those rows of flashy machines encroaching on the old slot machines' turf inside Circus Circus. She feeds silver dollars into the machine and Little Momma bursts to life. Triple blue sevens are the goal, but any payout will do. Oh, and keep those drinks coming.
An hour in, and their fingertips are black from handling coins. Red coin racks empty, partially refill and empty again. A short stack of plastic buckets stands at the ready. Winnings fall into a steel tray. Plunk. Plunk. Plunk.
"I love it," McFarland says. "I've been coming here since 1979. Nothing beats these coin machines. Just that sound of them hitting the tray."
But it's a dying sound for a breed edging closer to extinction.
The gaming industry's biggest convention – the Global Gaming Expo – set up here last month at the Sands Expo Center, and there wasn't an old-fashioned one-armed bandit anywhere in the hall.
Next-generation machines on display invited players to make SuperLotto picks, book sports bets and track their fantasy football team all at the same time, just by spinning a video wheel. Hit a big jackpot, and a machine will churn out the appropriate tax form for the Internal Revenue Service so Uncle Sam can get a cut of the action, too.
Some bet nostalgia will always keep a few of the old-school slot machines in place. American Gaming Assn. President and Chief Executive Geoff Freeman said that's no sure thing anymore.
"I think it's dangerous to use the word 'always,'" he said. "The only 'always' is that things change."
The only 'always' is that things change.
— Geoff Freeman, American Gaming Assn. President and Chief Executive
For the last fiscal year, coin accounted for less than 3% of the $50.5-billion machine drop, according to the Nevada Gaming Control Board. Just a handful of properties on the Strip have machines that take or dole out coin now, among them the MGM Grand, New York New York, Bellagio and Circus Circus.
MGM Grand has one coin machine in its entire casino — a mechanical horse race track that invites players to insert quarters and then watch plastic horses jerk around a toy track as they bet an exacta.
Circus Circus Las Vegas has the lion's share on the Strip with 30 coin machines. It's less than 3% of the casino's total, but General Manager Eric Fitzgerald said there is a core group of coin loyalists who insist on them.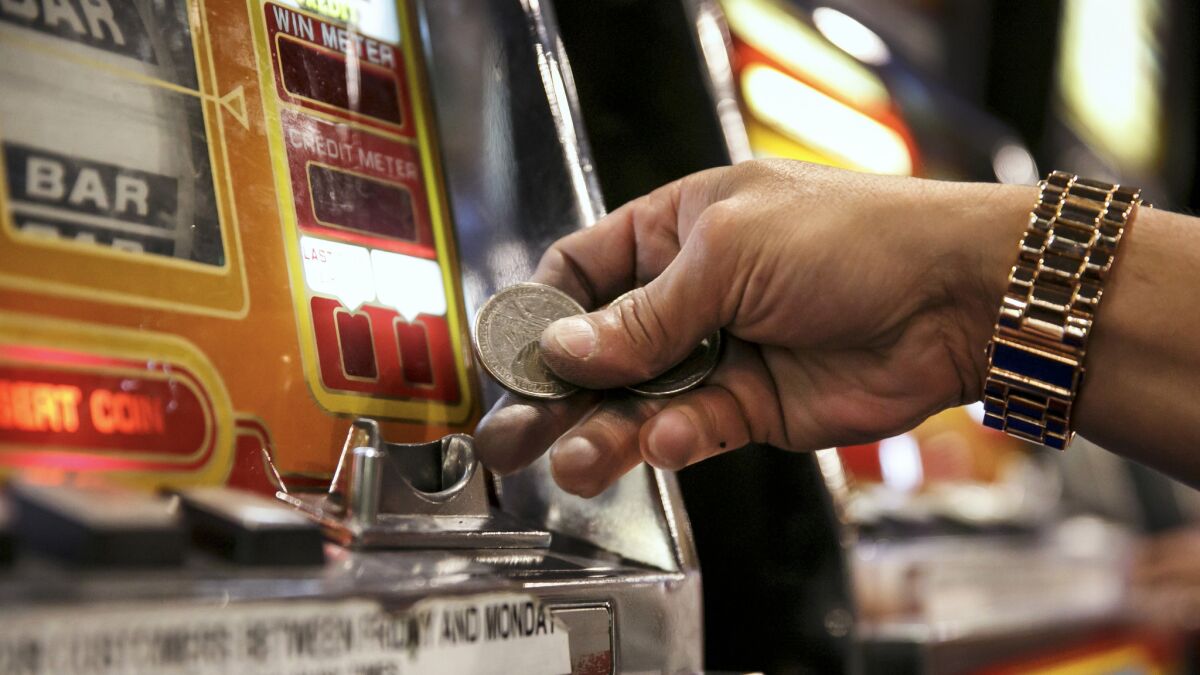 "Those machines will be around as long as we can keep them working," Fitzgerald said. "It's become more and more difficult to find parts for them, but we have a few slots we can take parts from still."
Mark Yoseloff, executive director of the Center for Gaming Innovation at the University of Nevada Las Vegas, said coin machines can't keep up with the lifeblood that makes casinos run — something called "the velocity of money."
He said that, as with banks, casinos' main product is cash. And having cash tied up for hours at at time in the bellies of machines on the floor — it could be millions of dollars at a time in the old days — is a big brake on profits.
Speed of spins also equates to more revenue.
"Machines today will get maybe 500 spins an hour or more, whereas in the old days, you were lucky to get 200 to 300 spins per hour," Yoseloff said. "It almost doubled the velocity of money."
For those in a mood for nostalgia, the gaming convention kicked off with Las Vegas Mayor Carolyn Goodman presenting Vanna White with a key to the city. White's tie to the old Wheel of Fortune television show ignited the industry 20 years ago, inspiring a brand of "Wheel of Fortune" slot machines that took over casino floors. Over the years, they paid out $3 billion in prizes.
But even those machines are largely coinless now; quarter slot machines are analog in a digital world.
Even the sound of money clanking in trays has been replaced by machines that emit an otherworldly sound, pre-recorded, that sounds like, but isn't, the spill of a jackpot.
That's not good enough for Judy Wells.
She's been staying at New York New York, but took a bus tonight down the Strip to wager some cold, hard coin at Circus Circus.
The 67-year-old from Kansas City says it's a pilgrimage to the past, when she started coming to Vegas more than a decade ago with her husband — a time best remembered for their marriage at Hooters Casino.
The coin machines were still prevalent then, and it's where she learned how to catch the coins in her hand as the winnings poured out. Wells likes the straightforward nature of the coin machine. Spin and win. Spin and lose. Binary. Easy.
Tonight, her machine hasn't been exceedingly generous. But dropping three coins in the slot and watching the wheels whir to a stop, one at a time, still holds magic.
Down to a few coins left and her fingertips covered with the familiar blackness, Wells looks straight ahead — her face reflected in the machine's glass face, its whirring cherries and numbers reflected back in her glasses.
Crunch time. Either she'll get a payout and keep playing, or it will be time to get back on on the bus.
Seven. Seven. Seven.
She claps her hands as silver coins flood the tray. A few players nearby nod with knowing smiles.
"You can't beat this," she says. "I needed that."
Twitter: @davemontero
ALSO
U.S. general charged nearly $3,000 to government for nightclub visits, investigators say
New Jersey train was going twice the speed limit before it crashed
A 'monster' Hurricane Matthew bears down on Florida
Must-read stories from the L.A. Times
Get the day's top news with our Today's Headlines newsletter, sent every weekday morning.
You may occasionally receive promotional content from the Los Angeles Times.