A 'monster' Hurricane Matthew bears down on Florida
A woman walks along a flooded street after leaving her homeless encampment that was washed away by Hurricane Matthew in Savannah, Ga.
(Stephen B. Morton / Associated Press)
A woman is lashed by wind in Wrightsville Beach, N.C., as Hurricane Matthew moves up the East Coast.
(Gerry Broome / Associated Press)
A section of Highway A1A destroyed by Hurricane Matthew in Flagler Beach, Fla.
(Eric Gay / Associated Press)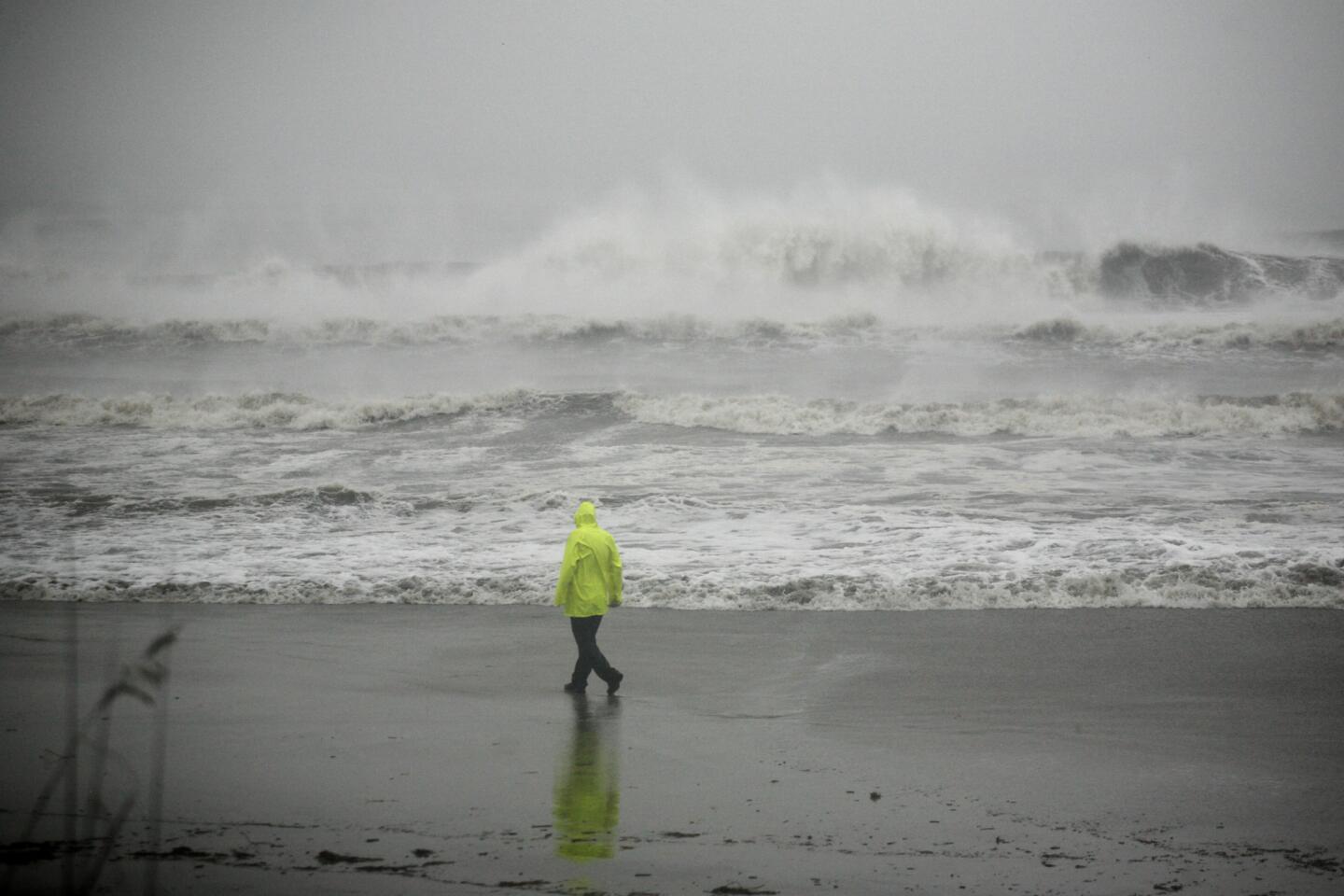 David Reedy braves the wind and rain as Hurricane Matthew hits the Isle of Palms, S.C.
(Mic Smith / Associated Press)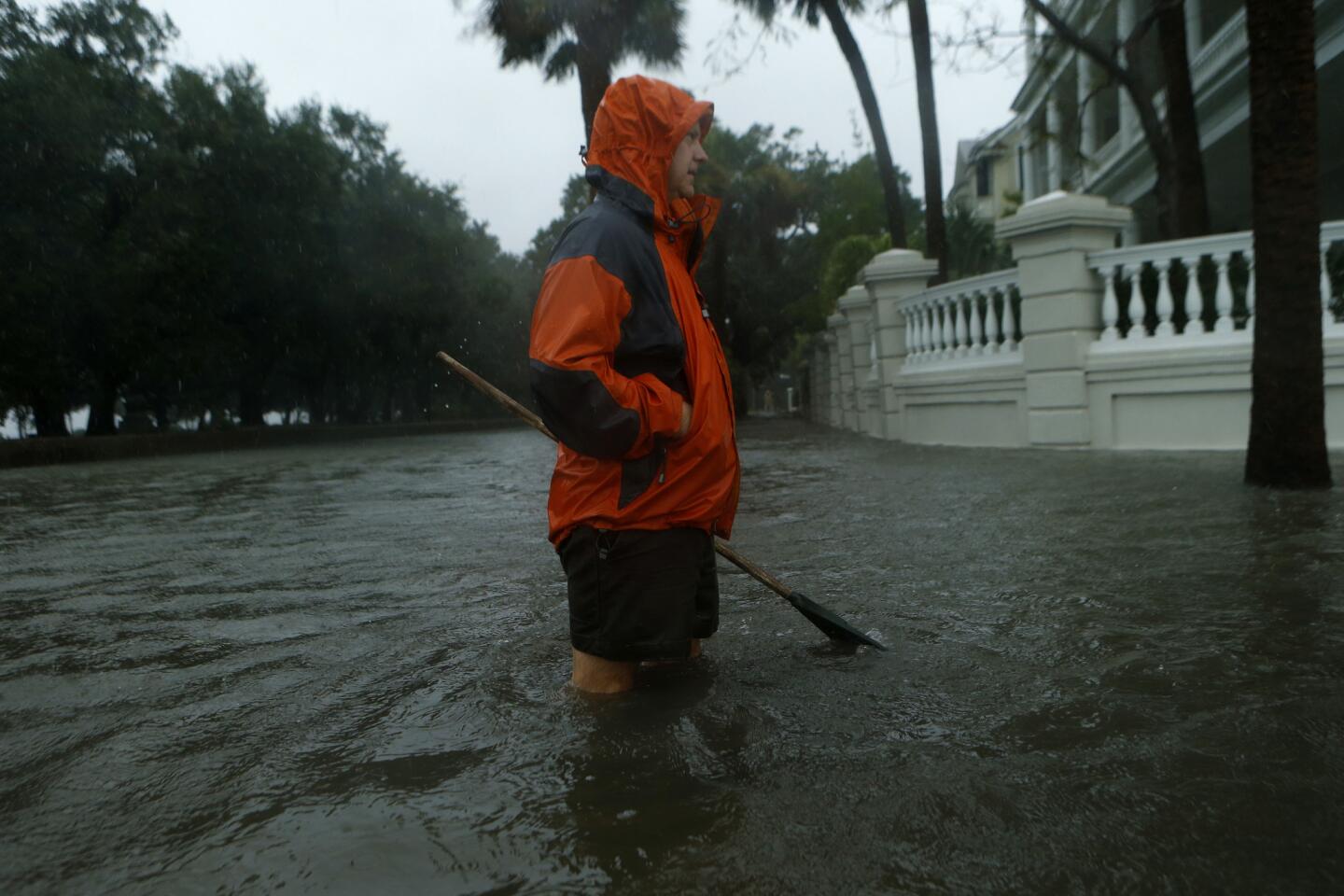 A resident of Charleston, S.C., makes his way along flooded Battery Street with a rake to clear debris from clogged gutters in the wake of Hurricane Matthew
(Brian Blanco / Getty Images)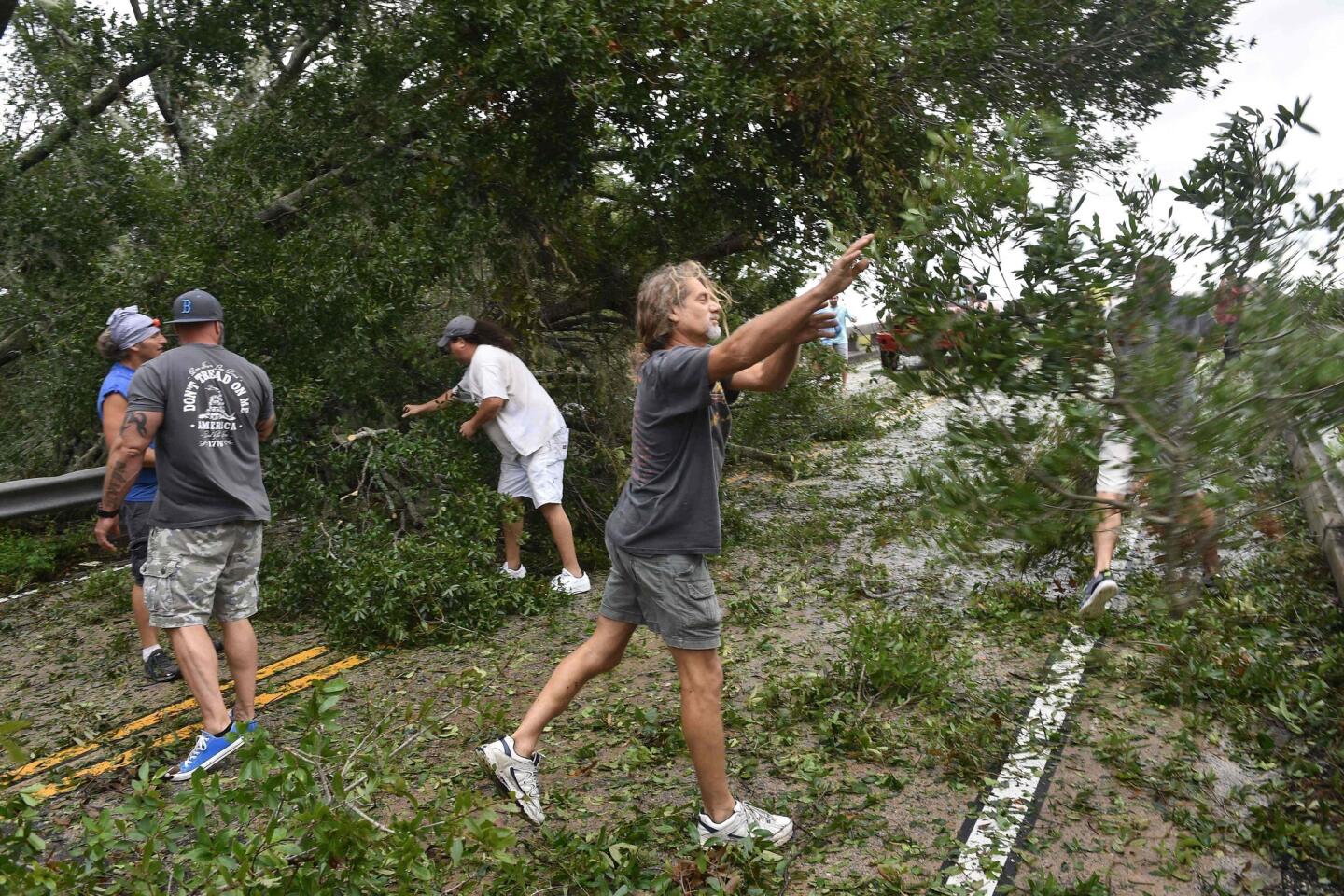 Residents begin to clear away a fallen tree blocking access to the Frederick Hahn Bridge that links Tybee Island to Savannah, Ga.
(Nicholas Kamm / AFP/Getty Images)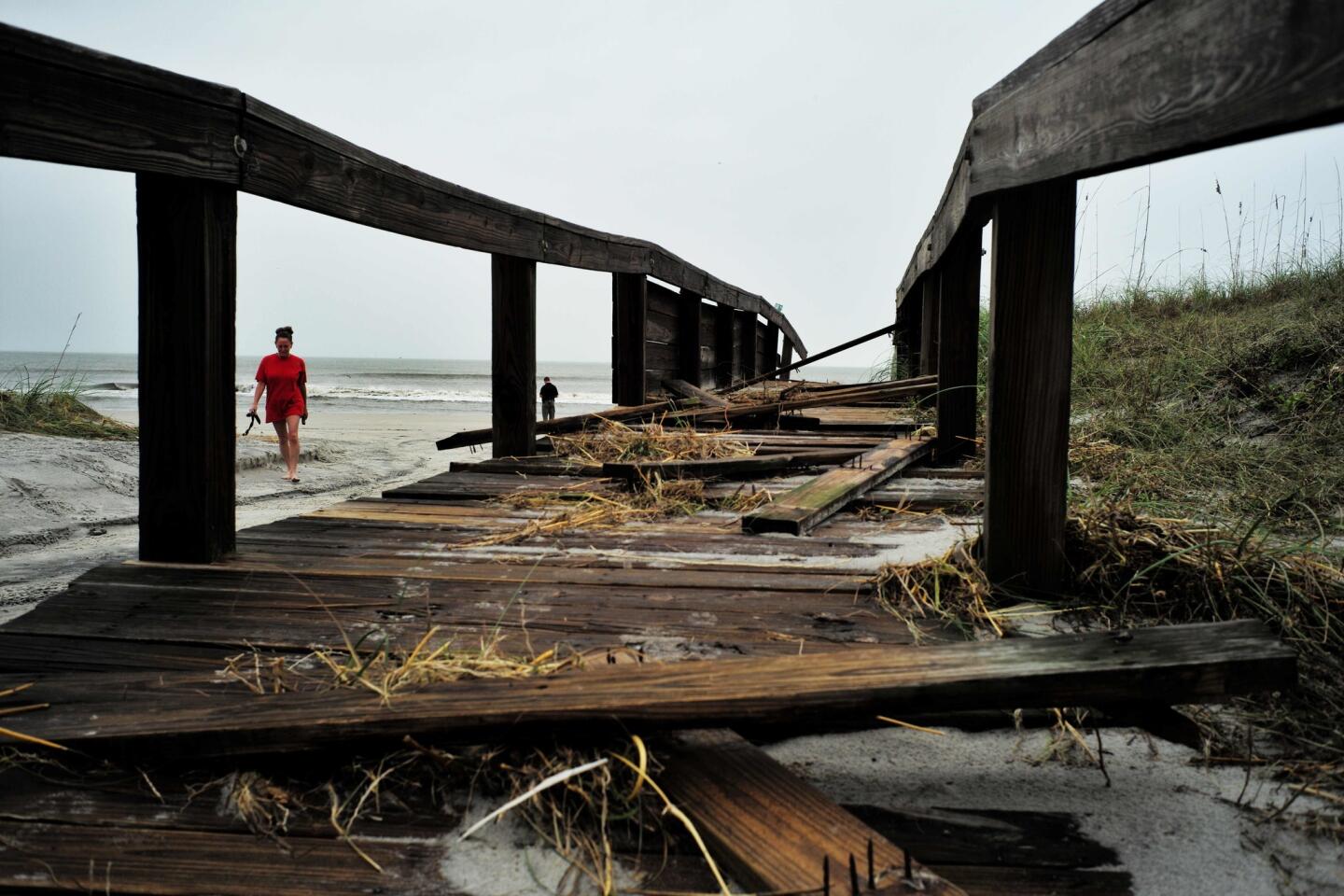 A resident walks alongside a damaged boardwalk in Atlantic Beach, Fla., after Hurricane Matthew passed through the area.
(Jewel Samad / AFP/Getty Images)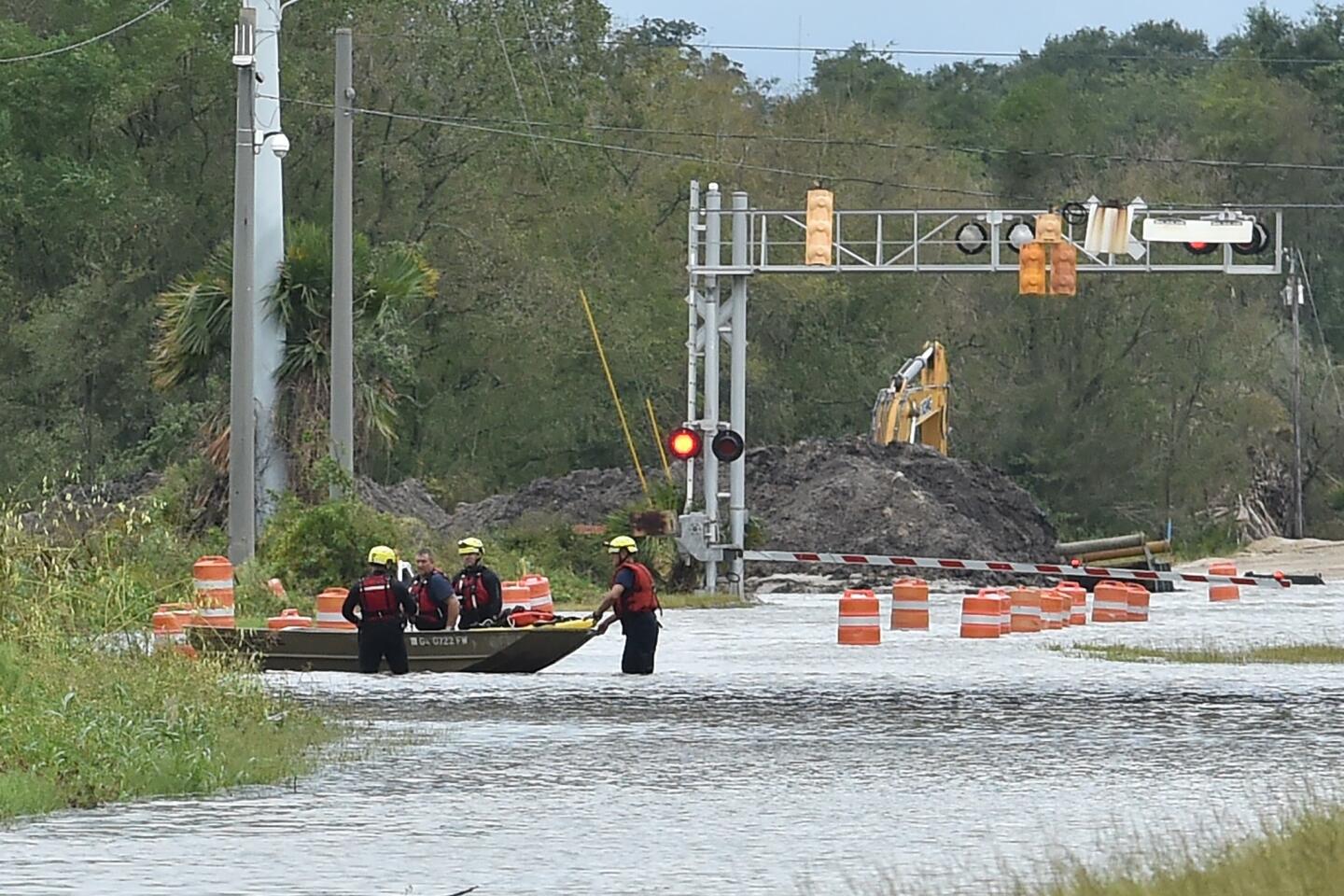 Rescuers use a boat in a flooded area in Savannah, Ga., after Hurricane Matthew passed through the area.
(Nicholas Kamm / AFP/Getty Images)
Rob Birch checks on his car floating out of the driveway as Hurricane Matthew passes through St. Augustine, Fla.
(John Raedle/Getty Images)
A car drives past a downed tree as Hurricane Matthew moves through Daytona Beach, Fla., on Friday.
(Charlie Riedel / Associated Press)
A man braces himself against winds as Hurricane Matthew moves through Daytona Beach on Friday.
(Charlie Riedel / Associated Press)
Rob Napier, 48, right, and his son Robbie, 20, of Merritt Island, Fla., survey an uprooted tree in a neighbor's yard Friday.
(Red Huber / Orlando Sentinel)
Kaleigh Black, 14, left, and Amber Olsen, 12, run for cover as a squall with rain and wind from the remnants of Hurricane Matthew pelts them as they explore the Cocoa Beach Pier on Friday.
(Douglas R. Clifford / Associated Press)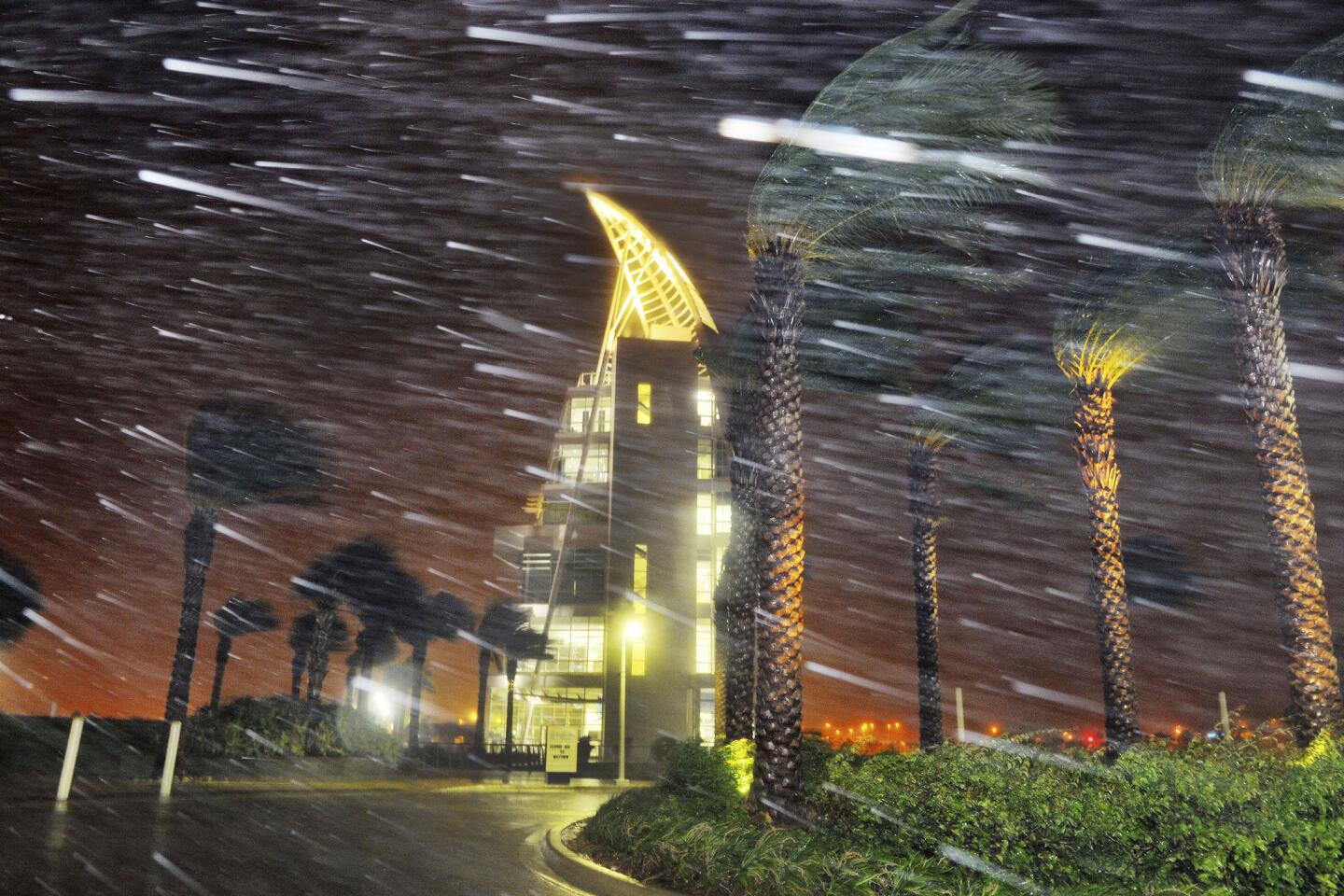 Trees sway from heavy rain and wind from Hurricane Matthew in front of Exploration Tower in Cape Canaveral, Fla.
(Craig Rubadoux / Associated Press)
Lailoni Kent, 8, screams when the pull of the wave was stronger than she thought while playing on the beach with her family on Lantana Beach while Hurricane Matthew created big waves in Lantana, Fla.
(Greg Lovett / Associated Press)
Lights are out on Highway A1A from the winds of Hurricane Matthew in Cocoa Beach, Fla.
(Mark Wilson / Getty Images)
A man walks past heavy surf caused by Hurricane Matthew in Cocoa Beach, Fla.
(Mark Wilson / Getty Images)
A downed tree from high winds rests against a car in a residential community after Hurricane Matthew passed through in Ormond Beach, Fla.
(Drew Angerer / Getty Images)
Flags blow in the wind from Hurricane Matthew in Cocoa Beach, Fla.
(Mark Wilson / Getty Images)
A billboard canvas flaps in the wind after Hurricane Matthew passed offshore in North Palm Beach, Fla.
(Wilfredo Lee / Associated Press)
A Seminole mobile home park resident climbs over an uprooted tree in Fort Pierce, Fla.
(Cristobal Herrera / EPA)
A firefighter carries a woman to her bus at the Civic Center during an evacuation ahead of Hurricane Matthew in Savannah, Ga.
(Josh Galemore / Associated Press)
Waves crash ashore as Hurricane Matthew approaches Singer Island, Fla.
(Joe Raedle / Getty Images)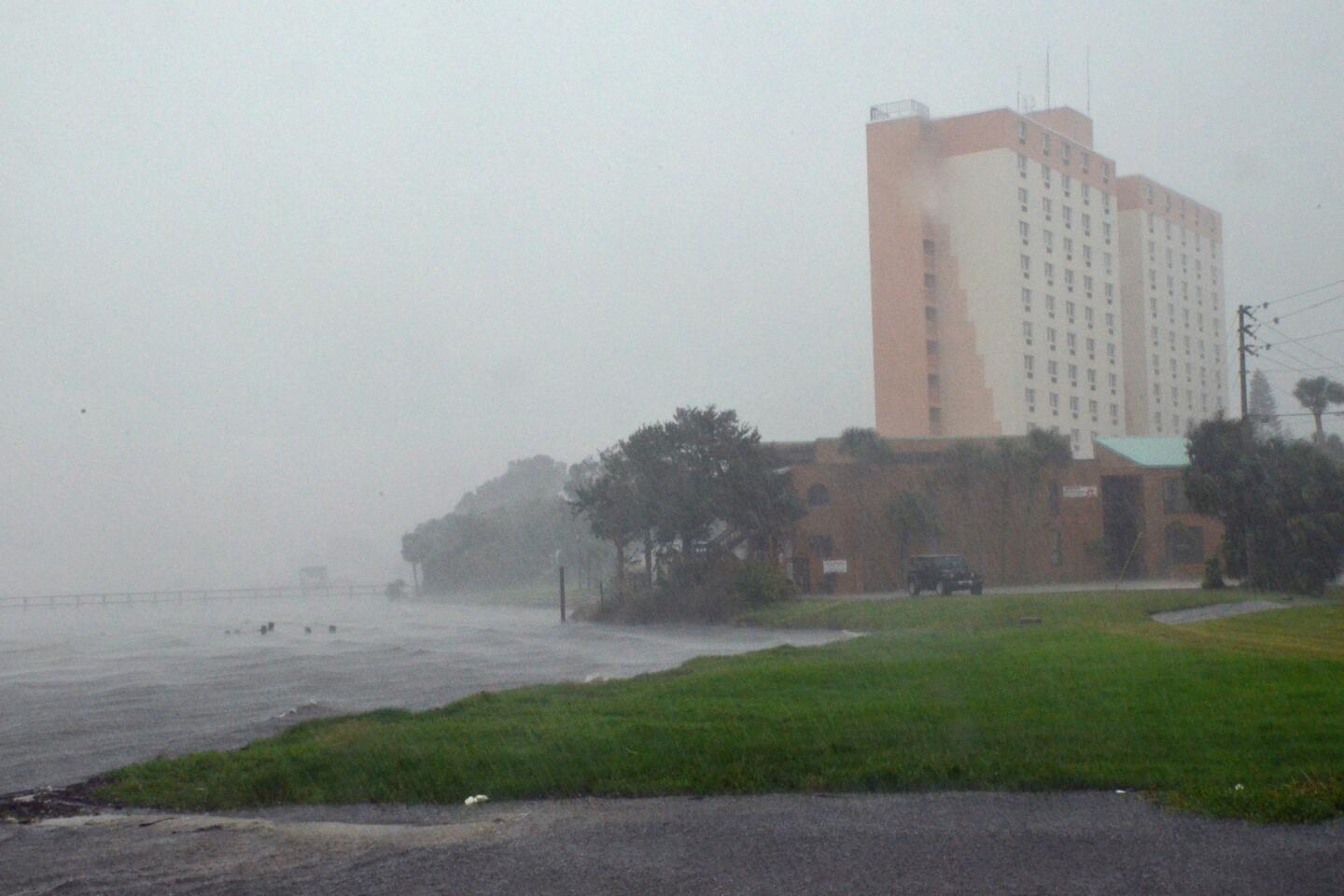 Strong rain and winds hit Titusville, Fla., before the landfall of Hurricane Matthew.
(Bruce Weaver / AFP/Getty Images)
Mark Oliver surfs the rising waves of Dania Beach for his sponsor in Hollywood, Fla.
(Michael Laughlin / South Florida Sun-Sentinel)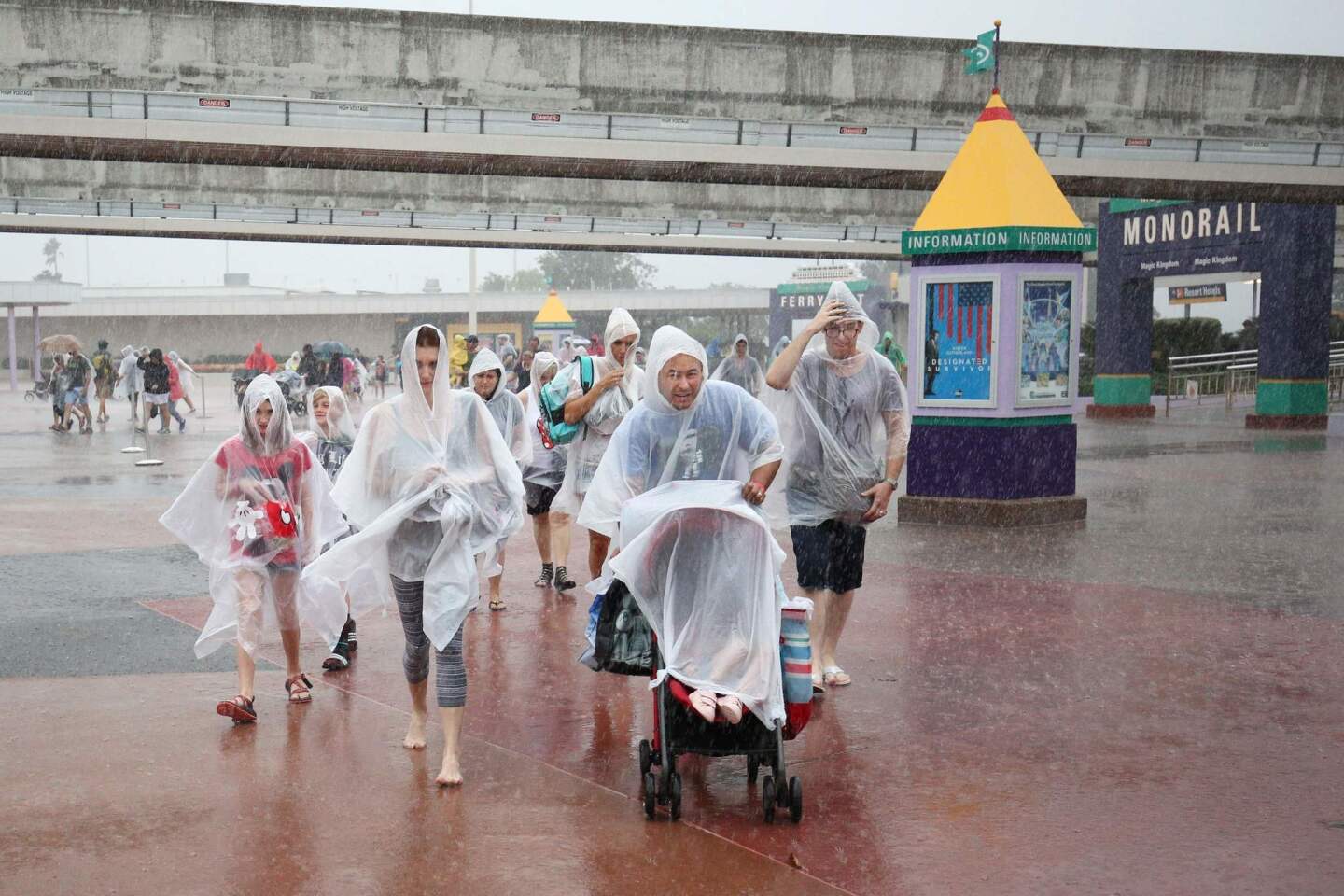 Rain-drenched people leave Disney's Magic Kingdom theme park in Orlando.
(Gregg Newton / AFP-Getty Images)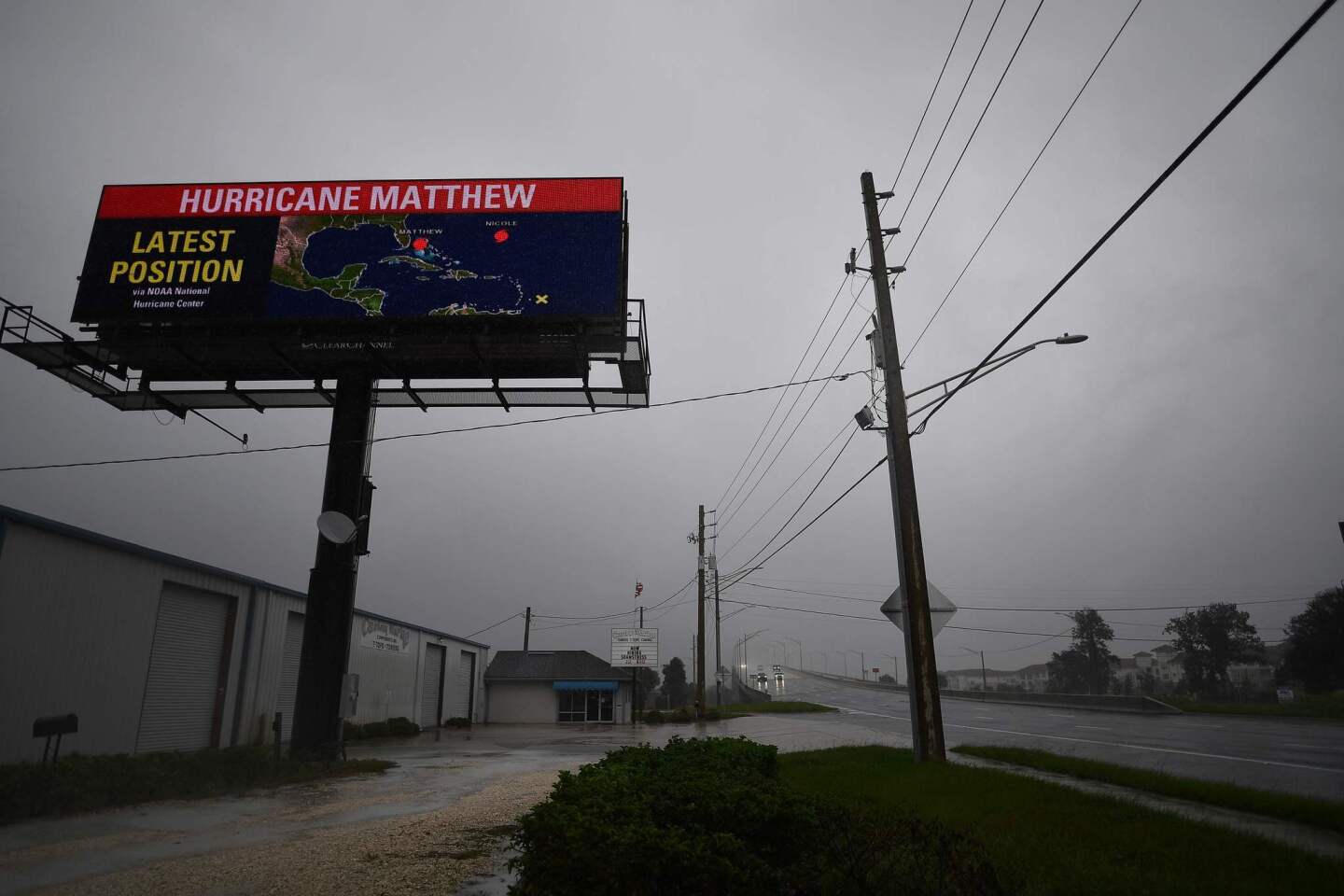 The evening commute in Jacksonville, Fla.
(Jewel Samad / AFP-Getty Images)
Hurricane warning flags are raised in Isle of Palms, S.C.
(Mic Smith / Associated Press)
Traffic stacks up on Interstate 75 near McDonough, Ga., as people flee Hurricane Matthew.
(Curtis Compton / Atlanta Journal-Constitution)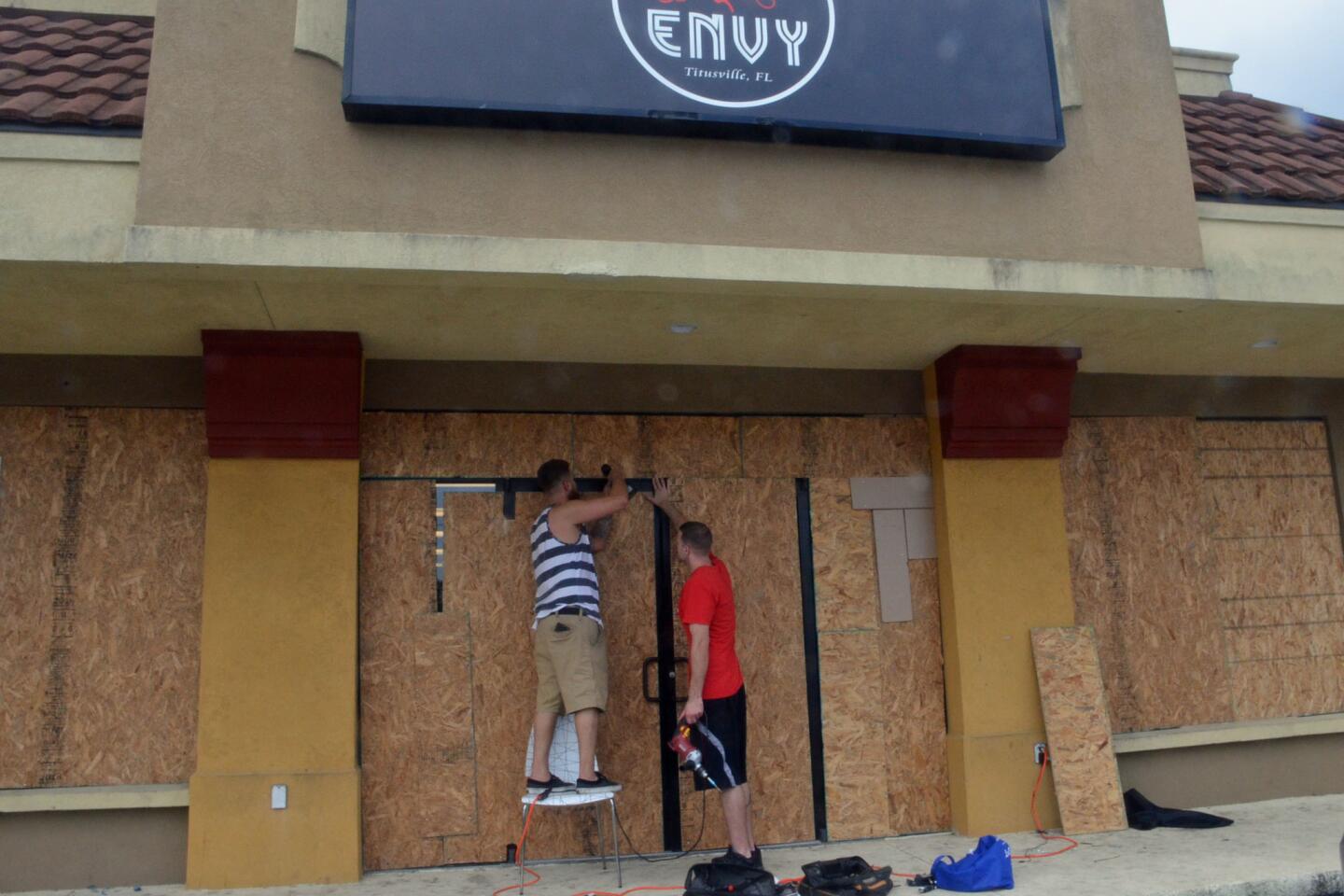 Business owners Jacob Ortiz, left, and Ryan Fischer board up their building in Titusville, Fla.
(Bruce Weaver / AFP-Getty Images)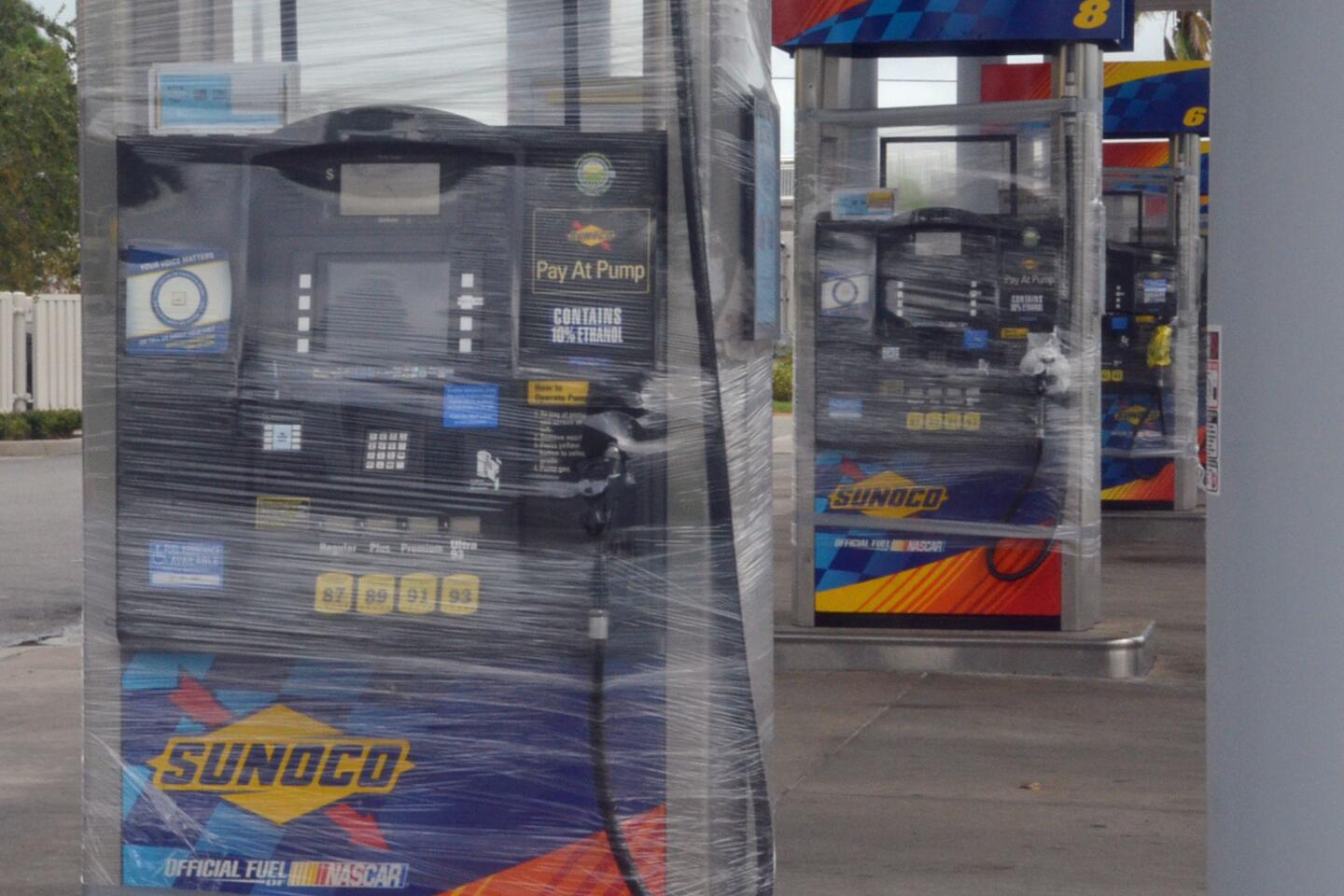 Gas stations that ran out of fuel wrapped their pumps in Titusville, Fla.
(Bruce Weaver / AFP-Getty Images)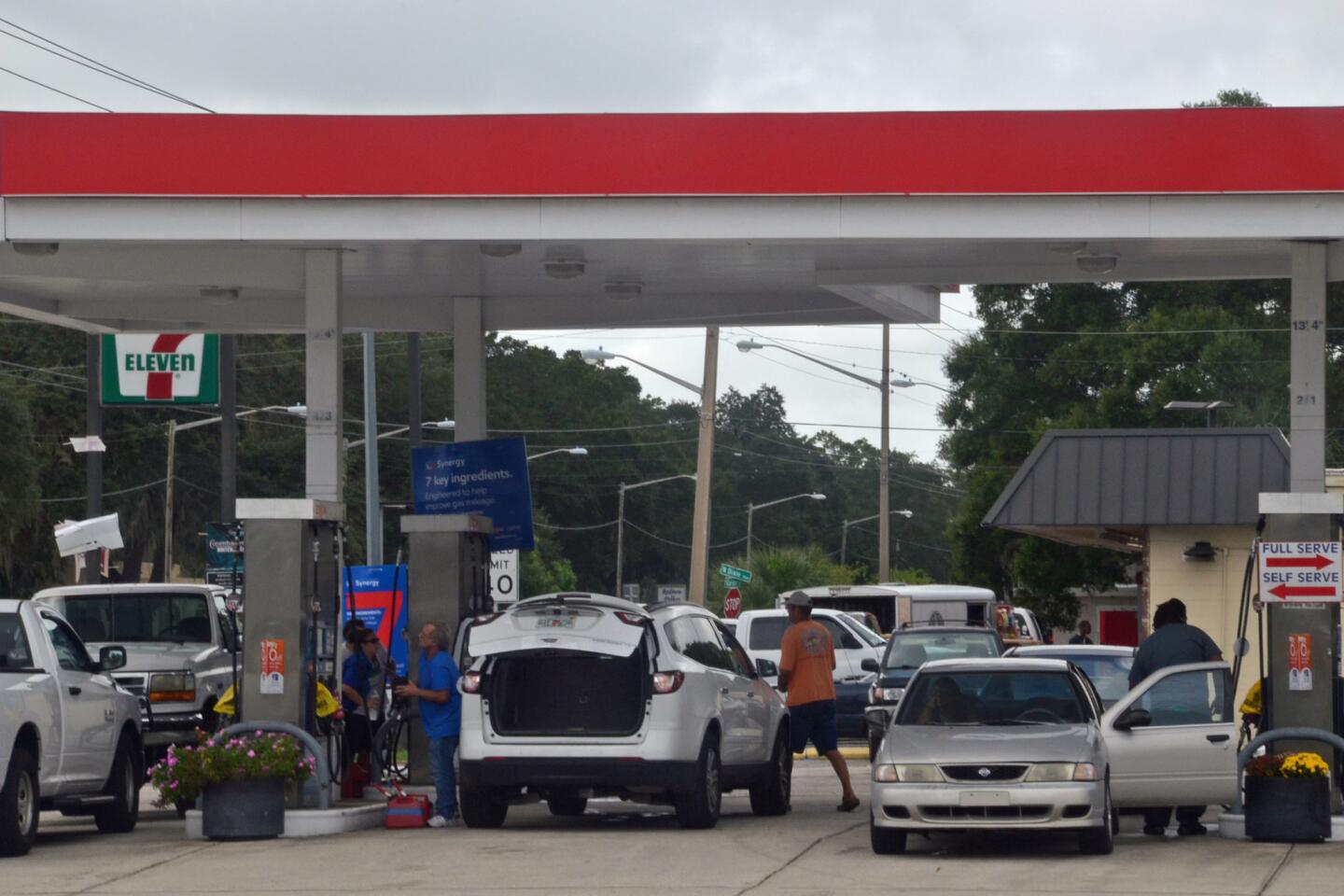 A rush for gas in Titusville, Fla.
(Bruce Weaver / AFP-Getty Images)
Getting ready for Hurricane Matthew in Orlando, Fla.
(Gregg Newton / AFP-Getty Images)
Evacuees take shelter at a high school in Daytona Beach, Fla.
(Drew Angerer / Getty Images)
Reporting from Orlando, Fla. —
Hurricane Matthew began pounding Florida with heavy rain and high winds Thursday night as it moved toward the Southeast coast, a storm that officials said could be one of the most powerful ever to strike the region.
More than 2 million people had been urged to flee their homes and at least 60,000 homes and businesses were without power, even before the ferocious Category 4 storm reached landfall.
"I'm going to pray for everybody's safety," Florida Gov. Rick Scott said at a news conference Thursday, calling the storm "a monster."
"This storm will kill you," he said.
Over 280 people died during the hurricane's deadly sweep through Haiti and surrounding Caribbean nations, a toll that was expected to rise as emergency workers reached hard-hit outlying regions.
Winds and rain began to build along the southeastern coast of the U.S. late Thursday. The storm was expected to reach shore, or near it, somewhere north of Palm Beach County early Friday, and then move north toward Orlando and Daytona Beach later in the morning. Hurricane conditions were expected to reach the northeastern coast of Georgia and South Carolina by early Saturday.
The eye of the storm may not make landfall in Florida or South Carolina. But even if it only comes close to the Atlantic coastline, forecasters say, the southeastern coast will be pummeled by powerful winds and torrential rain.
It appeared that central Florida would be hit hardest. The area hasn't experienced a hurricane since 2004, when Charley, Francis and Jeanne crisscrossed their way through the state within six weeks of one another.
After Gov. Scott issued his dire warning, several counties stepped up their precautions and issued curfews.
Nationwide, the storm forced airlines to cancel nearly 3,000 flights. Late Thursday afternoon, Tampa was the only Florida airport that remained open south of Jacksonville. Travelers scrambled to switch airports, forming long lines at car rental counters.
Hotels filled with locals from trailer parks and homes they didn't trust would survive the storm.
Category 4 hurricanes can cause catastrophic damage, according to the National Hurricane Center, snapping trees, downing power lines and causing severe damage to the roofs and exterior walls of well-built frame homes. Already, Matthew has left a trail of destruction in the Caribbean.
The storm first made landfall in Haiti on Tuesday, killing at least 283 people and leveling tens of thousands of homes, according to authorities. It moved on to Cuba, weakened slightly on Wednesday and hurtled across the Bahamas on Thursday.
By 2 p.m. Thursday, as the storm churned up 140-mph winds about 125 miles southeast of West Palm Beach, the National Hurricane Center said it could have "potentially disastrous" effects for Florida and extended its hurricane warnings and watches from Miami to Charleston, S.C.
"A hurricane of this size has never struck this part of Florida before," said Ken Clark, an expert meteorologist for AccuWeather. "This is about the worst-case scenario for a large area of south Florida all the way up into South Carolina."
Hundreds of thousands of coastal residents have already moved inland. Yet many still linger near the water, scrambling to batten down the hatches and make last-minute preparations.
By Thursday morning, an estimated 175,000 South Carolina residents had evacuated — quite a bit short of the 250,000 who were urged to flee Wednesday, Gov. Nikki Haley said in a news conference.
"That is not enough," she said, noting that storm surges are likely to go much farther inland than people realize. The Republican governor urged residents and visitors in Horry and Georgetown counties to leave the coast no later than noon. "We need to have more people evacuate."
In Florida, mandatory evacuations were issued Wednesday to residents of barrier islands, mobile homes and low-lying areas in Florida's Brevard, Volusia, Flagler and Palm Beach counties. Yet Gov. Scott urged coastal residents to leave whether or not evacuation orders were mandatory.
More than 1.5 million Floridians live in evacuation zones, he said. About 3,000 had taken refuge in more than 60 open shelters throughout Florida.
"This storm is deadly, and everyone has to take this seriously," the GOP governor said. "There is still time to evacuate. Get out now if you are in an area with evacuations. If you make a decision not to leave before the storm, we cannot send someone to save you because you made a bad decision."
A direct hit by Matthew could lead to "massive destruction" similar to that wrought by Hurricane Andrew, a Category 5 hurricane, in the Miami area in 1992, Scott warned on Wednesday. Andrew killed 65 people, destroyed 25,000 houses in Miami-Dade County, and caused more than $26 billion in damage across the region.
Shortly after dark Thursday, traffic along Interstate 4, which crosses the state from Tampa to Daytona Beach, was extremely light heading to the vulnerable east coast.
Most of the damage to southern Florida won't be known until sunrise, although the area will not have felt the full impact of the storm.
In some ways, it could be much worse. The highest winds in a hurricane are in the right front quadrant, which is staying well offshore.
After Andrew, Florida instituted a series of building-code changes aimed at protecting structures along the coast.
The biggest damage may come not from 100-mph winds but from storm surges as high as 10 feet in some areas.
Officials have declared emergencies in four states — all of Florida and South Carolina, as well as southeastern Georgia and eastern and central North Carolina.
As an additional 200,000 South Carolina residents were urged Thursday to evacuate, Haley noted 100 buses were waiting at North Charleston Coliseum to carry residents farther inland.
Around midday, rows of yellow South Carolina school buses were lined up in the coliseum parking lot waiting for residents that never came. Eventually, a procession left without any passengers.
"We've been here since Wednesday, and no one has come," said one bus driver. "By this time we were hoping there would be a lot more people."
Already, hotel rooms across South Carolina are "pretty much full," Haley said. But she said 38 shelters were open across the state and that people could try Airbnb and Expedia, as well as hotels in neighboring states.
On Kiawah Island, a barrier island about 25 miles southwest of Charleston, the Fire Department went street by street, announcing the evacuation order via loudspeaker. The mayor said the island would be closed to all incoming traffic at noon, and residents would not be allowed to return until the area was deemed safe.
On Wednesday, President Obama said Federal Emergency Management Agency teams were on the ground along the southeastern coast, preparing to help communities.
"I want to emphasize to the public: This is a serious storm," Obama said. "It has already hit Haiti with devastating effect. It is now in the process of moving through the Bahamas. Because it's not going to be hitting enough land, it is going to be building strength on its way to Florida."
By Thursday morning, the streets of historic Charleston were almost deserted, with nearly all the coffee shops, candy stores and knickknack vendors that usually cater to tourists closed. Some had boarded-up windows and many had sandbags at their doors.
Just before 9 a.m., usually bustling Market Street held only a solitary dog walker and a cluster of city workers boarding up the windows of Market Hall, home to the city's Confederate Museum.
"Last night my grandmother said she had a dream that the hurricane was going to be worse than Hugo and we need to call family," said Jazmine Jenkins, a 24-year-old housekeeper at a downtown Charleston hotel, referring to the devastating 1989 hurricane. "The only family we have is in Rockford, Ill."
Jenkins had already stocked up on cases of water and canned goods. She planned to pack her grandmother and her 2-year-old daughter, as well as their birth certificates and any diplomas, into her 2008 Lincoln before dawn Friday for a 1,000-mile road trip to her great-grandmother's place in Illinois.
"I'm scared," she said. "They're showing a big, nasty, evil-looking hurricane with sprites. I don't want to come back and find my town like little Haiti."
Yet many residents in the poorer, predominantly African American neighborhoods of North Charleston remained. Several gas stations were out of fuel, but most supermarkets, fast-food restaurants and seafood shacks were still open.
Under a gray, overcast sky, children milled about outside Thursday afternoon, practicing throwing and catching drills and shooting hoops out on the streets. Teens sat on porch stoops and a few older men sat out in lawn chairs with cans of Busch beer.
"We can't afford to travel the road," said Adrian Ford, a North Charleston resident, as she loaded an armful of blankets and a baby's feeding tube from a small blue clapboard house into a Ford Edge. Her whole family, she said, planned to ride the storm out over at her place on higher ground.
"I ain't worried," she said as she ushered several kids into the SUV, saying she'd be back later to pick up the next batch. "God has everything under control."
Thousands of National Guard members are activated up and down the coast, and all road tolls in Florida have been suspended in counties with evacuations.
So far, the evacuation in South Carolina has run smoothly, without the major traffic congestion that the state witnessed when Floyd struck the East Coast in 1999. To prevent gridlock as residents left South Carolina's second-biggest city, eastbound lanes were reversed Wednesday on major evacuation routes, such as Interstate 26, the main road from Charleston to Columbia.
On Thursday morning, Haley said the lane reversal was working "beautifully," with motorists making the 120-mile journey in an hour and 21 minutes.
"We actually want people to slow down a little bit," she said. "But that's a great problem to have."
Jarvie, a special correspondent, reported from Charleston. Cherwa, a staff writer, reported from Orlando.
ALSO:
Hurricane Matthew heads toward the U.S. after leaving a trail of destruction in Cuba
As Hurricane Matthew approaches South Carolina, many residents are staying put
As cities get warmer, their trees lose some of their ability to take carbon out of the atmosphere
---
UPDATES:
8:45 p.m.: The story was updated with additional details on the approaching storm.
7:50 p.m.: The story was updated with reporting from Orlando.
5:42 p.m.: The story was updated with information on power outages in Florida.
2:10 p.m.: The story was updated throughout with new details.
11:39 a.m.: The story was updated with more details about the storm.
10:55 a.m.: The story was updated with details of when the storm would be felt in different parts of the United States.
9:30 a.m.: The story was updated with L.A. Times staff reporting.
The story was originally published at 3:30 a.m.
Sign up for Essential California for the L.A. Times biggest news, features and recommendations in your inbox six days a week.
You may occasionally receive promotional content from the Los Angeles Times.