South Carolina governor hails Confederate flag vote as 'a new day'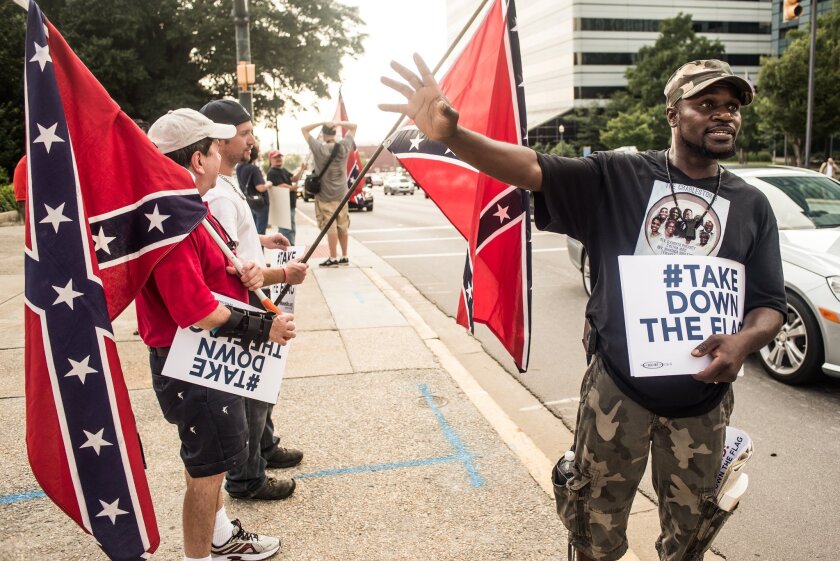 Reporting from Columbia, S.C. —
The South Carolina House of Representatives approved removing the Confederate battle flag from the Statehouse grounds and placing it in a museum after a contentious debate that stretched into Thursday.
Next, the bill goes to the desk of Gov. Nikki Haley, who had asked lawmakers to agree to take down the flag in the wake of the June 17 massacre of nine black parishioners at a Charleston church. The banner, whose defenders say it symbolizes their Southern heritage, could come down within days.
The governor hailed the House's action, saying it heralded "a new day in South Carolina."
"Today, as the Senate did before them, the House of Representatives has served the state of South Carolina and her people with great dignity," she said in a statement on Facebook. "I'm grateful for their service and their compassion. It is a new day in South Carolina, a day we can all be proud of, a day that truly brings us all together as we continue to heal, as one people and one state."
The landmark legislation passed the House by a final vote of 94 to 20, well beyond the 82 required for a two-thirds majority. The Senate had passed the bill Tuesday, 36 to 3.
The House had bogged down as lawmakers filed more than 70 amendments. Finally, shortly before 1 a.m., all the amendments had been cleared away and the House held a preliminary vote, passing the measure. The House adjourned for a few minutes, reconvened and held the final vote.
The flag's location, in front of a Confederate memorial near the Statehouse, came under intense criticism after the slayings at Emanuel African Methodist Episcopal Church. The accused gunman posed with the flag and allegedly embraced it as a symbol of his racist ideology.
The Rev. Clementa Pinckney, a member of the state Senate, was among the dead. He lay in state at the Capitol, with the Confederate battle flag flying nearby.
Most of the House amendments were tabled or withdrawn, until Amendment 56, offered by Republican Rep. Rick Quinn came up. It concerns what happens if the flag is removed and placed in the South Carolina Confederate Relic Room and Military Museum, as the bill requires. A measure to table it failed and a long debate ensued.
Rep. Jenny Anderson Horne shed tears as she pleaded with her fellow Republicans not to amend the Senate bill, which would have sent it to a conference committee and potentially delayed its passage for weeks, months or even longer.
"Shame on us," she said. "Shame on the House. I cannot believe that we do not have the heart in this body to do something meaningful such as take a symbol of hate off these grounds on Friday."
Horne noted that she was a descendant of Jefferson Davis and said she'd heard enough about heritage. "That does not matter," she said. "It's not about Jenny Horne. It's about the people of South Carolina who have demanded that this symbol of hate come off of the Statehouse grounds."
As midnight approached, Rep. David Mack of Charleston took the floor.
Mack, a Democrat, said he was there in 2000, during the debate to remove the flag from the Statehouse dome and place it on the nearby monument -- a compromise that had held until June 17.
Mack called that debate "nasty" and said he thought South Carolina had progressed since then. Instead, he said, "Now there's a chance that flag's going to be up there when the Ku Klux Klan comes to town." He called the House's conduct "disgusting."
A few minutes later, Quinn said he was withdrawing support for his amendment because he did not want to be a party to the bill's failure. He asked that his amendment be tabled in favor of two resolutions offered by a Democratic colleague, Russell Ott, and it was. Ott's resolutions -- a House resolution and a joint resolution requiring Senate action -- would accomplish Quinn's objectives on properly caring for the flag without amending the bill. The resolutions are to be voted on later Thursday.
Several more amendments were tabled until only Amendment 68 remained. Offered by Republican Rep. Michael A. Pitts, it required that the South Carolina state flag replace the Confederate battle flag at the monument. A motion to table it failed on a tie, and debate continued.
Finally, that amendment failed, clearing the way for a vote on removing the flag that many black Americans see as a symbol of slavery and white supremacy.
Those who oppose the flag's removal say it symbolizes their heritage and their ancestors' sacrifice.
Pitts, a retired police officer who represents conservative Laurens County, proposed dozens of amendments. His proposals included removing all monuments and memorials from the Statehouse grounds, holding a statewide referendum on the flag issue, and replacing the Confederate flag with flowers.
Each of the amendments allowed 20 minutes of discussion, and Pitts repeatedly took to the floor to defend the flag.
"Polling in my district says leave that flag where it is … polling that could hurt me in the next election. … I've been threatened with a lot of things since word got out that I had about 500 amendments," Pitts said.
He downplayed slavery as the reason his ancestors fought under the Confederate flag during the Civil War.
"They went to defend their home state, the state of South Carolina. They had nothing to gain by it except dying to defend their state," Pitts said. "That's all they knew they were fighting for. … I grew up holding that flag in reverence because of the stories of my ancestors carrying that flag in battle."
The bill authorizes the flag's permanent removal from the Statehouse grounds and its placement in the state's Confederate Relic Room and Military Museum in Columbia for "appropriate display."
One of the most contentious issues the House considered earlier Wednesday was whether to put the flag issue to South Carolina voters.
Republican Rep. Mike Burns said he had received 4,000 emails, many of them asking, "Why don't you give us the vote?"
"A lot of people in this state really, really want to have a say on this," Burns said.
"They want to continue to honor their veterans … they feel the same way about their ancestry."
Opponents said such a referendum would be illegal under South Carolina law. The amendment was tabled, 71 to 48.
One lawmaker, frustrated by Republican leadership's defeat of amendments supporting the Confederate flag, proposed an amendment to replace the battle flag with a white flag as "the unofficial symbol of the Republican Party."
"I don't have a picture, but it would look like this," GOP Rep. Christopher A. Corley said, holding up a tiny white flag.
That amendment, too, was tabled.
matt.pearce@latimes.com
Pearce reported from Los Angeles and special correspondent Jarvie from Columbia, S.C. Staff writer Connie Stewart in Los Angeles contributed to this report.
ALSO:
Dylann Roof indicted on new attempted murder charges in Charleston church shooting
In battling racist policies, taking down the Confederate flag is barely a first step
---
Must-read stories from the L.A. Times
Get all the day's most vital news with our Today's Headlines newsletter, sent every weekday morning.
You may occasionally receive promotional content from the Los Angeles Times.