Supreme Court Justice Clarence Thomas asks questions in court for first time in 10 years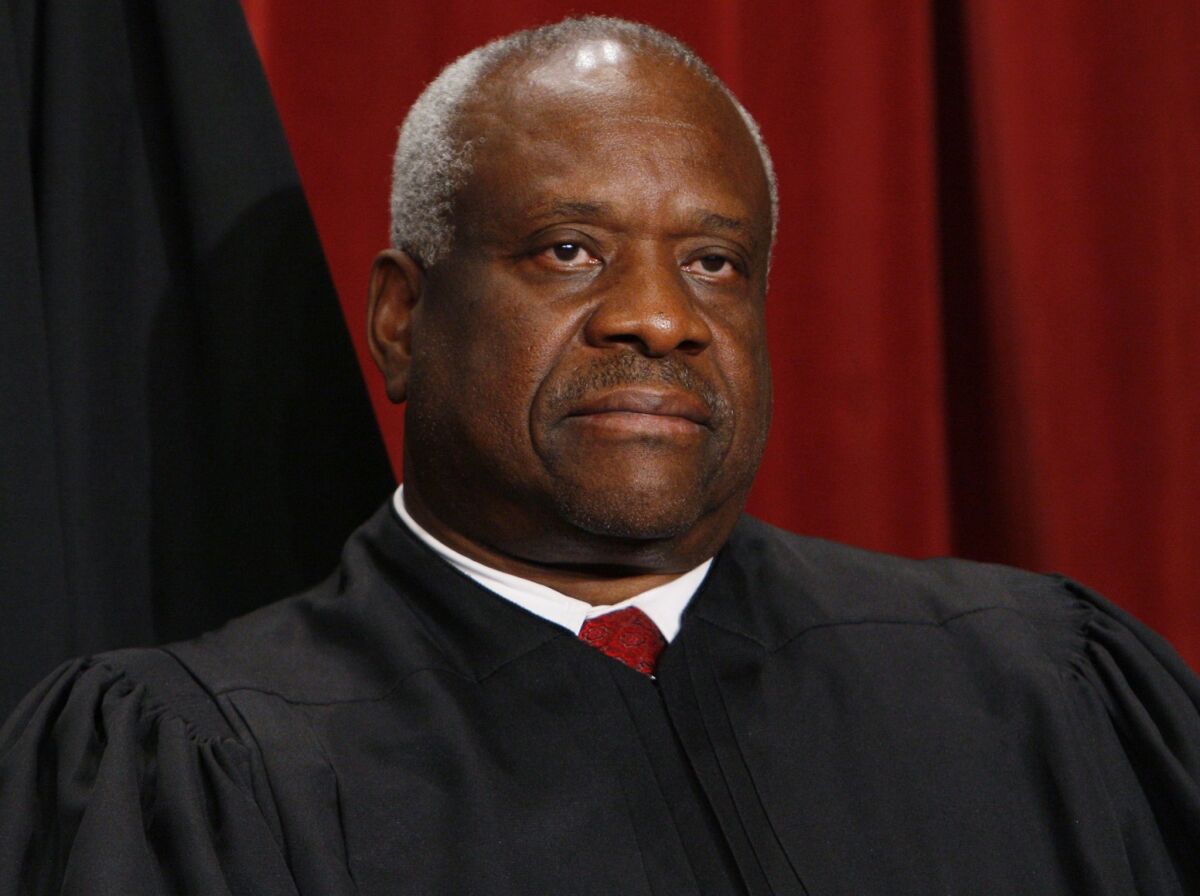 Reporting from Washington —
Supreme Court Justice Clarence Thomas broke his decade-long silence Monday and asked several questions during an oral argument about whether people should lose their right to carry a gun because of a domestic violence conviction.
Thomas took the side of a Maine man who lost his right to own a gun after he pleaded guilty to a domestic violence charge and paid a $200 fine.
Speaking near the end of an hour-long argument, Thomas pressed a government lawyer to cite another example of where the law permanently "suspends" a citizen's constitutional right based on a misdemeanor conviction.
He was referring to the 2nd Amendment right to have a gun. No one would lose their 1st Amendment to right to speak or publish a book because of a misdemeanor conviction, he said.
NEWSLETTER: Get the day's top headlines from Times Editor Davan Maharaj >>
"Can you think of another constitutional right that can be suspended based upon a misdemeanor violation of a state law," Thomas asked, suggesting that the government might have a better case if the underlying crime had involved the use of a gun.
Federal law forbids felons from possessing a gun, and in 1996, Congress went further and outlawed gun possession for anyone who "has been convicted in any court of a misdemeanor crime of domestic violence."
The high court unanimously upheld that provision three years ago as long as the defendant had used "physical force."
The justices on Monday heard an appeal from a Maine man who pleaded guilty in 2004 for having "knowingly or recklessly" caused or engaged in "offensive physical contact" with his girlfriend.
The man, Stephen Voisine, was arrested five years later for having shot a protected bald eagle. When federal investigators discovered his earlier conviction for domestic violence, they charged him with unlawful possession of a firearm.
The court agreed to hear his appeal to decide whether "reckless" conduct was enough to trigger the ban on gun possession.
Thomas' courtroom silence is rare. Though in earlier decades it was common for justices to sit silently for weeks at a time, today the other eight justices typically ask at least one question during every argument.
Thomas has given several explanations for his silence. He told law school audiences that his colleagues asked too many questions and did not permit lawyers to make their arguments. Prior to joining the court in 1991, Thomas served one year on the U.S. court of appeals, where he was one of three judges asking questions during arguments.
See more of our top stories on Facebook >>
Thomas also said that from his days at the Yale Law School, he preferred to listen rather than ask questions in class.
Before Monday, the last time Thomas asked a question during oral arguments was in February 2006.
On occasion in court, he leans over to speak privately to Justice Stephen Breyer. At times, Breyer has said that Thomas had made an interesting point and tried, without success, to encourage Thomas to raise it with the lawyer.
Some speculated that the recent death of Justice Antonin Scalia may have prodded Thomas to break his silence. A fellow conservative, Thomas joined Scalia in 5-4 rulings that had upheld individual gun rights under the 2nd Amendment.
Without Scalia, Thomas may believe the court lacks a strong voice in favor of the 2nd Amendment.
On Twitter: @DavidGSavage
ALSO
Judge allows Sumner Redstone competency case to proceed
Why Trump and Sanders are praising healthcare in other countries
Student activists in Hong Kong expect justice as they face charges over protests
Must-read stories from the L.A. Times
Get the day's top news with our Today's Headlines newsletter, sent every weekday morning.
You may occasionally receive promotional content from the Los Angeles Times.