'Money. Drugs. Murder. A vast, global narcotics-trafficking empire.' Opening statements begin in the trial of 'El Chapo' Guzman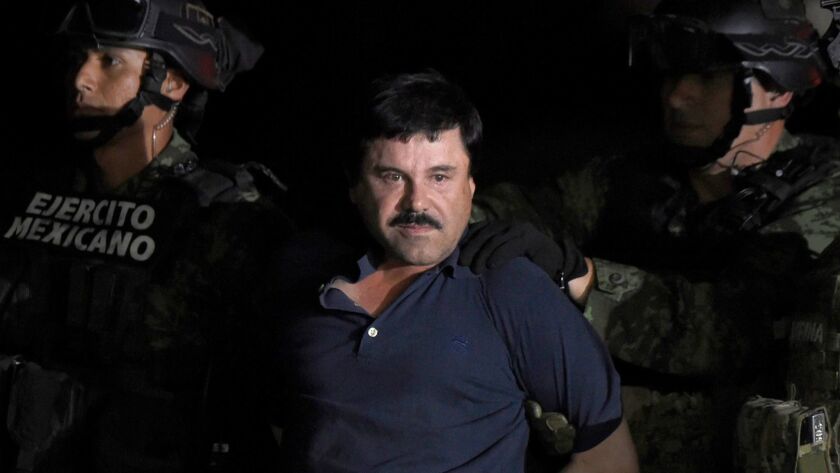 Reporting from New York —
Federal prosecutors opened their case against Mexican drug kingpin Joaquin "El Chapo" Guzman on Tuesday, promising to rewrite an epic that has been dramatized for decades — in television series, novels and ballads known as narcocorridos.
"Money. Drugs. Murder. A vast, global narcotics-trafficking empire. That's what this case is about, and that's what the evidence will show," U.S. Atty. Adam Fels said in his opening statement, promising jurors that the government's cooperating witnesses would "provide the inside story" of Guzman's bloody rise to power as commander of Mexico's ruthless Sinaloa Cartel.
Guzman, who was captured in Mexico in 2016 and extradited to the United States last year, faces 17 counts of drug trafficking, conspiracy to murder and firearms violations.
A poor boy from the mountains of northwest Mexico, he used brutal cunning, fearsome ingenuity and administrative genius to almost single-handedly consolidate the global drug market and plunge the country's cartels into decades of internecine warfare, Fels said.
But Guzman's defense team told jurors the whole truth is more complicated.
"There is another side to this story. An uglier side," defense attorney Jeffrey Lichtman said in his opening statement. "It's a side the governments of Mexico and the United States don't want you to hear."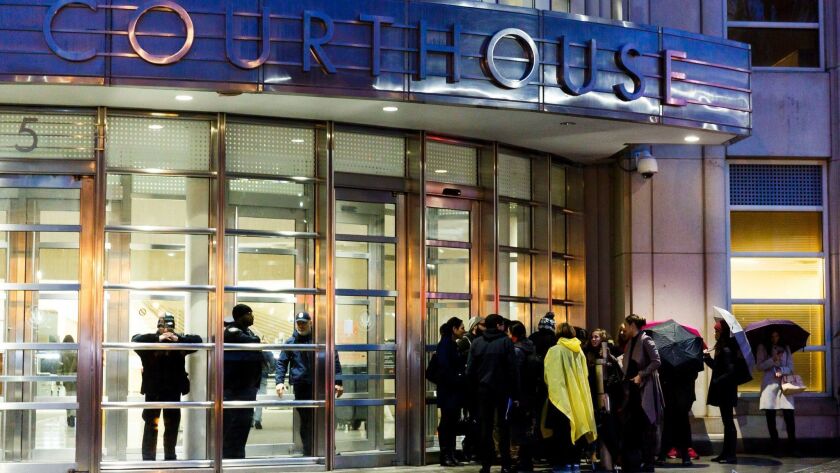 In cinematic detail, he portrayed Guzman as the unwitting scapegoat of a corrupt Mexican government and a cynical American drug war. Guzman, he said, was taking the fall for the true head of the drug empire, Ismael "El Mayo" Zambada.
The U.S. Congressional Research Service has reported that Zambada and Guzman were business partners and that Zambada has run the cartel since 2014.
Lichtman also called the Justice Department's star witnesses inveterate liars.
"Imagine witnesses who have lied every single day of their lives since they could walk," he said . "Witnesses who have killed prosecutors, who have tried to kill presidents of other countries — that's who gives life to the government's case. People who will make your skin crawl when they testify here."
It was a fitting prologue for the government's case, which Fels acknowledged in his opening statement rests in significant part on dozens of cooperating witnesses, many of them convicted criminals, for whom the court has gone to extraordinary lengths to protect.
Last week, the judge in the case, Brian Cogan, ruled that several photographs that are part of the evidence would be partially pixelated before being made public, and that sketch artists would be required to "portray these witnesses with blank faces and generic features," omitting identifying details "including their actual hairstyles."
Measures were so exacting that on the eve of the trial, Guzman's lawyers were still pleading with the court for a list of upcoming witnesses that prosecutors had said they would name week by week.
The jury, too, has been subject to rare and intense precautions. Guzman had barely waved hello to his wife in the courtroom Tuesday morning when proceedings dissolved into chaos, with one juror in hysterics and another telling Cogan that he would face bankruptcy if he was forced to serve in what is predicted to be a four-month-long trial. Both were dismissed and the trial recessed for close to five hours while the court scrambled to replace them.
In the quiet, more human dramas ensued.
"Don't worry, tomorrow he'll be more handsome," defense attorney Eduardo Balarezo assured Guzman's wife, Emma Coronel, in Spanish while she agonized over her husband's pained expression. The former beauty queen, who wore a figure-hugging black pantsuit of velvet and satin, said she did approve of her husband's navy suit and checked tie.
"I bought him the tie," she told reporters.
The pair have not had contact since Guzman was extradited almost two years ago. They had petitioned the court for a brief embrace before opening statements, but those hopes were dashed when Cogan ruled that though he was "sympathetic" to the request, security concerns outweighed their affection.
"The same concerns that warranted [Special Administrative Measures] in the first place still exist today," he wrote in his Nov. 8 order. "If anything, this is especially true on the eve of trial, when the reality of the potential liability defendant faces if convicted may be setting in."
Guzman was previously convicted of drug trafficking in Mexico, where he twice escaped from prison, once in a laundry cart and once through a mile-long tunnel dug to reach his shower stall.
Sharp is a special correspondent.
---
UPDATES:
5:35 p.m.: This article was updated with Los Angeles Times reporting.
This article was originally published at 11:30 a.m.
---
Must-read stories from the L.A. Times
Get all the day's most vital news with our Today's Headlines newsletter, sent every weekday morning.
You may occasionally receive promotional content from the Los Angeles Times.