Honduran woman's asylum case illustrates the maze that is the U.S. immigration system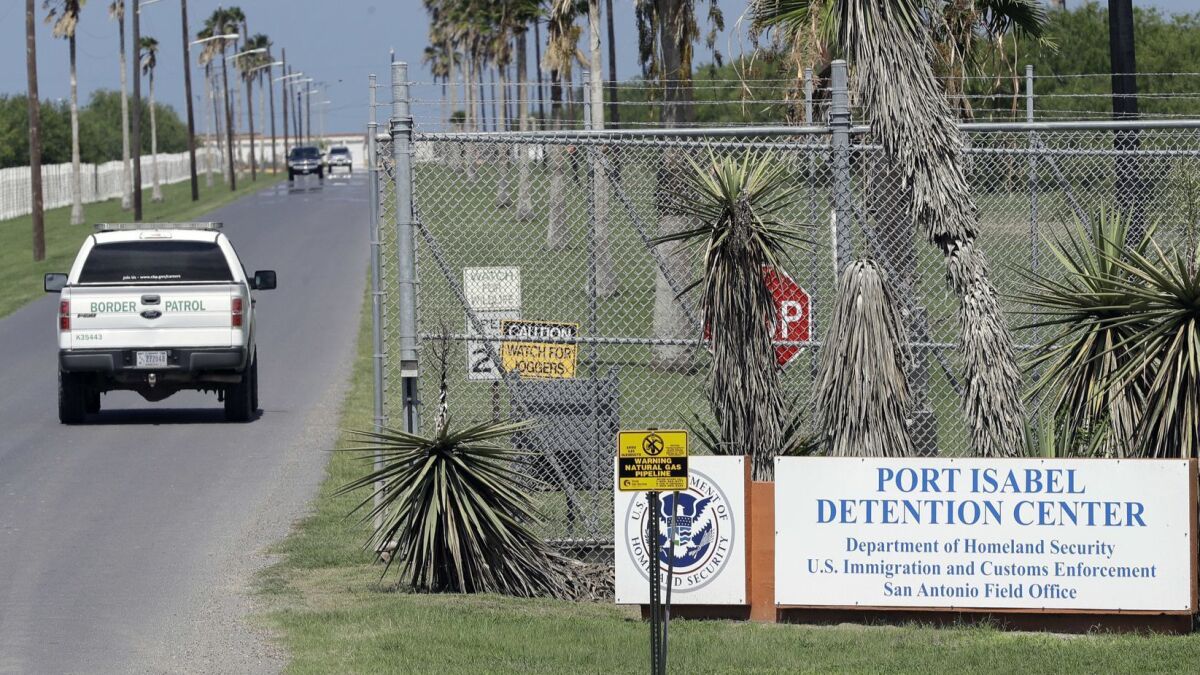 Reporting from Los Fresnos, Texas —
Nora Gonzalez Hernandez wasn't just separated from her 9-year-old son after she surrendered to immigration officials at a Texas border bridge and requested asylum nearly three weeks ago.
She also was separated from an extended family, and her story — a complex tale of comings and goings across the border — illustrates how the Trump administration's "zero tolerance" immigration policy affects not just those being detained, but larger networks of relations.
And as is often the case in border regions, Nora's family includes U.S. citizens, those in the country illegally or others, like her, seeking asylum. Such mixed status adds yet more complexity to the difficult-to-navigate world of immigration.
Nora is currently in custody. Brother Wilmer Hernandez on Wednesday recounted her time in and out of the U.S. He said Nora, 33, a registered nurse, had traveled north from Honduras with 9-year-old Josue to join her husband and their 15-year-old son in Houston. Nora and husband Rigo had crossed the border illegally 11 years ago. She stayed in the country for two years, gave birth to Josue, a U.S. citizen, and then returned to Honduras.
Depending on the point of view, what happened next reflects the need for stronger border protection or how desperate families are to come to the United States.
About 2½ years ago, Rigo was deported. Six months later, he crossed the border illegally with the couple's eldest son, Jorge, who applied for asylum. After three months, Rigo was deported again. Again, he slipped back into the U.S. illegally soon after, and lives with his son in Houston.
Four months ago, while her husband was in Honduras, Nora got pregnant. She and Rigo decided it was time to return to the U.S. On June 15, she and Josue arrived at the Texas border and presented themselves to immigration officials to request asylum.
Nora was transferred by Immigration and Customs Enforcement to the Port Isabel Detention Center, a remote facility surrounded by wind farms in coastal Los Fresnos, Texas.
Her brother, Hernandez, wasn't able to enter the facility, he said, because he doesn't have U.S. identification.
"Things weren't like this before," he said as he stood outside the detention center Wednesday. He recalled how he had come to the U.S. 16 years ago and applied for asylum because of increasing violence in Honduras. "It was easy to get asylum, to get a bond and get out of this place. Now you get pulled over one time for drinking and driving and you don't get a bond. The police are strict."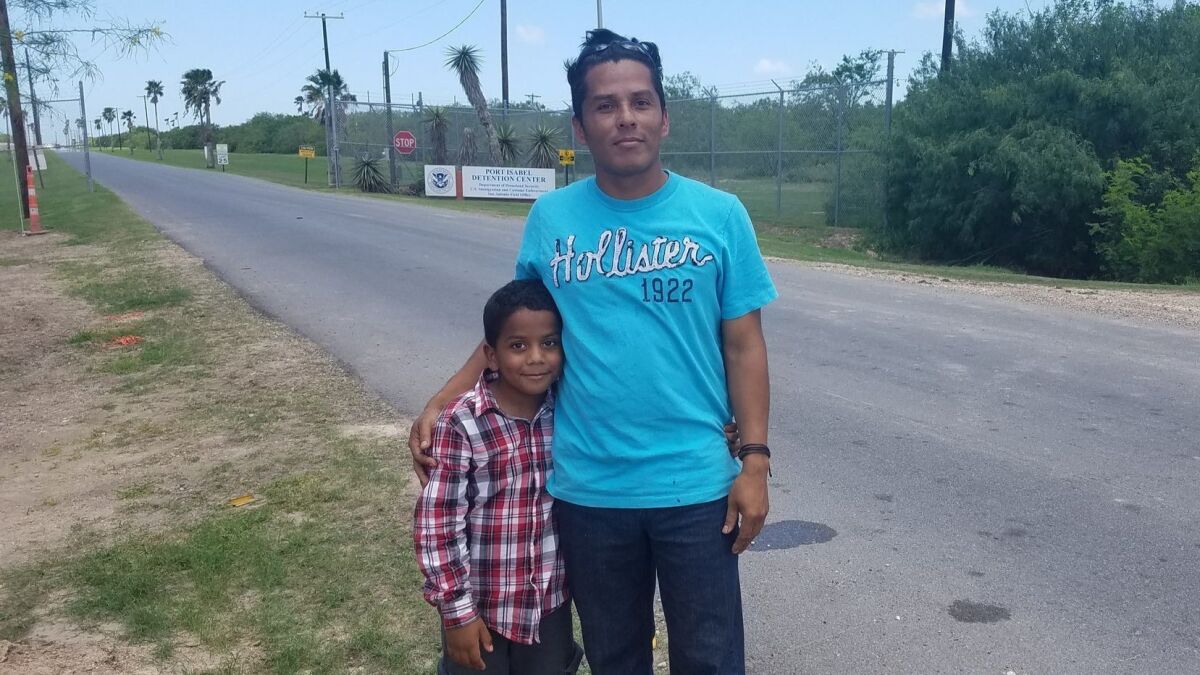 Two months ago, Hernandez said, he had a fight at work, was charged with aggravated assault and transferred to ICE detention, although he was eventually released while his asylum case is pending.
Then there was the matter of Josue. He's a U.S. citizen, but Rigo and Hernandez feared stepping up to request custody of him because they are still both without legal status. They found a friend in the country legally to sponsor the boy and obtain his release. Josue now lives with his father. Similar arrangements have resulted in more than a thousand immigrant children being reported missing by the Department of Health and Human Services.
Nora surrendered at a bridge, so as an asylum seeker who entered the country legally, she was not charged in federal criminal court under the Trump administration's "zero tolerance" policy in force since last month. Instead, she will be interviewed by an immigration official about her asylum claim.
Relatives had hoped to visit her earlier this week, to get her case number so they could hire a lawyer. But three days ago, Nora got so sick she had to be taken to the detention center clinic for bleeding, Hernandez said. In hopes of cheering her up, he brought her older son, Jorge, to see her.
"We're trying to help her get better emotionally," Hernandez, 40, said. "They told her if she doesn't calm down, she could lose the baby."
Guards outside the fenced center allowed a family friend who is in the country legally to escort the boy inside. Hernandez said he hoped the visit would help his 15-year-old nephew, normally outgoing but now withdrawn as he worries about his mother.
After seeing his mother for the first time in nine years, Jorge emerged from the detention center smiling.
She had been eager for news of his younger brother; Josue had never been separated from his mother before. Josue has been upset, but after seeing his mother with her pregnant belly, Jorge couldn't bring himself to tell her so. All he could say was that everything was fine.
"She doesn't want to be there because it's horrible. She says they don't treat them well," said Tomas Garcia, a Honduran family friend who is living in the country legally and accompanied Jorge on the visit. "She needs to get out of here. It's not good for her."
Nora gave her son her case number, scrawled on a piece of scrap paper. The family hopes to hire a lawyer and get Nora released while her court case proceeds.
"We're going to do what we can to get her out of here," Hernandez said as they prepared to return to Houston on Wednesday afternoon.
The family was nervous as they left. In order to visit the detention center, they had to pass through a fortified U.S. Customs and Border Patrol checkpoint about 90 miles north of the border in Sarita. Agents don't check drivers heading south, but when they return north, they have to show identification and answer questions.
Jorge had his Honduran passport. Hernandez had forgotten his immigration court paperwork at home and only had a copy of his passport, which he said was taken by immigration officials. He had brought his 6-year-old son, Wilmer Jr., a U.S. citizen.
"I hope they let me through," he said. "You never know."
When the group arrived at the checkpoint late Wednesday, Jorge showed his passport, and agents said he could pass. But they ordered Hernandez to step out of the SUV and walked him to a nearby office.
He was scared. And he didn't have time to explain to his son what was happening. As the minutes ticked by, the boy grew more worried.
Inside the office, agents were checking Hernandez's pockets and wallet. He showed them an ID bracelet he had been given when he was detained by ICE, complete with his photo. Agents checked that information against their database. It matched. They advised him to carry his court paperwork with him whenever he leaves home, to avoid being stopped.
Twenty minutes after Hernandez entered the office, agents let him leave. He rejoined his son and Jorge and returned home. He hoped someday his sister can do the same.
"We don't know how the story is going to end," he said.
molly.hennessy-fiske@latimes.com
Must-read stories from the L.A. Times
Get the day's top news with our Today's Headlines newsletter, sent every weekday morning.
You may occasionally receive promotional content from the Los Angeles Times.