FBI director confronts police, race relations: 'We are at a crossroads'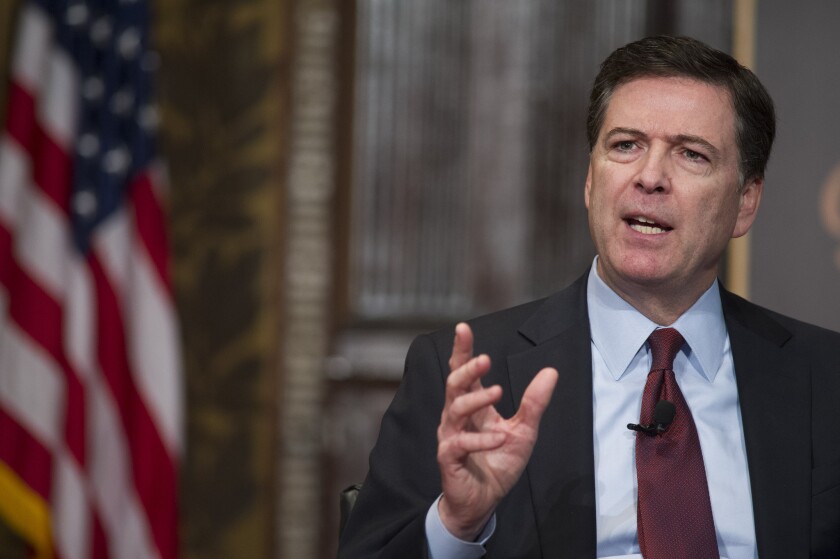 Reporting from Washington —
Weighing in on the issue of police and race relations, FBI Director James B. Comey said Thursday that because patrol officers generally spend most of their time dealing with criminals, they may have a hard time believing that someone "could be innocent."
Comey, speaking at Georgetown University in Washington, D.C., noted that most police calls for service come from poor, minority communities.
But black or white, he said, "criminal suspects routinely lie about their guilt, and the people we charge are overwhelmingly guilty. ... That makes it easy for folks in law enforcement to assume that everybody is lying and that no suspect, regardless of their race, could be innocent."
"Easy," Comey cautioned, "but wrong."
Comey recalled the deaths of Michael Brown in Ferguson, Mo., and Eric Garner in New York, as well as the shooting deaths of New York police officers Wenjian Liu and Rafael Ramos, saying, "we are at a crossroads."
The four deaths ignited protests around the country and brought a new public discussion on police brutality and excessive force. Comey's remarks on Thursday followed the earlier leads of U.S. Atty. Gen. Eric H. Holder Jr. and President Obama in trying to understand the heightened concerns and search for answers to calm local communities.
Comey said law enforcement officials "must be honest enough to acknowledge that much of our history is not pretty." He said he orders new FBI recruits to visit the Martin Luther King Jr. Memorial in Washington, and he keeps on his desk at FBI headquarters a copy of former U.S. Atty. Gen. Robert F. Kennedy's approval of the FBI wiretapping of King.
Also on his office wall, he said, hangs a photo of "one of my heroes" -- his grandfather, William J. Comey, who rose from a beat cop to become chief of police in Yonkers, N.Y.
Today, the FBI chief said, "those of us in law enforcement must redouble our efforts to resist bias and prejudice. We must better understand the people we serve and protect."
Twitter: @RickSerranoLAT
---
The Latinx experience chronicled
Get the Latinx Files newsletter for stories that capture the multitudes within our communities.
You may occasionally receive promotional content from the Los Angeles Times.