Sheriff Joe Arpaio ignored legal advice on following judge's order, attorney says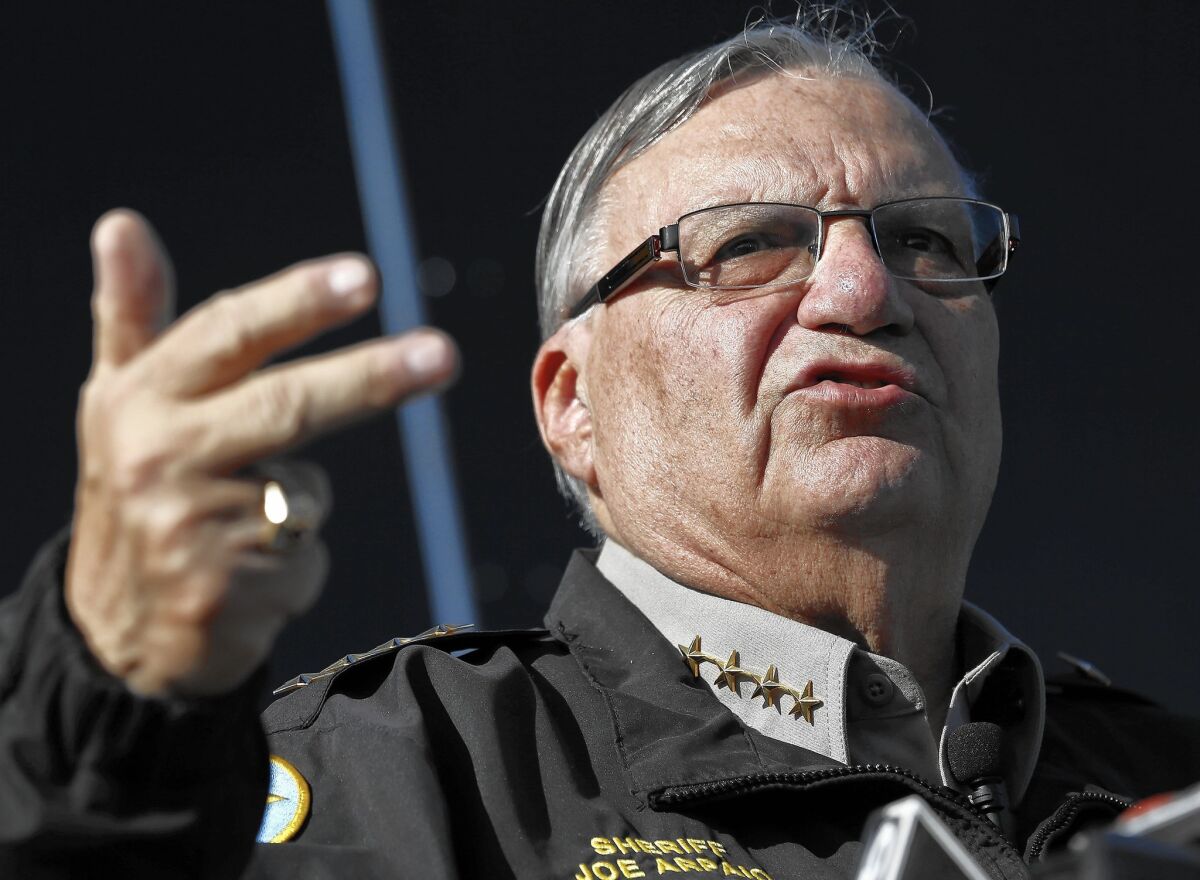 Reporting from PHOENIX —
Years before he refused to continue representing Sheriff Joe Arpaio in a messy, public breakup, Phoenix attorney Tim Casey was getting worried about his most famous client.
Arpaio wasn't taking direction from him, Casey testified. In fact, the longtime Maricopa County sheriff seemed to be agreeing with Casey's advice one minute, then deliberately violating it the next day.
"My frustration was, [Arpaio] would say, 'I understand, I understand,' then do something totally different," Casey said.
Casey spoke Wednesday as a contempt case against Arpaio drags on into a second week. The portrait of Arpaio that emerged in his testimony was one of a derelict ship's captain too consumed with image and politics to focus on the very real threat directly ahead, in this case a federal judge's preliminary injunction ordering him to stop profiling Latinos in traffic stops.
Casey testified under an order from U.S. District Judge Murray Snow that allows him to speak, in certain circumstances, about his conversations with Arpaio.
NEWSLETTER: Get the day's top headlines from Times Editor Davan Maharaj >>
Attorneys for Arpaio and the Maricopa County Sheriff's Office objected continuously to Casey's testimony, citing attorney-client privilege.
Arpaio has been beloved and reviled nationwide for conducting traffic sweeps aimed at catching immigrants living in the country illegally.
The contempt trial is expected to stretch into November.
Arpaio has already conceded that he violated Snow's 2011 order, which is a civil violation, but argued that his violation was not intentional. If plaintiffs can show that Arpaio did indeed intend to break the law, Snow can refer the case to criminal court.
Ironically, the difference between civil violations and criminal conduct was a source of apparent misunderstanding between Casey and Arpaio.
Casey said he told Arpaio repeatedly of the difference between illegal immigration, a civil offense, and actual illegality — that is, breaking a law enumerated in a criminal code.
"If you have a truck with 16 [immigrants] in the back, and they tell you they're here illegally, and they give a hand gesture to indicate their defiance, you still cannot hold them, you cannot detain them, they're gone. Released," Casey said he told Arpaio. "You're borrowing trouble if you hold them."
The sheriff, Casey said, would instead seek all exceptions to the rule, looking for loopholes to continue to conduct traffic stops despite Snow's order.
Casey said Wednesday under cross-examination from Maricopa County Sheriff's Office attorneys that he tried not to give Arpaio much nuance when he explained Snow's order and its impact.
Eventually, Casey decided that he couldn't trust what Arpaio was telling him. Their relationship apparently fractured further after a "heated discussion." Casey didn't elaborate on the conversation, other than to say that he told the sheriff his actions violated Snow's order to stop profiling Latinos.
In April, after Arpaio's deputies testified before Snow that the Maricopa County Sheriff's Office had investigated Snow's wife, Casey withdrew from the case.
Before his break with the sheriff, while he was still trying to keep Arpaio out of court, Casey wrote an Oct. 11, 2012, letter to Arpaio that expressed concern that the sheriff's violations of Snow's order could lead to "negative electoral press." Arpaio was reelected to a sixth term a month later.
Asked Wednesday about those comments, Casey demurred. But just before one of Arpaio's attorneys could turn to the next question, Casey interjected.
"This case," he said, "has always been an interesting intersection between law and politics."
Twitter: @nigelduara
ALSO
Congress approves stopgap spending bill to avert a government shutdown
Secret Service official suggested a leak to embarrass congressman
---
Must-read stories from the L.A. Times
Get the day's top news with our Today's Headlines newsletter, sent every weekday morning.
You may occasionally receive promotional content from the Los Angeles Times.