Congress approves stopgap spending bill to avert a government shutdown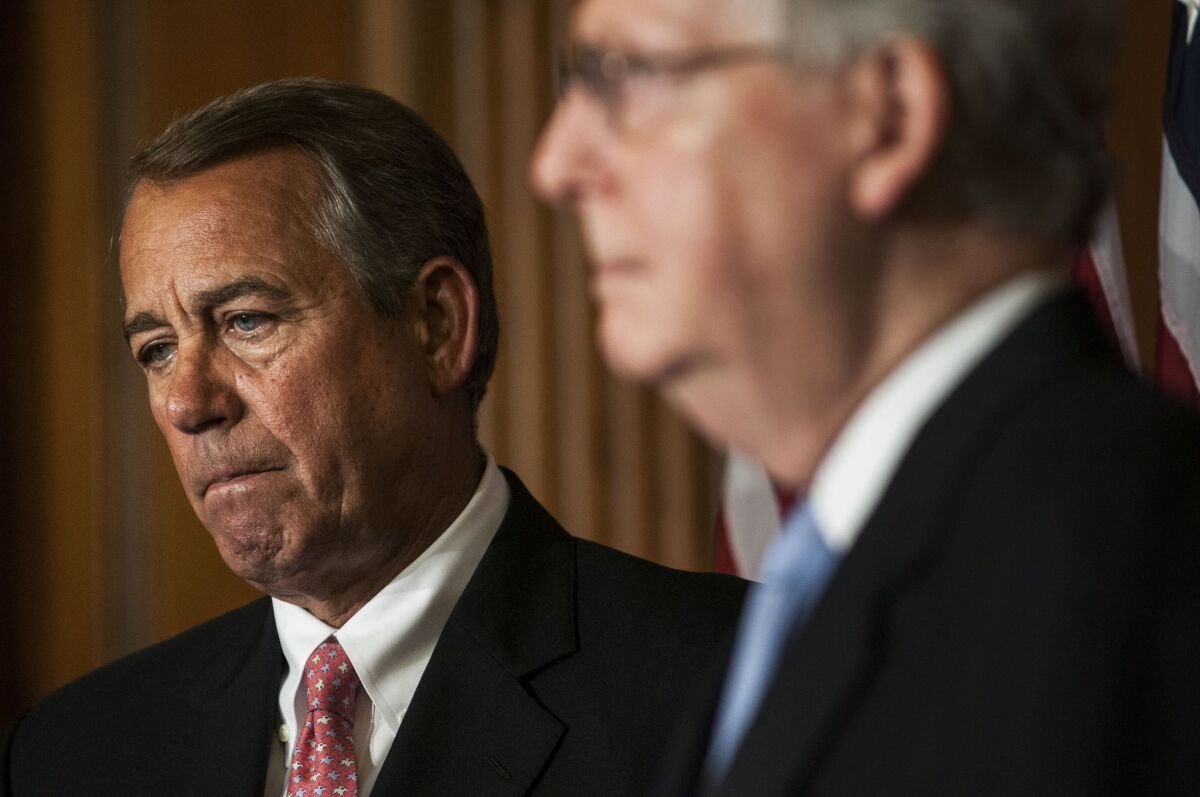 Reporting from Washington —
Congress forestalled a federal government shutdown Wednesday, but with another fiscal deadline looming, Republican leaders are opening negotiations with President Obama to prevent the next crisis.
Hours before a midnight deadline, the House overwhelmingly approved legislation to fund government offices and services through Dec. 11 — without any of the cuts to Planned Parenthood that conservatives sought.
The strong bipartisan vote, 277-151, matched a similar compromise in the Senate, which passed the bill earlier Wednesday, 78-20, with more than half of Republicans joining Democrats in voting in favor.
The White House, which had vowed to veto any bill that cut funding to Planned Parenthood, welcomed the bipartisan accord as it opens talks with House Speaker John A. Boehner and Senate Majority Leader Mitch McConnell on a broader budget compromise.
Obama swiftly signed the stopgap spending bill, which includes $700 million to fight wildfires in Western states.
The willingness of Boehner and McConnell to defy antiabortion conservatives in their own party to push through the stopgap measure and keep the government running for the next 10 weeks may open the door for a more comprehensive budget deal or perhaps a series of mini-accords to resolve looming year-end issues.
Talks with Obama took on added urgency after Boehner announced he would resign at the end of October.
Conservative Republicans succeeded in forcing Boehner out, but their leverage weakened after colleagues abandoned their strategy of threatening a government shutdown over the Planned Parenthood money.
The vote tally Wednesday showed that most Senate Republicans had no interest in a repeat of the politically damaging 2013 shutdown, which came after Sen. Ted Cruz (R-Texas) led conservatives to fight Obama over the Affordable Care Act. In the House, however, most Republicans voted against it.
Hoping to fend off the next crisis, Boehner and McConnell initiated private talks with Obama earlier this month.
In two previously undisclosed calls — one on Sept. 17 and a follow-up on Sept. 23 — the men discussed a broader two-year budget deal. Boehner's announced resignation frees him from the risk of ouster by his conservative flank, and the speaker has indicated he wants to "clean up the barn" before he steps down.
"The president and Speaker Boehner and I spoke about getting started in the discussions last week, and I would expect them to start very soon," McConnell said.
The back-channel talks have only inflamed conservatives, who want their leaders to confront Obama rather than compromise with him.
"If he's using that as a vehicle to bypass conservatives, I'm not happy about that," said Rep. John Fleming (R-La.).
Now, though, with Boehner on his way out, the embattled speaker has little to lose in crafting a deal with Obama.
"There's a number of issues we're going to try to deal with over the coming month," Boehner said this week. "I'm going to take this one day at a time and do what we can on behalf of the American people."
The common goal of the White House and Congress is to undo the so-called sequester cuts they agreed to in 2011, when Boehner first became speaker with the House majority. Many lawmakers in both parties have since sided with the Pentagon or domestic agency heads who say those reductions are too deep, and could damage the economy.
But the budget talks could spill into broader negotiations on other outstanding issues that have vexed Congress and could lead to crises later this year. Among them are the need to raise the debt ceiling next month to allow continued borrowing to pay the bills and avoid a default and the expiration of transportation funds for highway projects on Oct. 31.
SIGN UP for the free Essential Politics newsletter >>
During the initial call, McConnell sought to keep the talks between the GOP leaders and Obama, but faced resistance. The White House cautioned Republican leaders Wednesday against trying to bypass Senate Minority Leader Harry Reid (D-Nev.) and House Minority Leader Nancy Pelosi (D-San Francisco) in talks with the administration.
"If Republicans in Congress are interested in negotiations, then they should walk over to Sen. Reid's office and to leader Pelosi's office, and accept their invitation to engage in bipartisan negotiations," said White House Press Secretary Josh Earnest. "Republicans are going to need the support of Democrats in the House and the Senate in order to pass this legislation."
The talks, which began with a congressional staff meeting Wednesday at the White House, come as House Republicans are set to take an initial vote next week on their new leadership team, with Majority Leader Kevin McCarthy of Bakersfield apparently close to locking up enough votes to become the new speaker.
Down the leadership ladder, fierce battles are playing out for the No. 2 job, as well as the majority whip. One lawmaker called a closed-door meeting this week "a good therapy session" as Republican lawmakers aired their concerns on the party's direction in Congress.
Meanwhile, the fight over Planned Parenthood's nearly $500 million a year in federal funding continues. Efforts to defund the organization ramped up after covert videos showed officials discussing the use of tissue from aborted fetuses for medical research. Even though federal funds cannot be used for abortion except in certain circumstances, including rape and abuse, conservatives want to divert the organization's funds to other clinics.
The House passed a new measure Wednesday to eliminate Planned Parenthood's funding as an addendum to the broader government funding bill, but it was not expected to pass the Senate. A separate effort is underway to pass similar funding restrictions under special budget rules that could result in passage that would force Obama's threatened veto.
Twitter: @LisaMascaro
Times staff writer Michael A. Memoli in Washington contributed to this report.
ALSO
Sheriff Joe Arpaio ignored legal advice on following judge's order, attorney says
Russia launches airstrikes in Syria amid U.S. concern about targets
Why the founder of #ShoutYourAbortion had to go into hiding
---
Life is stressful. Our weekly mental wellness newsletter can help.
You may occasionally receive promotional content from the Los Angeles Times.