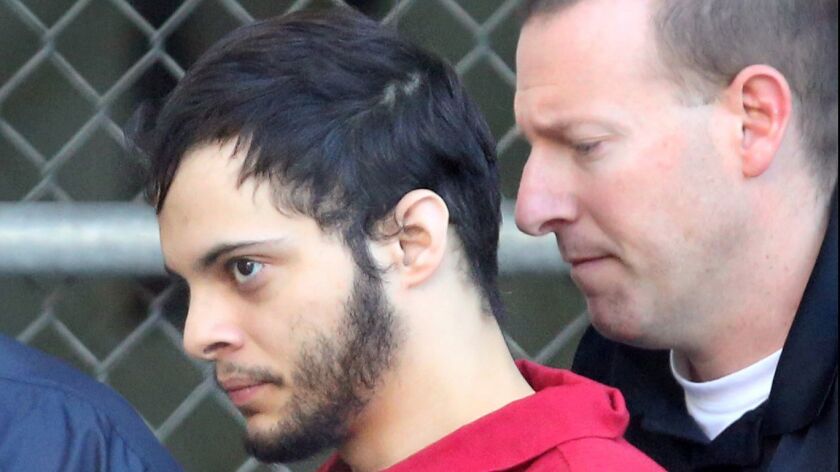 Reporting from FORT LAUDERDALE, FLA. —
Esteban Santiago gave his first public statement Wednesday about why he killed five people and injured six others in the January 2017 mass shooting at Fort Lauderdale's main airport.
"Umm, I don't know," Santiago said. "I wasn't really thinking about it at the moment. A lot of things were going on in my mind. Messages."
Santiago, an Iraq war veteran who has been diagnosed with schizophrenia, was found to be legally competent to plead guilty after he was examined by a mental health expert.
Federal prosecutors have agreed not to seek the death penalty under the terms of the plea agreement that Santiago signed Monday. Instead, Santiago will be sentenced later this year to five life terms plus 120 years, if the judge signs off on the full terms of the agreement between the prosecution and defense at his Aug. 17 sentencing.
U.S. District Judge Beth Bloom said she would wait to hear from family members of the victims, and survivors of the attack, before making a final decision on whether to accept his guilty pleas and impose his punishment.
On Wednesday, Santiago spoke haltingly as he tried to answer the key question from Bloom, posed after he pleaded guilty to 11 charges linked to the January 2017 mass shooting.
"Why did you do what you did?" the judge asked Santiago during the hearing in federal court in Miami.
Santiago, 28, who is locked up under tight security at the Federal Detention Center in downtown Miami, knows what he did and has expressed remorse, according to his defense team and psychologist Heather Holmes, who found him legally competent.
Since a change in medication stabilized his condition, Santiago has been spending his time in prison reading the "Harry Potter" books and sometimes listening to NPR, Holmes testified.
Santiago is allowed to phone his mother about every two weeks to hear family news, including updates on his toddler son who lives with the child's mother in Alaska, Holmes told the judge.
Santiago has admitted he fired 15 bullets, aiming at victims' heads and bodies in the crowded baggage carousel area at lunchtime on Jan. 6, 2017, in Terminal 2 at Fort Lauderdale-Hollywood International Airport.
A total of 11 people were killed or injured.
Santiago took a one-way flight from Anchorage, Alaska, where he lived at the time, to Fort Lauderdale. The only item he checked in was a hard-sided firearm case that contained a 9-millimeter handgun and two loaded ammunition clips.
After picking up the weapon from a Delta Airlines employee, he loaded the gun in a restroom and began firing at the first people he encountered as he walked out at 12:52 p.m.
"Santiago pulled out the firearm from his waistband, took aim, and fired several rounds of ammunition at the passengers who were standing in the terminal, aiming at their heads and bodies," according to the plea agreement. "At one point, Santiago ran out of ammunition and reloaded a second magazine into the firearm. He then fired all the rounds in the second magazine at his victims."
After the two-minute attack, Santiago ran out of bullets. He lay down on the floor and surrendered to a Broward County sheriff's deputy.
Killed in the rampage were: Mary Louise Amzibel, 69; Michael Oehme, 56; Olga Weltering, 84; Shirley Timmons, 70; and Terry Andres, 62.
In new information revealed Monday, prosecutors said Santiago researched the layout of the Los Angeles International Airport three days before the mass shooting. Authorities did not explain why he used his cellphone to look up a map of the layout of LAX or why he bought a ticket to South Florida that same day. The defense declined to comment.
McMahon writes for the South Florida Sun Sentinel.
---