Of the Florida school shooting's 17 victims, seven of them were just 14 years old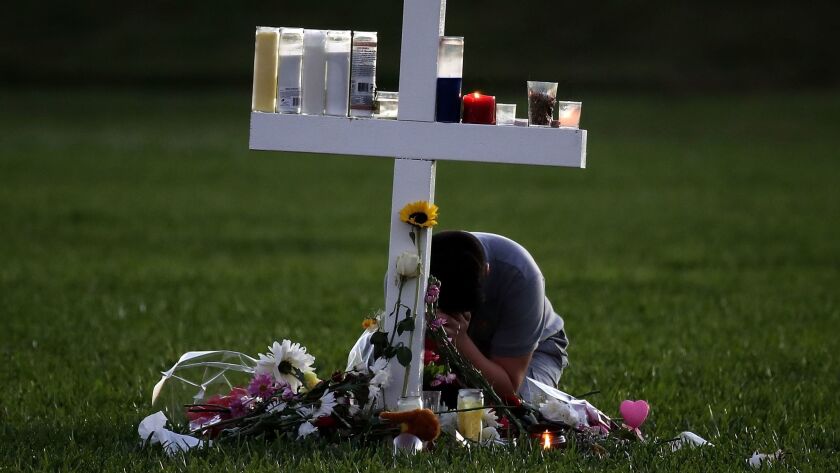 Reporting from Parkland, Fla. —
At Marjory Stoneman Douglas High School, so many freshmen classes are held in Building 12 that the "1200 building," as it is commonly called, is also known as "the freshmen building."
It's also the building that authorities said Nikolas Cruz, 19, chose to enter this week when he began his rampage.
Freshman Isaah Jean was in study hall in the building when the shooting started Wednesday afternoon. Isaah had been there earlier for first period geography with Mr. Beigel. It was Valentine's Day, and students were texting and trading gossip about who had or hadn't received roses or balloons.
Isaah saw his friend Martin Duque Anguiano duck into study hall, then disappear just as the gunfire erupted. Moments later, Martin was dead.
Three teachers, including Scott Beigel, were killed, along with 14 students. Of the 17 victims, seven were 14 years old. Martin was 14, as were Alyssa Alhadeff, Jaime Guttenberg and Cara Loughran. Then there were Gina Montalto, Alaina Petty and Alexander Schachter. All 14.
Isaah Jean threw his phone at the gunman, giving himself time to run away.
The gunman's carnage on the 3,000-student campus fell particularly hard on the freshmen class. Also among the dead were freshmen Luke Hoyer and Peter Wang, both 15.
A gun-control group says such casualties are common in school shootings. Everytown for Gun Safety tracks gun violence at schools, relying on federal and state sources.
"Our research finds the average known age for students at K-12 schools who have been killed or injured with a gun since 2013 is 14 years old," Mackey Reed, a spokeswoman for the group, said in an email. "This is true across all outcome categories (just homicides, just injuries and homicides and injuries combined)."
Isaah is 14. He said that when the shooting erupted, some thought the sound was Valentine's Day balloons popping or fireworks. Most rushed to the stairs, and in the crush of bodies, Isaah's right ankle was fractured.
Peter Wang, a member of the ROTC program, was seen holding a door for fleeing students before he died.
Isaah kept fleeing downstairs through halls filled with smoke, bullet casings and the sound of shots. Suddenly, a figure loomed across the hall. He didn't recognize former student Cruz. But he saw what was in his hand: a gun.
Isaah froze. All he had was his cellphone.
"He had turned around and started walking a little bit. That's when I threw my phone at him," he said.
The shooter stumbled and Isaah fled. A classmate would later return the phone, its screen smashed.
Isaah moved to Parkland from Boston last year with his Haitian American family, drawn by the promise of Florida's safest city, shielded by what locals call "the Parkland bubble."
Many of his classmates had attended class together since preschool.
As Isaah hobbled out of the building, 14-year-old Raquel Meyers rushed to hide in a closet, passing friends she had known since she was small. One had glass in her hair and arms. Others were missing.
Raquel found a closet to hide in, and thought of those she had last hugged at lunch.
"I wish I could save them," she thought.
It would be hours before Raquel emerged from the building, led by police, passing bodies of classmates on the floor under yellow tarps.
At the school's television studio in a nearby building, 14-year-old Lauren Hogg had crawled behind a set, wedged between students she had never talked to before. They held hands, sometimes so hard her hands went numb.
Lauren had dreamed of going to high school with her older brother, a junior, ever since they moved to Parkland three years ago from Torrance, Calif. Reed thin with long blond hair, she watched movies like "High School Musical" and John Hughes classics that her mother, a local teacher, loved from the 1980s, including, "The Breakfast Club." She had already joined a slew of activities: Model U.N., TV, debate and Key Club, plus junior varsity soccer.
She checked her phone. More than a dozen students in the freshmen building were sending chilling updates.
Is that a shot?
OMG, he's coming down our hall.
He's shooting through our door.
He shot my teacher.
There's girls on my floor.
I love you guys. I'm in the room, he's shooting. I love you.
Lauren had envisioned high school as a door opening. Now she saw it closing.
"I thought of all the things I'm going to miss out on — I haven't even driven yet — all the people I hadn't said I love you to," she said.
She texted her mother: "Active shooter, I love you."
Hours later, a SWAT team arrived to lead Lauren and other freshmen from the room to the library downstairs for a head count and then off campus.Only then would she learn that four of her friends had died, freshmen Alyssa, Gina, Alaina and Luke.
Alyssa's mother, Lori Alhadeff, alluded to her daughter's youth when she raged at President Trump in a CNN interview this week, imploring him to take action on guns: "I just spent the last two hours [making] the burial arrangements for my daughter, who is 14. President Trump, please do something. Do something."
Alyssa's funeral was first, a Jewish service held Friday morning. Lauren wanted to go, having seen grief counselors the day before, but "my mom said I wasn't ready."
Luke's funeral is scheduled Sunday at an Evangelical church; Alaina's is Monday at a Mormon church. Lauren may attend those.
She feels guilty that she survived.
Lauren visited her former middle school in Parkland on Friday, where teachers broke down and vowed to keep the chairs of victims empty as a tribute. Lauren was fine until she started staring at the tiled floor, which reminded her of the high school.
"I couldn't help thinking about my friends who were lying on the floor" after the shooting, she said.
Some survivors, like Isaah, are still in bandages and on crutches. At a vigil in a local park Thursday night, freshman Jaime Guttenberg's father addressed the crowd, saying he couldn't remember whether he had told his daughter he loved her before she went to school.
"That could have been my family," Lauren thought as she watched.
Now she, Isaah and other students are texting and messaging on Snapchat about when to return to school.
"They say there's no point in switching schools because that would mean the shooter has won," Isaah said Friday as he stood on crutches outside a police cordon surrounding the school, his broken ankle in a protective boot.
While other schools in the district reopened, it wasn't clear how soon classes would resume at Douglas High. Some parents have already said they intend to move or home-school their children. The superintendent announced Friday that the freshmen building would be torn down.
Times staff writer Jaweed Kaleem in Los Angeles contributed reporting.
molly.hennessy-fiske@latimes.com
---
Must-read stories from the L.A. Times
Get the day's top news with our Today's Headlines newsletter, sent every weekday morning.
You may occasionally receive promotional content from the Los Angeles Times.