Q&A: So what's behind the recent fraternity hazing incidents on college campuses nationwide?
Alcohol. Peer pressure. A yearning to join a group.
Combined, they can be a fatal mix for college students, as seen in recent weeks with a rash of what authorities describe as hazing-related deaths at universities nationwide. In turn, the incidents have left faculty, local elected officials and fraternities racing to act swiftly to prevent additional deaths.
For years, university communities have grappled with how to combat hazing. Greek life has been suspended and states have implemented anti-hazing laws. Even so, hazing has continued.
Here's some of what has taken place in recent weeks on college campuses.
What led Florida State University to suspend all Greek life?
It centered on the death of a Pi Kappa Phi pledge.
On Nov. 3, police in Tallahassee received a call about an unresponsive man at a house less than a mile from campus. When police arrived, they found Andrew Coffey dead.
Coffey, 20, was a junior at Florida State who majored in civil engineering and was a Pi Kappa Phi pledge. Police suspect alcohol played a role in his death.
The investigation is ongoing, but in response to Coffey's death, Florida State suspended all 54 fraternities and sororities on campus. The university also banned alcohol at student events, which includes those run by more than 700 organizations outside the Greek community.
"For this suspension to end, there will need to be a new normal for Greek life at the university," Florida State President John Thrasher said in a statement on Nov. 6. "There must be a new culture, and our students must be full participants in creating it."
In 2012, Pi Kappa Phi's national office sanctioned the FSU chapter for hazing-related activities associated with alcohol.
And didn't something similar happen recently at Texas State University?
Matthew Ellis, 20, a Phi Kappa Psi pledge, attended a fraternity event on Sunday night and was found unresponsive at an off-campus apartment the next morning.
Ellis, a sophomore business major at the university, is believed to have died at the apartment from alcohol-related causes, according to local law enforcement.
Like Florida State, officials at Texas State, located in San Marcos, about 30 miles south of Austin, acted quickly. They suspended all 32 sororities and fraternities on campus.
Denise Trauth, the president of Texas State, said the suspension would remain in effect "until a thorough review of the Greek affairs system is completed."
Recent incidents involving alcohol, but no deaths, at the University of Michigan and Montana State University also led to suspensions of some or all Greek life at the universities.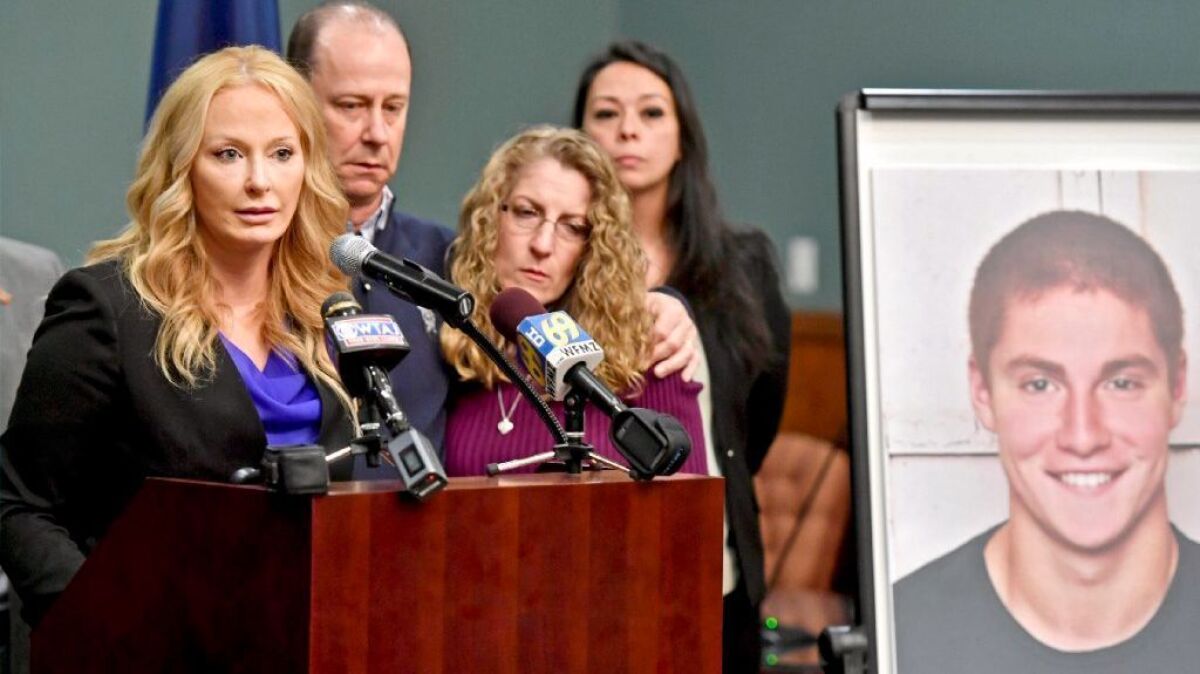 Have hazing-related death led to criminal charges?
While no charges have been filed in connection with the deaths of Coffey and Ellis, several students have been charged in recent weeks in connection with a past hazing-related incident.
In February, Tim Piazza, 19, died after consuming 18 drinks in less than 90 minutes at a party near the campus of Penn State University, according to local law enforcement. Piazza was a Beta Theta Pi pledge.
This month, prosecutors in Centre County, Pa., announced more than a dozen former members of the fraternity would face charges that span from involuntary manslaughter to aggravated assault.
Last month, 10 former and current Louisiana State University students were arrested on misdemeanor hazing charges in the death of Maxwell Gruver, 18. Gruver was trying to join Phi Delta Theta and died after drinking so much that his blood-alcohol content was more than six times the legal limit for driving.
Is hazing limited to Greek life?
It's associated with a range of groups — the military, sports and college marching bands, to name a few.
The death of Robert Champion, a member of the Florid​​​​​​​a A&M marching band, is among the most high-profile hazing deaths in recent years that did not result from alcohol.
Champion, 26, died in 2011 after a hazing ritual in which he was beaten by fellow band members aboard a school bus after a football game in Orlando, Fla.
Three of his bandmates were convicted of manslaughter.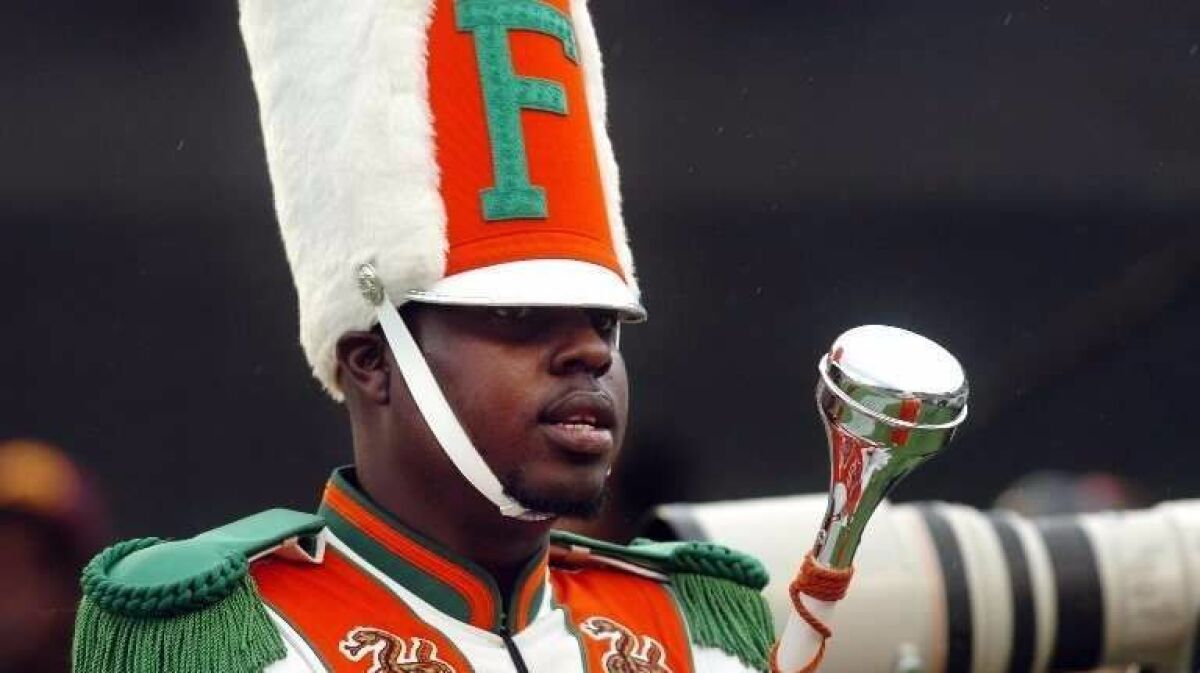 So how many hazing deaths happen each year?
There are no official statistics or a central database that records hazing-related deaths nationwide. But Hank Nuwer, a journalism professor at Franklin College in Indiana, has studied hazing since the 1970s.
According to his statistics, at least one person has died each year from a hazing-related incident since 1959 in the United States and Canada. Most of the deaths have occurred among fraternities and have resulted from alcohol.
What has been done to prevent hazing?
All but six states — Alaska, Montana, New Mexico, Hawaii, Wyoming and South Dakota — have enacted laws to address hazing, according to hazingprevention.org, a nonprofit group. The laws vary, but in many states, hazing can result in criminal charges.
In California, for example, when hazing occurs but does not actually result in serious bodily injury to a person, the crime of hazing is a misdemeanor. When serious bodily injury occurs, it's a felony.
Greek organizations have taken action, too.
In response to recent hazing-related deaths associated with fraternities, Sigma Phi Epsilon announced that it has adopted a substance-free policy for all of its 215 chapters nationwide.
"We believe these steps are necessary to accomplish our mission of promoting academic excellence and empowering our 14,000 young men to lead with integrity, not just now, but for the rest of their lives," said Sigma Phi Epsilon CEO Brian Warren. Over the years, national chapters for various fraternities and sororities, along with universities, have sought to implement rules to deter hazing.
Emily Pualwan, executive director of the nonprofit hazingprevention.org, said her group has helped advise universities nationwide about best practices in educating students on hazing. She said this includes helping students understand there are laws against hazing.
Each year, the National Collegiate Athletic Assn. hands out pamphlets to all of its college athletes that warn against hazing. The pamphlet details "hazing vs. team building" and how hazing "humiliates and degrades, tears down individuals" and can create "lifelong nightmares."
Not all hazing is life-threatening. Isn't hazing to be expected in college?
Pualwan says no. "Students need to know this isn't some fun thing that's a part of college life," she said. "Even hazing that does not physically hurt someone can even have lasting ramifications for young people."
"This is not a new problem," Pualwan added. "Hazing goes back decades. But now there are laws on the books to address the problem and hopefully deter this from happening."
Moreover, national chapters for fraternities and sororities, along with universities, have sought to implement rules to deter hazing.
Pualwan said there is no real explanation behind the recent outbreak of hazing-related deaths.
"It's the fall of the year and pledge season," she said. "Unfortunately, these things are going to happen. … We have got to continue educating students."
Twitter: @kurtisalee
---
Must-read stories from the L.A. Times
Get the day's top news with our Today's Headlines newsletter, sent every weekday morning.
You may occasionally receive promotional content from the Los Angeles Times.