How the Orlando attack could mark a shift for gay Muslims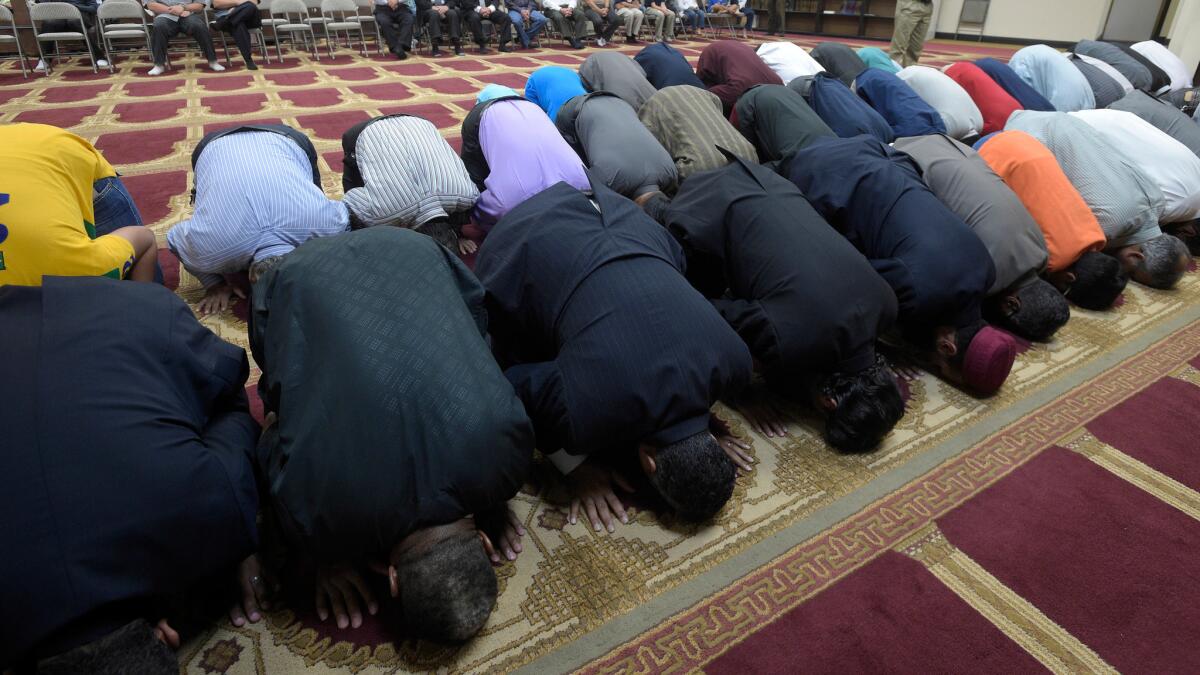 Like their counterparts worldwide, many gay Muslims in the United States have long felt doubly ostracized – both by the wider national culture and by their co-religionists. But in the days since the massacre of 49 people at a gay nightclub in Orlando, Fla., there have been some signs of acceptance by Islamic organizations and religious institutions more often known for shying away from LGBT issues than for speaking forcefully in defense of gay people.
The 29-year-old shooter, Omar Mateen, was a Muslim man who reportedly pledged allegiance to Islamic State in a 911 call the morning of the attack. The horror he unleashed seemed almost familiar to some gay Muslims who live in fear of violence and abuse. But it also engendered sympathy.
To the surprise of many Muslims, some of the largest U.S. Islamic organizations, accustomed over the 14 years since 9/11 to quickly cobbling together news conferences and messaging against terrorism, decided to loudly, even eloquently, stand up in support of lesbian, gay, bisexual and transgender people.
"Homophobia, transphobia and Islamophobia" are "interconnected systems of oppression," Council of American-Islamic Relations national Executive Director Nihad Awad said Sunday at a Washington, D.C., news conference. Later, the organization delayed a report it planned to release on Islamophobia, saying in an email that "discussion should focus on anti-LGBT hate."
Gay Muslims are sending me messages, confused and afraid.
— Daayiee Abdullah, 62, gay imam in Washington, D.C.
A United Methodist minister from a group called the Queer Faith Forum was invited to speak at a Monday vigil at the Islamic Center of Southern California, one of the largest mosques in the Western U.S. Outside Washington, D.C., the All-Dulles Area Muslim Society, another prominent mosque, released a statement saying its faith aims to "reject violence, hatred, and discrimination" against sexual orientation.
"Usually, those kinds of groups just ignore me and LGBT Muslims," said Daayiee Abdullah, a 62-year-old gay imam and Muslim activist in Washington, D.C., who was invited to join the CAIR conference where Awad spoke against oppression.
He couldn't attend because he had an NPR interview scheduled, but gestures like that have made Abdullah believe the tide is slowly changing for LGBT Muslims in America. Still, he knows the picture is dire for some Muslims who saw their identities collide in Orlando.
"Gay Muslims are sending me messages, confused and afraid," said Abdullah, who formerly led prayers at Light of Reform Mosque, a small congregation that met in a church basement in the capital. "I tell them, 'Don't let one event make you think there are thousands of them happening.'"
Hurdles remain for many. When Fahd Sadiq, a 35-year-old graphic designer in Orlando, heard of the attack, it felt unusually familiar.
Sadiq had often danced at Pulse since emigrating from Pakistan 2½ years ago. Growing up in a conservative Muslim family, he was forced to marry a woman, then abandoned by his relatives when he divorced and came out as gay. He said his father arranged for him to be shot; he survived and left the country.
"Religion can instigate people to become violent," said Sadiq, who came to the U.S. seeking to be openly gay and no longer calls himself Muslim. "But I don't think any religion can be used to justify killing people."
"I've never felt any sort of hostility in Orlando," said Sadiq, who shares mutual friends with many of the victims, and whose roommate's boyfriend, Juan Jose, is in intensive care after the shooting. "But I have felt it from Muslims."
Although gay rights have become mainstream among some religious groups in the U.S. -- several Christian and Jewish denominations now ordain gay clergy and officiate same-sex weddings -- gay Muslims say LGBT issues have been much harder to promote in mosques. A majority of Islamic scholars view homosexuality as sinful. Fearing criticism, some imams who are privately friendly to LGBT causes keep publicly silent.
Parts of the Koran condemn homosexual acts, but their interpretation is debated. Most opposition is based on the Koran's story of Lot, which is similar to the Old Testament's story of Sodom and Gomorrah. Conservative Muslims say God destroyed the cities because men were having sex with men. Progressive Muslims, like their liberal Christian counterparts, often instead see the story as condemning rape.
I'm openly gay and everyone in my family knows, but the culture is so conservative that they won't even mention the issue.
— Farah Giama, 45, of Cambridge, Mass.
Since the Orlando attack, nascent groups, such as the Muslim Alliance for Sexual and Gender Diversity (MASGD), are also stepping forward. The organization recently held its sixth retreat for gay Muslims outside Philadelphia over Memorial Day weekend.
"Tragedies often lead people to seek someone or something to blame, but we ask our friends to resist this temptation," its leaders said in a statement, adding that Muslims should not be blamed for the attack.
The Atlanta chapter of Muslims for Progressive Values, which runs gay-friendly prayer spaces, is hosting prayers Friday for victims and to offer support for gay Muslims. MPV, based in Los Angeles, has also issued a challenge to imams "to preach against homophobia" at Friday prayer services.
In a 2014 Pew Research Center survey, the organization found that 45% of U.S. Muslims said homosexuality should be accepted, while 47% said it should be discouraged. Members of almost all other religious groups, except evangelical Christians, Mormons and Jehovah's Witnesses, were more accepting.
"I'm openly gay and everyone in my family knows, but the culture is so conservative that they won't even mention the issue," said Farah Giama, a 45-year-old, Kenyan-born Muslim in Cambridge, Mass. "It's a mix of culture and religion, and people sometimes confuse the two."
Giama has spent many hours since Sunday talking about the attacks with his family.
For Adam, a 20-year-old Somali-American who is a student at Boston University, the tension around discussing the attack with family left him grappling with his faith. He asked that his last name not be used because his family does not know he's gay.
"I myself being gay and Muslim was very disappointed seeing a Muslim guy kill people in the holy month of Ramadan," he said, referring to the Islamic month of fasting that began in early June. He said he told his family the news "and they started preaching."
"They said that Allah sent the [shooter] to fulfill the job. And I was like, 'What job?' They said 'killing abominations,'" a euphemism for gay people. "Hearing that from the whole family was the worst thing I have ever heard in my life."
ALSO
Victims of the Orlando nightclub massacre: Who they were
A night of terror: How the Orlando nightclub shooting unfolded
More than 2,000 gather at L.A. City Hall for Orlando shooting vigil
Jaweed Kaleem is The Times' national race and justice correspondent. Follow him on Twitter and Facebook.
Sign up for Essential California for news, features and recommendations from the L.A. Times and beyond in your inbox six days a week.
You may occasionally receive promotional content from the Los Angeles Times.