More than 2,000 gather at L.A. City Hall to mourn 'those amazing, precious souls in Orlando'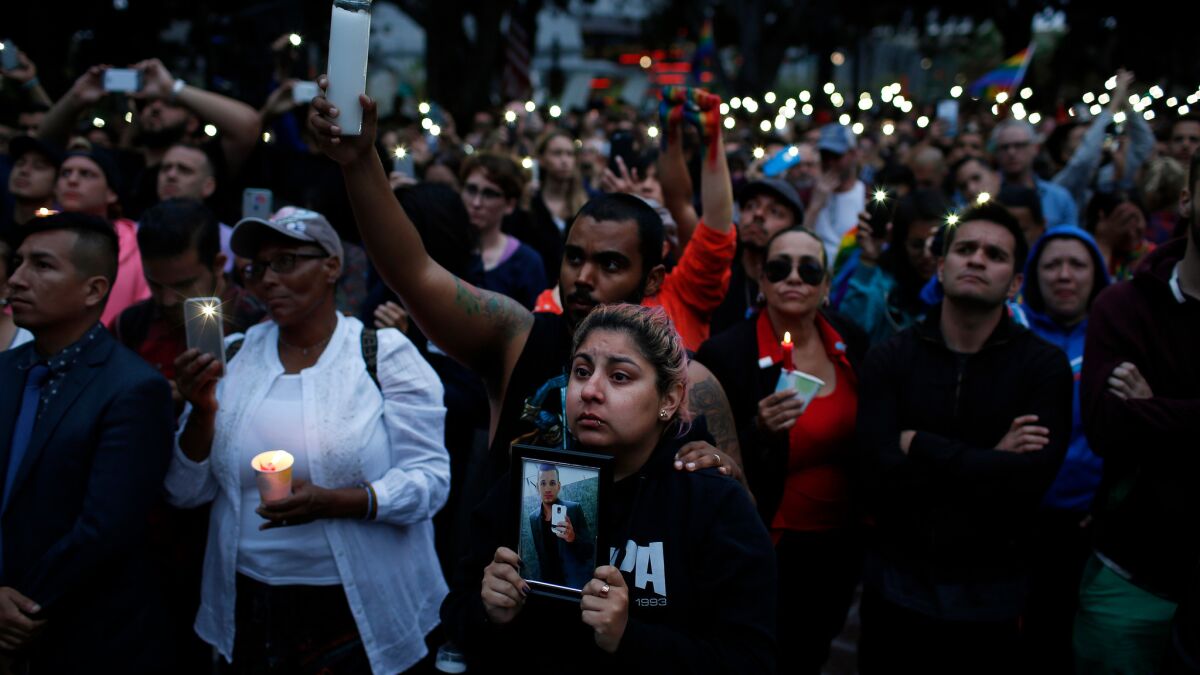 They came to pay their respects, to mourn, to comfort each other.
The crowd of more than 2,000 people gathered Monday evening at the steps of Los Angeles City Hall to honor the victims of the mass shooting at the Pulse nightclub in Orlando, Fla., over the weekend.
"We are with our family in Orlando and everywhere else our community faces hate and violence," said Justine Gonzalez, a member of the Los Angeles Transgender Advisory Council.
"And so I urge each and every one of us to love, to never slow down. To show the agents of fear and hate that they can't win. They will not hate us away."
As the names of the 49 people killed were read aloud, the crowd lifted their smartphones into the air, making a starry night of the masses gathered before City Hall.
Singer Lady Gaga, whose surprise appearance drew gasps from the crowd, called the shootings "an attack on humanity itself" and urged everyone to mourn "these innocent, beautiful people."
"Let's all today pledge an allegiance of love to them and to their families who are suffering so deeply," she said.
The vigil and rally was organized by the Los Angeles LGBT Center.
MAP: Orlando shooting vigils in Southern California »
Other observances were held across the Southland on Monday night. The Islamic Center of Southern California and Interfaith Communities United for Justice and Peace hosted an interfaith vigil at the center in Koreatown. A vigil was held at Micky's West Hollywood, a gay nightclub on Santa Monica Boulevard in West Hollywood, and the San Diego LGBT Community Center hosted a candlelight vigil Monday evening.
At the L.A. City Hall event, members of the crowd waved rainbow flags and signs. Valentino Lugo, of South Los Angeles, held a sign that read "We Are Not Afraid / We Have Fought Before / We Will / Fight / Once More!"
Lugo said he decided to attend the vigil "to support the victims in Orlando and to let people know we don't need to be afraid. We're not going to be anyone's victim."
Lorri L. Jean, chief executive of the Los Angeles LGBT center, roused the crowd by declaring that the attack was not instigated by the terror group ISIS, but by extremists closer to home -- including "divisive" politicians such as presumptive Republican presidential nominee Donald Trump and Texas Lt. Gov. Dan Patrick.
But those in attendance quickly turned somber when speakers urged them to grieve for the Orlando shooting victims.
"Let us not forget that it is time to mourn," Rabbi Denise L. Eger of Congregation Kol Ami in West Hollywood told the crowd. "We must mourn those amazing, precious souls in Orlando."
Juan Carlos Hernandez, who owns a downtown clothing store, came to the vigil with a Mexican flag draped over his shoulder. He said he was saddened by the deaths of so many young people -- so many of them Latinos like himself.
"They were so young -- beginning a life in the great freedom of this country," Hernandez, who is from Acapulco, said in Spanish. "Nobody had the right to snuff out their lives."
Hernandez, who is gay, said the attack has made him more worried to go out to clubs or even on the street at night.
"If we don't do anything, there will be more attacks," he said.
ALSO
West Hollywood gay bar considering armed guards after Orlando shooting
Orange County religious and community leaders decry Orlando violence, urge unity
San Francisco vows that its own Pride celebration will go on
---
UPDATES:
9:42 p.m.: This article was updated throughout with quotes and details from the City Hall vigil.
7:17 p.m.: This article was updated with information about the vigil Los Angeles City Hall.
1:24 p.m.: This article was updated with information about a vigil at Micky's in West Hollywood.
This article was originally published at 11:11 a.m.
The stories shaping California
Get up to speed with our Essential California newsletter, sent six days a week.
You may occasionally receive promotional content from the Los Angeles Times.