A night of terror: How the Orlando nightclub shooting unfolded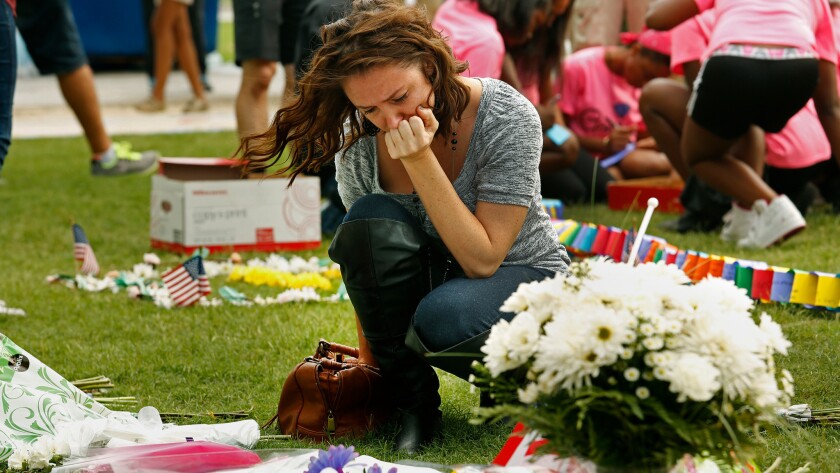 Reporting from ORLANDO, Fla. —
In less than six seconds, 17 shots reverberated through the Pulse nightclub.
Amanda Alvear, a 25-year-old pharmacy assistant, was taking a selfie video on Snapchat. She had lost 180 pounds over two years and loved to show off her new figure, loved to dance. She felt safe to be herself in gay and lesbian clubs like Pulse.
The video shows her crew dancing around her against a backdrop of purple and blue lights. She holds a drink and smiles.
As the first bang rings out, sharp and metallic, Alvear squints, as if trying to figure out what made the noise. Her eyes scan the room, blinking, becoming more fearful. "Shooting," she says. The 17 shots are heard before the video stops, just as she appears to move away.
She and 48 other people would not survive the night.
In the wake of the worst mass shooting in modern U.S. history, investigators on Monday were trying to understand how three terror-filled hours unfolded after Omar Mateen, a gym-bulked, 29-year-old security guard and onetime wannabe cop, entered the popular gay nightclub and gunned down dozens of patrons and staff before taking hostages. Substantial questions remain about how many of the injured were stranded without treatment in the lengthy standoff, and whether Mateen knew any of his victims.
At least four regular customers have said they had seen Mateen at the club before, and one said he had communicated periodically over the last year with Mateen on a gay chat and dating app, Jack'd. Whether the visits and exchanges were motivated by his sexual orientation or were ruses to target victims is unclear.
FBI agents scrambled Monday to recover data from Mateen's electronic media — cellphones, computers and other devices — looking to find clues into what sparked the massacre, according to current and former FBI officials.
One U.S. law enforcement official said agents also have obtained evidence that Mateen visited and perhaps scoped out Disney World in recent months. The official said it was clear from the evidence that Mateen's visit involved more than tourism, but cautioned that agents may never learn fully whether he was casing Disney properties for an attack.
Mateen, an American citizen born in New York to Afghan immigrants, was described by co-workers as a bigot who despised gays, blacks, women and Jews. His ex-wife said he was bipolar and abusive. His father said he grew furious when he recently saw men kissing.
On Sunday he pulled into the Pulse parking lot about 2 a.m. It was last call on Latin Night, a popular event, where DJs on three stages played thumping reggaeton, merengue, salsa and hip-hop.
Mateen walked to the entrance in the balmy air with an AR-15-style assault weapon and a handgun he had purchased just days earlier, and started shooting. An off-duty, uniformed police officer doing security for the club responded and they exchanged fire, officials said. But Mateen slipped into the club uninjured.
Everyone was pushing each other to get out. I still don't know how I wasn't hit.
Luis Ruiz, 33
Ivory McNeal, 28, and his friends were making their way through the crowd to the main bar when the shooting erupted just behind them by the front door.
Within seconds, nearly everyone around him had been shot.
The music – he thought it might have been Beyonce playing — abruptly stopped and people started running in all directions, some screaming, some falling, as the bullets tore through the room -- about three every second. The muzzle flashes lighted up the dark like a strobe light.
McNeal's friend Luis Ruiz, 33, would later say that Mateen was "pledging allegiance to Allah and calling people faggots."
Ruiz, a former soldier with shaved head and dark beard, spent 15 years in the Army and served in Iraq. He sprinted across the bloody floor toward a patio. A woman running next to him was hit and fell.
"Everyone was pushing each other to get out. I still don't know how I wasn't hit," Ruiz said.
McNeal rushed through a different door to the same patio while their friend Ariel Hermina sought shelter in a bathroom at the back of the club.
Ruiz forced his way outside and saw people kicking through the fence that enclosed the patio. They managed to break an opening, and Ruiz tried to squeeze through it with dozens of others. In the scrum, he fell. The panicked crowd trampled right over him, the gunshots right behind them.
He somehow got to his feet and, with an injured right leg, limped across the street to a 7-Eleven, where others were gathered, crying and calling out for friends still inside.
Ruiz had been in combat in Iraq and only days earlier he had been watching YouTube videos of Islamic State fighters in the Middle East. Now, as he thought about Mateen yelling about Allah, he thought, "Wow, they're here." Back in the patio, McNeal took cover behind a planter with a big palm tree.
"The shots kept going off, then all of a sudden it stopped," McNeal said. He said he thought at the time that shooter was an angry boyfriend. He wondered whether the massacre was over.
Then more shots rang out. He began texting friends. "They're killing people," he said he texted his ex-boyfriend and his cousin.
He got puzzled replies.
At some point shortly into the rampage, several Orlando police officers arrived and entered the building, Police Chief John Mina said. They immediately found themselves in a gun battle.
Mina said they "forced him to retreat to the bathroom, where we believe he had several hostages." The chief did not indicate exactly what time this occurred, but said the situation stabilized" at that point and the shooting stopped.
"At that time we were able to save and rescue dozens and dozens of people who were injured or non-injured."
The officers apparently left the building and called SWAT.
About 2:30 am, Mateen made two calls to 911, according to the FBI. The first time he hung up. He called again and talked briefly with a dispatcher before hanging up again. Then the dispatcher called him and spoke with him.
During one or both of the last two calls, he pledged allegiance to Islamic State and proclaimed solidarity to the perpetrators of the Boston Marathon bombing and a Florida-born suicide bomber who blew himself up in Syria for Al Nusra Front, an enemy of Islamic State.
As investigators would later learn, Mateen's beliefs and practices presented a series of contradictions. The FBI had investigated him twice on suspicion of terrorist ties, but found no conclusive evidence that he had any; it even determined Mateen had a shaky understanding of the difference between Sunni and Shiite Islam, the religion's two major denominations.
Texts from one victim suggest he resumed his killing while the officers waited outside.
Eddie Justice, 30, texted his mom at 2:06 a.m. saying he was trapped in a bathroom with a shooter loose in the building.
At 2:39, he begged her to call police. "Call them mommy now."
Seconds later, he wrote the last text of his life: "He's coming.… I'm going to die."
Over the next two hours, Mateen holed up in a bathroom and communicated with police, apparently over his cellphone. Mina said the shooter didn't have any specific demands but made statements about explosives and "bomb vests."
Police requested a "bomb truck" at 4:10 a.m., according to scanner communications.
By 5 a.m., fearing "loss of life was imminent," Mina would later say, the police chief decided to breach the back wall to reach the men's and women's restrooms. At 5:05 a.m., SWAT ignited an explosive device, but it didn't penetrate the cinder-block wall. They rushed to break it open with an BearCat armored vehicle.
Dozens and dozens of people rushed out of one of the holes. At some point so did Mateen, with guns blazing. One officer took a shot to the head but was saved by his Kevlar helmet.
Mateen fell in the barrage and died, the wall behind pocked with about 40 police bullet strikes.
The three friends McNeal, Ruiz and Hermina reunited in the parking lot.
McNeal had escaped early when police tore down the patio fence behind him.
Hermina had holed up in a handicap stall in the bathroom that Mateen had not commandeered. He pulled the toilet off the floor to make room for more people and eventually made it out after police came in and said it was safe.
They hugged and cried.
"Seeing them I just felt a sense of relief," Ruiz said. "We made it. I made it. But I was thinking there are people in there who didn't make it."
Police and emergency personnel moved in to retrieve the bodies. The club was mostly silent now but for a haunting sound that has become the universal dirge played in the aftermath of mass shootings, a reminder of all the other lives that would soon be torn apart: cellphones buzzing for the departed.
Mozingo reported from Los Angeles, Cloud from Washington and Hennessy-Fiske from Orlando. Times staff writer Brian Bennett in Washington and the Orlando Sentinel contributed to this report.
ALSO
Victims of the Orlando massacre: Who they were
The AR-15-style rifle: a popular seller tainted by mass murder
Orlando gunman had used gay dating app and visited LGBT nightclub on other occasions, witnesses say
---
The stories shaping California
Get up to speed with our Essential California newsletter, sent six days a week.
You may occasionally receive promotional content from the Los Angeles Times.