A Houston woman lost everything in Hurricane Harvey. Now, she could lose her DACA protection, too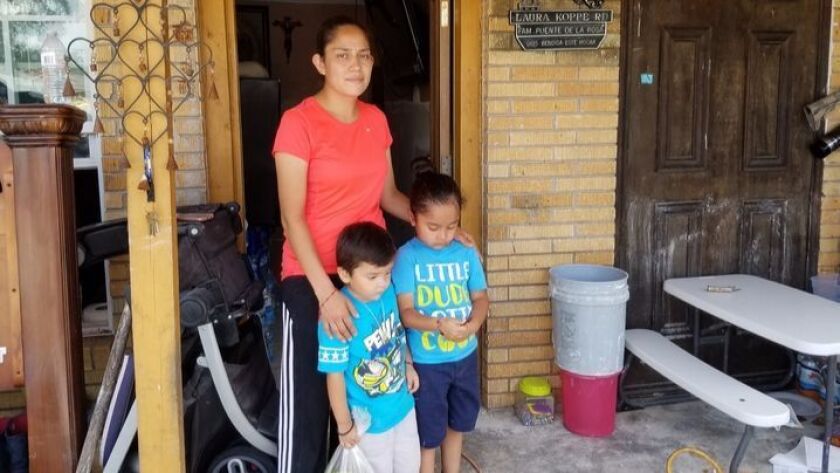 Reporting from HOUSTON —
Dulce Puente, 27, didn't have much time to worry about DACA Tuesday — she was busy cleaning out the home she shares with her husband and two sons, ages 5 and 3, which flooded with 4 feet of water during Hurricane Harvey.
Puente's family moved into the four-bedroom East Houston ranch house four years ago, taking over the mortgage after her mother was killed in a car accident. She had moved to Texas with her mother at age 13 from San Luis Potosi, Mexico, graduated from a local high school and worked at a Sonic restaurant.
Puente applied for the Deferred Action for Childhood Arrivals program in 2012, and renewed her DACA status twice, most recently in July. She said the program helped her get a Texas driver's license and a company phone for her husband, a construction worker from Mexico who immigrated to Texas illegally.
The program, started by President Obama, shielded from deportation migrants like Puente who were brought to the U.S. illegally as children. It also allowed them to secure work permits.
Puente's 23-year-old brother also received DACA status, which helped him get better jobs as a construction company manager, get a house, marry and support his 5-month-old baby. Now, Puente says, "we are wondering what's going to happen."
Puente's house has been stripped, including a four-foot-long stretch of drywall, which her husband's coworkers and friends have already replaced. On Tuesday, fans were keeping the inside dry. It smelled fresh, scrubbed clean with bleach. Outside, Puente sorted piles of soaked belongings. Most went onto the trash heap.
In the afternoon, she listened in her truck to radio news reports about DACA, and worried.
"I'm scared," of the federal government and police, she said. "They have all the numbers so they can come deport us. They say no, but I don't know."
Her husband had to leave for a job in Dallas. He might not be back until after the weekend. They have no emergency plan in case officials try to detain her.
"We are focused on the house. We lost everything," she said.
Puente also worried about a new Texas law, SB 4, which would crack down on so-called sanctuary cities. It would prohibit Houston and other cities from adopting policies that limit immigration enforcement. It would also allow police officers to question the immigration status of anyone they detain and threaten officials who violate the law with fines, jail time and removal from office. The law was set to take effect Sept. 1, but blocked by a federal judge.
That was good news to Puente, but she wasn't sure how long the judge's order would last.
Puente had heard of mothers detained and sent back to Mexico without their U.S. citizen children, who were placed in foster care. She decided that she needs to write a letter specifying that should she be detained, custody of her sons should go to her sister or aunt.
She suspected Texas lawmakers would find a way to enforce SB 4 once Harvey recovery efforts wind down.
"When we are better with all this, they're going to bring it back. They just want the Mexican people to repair Texas and then deport them," she said.
molly.hennessy-fiske@latimes.com
Twitter: @mollyhf
ALSO
Trump asks Congress to resolve fate of 'Dreamers,' moves to phase out protections
California lawmakers defend DACA with an eye on lawsuit against Trump's action
They spent decades turning a dilapidated Texas property into an artists retreat. Then Harvey struck
---
Must-read stories from the L.A. Times
Get all the day's most vital news with our Today's Headlines newsletter, sent every weekday morning.
You may occasionally receive promotional content from the Los Angeles Times.