A FEMA program has sheltered thousands of Puerto Ricans since Hurricane Maria. But now the evacuees fear its days are numbered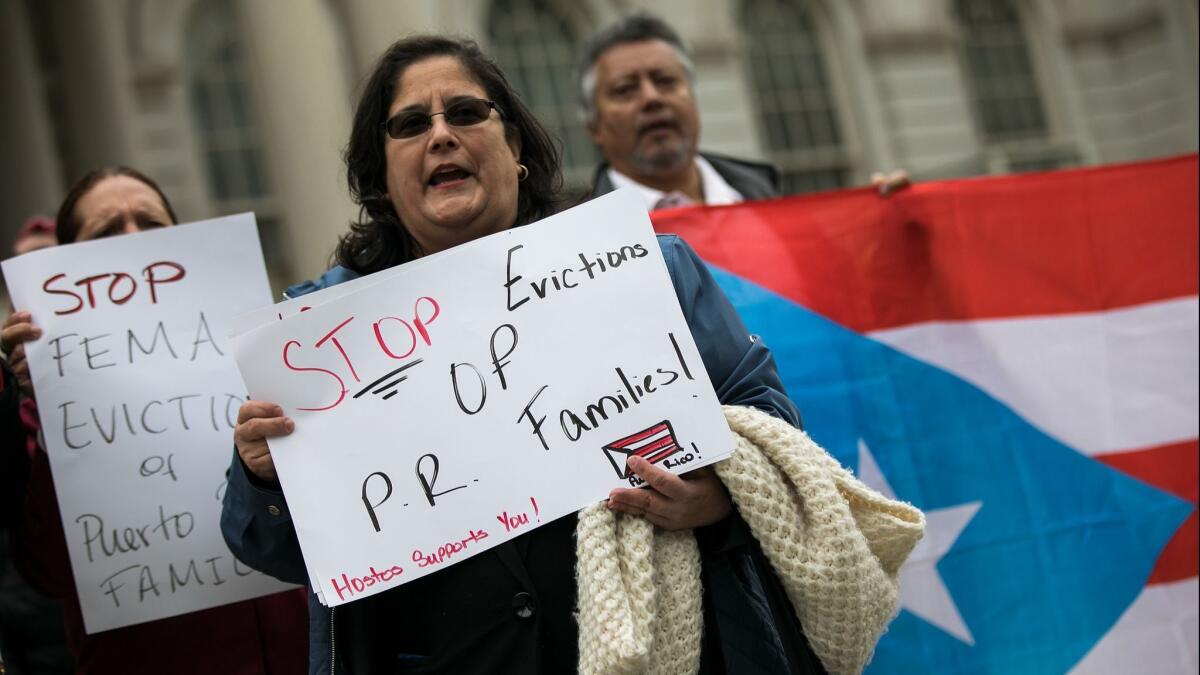 Scores of calls poured in last week. Puerto Ricans displaced by Hurricane Maria were anxiously contacting lawmakers and advocates, fearful they were about to lose federal assistance that has allowed them to live in hotels since the storm ravaged the island seven months ago.
The government had warned the assistance would end April 20.
Twice before, the Federal Emergency Management Agency had threatened to cut off temporary housing assistance, only to relent at the request of Puerto Rico's governor. But that didn't ease fears as the new deadline approached last Friday.
"Day and night we're getting hysterical phone calls every time there's a looming deadline," said Lauren Piraino, president of We Unite, which coordinates Boston nonprofits and has been helping hurricane victims.
"It's destabilizing," she added. "And it's not good for the families. They can't make long-term plans. They're stuck in a hotel for they don't know how long. How do you get a job, get your kids in school?"
Hurricane Maria victims are not alone: FEMA threatened to end Hurricane Harvey victims' temporary housing assistance several times, and cut similar assistance to Hurricane Irma victims last month.
On Friday afternoon, FEMA extended aid for 1,700 Puerto Rican families living in the continental U.S. until May 14, but it's not clear what will happen after that.
Federal officials have said they're trying to better manage housing assistance based on lessons learned after Hurricane Katrina and other major storms. But critics, including lawmakers, want a more permanent solution for displaced families unable to find affordable housing.
FEMA's Transitional Sheltering Assistance program pays hotels to shelter survivors unable to return to storm-damaged homes, until they find longer-term housing. Since Hurricane Maria, 7,017 families have used the program's vouchers to stay at hotels in 40 states at a cost of more than $64 million, according to Daniel Llargues, a FEMA spokesman.
Evacuees can lose FEMA temporary housing assistance if, among other things, FEMA finds their homes in Puerto Rico are livable after inspection, they didn't respond to inspectors or they have other viable housing options, Llargues said. Those restrictions were temporarily lifted when this month's deadline was extended.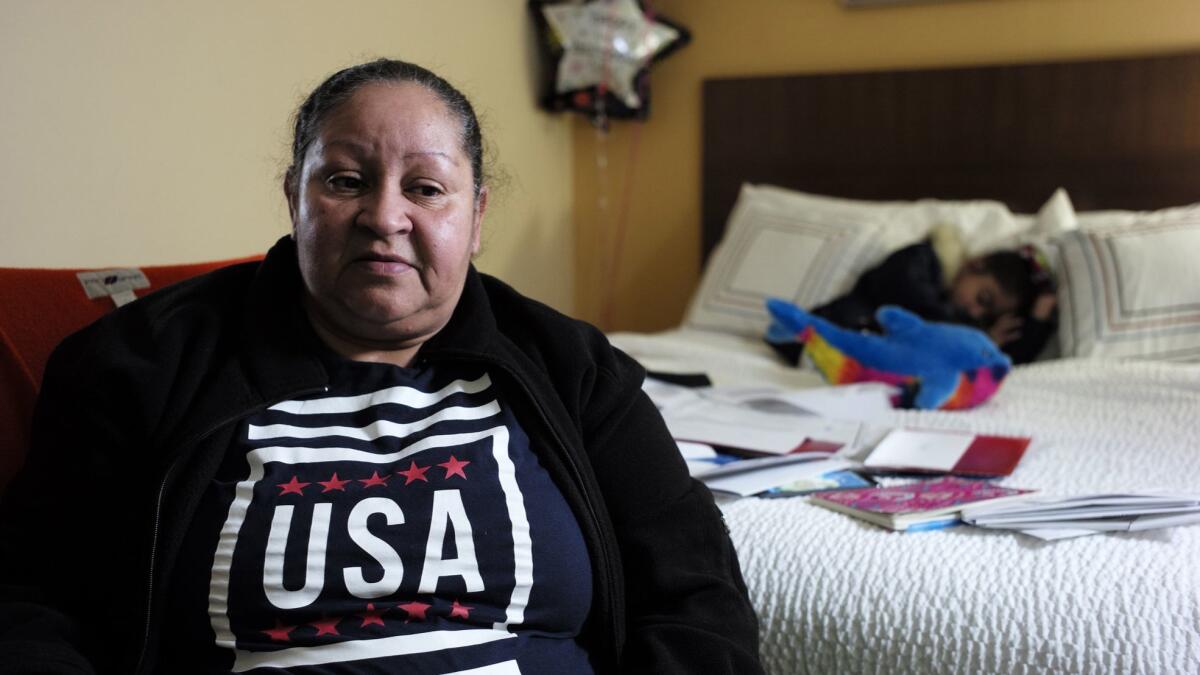 As of Friday, 2,663 Puerto Rican families were still in hotels in 34 states. Until they got the extension Friday, 1,700 of those were considered ineligible for further aid because they had withdrawn their applications or had no home damage.
"With this extension, those families will be allowed to continue participating in the program while FEMA performs additional case reviews of their eligibility," the Friday statement said.
Hurricane survivor Jeanette Soto wasn't sure what that meant.
Soto, 28, fled to Boston with her husband after the storm because that's where she was born. But the couple can't stay with her family: Soto's mother lives in public housing and isn't allowed to have overnight guests. And they can't return home, either. The house they were living in was damaged, and now someone else is living there, Soto said.
They have been staying at a Residence Inn in Dedham outside the city since Nov. 18 with about 20 other evacuees. Soto had her bags packed Friday when a FEMA official called to say the couple's housing assistance had been extended until May.
"This has been really depressing for all of us," said Soto, who helps translate for evacuees staying at the hotel and 20 more at a Fairfield Inn nearby, some of whom are disabled or have young children. "We don't know when the time will come that we're out on the streets."
There are alternatives.
Earlier this month, Jenniffer Gonzalez-Colon, Puerto Rico's congressional representative, and Rep. Adriano Espaillat (D-N.Y.) introduced legislation that would grant Hurricane Maria victims access to the Disaster Housing Assistance Program. Used after Hurricanes Katrina, Ike and Sandy, the program would immediately offer them temporary rental assistance.
"Good people are not being put out on the street. They still have a place to stay with their families. But the fact that they're still in hotels seven months after the storm means we're doing something very wrong," said Diane Yentel, president and chief executive of the National Low Income Housing Coalition, based in Washington, D.C.
Yentel said FEMA appears to be imposing "arbitrary deadlines" for housing assistance because, "It weeds people out. It's part of putting pressure on people to make sure they have no place else to go."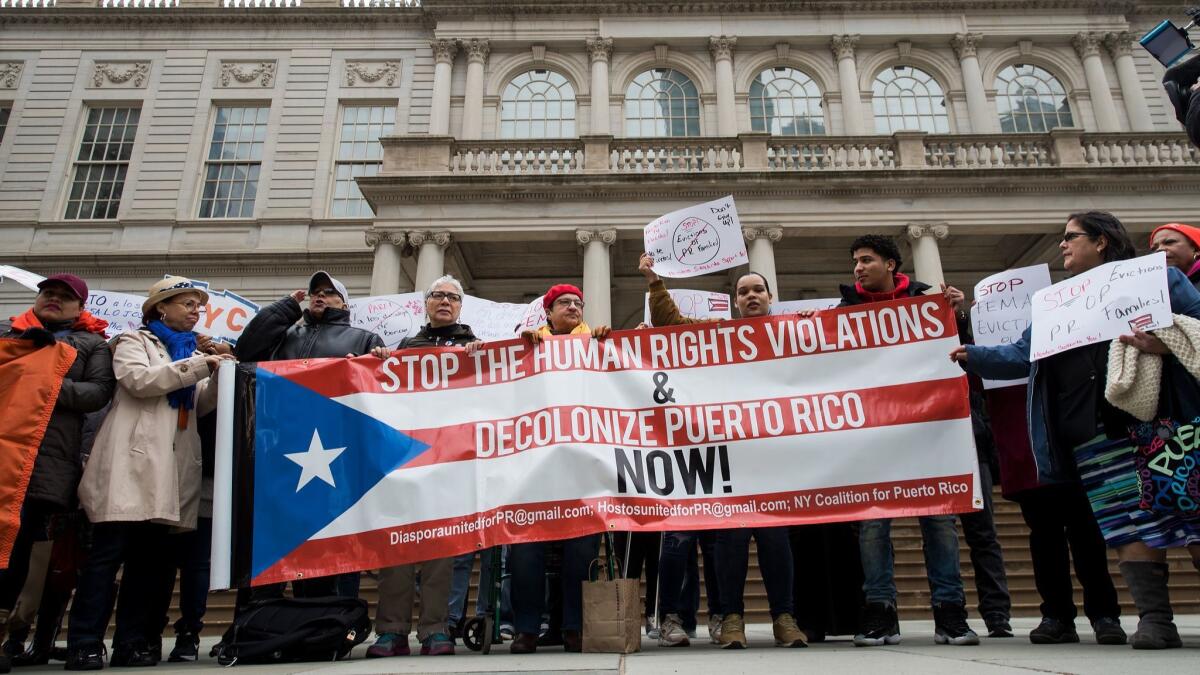 By contrast, she said the Disaster Housing Assistance Program — created after Hurricane Katrina survivors were stuck in hotels months after the storm — is designed to help low-income families rebuild their lives. It provides rental assistance and other services from the Department of Housing and Urban Development, which already has a network of landlords and rentals.
On Friday, five Senate Democrats — Elizabeth Warren and Edward J. Markey of Massachusetts, Richard Blumenthal of Connecticut, Kirsten Gillibrand of New York and Robert Menendez of New Jersey — sent a letter to FEMA Administrator Brock Long requesting he use the program to help victims of Hurricane Maria now dependent on hotel vouchers, including 445 in Massachusetts, 173 in New York, 127 in Connecticut, and 53 in New Jersey.
"FEMA's refusal to use the tools at its disposal, including [the Disaster Housing Assistance Program], to help these survivors is puzzling — and profoundly troubling," they wrote.
Rep. Darren Soto, a Florida Democrat and a co-sponsor of Gonzalez-Colon's bill, said the least the administration could do was extend the assistance through the end of the school year in June. Soto represents a large Puerto Rican constituency around Orlando, an area that's come to be known as "Puerto Rico North" — including 80 families on temporary housing assistance.
Another FEMA program, called Direct Lease, could pay for longer-term rentals, which Soto and advocates said would be preferable to hotel rooms. But FEMA has only made the program available to Hurricane Maria evacuees who have returned to Puerto Rico, or to storm victims who never left.
"This [Transitional Sheltering Assistance] repeated extension system is clearly not working," Soto said Friday, adding that the Disaster Assistance and Direct Lease programs offer "far more humane options for families to live in apartments, condos or houses rather than stuck in a small hotel room for half a year."
Llargues, the FEMA spokesman, said the program "wasn't a perfect solution, which is why HUD and FEMA are working to jointly identify those who meet criteria and help them directly." He referred to a 2011 audit by Homeland Security's Office of the Inspector General that found program managers failed to track the program's cost-effectiveness.
"Disaster survivors in [the Transitional Sheltering Assistance program] who meet HUD income requirements are being referred directly to HUD's programs" on the mainland, he said. "Survivors who are in Puerto Rico or other states can then go online or to the local housing authority where they are to work with HUD."
Still stuck at a hotel outside Boston on Friday, Soto kept busy planning her future. A personal-care assistant back in Puerto Rico, she was studying for certification on the mainland. Last week, she received her driver's permit, but she still needed to take the road test. Her husband had been offered a housecleaning job in another suburb, but without a car, the transportation costs outweighed the pay. So he's waiting to take a job until they find an apartment.
"It's OK that we have extensions and we're not on the street. We appreciate that. But the bottom line is, if we're American citizens, we should have a right to have a house in an emergency. We should have priority," she said. "We have waited months to have an apartment."
molly.hennessy-fiske@latimes.com
Sign up for Essential California for the L.A. Times biggest news, features and recommendations in your inbox six days a week.
You may occasionally receive promotional content from the Los Angeles Times.