After Hurricane Maria, 'Puerto Rico isn't going to be the same'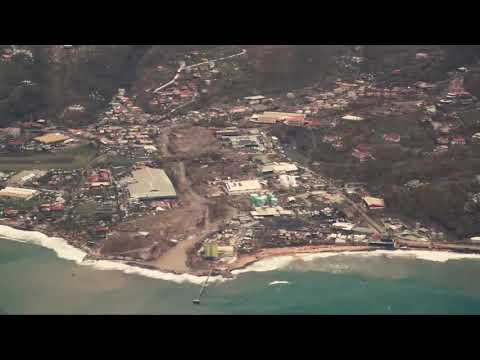 Hurricane Maria left a historic trail of destruction across Puerto Rico on Wednesday, its powerful winds carving holes in the walls of 300-year-old homes, flooding neighborhoods, sucking metal roofs off buildings, downing 100-year-old trees and leav
Hurricane Maria left a historic trail of destruction across Puerto Rico on Wednesday, its powerful winds carving holes in the walls of 300-year-old homes, flooding neighborhoods, sucking metal roofs off buildings, downing 100-year-old trees and leaving the entire island without power.
In the capital of San Juan, volunteers sprang into action, assisting stranded drivers, cutting and removing downed limbs to clear the roads. Looters also took advantage of the chaos following the storm to break into furniture stores and gas stations, running past a San Juan police car with sofas and chairs. The police car did not appear to stop.
Maria made landfall as a Category 4 hurricane packing 155-mph winds — just 2 mph short of Category 5 status — near the southern city of Yabucoa. But by Wednesday afternoon, the storm had been downgraded to a Category 2, according to the National Hurricane Center in Miami. It was continuing its westward march toward the Dominican Republic.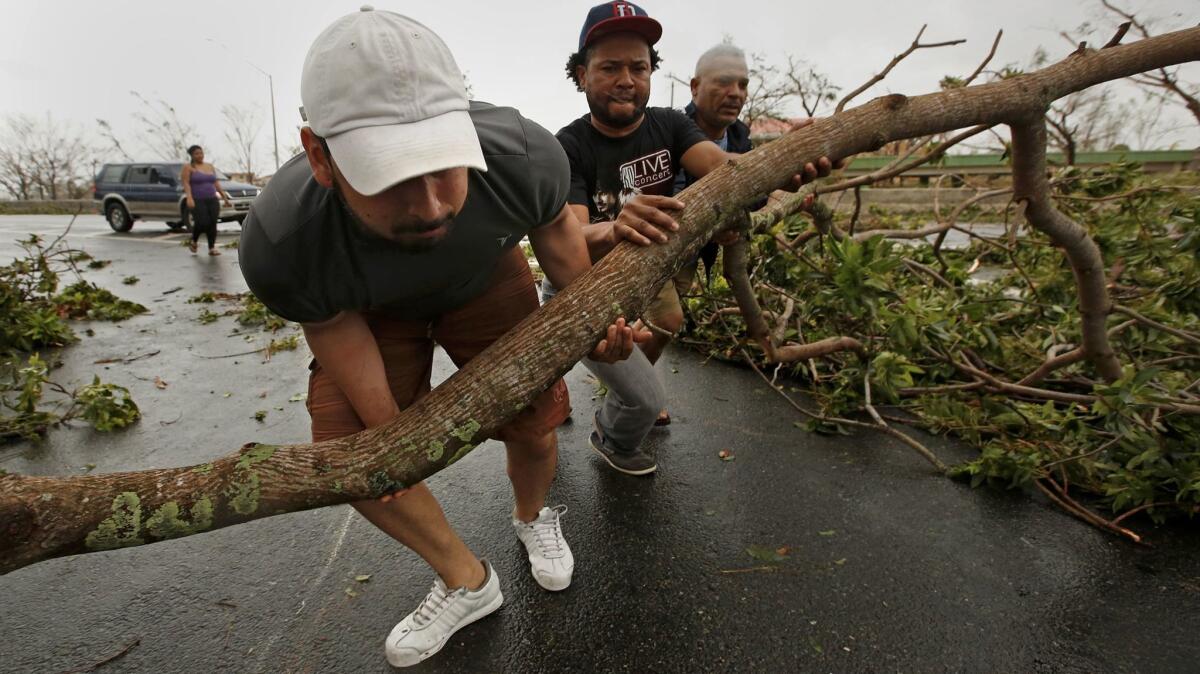 Throughout Puerto Rico — from San Juan to rural towns — roads turned into raging rivers, and social media showed people wading through chest-high water to safety. Trees that had survived innumerable storms snapped in half in the howling winds. Palm trees, stripped of their fronds, looked like matchsticks.
"Puerto Rico isn't going to be the same," said Migdalia Caratini, a lawyer who lives east of San Juan. "It's going to be before Maria and after Maria."
The island was already reeling from Hurricane Irma, which passed the northern coast of Puerto Rico last week as a Category 5. Though Puerto Rico escaped a direct hit from Irma, the storm inflicted major damage on the electrical grid, and portions of the island had been without power even before Maria made landfall.
On Wednesday, officials from the Puerto Rico State Agency for Emergency and Disaster Management said that portions of the island could be without power for several weeks.
More than 500 people evacuated to the Roberto Clemente Coliseum in the capital, where pieces of the roof began to give way and leak at the height of the storm early Wednesday. As winds howled outside, Lydia Gonzalez said she watched in horror as the roof stretched and strained "like bubble gum." But it held.
"This roof was like a miracle. We heard the hurricane and thought we would see it" come apart, she said.
The winds died down briefly, and staffers moved most of the evacuees to halls on the second floor.
Gonzalez and dozens of others had to stay on cots in the dark, flooded first floor hallways because they could not handle the stairs. Gonzalez is elderly, and was caring for her 94-year-old mother, who lay on a cot, complaining of thirst. Gonzalez didn't want to give her too much water because then she would have to use the bathrooms, she said, which had not been cleaned, and the stench reached where her mother lay in the hall.
The power had gone out overnight, along with the air conditioning, and the humidity left the walls damp. Other elderly and disabled evacuees sat nearby in the darkened hall in wheelchairs. At least one lay on a stretcher.
Gonzalez, who retired from working for a local electric company, has relatives in Florida, Maryland and North Carolina, but her mother couldn't handle the plane ride and refused to leave behind their sixth-floor apartment, which they had been told to evacuate. They had stayed home during Hurricane Irma, but had to move afterward to a hotel for a week because they couldn't endure the heat without power. Gonzalez expects they and many others may be stranded for days again.
Another evacuee at the coliseum, Josefina Bayes de la Paz, said her home flooded after a nearby river overflowed its banks. She was already working only two days a week as a cleaner before the storm, earning $138. Now, with people struggling to get by without power, she didn't expect to find any work.
"The poor people are hungry," she said. "Workers need direct help."
Bayes has a daughter on the U.S. mainland, but couldn't ask her for help: She lives in Houston, and lost her own house to flooding during Hurricane Harvey.
Puerto Rico Gov. Ricardo Rossello, in a statement, called for calm and "prudence during these difficult days." Citing the need to maintain public order, Rossello imposed a curfew for the island from 6 p.m. until 6 a.m. that will be in effect until Saturday. As night fell, most buildings in San Juan were dark, though some had generators to provide power.
During the day, volunteers did what they could to restore order. Reynaldo Rosa, 36, was among those who stopped to remove trees from a highway in San Juan so cars could pass before dark. Rosa had stopped even though he was in a hurry: The story blew out the windows in his apartment, which was now flooded.
Rosa was trying to reach a friend's house, where he planned to shelter with his wife, Mairis Cassagnol, 33, and their poodle, Taize. "We're trying to find a safe place," said Cassagnol, who, like her husband, works for the government and did not expect government offices to reopen soon.
Another San Juan resident, Solimar Quinones, survived Hurricane Maria relatively unscathed: Water seeped into the historic row house she shares with her partner in Old San Juan, but they mopped it up and were listening to a battery-operated radio by Wednesday afternoon. Quinones, 33, works as a librarian at a local school, her partner at a dot-com startup.
A woman passed their open window and called out to see how the couple had fared during the storm. Fine, they said. "That's a tourist from Mexico, and she's worried about us," Quinones said — despite the devastating earthquake in Mexico.
Maria was the third major storm, after Harvey and Irma, to form in the Atlantic in recent weeks and reach Category 5 status.
On Monday night it raked the island of Dominica in the eastern Caribbean with sustained winds of 160 mph. Maria also prompted evacuations from the U.S. Virgin Islands, which already sustained significant damage from Irma. Many Virgin Island evacuees had fled to Puerto Rico.
There were no immediate reports of any deaths in Puerto Rico on Wednesday, but the Associated Press reported that Maria had killed nine people across the Caribbean. Other Caribbean islands, including St. Martin and Barbuda, had already seen most of their housing stock destroyed by Irma.
Nearly 3,200 U.S. government staffers overseen by the Federal Emergency Management Agency were already in Puerto Rico on Wednesday helping with recovery efforts in the Caribbean after Hurricane Irma hammered the region last week. Even so, first responders were not expected to help right away — officials had said they planned to shelter indoors when winds reached 50 mph.
The White House said in a statement that President Trump is continuing to monitor the situation and that he and First Lady Melania Trump "send their thoughts and prayers to all those in harm's way."
Caratini, the attorney, had rented a room at the Sheraton Hotel in Old San Juan to weather the storm. Staff members barricaded doors with lumber and sandbags, activated a generator to keep electricity running on the main floor once it went out in the rest of the nine-story building, and played hurricane coverage on a big-screen television as owners walked evacuated dogs.
"The big thing is not the wind and the rain — it's the aftermath," said Caratini, whose house is near the beach.
She worried about those living in the center of the island, where many homes are made of wood and have zinc roofs that were probably ripped apart by the hurricane.
Puerto Rico has been struggling economically, and leaders had planned to reduce public workers' hours, shifting money from local to federal coffers, Caratini said. She hopes those changes get suspended, at least immediately after the storm.
For years, the commonwealth has struggled with debt. In May, Rossello said the Puerto Rican government would go to federal court in hopes of receiving protection from creditors. The U.S. territory is embrolied in a more than $70-billion debt crisis, after multiple creditors filed lawsuits trying to recuperate millions of dollars invested in government bonds.
The devastation of Maria, the first Category 4 hurricane to hit Puerto Rico in 85 years, will be a further blow to island's economy, which is anchored by the tourism industry.
At the Sheraton, some had evacuated from other Caribbean islands where they had already survived Irma earlier this month.
"This is better than the last one," said Ken Wild, 63, an archaeologist with the National Park Service who hid in his hillside basement on the Virgin Island of St. John during Irma only to see the windows blown out. He survived along with his Doberman, Anabell, and so did his boat.
But he didn't think the boat would survive Maria, which pummeled the Virgin Islands on Tuesday night.
In San Juan on Wednesday, Rosa Avalo recalled the horror before sunrise. Avalo awoke at about 4 a.m. to find 3 to 4 inches of water had entered her 300-year-old home, Casa Lila, where she runs a business teaching tourists to make cheese.
She called to her 18-year-old son, who agreed to leave as soon as he took a shower: "That's when he started screaming."
The storm had punched a hole in their bathroom wall several feet wide, large enough that they could see winds lashing a historic fort across the street. They ran to a neighbor's house, where they planned to stay for the near future.
"I never thought it would happen to me, but now I don't have a house," she said as she stood in her doorway facing a cracked wall. "Brace yourselves because I never thought I would lose my house. I thought my house was like a bunker."
The area was without power, cellphone and Internet service. She was still waiting to hear from relatives in central Puerto Rico, including her 16-year-old daughter, Anna, who was staying with her father in Manati. "I hope they're safe," she said.
molly.hennessy-fiske@latimes.com
Hennessy-Fiske reported from San Juan and Lee from Los Angeles.
ALSO:
After Hurricane Harvey, a family throws away their past, piece by moldy piece
More than 200 killed as powerful 7.1 earthquake strikes central Mexico
Dealing with Democrats? Protecting 'Dreamers'? Here in Arizona that's just fine with these Trump supporters
Trump may strip protections from 10 national monuments
---
UPDATES:
7:05 p.m.: This article was updated with details on cleanup efforts and further eyewitness accounts of the storm.
5 p.m.: This article was updated throughout with eyewitness accounts of the storm.
2:30 p.m.: This article was updated to report Hurricane Maria was downgraded to a Category 2 storm.
12:20 p.m.: This article was updated to report Hurricane Maria was downgraded to a Category 3 storm.
11:15 a.m.: This article was updated with reports of Puerto Rico now being left without electricity.
8:45 a.m.: This article was updated with additional details, including information about some shelters in San Juan sustaining storm damage.
This article was originally published at 6:15 p.m.
Sign up for Essential California for the L.A. Times biggest news, features and recommendations in your inbox six days a week.
You may occasionally receive promotional content from the Los Angeles Times.