New federal effort to deport criminal immigrants draws local skepticism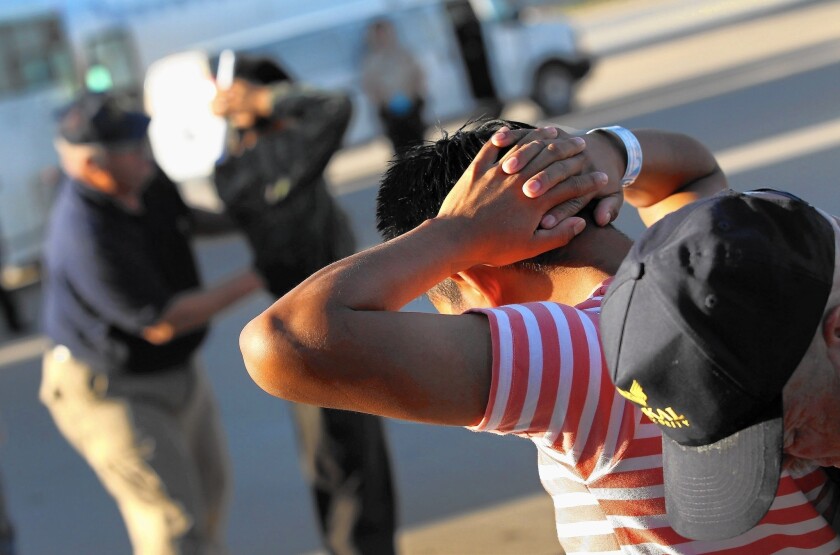 Reporting from Washington —
As the Obama administration prepares to alter how it enforces immigration laws, top officials have been conducting weeks of shuttle diplomacy, touring the country to try to reenlist police chiefs and mayors in the cause of deporting people convicted of crimes.
Local officials are skeptical because of a previous system that resulted in the detention and removal from the U.S. of thousands of immigrants ensnared by local law enforcement, many on minor charges. That program, Secure Communities, was scrapped in November by Homeland Security Secretary Jeh Johnson, who said "its very name has become a symbol for general hostility toward the enforcement of our immigration laws."
But the retooled enforcement model, which aims to allay concerns by doing away with most Immigration and Customs Enforcement requests that local jails hold people until federal agents can pick them up, falls short of resolving the issues that plagued Secure Communities, advocates and local officials around the country say.
"They presented it as a kinder and gentler way for ICE to collaborate with local police," said Los Angeles County Supervisor Sheila Kuehl, who met last week with two top Homeland Security officials, ICE Director Sarah Saldana and Alejandro Mayorkas, deputy Homeland Security secretary. "I told them it's not kinder or gentler enough."
Under the new system, the Priority Enforcement Program, jails will be asked to notify federal authorities when someone will be released, so agents can be waiting. This time, the agency says, local officials can trust that only people convicted of serious crimes will be targeted.
But the program is already being criticized. Officials are considering whether to continue fingerprinting everyone arrested, information that could be used to deport people who aren't convicted of crimes. Homeland Security, ICE's parent agency, has yet to say whether that practice will end; Johnson has said it should remain in place. Other questions remain about who will be targeted for deportation: only violent criminals, or others who committed no crime besides coming to the U.S. illegally?
The root of the problem is that ICE continues to "mine the criminal justice system" to meet deportation targets, said Chris Newman of the National Day Laborer Organizing Network, who along with other advocates also met last week with Saldana and Mayorkas. As ICE tries to meet those goals, critics say, the agency will probably deport people convicted of less serious offenses because many of the most serious criminals are serving long prison terms.
"They really, really want to have that talking point of deporting 'felons not families,'" Newman said, using a phrase favored by President Obama when talking about immigration reform. "At a time when everyone's talking criminal justice reform, immigration enforcement is going in the opposite direction."
About 250 cities and counties have passed resolutions limiting cooperation with ICE's requests, called detainers, to hold people until immigration officials can pick them up, according to the Immigrant Legal Resource Center.
In Los Angeles County, where cooperation is crucial to the success of the program, the Board of Supervisors is scheduled to debate Tuesday whether to go along. It is expected to vote to end participation in a program that allows ICE agents in jails.
In Philadelphia, Mayor Michael Nutter has no intention of resuming cooperation with ICE requests, one city official said, despite a visit last month from Johnson.
"The broader Latino community loses confidence when they see us treating new Philadelphians that way," the city's managing director, Richard Negrin, said. "I think it makes us less safe, to be honest."
When Obama announced plans last fall to offer temporary legal protection to millions of people living here illegally, he contended that it would make the nation safer by freeing resources to go after serious criminals. But immigration officials have been complaining that it's harder to grab criminals if local officials won't cooperate.
"That was getting to be a bigger and bigger problem in terms of our ability to get at the criminals," Johnson said last month as he was in the midst of a "road show" to sell mayors and governors on the new approach.
"The new enforcement program takes two to dance," Johnson said.
Advocates who have fought the detainers say the important question is who ICE will target for deportation — not how the agents go about picking them up. The department says it has already refined its enforcement priorities and will no longer make a priority of people who have committed no other crime besides being in the country illegally. But advocates say too many people are still being deported because of minor offenses and decade-old convictions.
While it works on the new policy, the department has continued to issue detainers — and most are still being honored, according to ICE.
In the current fiscal year, which began in October, local authorities have rejected 4,230 requests out of 58,500, according to figures provided by ICE. Close to half of the denials, or 2,069, were in the Los Angeles area, out of about 13,000 requests, the figures show.
The overall number of detainer requests have declined since last year, but the number went up in March, from 7,107 to 8,088, the figures show.
The agency's data also show that most of the 58,500 requests didn't target people convicted of the most serious crimes, called aggravated felonies. There are 16,384 people in that category. Nearly 14,000 were convicted only of misdemeanors, the figures show, and more than 20,746 don't fit any of the three priority definitions at all.
Some of those in the last category might have been accused of serious crimes, but not convicted, an agency spokeswoman said.
Chris Rickerd, policy counsel for the American Civil Liberties Union in Washington, said the figures showing many detainers in low-priority categories were "really disturbing" and suggested the department hadn't yet changed its approach. "I don't think they've been accountable and transparent about who's being deported."
On Tuesday, Los Angeles County supervisors are expected to vote to end participation in a program that allows ICE agents in jails. The number of law enforcement jurisdictions participating in the program has decreased from 75 to 35 in recent years, according to ICE officials. Aside from Los Angeles County, the only other jurisdiction in California to participate is Orange County.
------------
FOR THE RECORD
11:04 a.m.: An earlier version of this article lacked a description of a federal program that is losing traction in law enforcement jurisdictions across the country. The program allows ICE agents into jails.
------------
Kuehl said Mayorkas and Saldana warned that without the new program, federal agents would be forced more frequently to turn to dangerous field operations to try to apprehend people. But she said the program still is too close to Secure Communities.
"They're saying we take it for granted that you want to get rid of these felons and therefore we're doing you a favor by having a nice warm handoff instead of having to go door-to-door to get them," she said.
Tanfani reported from Washington and Linthicum from Los Angeles.
---
Must-read stories from the L.A. Times
Get the day's top news with our Today's Headlines newsletter, sent every weekday morning.
You may occasionally receive promotional content from the Los Angeles Times.