Kentucky could become first state with no abortion clinics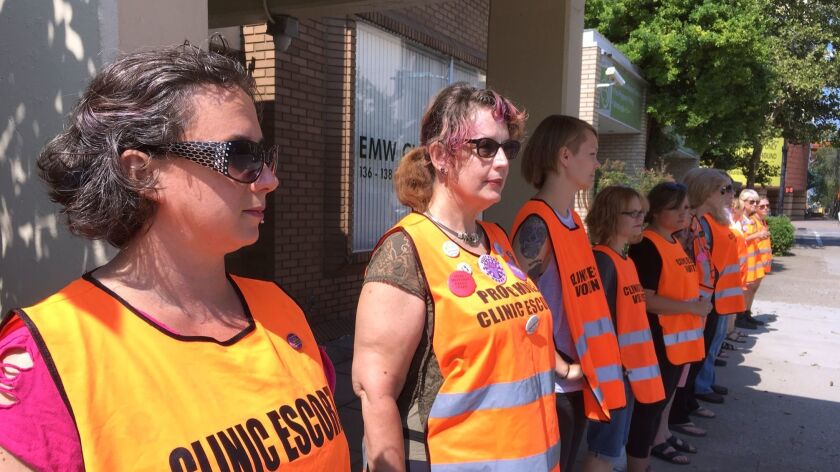 In the 37 years that Dr. Ernest Marshall has been performing abortions in Kentucky, he has seen more than a dozen clinics close in the state. He is now facing off against the governor in a legal fight that will decide whether Kentucky becomes the first state in the nation without an abortion clinic.
State regulators tried to shut down EMW Women's Surgical Center in March over allegations that the facility, which Marshall founded in downtown Louisville in 1981, does not have adequate agreements in place with a local hospital and an ambulance service in case a patient needs to be transferred.
Gov. Matt Bevin, a conservative Republican who describes himself as "unapologetically pro-life," defends the licensing requirements as important safeguards to protect women in the event of a medical emergency.
The clinic has countered with a federal lawsuit arguing that the requirements lack any medical justification and place an unconstitutional barrier before women seeking abortions.
The case, which went to trial Wednesday before a U.S. district judge in Louisville, is being closely watched by both sides in the abortion debate.
Conservative statehouses across the nation have over the years enacted a slew of laws and regulations that have made it increasingly difficult for abortion providers to continue operating. Kentucky is one of seven states — including North Dakota, South Dakota, Missouri, Mississippi, Wyoming and West Virginia — with just one abortion clinic left.
"The very right to access legal abortion in the state of Kentucky is on the line," Marshall said in a statement.
The clinic's defenders see the Bevin administration's actions as part of a concerted effort by abortion opponents to curtail women's access to the procedure, which has been legal nationwide since the 1973 Roe vs. Wade ruling by the U.S. Supreme Court.
"We have a new sheriff in town who's vowed to get rid of abortion," Don Cox, one of the attorneys representing the clinic, was quoted as saying by Kentucky's Courier-Journal newspaper as the trial began.
Since Bevin was elected governor in 2015, state regulators have shuttered another facility operated by Marshall in Lexington and blocked a new Planned Parenthood healthcare center in Louisville from performing abortions.
Republican lawmakers, who took control of the state Legislature in November, have also imposed new restrictions on abortion providers and their patients. The American Civil Liberties Union is challenging one of these measures, a requirement that doctors perform an ultrasound and narrate the results for women seeking abortions, regardless of whether the patients wish to hear them.
"It's emblematic of what is happening across the country in states where politicians have passed law after law that has chipped away at the right to access abortion," said Brigitte Amiri, a senior staff attorney at the ACLU's Reproductive Freedom Project who is also representing EMW.
She said the clinic has had agreements with a local hospital and an ambulance company on file with state regulators for years and that the officials are now raising "nitpicky issues" about the documents as an excuse to revoke the clinic's license.
Among the state's complaints was that the agreement with the University of Louisville Hospital was signed by the head of the obstetrics, gynecology and women's health department rather than the owner of the hospital. The university declined to consider the clinic's request for another signature until after the trial is over, Amiri said.
Regulators also complained that the agreement with the Mercy Ambulance Service did not specify to which hospital patients would be transferred — a problem that has since been rectified.
Planned Parenthood of Indiana and Kentucky, which joined EMW's lawsuit in June, said in court documents that it had obtained evidence through the discovery process suggesting that Bevin's administration used the threat of funding cuts to pressure the hospital into backing out of its transfer agreement — an allegation denied by the governor's office.
"The Bevin administration is working diligently to protect the health, welfare and lives of women in Kentucky," said Amanda Stamper, a spokeswoman for the governor.
She said in an email that the requirement for transfer agreements applies to other healthcare facilities in Kentucky and has been in effect for 19 years. "It is telling that the abortion industry believes that it alone should be exempt from these important safety measures," Stamper said.
The lawsuit contends that such agreements do nothing to improve patient care.
"Complications from abortion in general are rare," EMW's lawyers said in the complaint. "In the exceedingly rare event that a complication requiring hospitalization does occur while a patient is at an abortion facility, ambulance companies will readily pick up patients, and hospitals are required by law to accept patients in an emergency."
Lawyers for the state countered in court filings that such "self-serving statements about the rarity of complications from abortion gloss over the fact that complications do occur, and transport agreements are important safeguards for women's health in the event of such complications."
The state says the effects of closing the clinic would not be as drastic as the plaintiffs contend.
"Kentucky law permits licensed hospitals to perform abortions without being separately licensed as an abortion facility," its attorneys said. "Kentucky women would also have access to abortions at nearby facilities in contiguous states."
Marshall said many of his patients already travel long distances to get their abortions, adding to the expense and taking away more time from work and children.
"After overcoming so much to come to our clinic, our patients are forced to face a final obstacle: the incessant bullying and harassment of protesters outside the clinic," he told reporters during a telephone conference call.
The clinic has obtained a court order allowing it to remain open pending a decision in the case. The hearings are expected to last three days.
Twitter: @alexzavis
---
Must-read stories from the L.A. Times
Get all the day's most vital news with our Today's Headlines newsletter, sent every weekday morning.
You may occasionally receive promotional content from the Los Angeles Times.